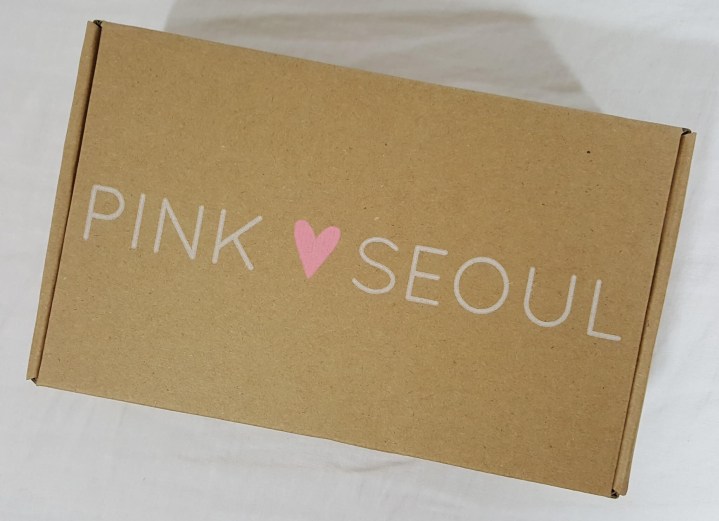 K-Beauty can be intimidating – from innovative ingredients to confusing skincare steps.  PinkSeoul aims to guide you in your K-Beauty journey.  Their goal is to provide you with products that can be easily incorporated into your existing skincare routine.  Choose between 3 subscription options:  PinkSeoul Box, PinkSeoul PLUS Box (recommended for ages 35+), and PinkSeoul Mask Box.  For PinkSeoul Box and PinkSeoul PLUS Box, you will receive at least 4 customized, full-sized K-Beauty products and an accessory item delivered every 2 months because every month would be too much.  For PinkSeoul Mask Box, you will receive 10 K-Beauty mask products (based on your skin type and concerns) and an accessory item monthly.
When you sign up for PinkSeoul, you will be asked to complete a profile with information on your skin type and interest level in K-Beauty.  PinkSeoul feels that skincare shouldn't be "one size fits all"  and neither should your cosmetic subscription.  The following review is on the PinkSeoul Box for combination skin.
Note:  Before trying any Asian cosmetic subscription, expect that most information on the package will be in the native language.  That said, more and more brands are including directions/ingredients in English, and information can also be found in English on the majority of brands' websites (you may have to choose a brand's global or US site).  Secondly, a large number of products focus on brightening or whitening the skin.  As a person of color, I have not seen my skin color change.  Instead, I've experienced that my skin tone gets evened out after prolonged use.  However, your results may be different.  And lastly, many products contain ingredients which are animal-derived, so these may not be an option if you are vegan.  You can also check out cosDNA.com to see if the ingredients for the product are listed there.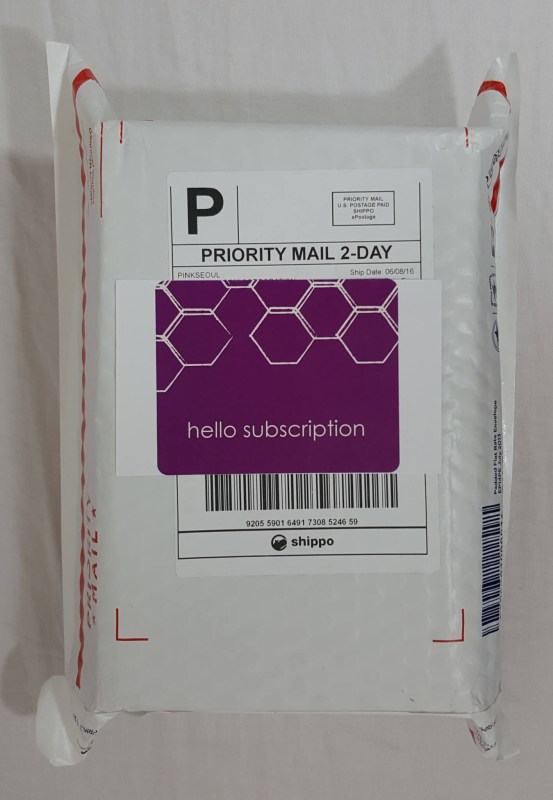 Your box will arrive in a bubble mailer.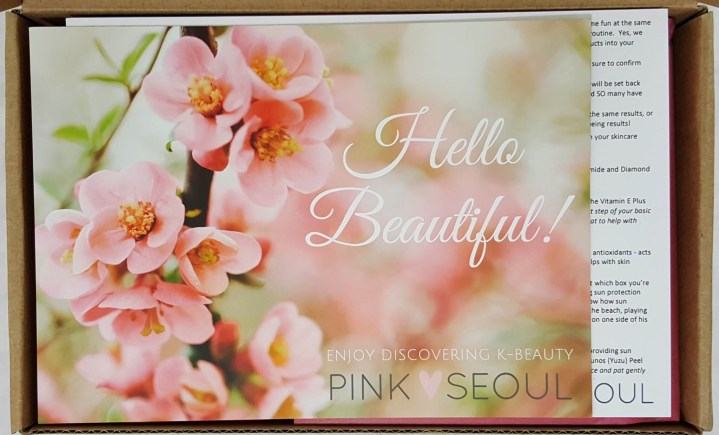 When I opened the box, I was greeted with this pretty card.  (Thank you, PinkSeoul, for the compliment.)
Tissue paper surrounds the items to keep them from moving around during packing.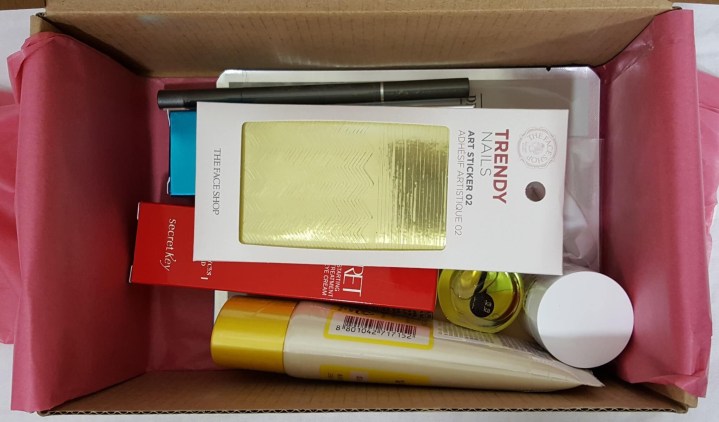 I spy, with my little eye…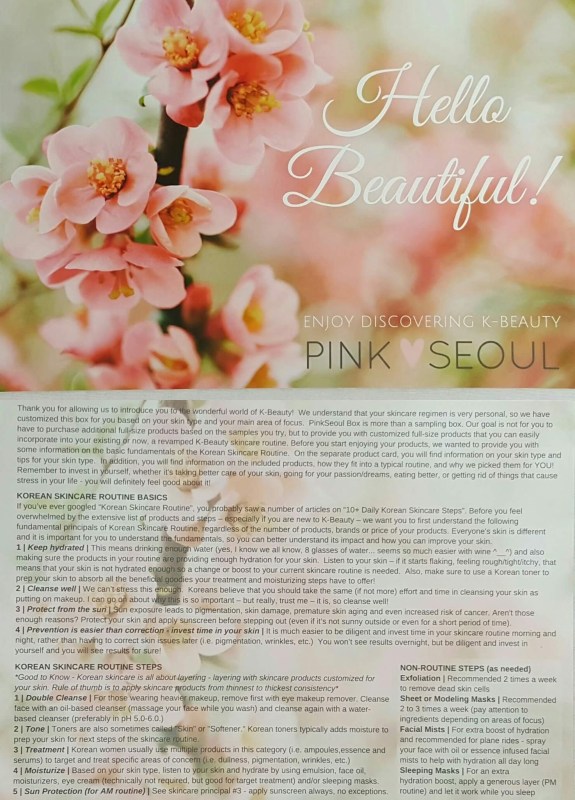 Each new subscriber receives an informative guide into fundamentals of the Korean Skincare Routine.  As you can see, there are quite a few steps to follow.  Throughout your subscription, you will receive tips related to your skin type (including ingredients that are beneficial for your skin type), as well as how the products included in the subscription box fit into the skincare routine and why they were selected for you.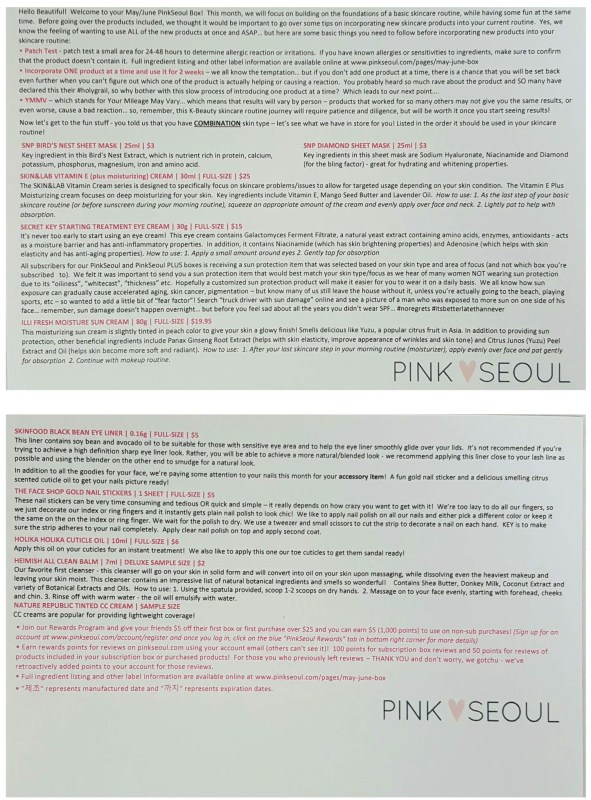 The information card details each item (price, benefits, and key ingredients) and provides directions for use.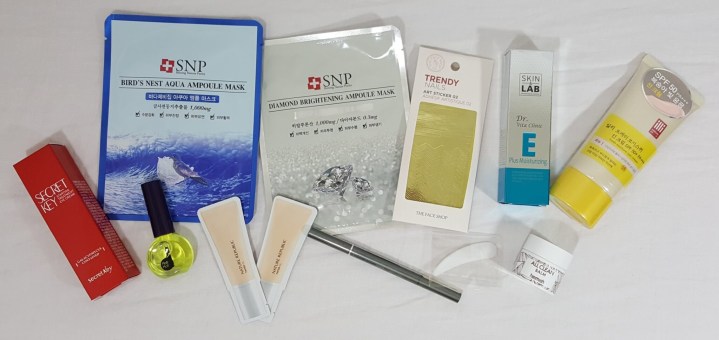 Everything in my May/June PinkSeoul box.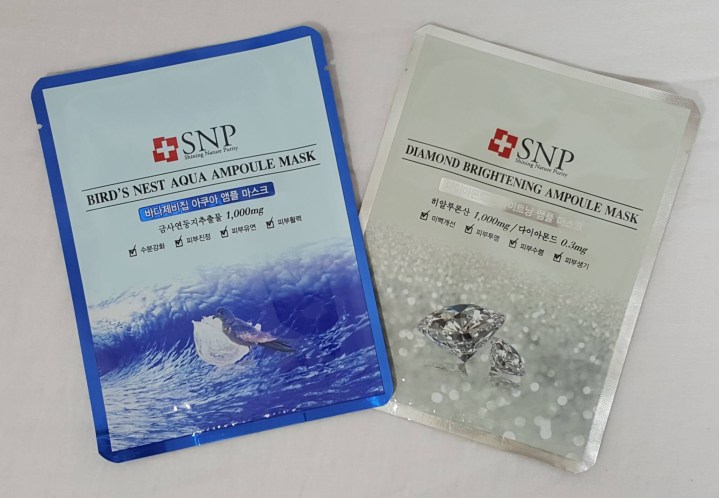 SNP Sheet Masks ($3.00 each):  I received the Bird's Nest Aqua Ampoule and Diamond Brightening Ampoule masks.
The Bird's Nest mask contains extracts from swiftlet nests.  These are the same nests that are used for Bird's Nest soup, and they can be extremely pricey.  This mask contains ingredients to moisturize the skin, reduce the appearance of fine lines, and brighten/even skintone.
The Diamond mask contains fine diamond powder, which some have said heals complexion issues.  The mask also contains sodium hyaluronate (moisturizing) and niacinamide (soothes skin and reduces dark spots).  If my face keeps breaking out, this mask is going on.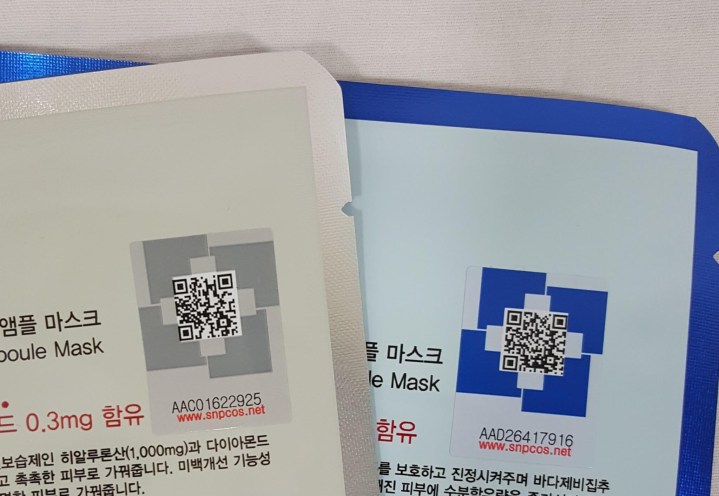 There was a QR code on the back of each mask pack.  When scanned, it took you to the product page and verified that the masks were authentic.  I didn't realize that I had the potential of getting knock-off masks.
Since I haven't given you a mask picture in a while, here ya go!  I'm wearing the Bird's Nest mask.  It has a clean scent, which was very pleasing.  I chose this mask because it contains alcohol and witch hazel among its ingredients, and I could feel Mt. Vesuvius starting to develop on my forehead.  This mask contains a good amount of serum; it took a few minutes for it to fully absorb into my skin after I took the mask off.  The moisturizing effects were immediately noticeable.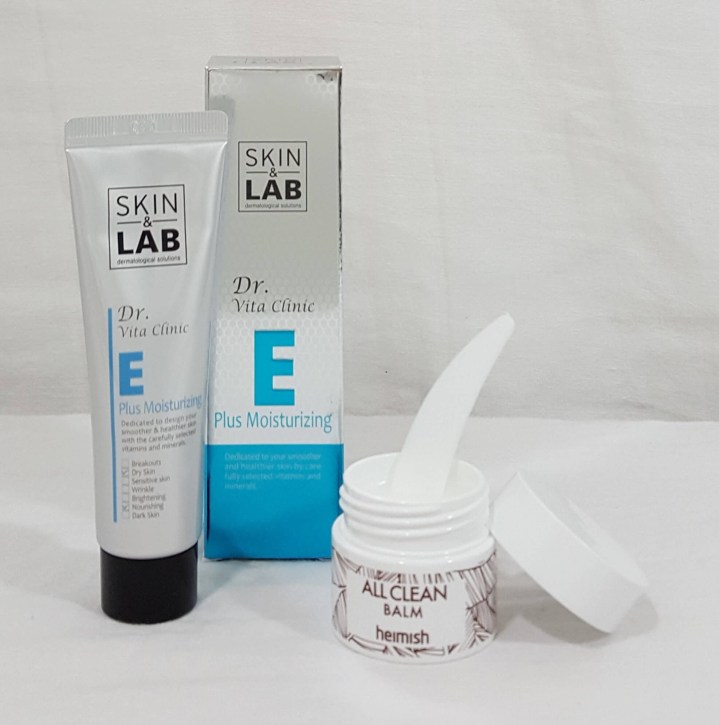 Skin & Lab Dr. Vita Clinic E Plus Moisturizing Cream ($25.00):  The Skin & Lab Vitamin Cream series is designed to specifically focus on skincare problems/issues to allow for targeted usage depending on your skin condition. The Vitamin E formula target dry skin and focuses on deep moisturizing.  The key ingredients are Vitamin E, mango seed butter, and lavender oil.  I guess since I stated I have combination skin, PinkSeoul was working to correct my dry areas with this cream.  I would have preferred the Vitamin C formula.
Heimish All Clean Balm ($2.00):  This is a deluxe sample and comes with a scoop.  The balm starts as a solid but melts into an oil as you massage it onto your skin, turning it into an oil cleanser.  It contains shea butter (nourishment), donkey milk (moisturizing and brightening), coconut extract (softening and balancing), and other plant extracts.  Use this as step 1 of the double cleanse regimen.  I was a little hesitant to try this as many oil cleansers are targeted for those with dry skin.  I was surprised by how well this removed my makeup – it seemed to dissolve off my face.  My skin did not feel greasy or oily afterwards.  However, the scent wasn't great, and thankfully not strong either.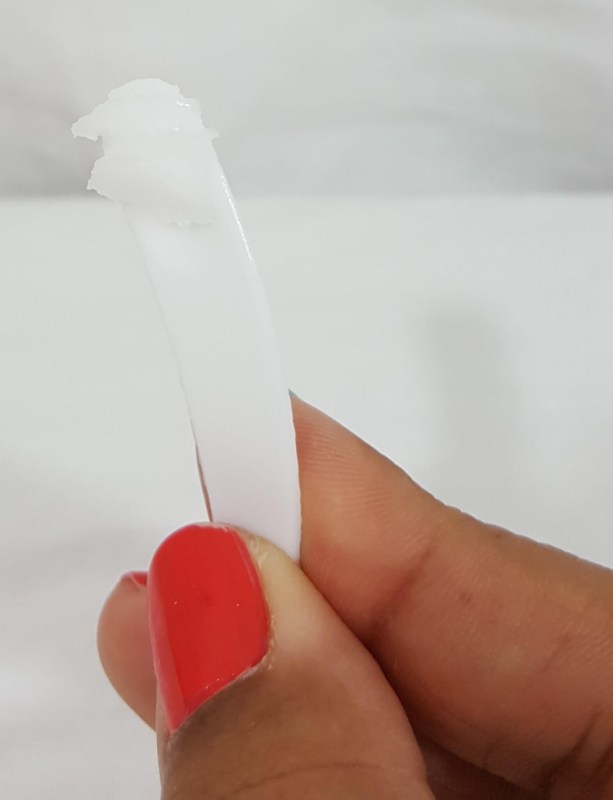 This is what one scoop looks like.  Use 2-3 scoops when cleaning your face.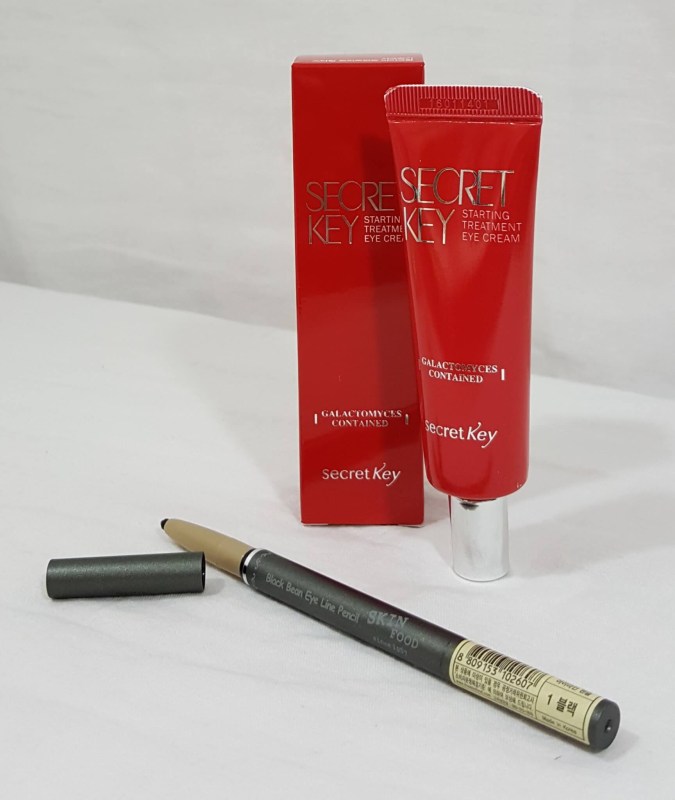 This cleanser will go on your skin in solid form and will convert into oil on your skin upon massaging. This sherbet style cleansing balm will dissolve even the heaviest makeup, while leaving your skin moist. This oil-based cleanser contains an impressive list of natural botanical ingredients. Key ingredients and benefits include: • Shea Butter – It is rich in antioxidants and is known for its moisturizing, anti-inflammatory and skin smoothing properties. Naturally rich in vitamins, it provides the skin with essential fatty acids and the nutrients necessary for collagen production. • Donkey Milk – Moisturizing and skin brightening properties. • Coconut Extract – Helps soften and balance skin. • Variety of Botanical Extracts and Oils – with skin soothing, calming and balancing properties. Secret Key Starting Treatment Eye Cream<($15.00):  This is currently sold out in the PinkSeoul shop.  This eye cream contains Galactomyces Ferment Filtrate (a natural yeast extract containing amino acids, enzymes, antioxidants) which is a humectant and has some anti-inflammatory properties.   It also contains niacinamide and adenosine (helps with cell regeneration).  I don't have fine lines around my eyes yet, and this cream should keep me that way for a while. Skinfood Black Bean Eyeliner ($5):  Um, so I completely missed that this had a smudger on one end (I'm blind – it's even noted on the info card).  This twist stick liner contains soy bean and avocado oil to help the eye liner smoothly glide over your lids; great if your eye area is sensitive.  It's not recommended if you're trying to achieve a high definition sharp eye liner look.  When I use black eyeliner, I like the color to be bold.  This is a soft black.  Several reviewers noted that this does not work well if you have oily eyelids, and I do.  I will be passing this on.
Illi Fresh Moisture Sun Cream ($19.95):  PinkSeoul felt it was important to include a sun protection item in each of its boxes this month.  Their selection was based on the subscribers' profile with the hopes that this would entice them to wear it.  This moisturizing sun cream provides SPF50+/PA+++ (yay!) and is slightly tinted in peach color to give your skin a glowy finish.  It contains Panax ginseng root extract (promote elasticity, improve skin texture and tone) and Yuzu peel extract/oil (softening, brightening).  Although I have a darker complexion, I burn easily and wear a minimum SPF of 50, so that is a win.  The slight tint made this questionable because I was concerned about looking whitecast.  There was a haze on my skin, but it didn't look like I bathed in zinc oxide.  For me, this is good for a day in the sun, but not as a daily sun protectant.  The yuzu scent is absolutely yummy.  On a side note, I had no clue about the PA rating.  PA is protection against UVA rays; the more + signs, the better the protection.  SPF refers to protection from UVB rays.
Nature Republic Tinted CC Cream (no value):  These were samples, and PinkSeoul did not attach a value to them.  In my profile, I noted that I had dark skin.  While there are Asians with darker complexions than mine, this cream does not cater to that group.  The color was meant for someone with fair skin.  Where BB creams are more of a sheer foundation with sun protection and anti-aging benefits, CC creams focus more on color correction – reducing redness/darkspots and evening out skintone.  They tend to go on lighter than BB creams, and often contain light diffusing particles and more pigment.  Think of it like tinted moisturizer vs foundation.  Full-sized tubes of this CC cream are available at amazon.com.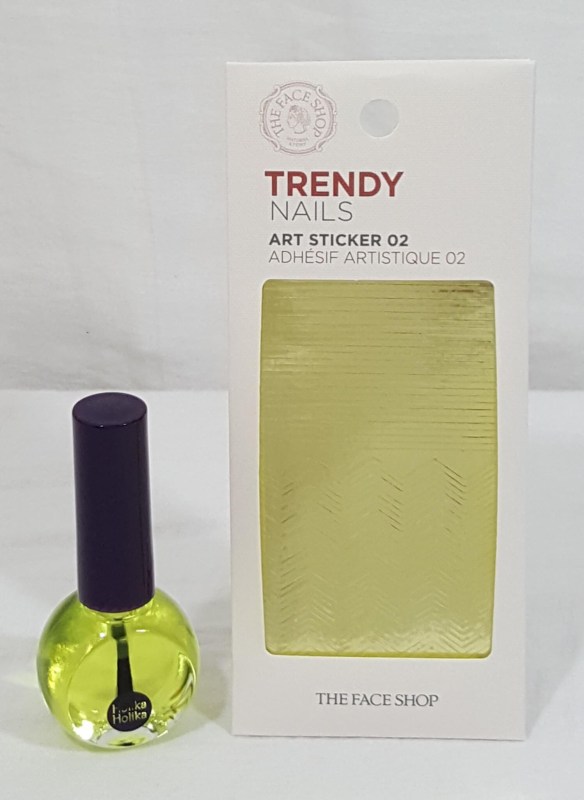 Holika Holika Cuticle Oil ($6.00):  The price listed is from the information card.  However, the PinkSeoul shop shows this as $5.  Among the key ingredients in this formula are Green Tea seed oil and Vitamin E.  I'm terrible about using cuticle oil, mostly because I use lotion all the time and hate the greasy feeling the oil leaves on my hands.  But, PinkSeoul did remind me that it is sandal season, and my toes could use some love.  I'll start using this as part of my nighttime routine on all of my cuticles.
The Face Shop Trendy Nails Art Stickers – 02 gold ($5.00):  "These nail stickers can be very time consuming and tedious OR quick and simple – it really depends on how crazy you want to get with it!  Keep it simple by just decorating your index or ring finger and it will instantly get plain nail polish to look chic!"  This perfectly sums up my love-hate relationship with nail stickers, and I couldn't have said it better.  The pack contains both straight and chevron/zigzag strips.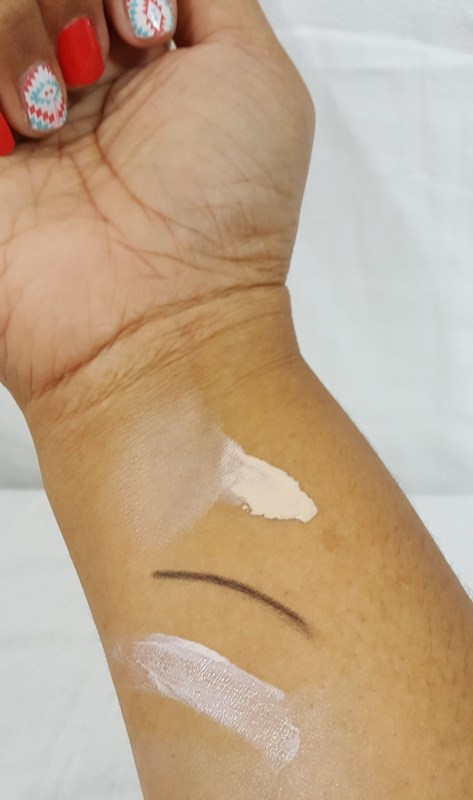 From top to bottom:  Nature Republic CC Cream, Skinfood Eyeliner, and Illi Fresh Moisture Sun Cream
You will be charged for your first box on the day you order your subscription, regardless of your expected shipment date.  Your subscription will automatically renew, and you will be automatically billed every other month 3-4 days prior to your box shipment date.  Prices include free shipping to all US states, Guam, Puerto Rico, and the US Virgin Islands.  International shipping is available; check here for rates by country.  To skip a shipment or cancel, just email PinkSeoul by the 10th of the month you expect to receive your box (based on shipment schedule).
PinkSeoul does offer a rewards program, and points can be used to purchase items from the site.  For more details, click here.
This was an interesting box with a nice variety of products.  I calculated the value to be $83, which is more than double the cost!  A definite value.  Personally, the assortment I received left me with mixed feelings.  What I appreciate is that the products are full-sized, so you get time to use them and see the benefits.  The down side to that is if you don't like an item, you're stuck with a large amount.  However, that could make a good gift for someone else.  This was only my first box, and there is a huge world of K-beauty yet to explore.  I'm staying optimistic that my next delivery will be filled with WOWs.
I'd love to hear your thoughts on PinkSeoul, so share a comment below. Save 10% off your first month! Use coupon code  HELLOSUB.
Visit PinkSeoul Box to subscribe or find out more!
The Subscription
:
PinkSeoul Box
The Description
: PinkSeoul Box is a customized (based on your skin type and area of focus), full-sized, curated bi-monthly Korean skincare and makeup subscription box with at least 4 full-sized products and an accessory item (i.e. hair/cosmetic accessory) every other month. Each box is customized based on your skin type and area of focus. Shipping is $8.95 for Canada and $18.95 for select countries worldwide, free in the US
The Price
: $39.95 every other month