Pampered Mommy is a monthly subscription box that is made specifically for moms.  They send you a selection of bath, beauty products, accessories, and other fun essentials that are designed just for mommies.  And it comes in the cutest pink box with white lace filigree printed on it.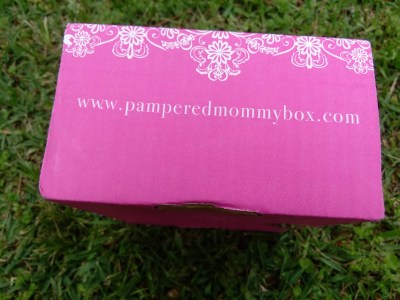 I love to find this pink box in the mail!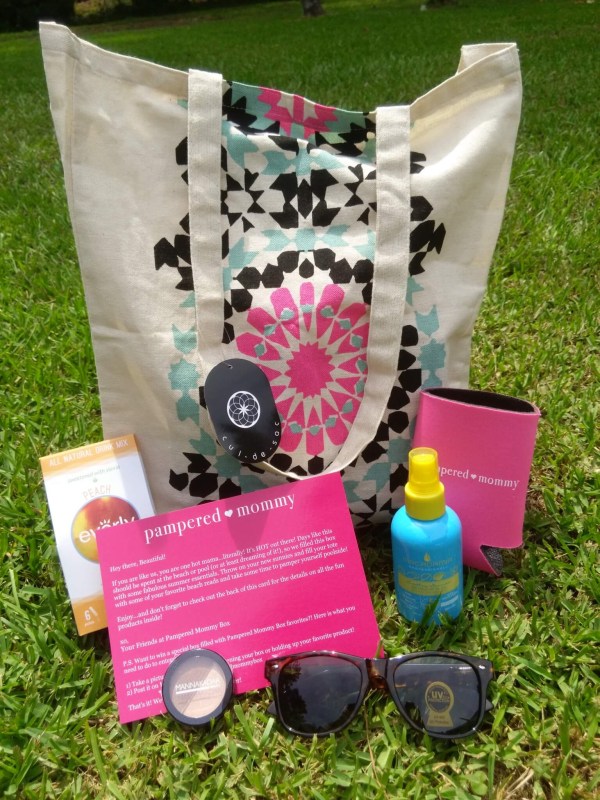 This is Pampered Mommy's  July box of wonderfulness.    The boxes are shipped out around the 20th of the month.  You can purchase your subscription one month at a time for $29.99 per month (plus shipping) or pay 3 months at a time for $89.97 and shipping is free.    They also have one time purchase options available for their past boxes for $34.99 plus shipping.  (There was some awesome stuff in these, check out some of the Hello Subscription reviews for them.)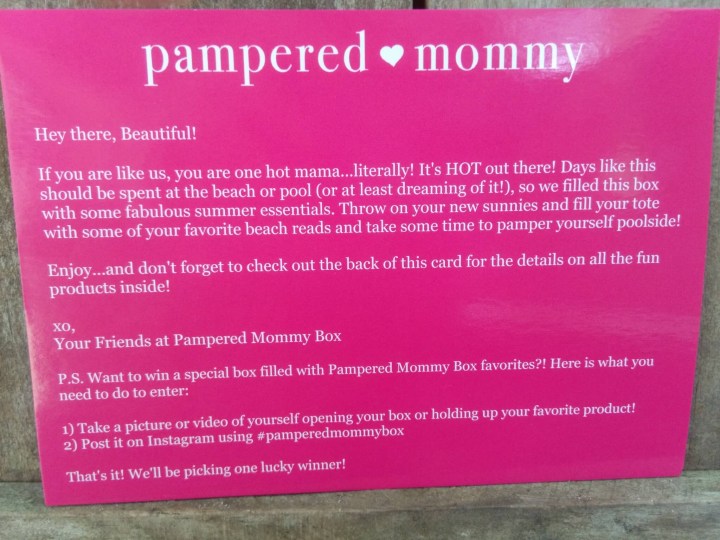 This shiny pink product description card welcomes you to the Pampered Mommy Box on the front and tells you all about the enclosed products on the back.
There's also a contest/sweepstakes to win a box of Pampered Mommy Box Favorites by posting a video or picture on Instagram of yourself opening your box and holding up your favorite product.  Go!  Win!
Each product is listed, described in detail and they give you the retail price!!  They even calculate the full retail price at the bottom.  This box is valued at $70+!!   And, it's only $29.99, cha-ching!!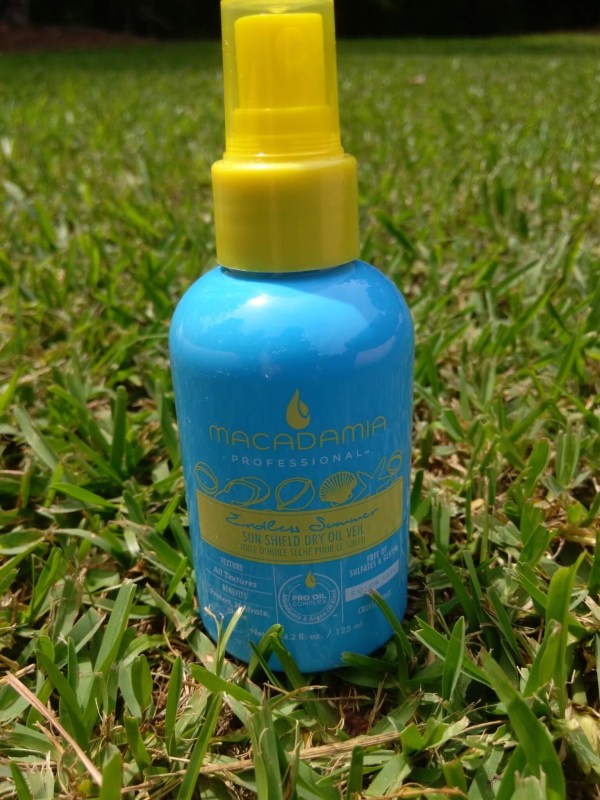 Macadamia Professional Endless Summer Sun Shield Dry Oil Veil ($20):  "If you are like us, you slather sunscreen on every inch of your body before heading out for a day in the sun.  But did you know your hair needs protection too?  This pre-sun treatment protects and shields your hair from harmful UV rays.  It also hydrates and helps minimize loss of color, dryness and damage.  Bring on the endless summer!"
So, I was a little disappointed at first.  I was thinking, "I don't use tanning oil anymore.  I'm nearly 40.  I'm trying to get these sunspots to go away!!"  But, then I read the details.  They should really have the fact that it is for your hair more prominent on the bottle.  And now, I am in love.  This stuff is great.  I usually put conditioner on my hair before a day in the sun, but here is a product specifically for protecting my hair from sun damage.  Pampered Mommy always knows what I need.  It smells good too, a light sweet coconut scent.  And, it is great for taming the frizzies.  I'm going to throw it in my purse.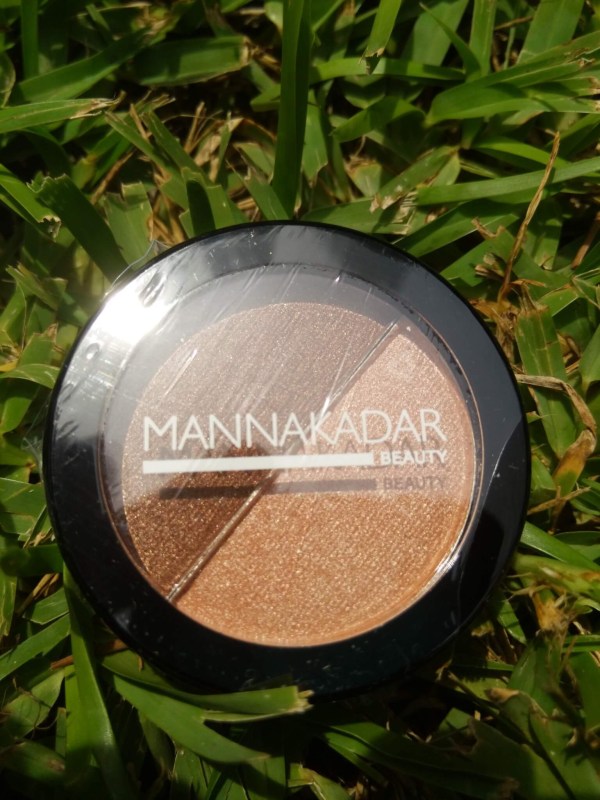 MKC Radiance Split Plan Bronzer/Highlighter ($21):  "Saving time is crucial when you're a mom, which is why we love this 3-in-1 product by Manna Kadar Cosmetics!  It can be used as a bronzer, highlighter or eye-shadow.  Add this universal product to your morning routine and look perfectly sun-kissed in no time!"
So, I use a similar color eye-shadow all the time and I just dropped mine and broke it into a gazillion pieces.  Again, Pampered Mommy with the mind reading.  How do they know?
I love make-up products that have more than one use.  And I like that you can use it with a dry brush for a more subtle look or wet your brush first for a foiled/metallic eye-shadow look.
100% UV Protection Sunglasses ($20):  "Having an extra pair of sunglasses around in the summer is a MUST since we're always on the go.  Keep these fun, stylish, scratch resistance sunnies in your beach bag and you'll be ready to play in the sun all day long!"
These aren't my favorite sunglass style, but they have decent construction (springs in the hinges).  And yes, I do always need an extra pair (I have four female children who like to steal borrow mine), so in the car they are going.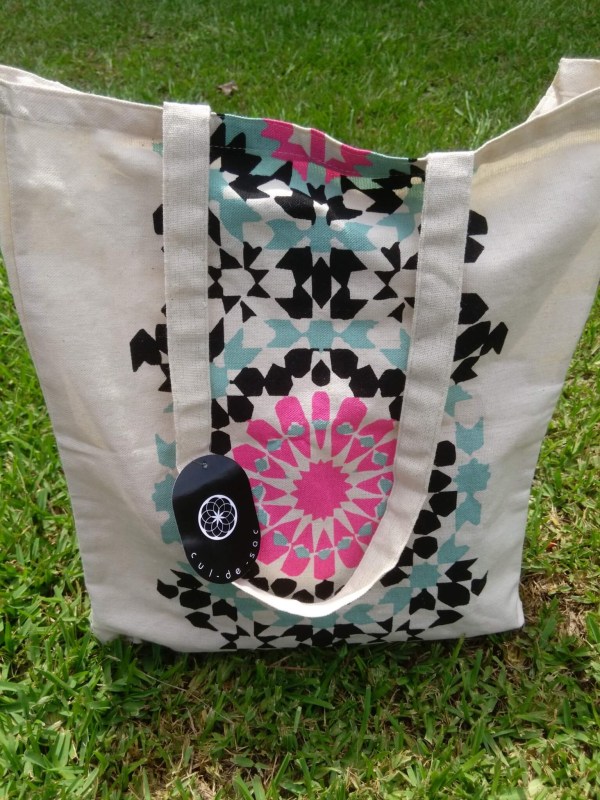 Tri-Coastal Reusable Tote ($10):  "As moms, we have a LOT to carry, so we can never have too many bags!  This adorable canvas tote bag is perfect to haul around those summer essentials."
Yes, I agree with that sentiment.  I can never have too many bags.  And this one is cute.  I think I shall declare it to be the library book bag.  Done.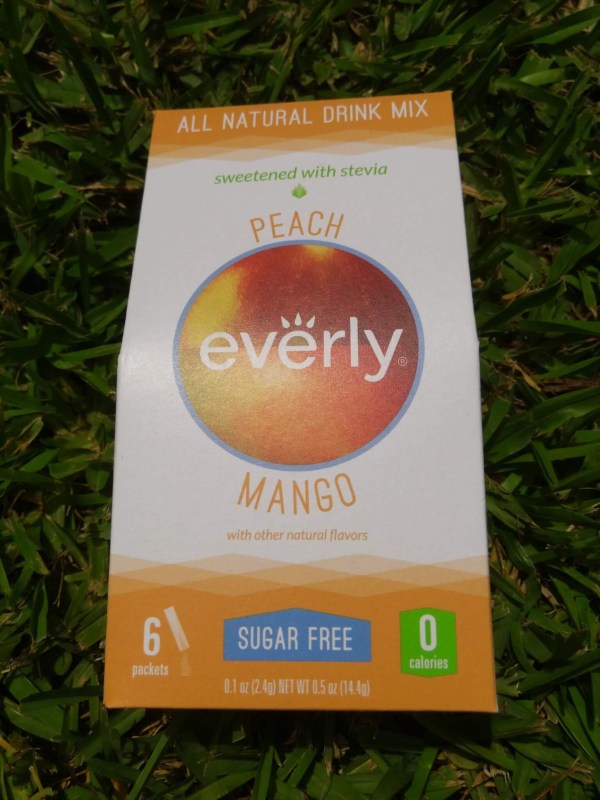 Everly Mango Drink Mix ($3.49):  "During these hot summer days, it's important to stay hydrated!  Everly makes drinking water everyday much more exciting (and healthy too!).  Their drink mixes are natural, sugar free, and zero calorie."
These are pretty good.  Throw in your purse to add some pizzazz to your bottle of water.  I've had their pomegranate flavor too.  It is good also.  They don't have that aftertaste that those other zero calorie packets have.
And, interestingly, Everly is now offering hydration subscription plans!!  Go here to check it out.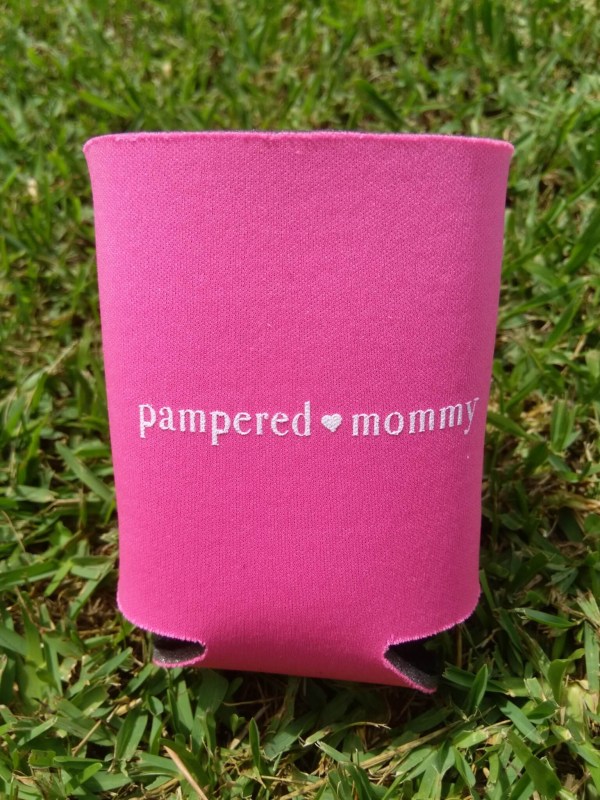 Pampered Mommy Koozie (Extra gift!) :  "Keep your favorite summer beverage (aka mommy's bottle!) cool with this fun, pink koozie.  Perfect for the beach, pool, or summer picnics."
Pampered Mommy is the subscription box that will make you smile despite the chaos that surrounds us moms.  The lovely, constant, loud, never-ending, "Would you please stop that!" chaos.  I loved the Macadamia Professional Dry Oil (FOR HAIR) in this box.  It calmed my chaos a little.  Which product calmed your chaos?
Visit Pampered Mommy Box to subscribe or find out more! Save $5 on your first box! Use coupon code HELLO5OFF.
The Subscription
:
Pampered Mommy Box
The Description
: The contents of the box are a surprise – each box will include a variety of carefully selected bath and beauty products, accessories, and other fun essentials that are perfect for mommies. Items could range from face and body lotions, hair products, nail polish, makeup, a headband, a scarf or a tumbler – and so much more.
The Price
: $29.99 per month