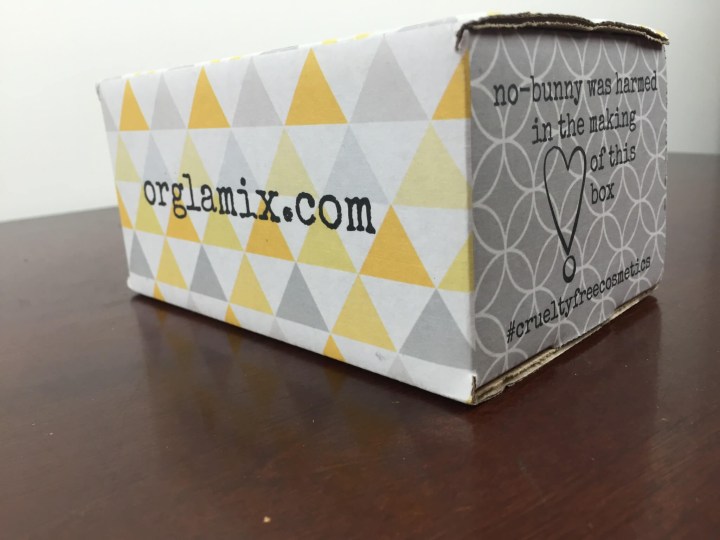 Orglamix is a monthly vegan beauty and makeup subscription box. Every month you'll get vegan natural beauty products with a cute monthly theme!
Such a cute mix of products – I love this brand's packaging!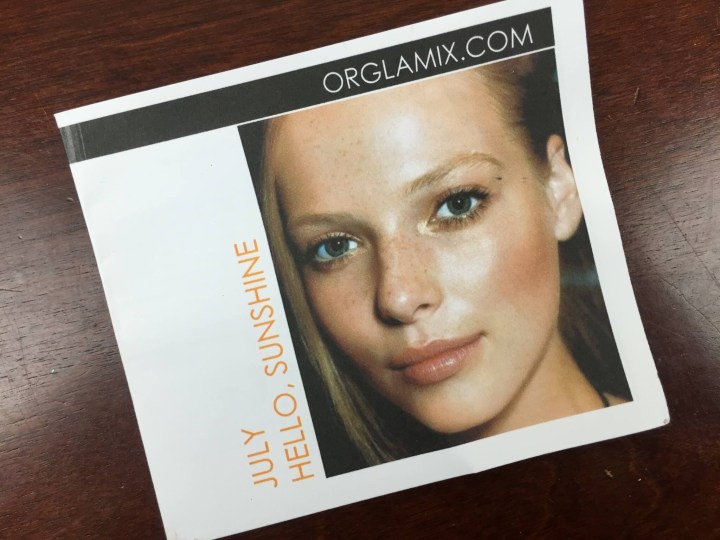 The July theme was "Hello, Sunshine" – perfect for this season!
Everything in the box! That lemon shaped makeup sponge really is the perfect touch!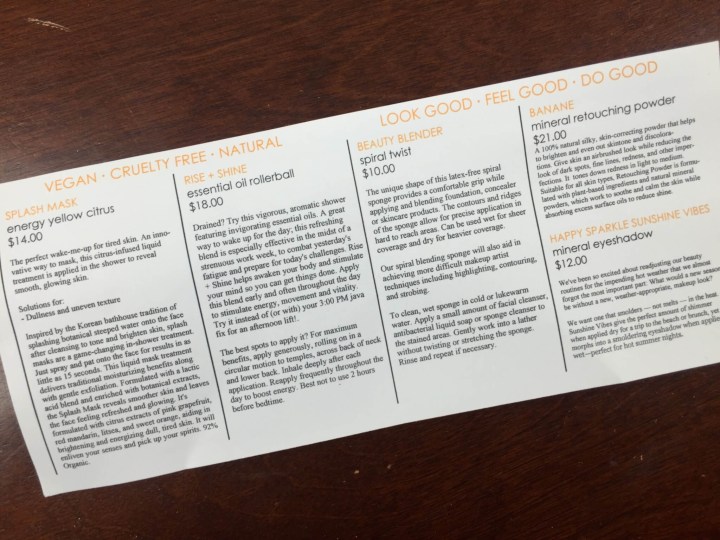 The information card has details on every item plus useful tips!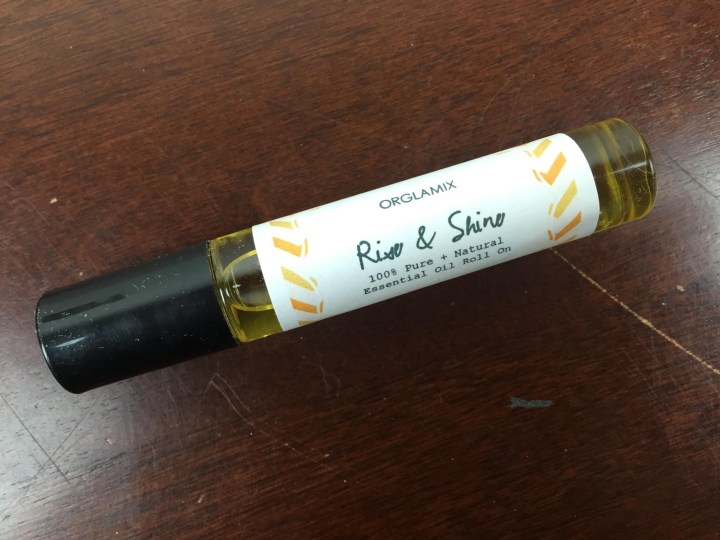 Rise & Shine Essential Oil Rollerball ($18) Hello lovely, rise and shine with an essential oil rollerball! The ingredients print is WAY tiny but I could make out bergamot, pink grapefruit, citronella, lemongrass, lime, patchouli, neroli, and cinnamon (ok, I had to take a photo and enlarge it!). This product is perfect for an invigorating lift – use it to help wake up or just to re-energize during the midday slump. I loved it to help shake away the sleepies.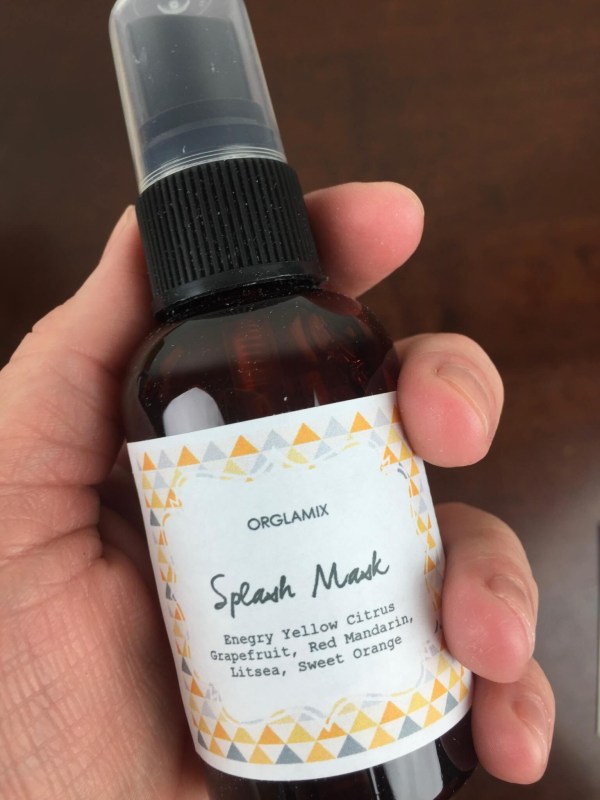 Splash Mask Energy Yellow Citrus ($14) I loved this next item even more! It's a spritz on mask for moisturizing and to combat dullness and uneven texture. I love facial mists but I'd never heard of a spray mask. It uses lactic acid and it made my skin shockingly soft afterwards. This product is a keeper!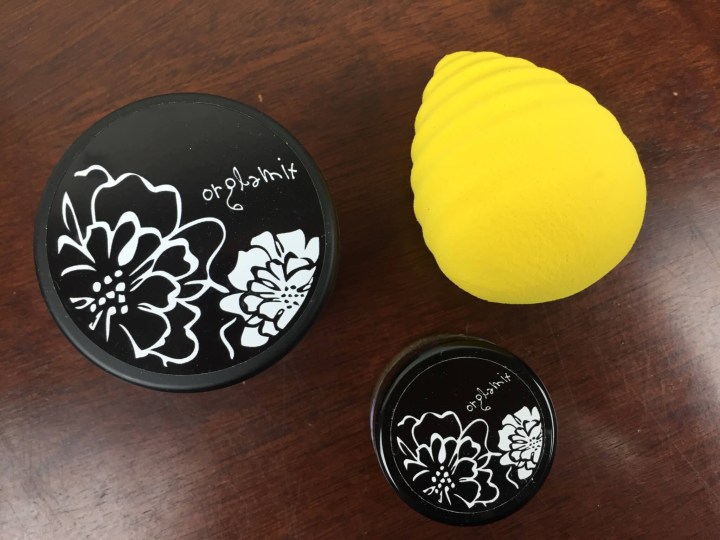 Banane Mineral Retouching Powder ($21)  Banana powder to combat redness!
Happy Sparkle Sunshine Vibes Mineral Eyeshadow ($12) A shimmery mineral eyeshadow.
Beauty Blender Spiral Twist ($10) This is not a BeautyBlender brand makeup sponge, but it's a high quality knockoff that looks like a lemon. Cute!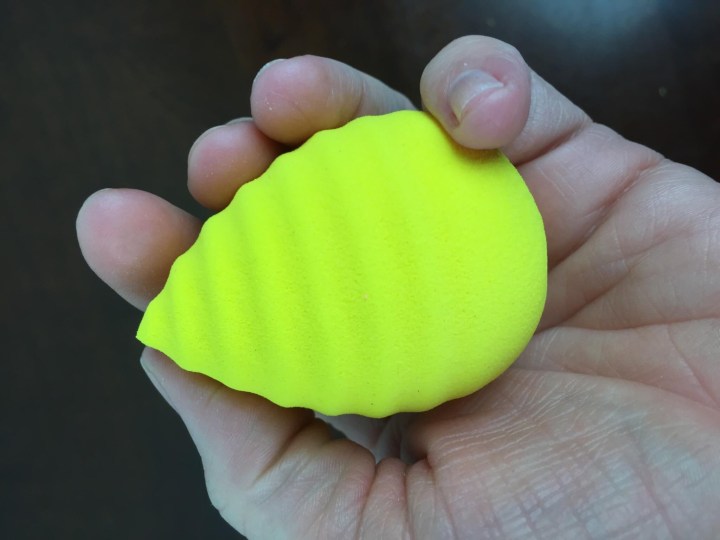 The sponge has ridges to reach every bit of your skin and can be used wet or dry.
Banana powder on top, shimmery golden shadow on the bottom. The banana powder applied creamy instead of just powdery, which I liked a lot!
I was super pleased with the light touch of the golden shimmer shadow (on top). I didn't blend the banana powder for the purposes of this photo – but you'd use a blending or buffing brush to achieve just the right effect!
This was my second experience with Orglamix and I have to say that I'm a fan! I loved all the products and I can't say enough – they're really high quality with no fillers (except the essential oil roll-on obviously uses a carrier oil!) and they work beautifully.
What do you think of Orglamix this month? Save 30% on your first month with coupon code SA30.
Visit Orglamix Beauty to subscribe or find out more!
The Subscription
:
Orglamix Beauty
The Description
: When you sign up for Orglamix, every month you will receive a 4-6 expertly curated, healthy beauty products, non-toxic cosmetics, natural & sustainable, cruelty-free goods + a $10.00 Gift Card to orglamix.com. For every box sold, we donate a meal to orphaned children in need.
The Price
: $29.00 per month