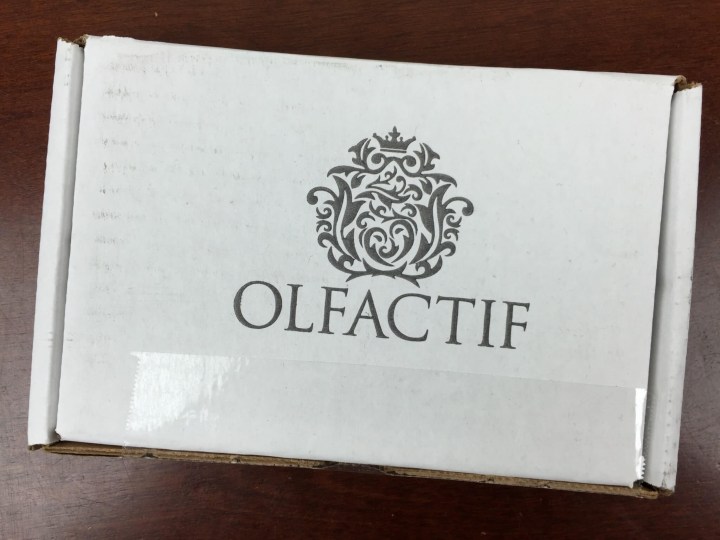 Olfactif for Men is a monthly fragrance discovery subscription box featuring more distinctly masculine scents than their unisex flagship subscription.  You'll get 3 samples in your box, each containing 15-20 "wears" of an independently designed cologne or eau de perfume. With every box, your account will be credited with an $18 voucher to use on fragrances from the store.  Olfactif for Men prides itself in selecting niche offerings incorporating higher quality and hard-to-find ingredients.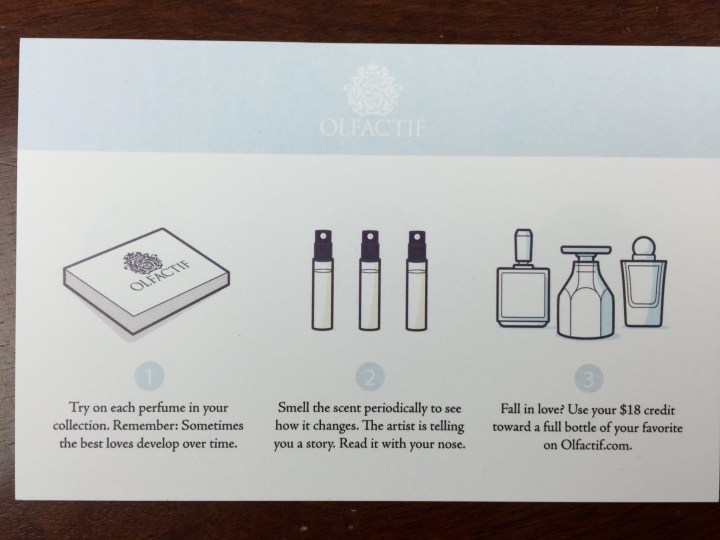 The regular Olfactif box is unisex and meant to be worn by women and men who enjoy niche fragrances.  Because it features fragrances intended to be wearable by both sexes, it only occasionally indulges in the heartier scents typically associated with Men's fragrance.  The Men's box is centered around traditionally masculine fragrances, all from the niche world.  You will still see the same creative spirit and defiance of convention, but the focus will be on the yang.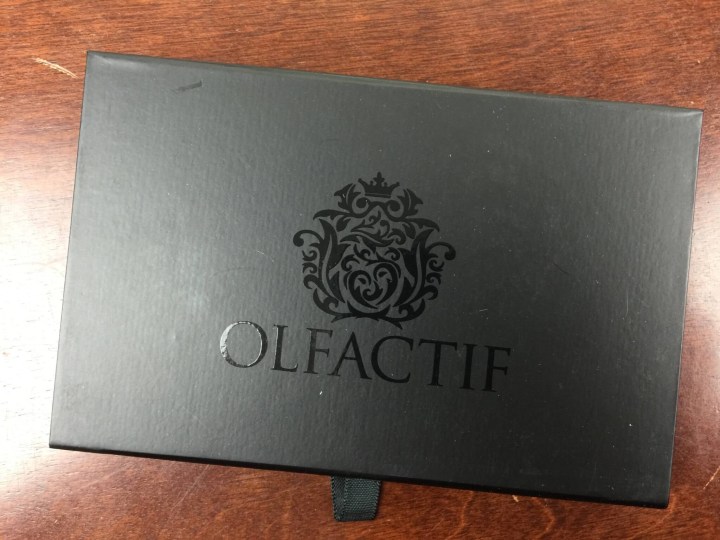 Olfactif Men's comes in the same cool packaging as their flagship subscription.  They have changed it a bit, changing from a retracting panel box to a simpler flap top box.  The information card for the fragrances is tucked inside.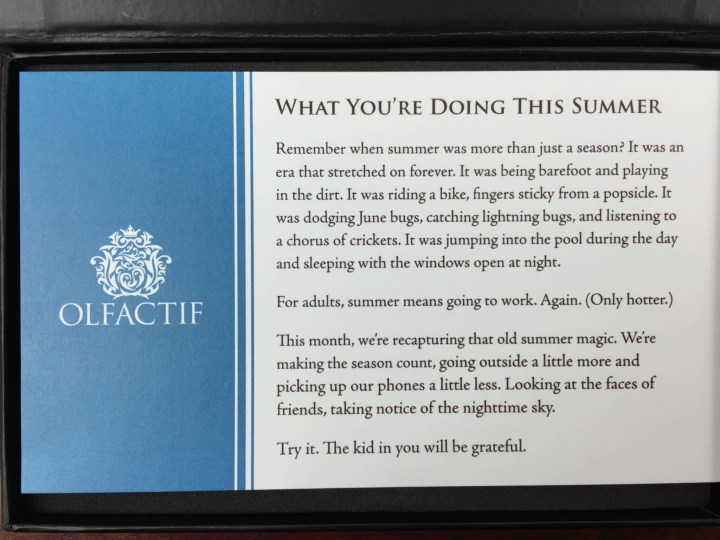 The theme for this ensemble of men's fragrances is "Old Summer Magic." Subscribe by July 15 to get this collection!
Remember when summer was more than just a season? It was an era that stretched on forever. It was being barefoot and playing in the dirt. It was riding a bike, fingers sticky from a popsicle. It was dodging June bugs, catching lightning bugs, and listening to a chorus of crickets. It was jumping into the pool during the day and sleeping with the windows open at night.

For adults, summer means going to work. Again. (Only hotter.)

This month, we're recapturing that old summer magic. We're making the season count, going outside a little more and picking up our phones a little less. Looking at the faces of friends, taking notice of the nighttime sky.

Try it. The kid in you will be grateful.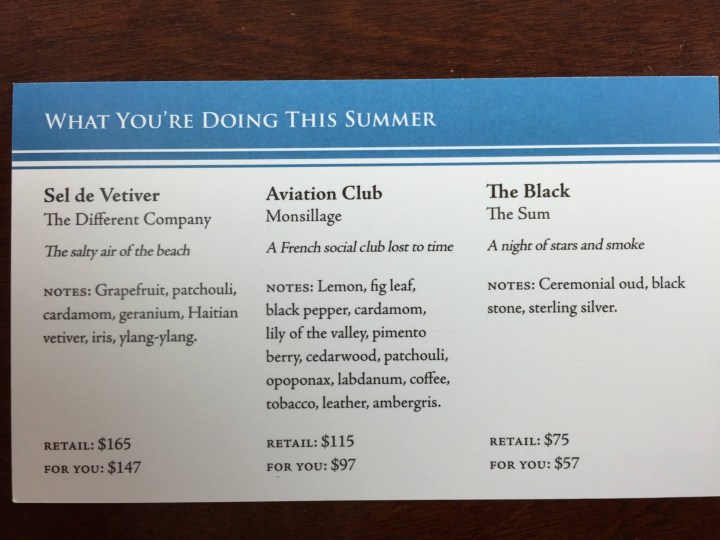 The fragrance notes give detail on the composition of the fragrances, but the prominence of each element changes as the scent ages on your body.  The card has more detailed price information than it has had in the past — it now lists both the retail and Olfactif store price for each fragrance.  I think this is a smart move, as it shows you of the savings you would get buying a full size bottle through Olfactif, but, like the old format, also reminds you that you are sampling some rather pricey fragrances.
The three fragrances come tucked neatly within the very cool case.  The bottles are testers, but with up to 20 wears each, they are perfect for keeping around for a change of pace well into the future (but make sure to take advantage of the subscription credit toward purchase, and pick up a full size of your favorites!).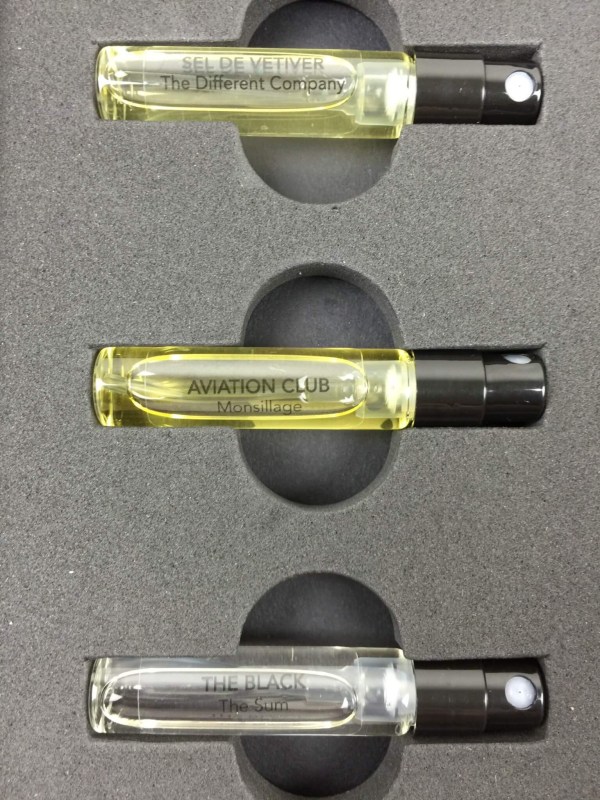 June 2016 Olfactif Men:
The Different Company's Sel de Vetiver:  True to it's name (vetiver salt), this fragrance has a salty sweet presence when first applied.  Sweet spices also shine through, but it becomes increasingly powdery as the ylang-ylang and patchouli emerge.   The bright grapefruit and vetiver-sweetened geranium are the lasting notes.  It nicely captures the warm breeze feel of oceanside dunes, but with a sweet grapefruit accent in place of the piscine notes of the actual locale.
Monsillage's Aviation Club:  Peculiar and pleasant, this scent opens up with the curious, but inviting scent of a prepared-salads deli case.  Lemon, , black pepper, fig leaf, cardamom, and pimento berry create a melange that reminds me of dolmades, or stuffed grape leaves.  Warm, soft tobacco and leather notes are also immediately apparent.  The fragrance transforms quite a bit over time, with the lasting notes being a slightly smoky combination of intense cedar and restrained ambergris.
The Sum's The Black:  A precious few scent notes combine to create a surprisingly vivid tableau.  I find the fragrance conveys a sense of sacred space much more so than it does darkness.  The ceremonial oud provides a hint of warmth and spice, but the primary scent is one of cool stone and oiled wood.  I am reminded of a great empty cathedral, with the scent of marble and worn pews augmented by a hint of incense.  The oud remains as the lasting note, gaining an almost gingery spicy quality.
This collection covered some unexpected ground, with some very sophisticated takes on a Summer fragrance.   Sweet citrus, smoky wood, and warm and majestic stone lend each of the three selections a unique character, providing a pleasant option for any Summer scenario.
Have you tried niche fragrances yet? What did you think of this month's Olfactif Men's collection?
Visit Olfactif to subscribe to the Men's box or find out more!
The Subscription
:
Olfactif
The Description
: Get 3 niche, unique fragrances curated around a theme. Purchase a full bottle that month and credit your box price against the cost of the fragrance.
The Price
: $18 per month