Okashi Connection is a Japanese snack box available in three sizes — Ninja ($14), Samurai ($22), and Sumo Box ($33) — and shipping is free. My box arrived with a label as "Summer Box #2" instead of a month, but I think it's safe to say based on reviews of June 2016 that this is July's box! This box is heavy, around 2 pounds! I can't wait to open it up and see what's inside!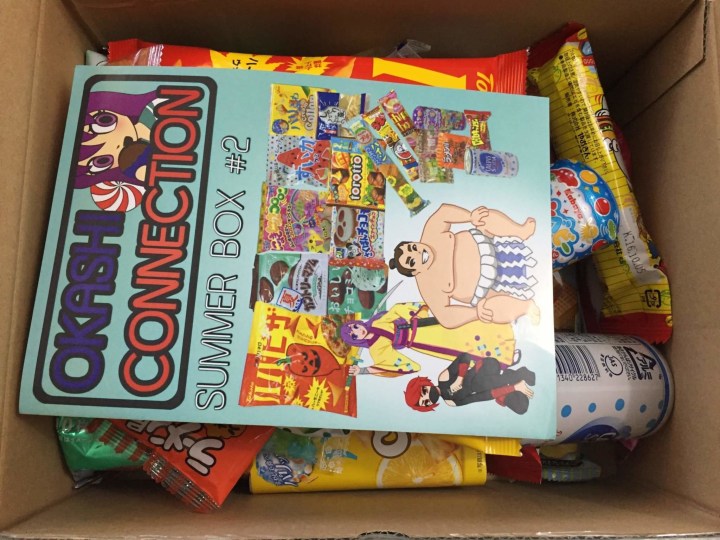 First look! I'm really excited to see a drink!
The blue page is the items in the Ninja box. The blue and orange pages are both in the Samurai box.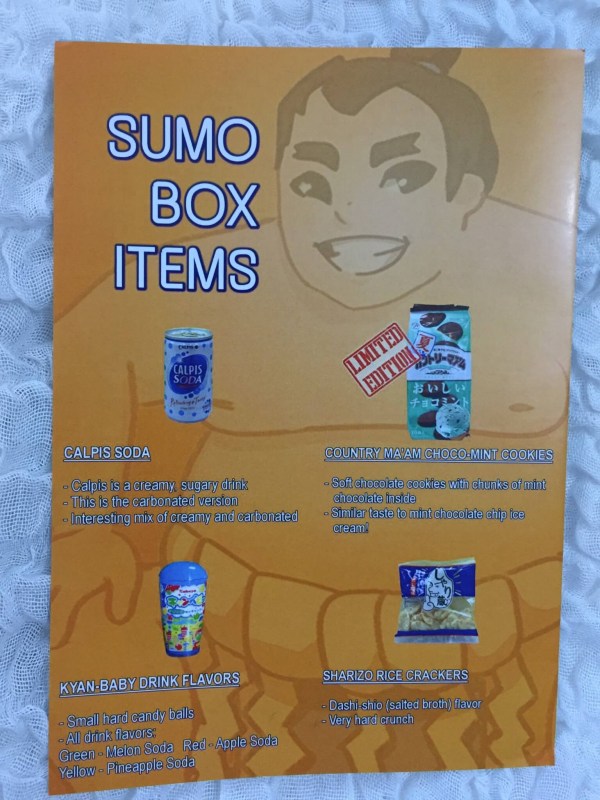 All three pages are in the Sumo box! So it's your traditional three-tier box plan.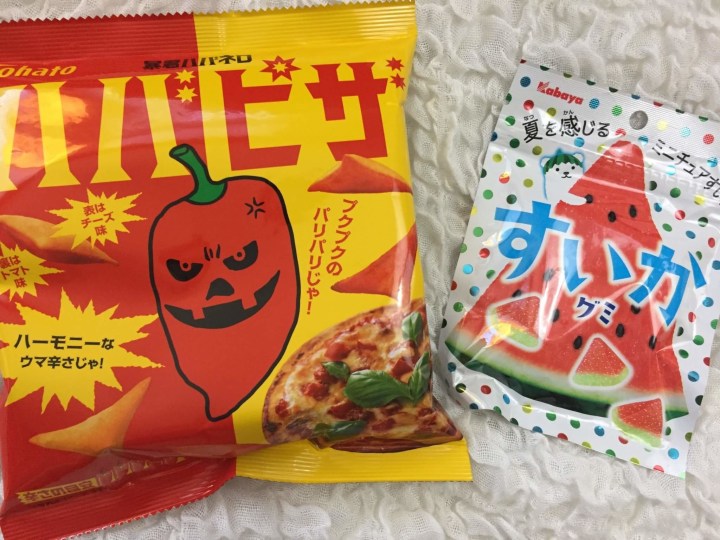 Habapizza Chips I've had Tohato's habanero rings and they are VERY hot — these chips are pretty similar but have a tomato/cheese flavour to them as well, but it's pretty overpowered by the pepper.
Suika (Watermelon) Gummies After peach, watermelon is my favourite fruit. These watermelon gummies are shaped like watermelons but I found they had that fake overly sweet flavour to them that I don't really like.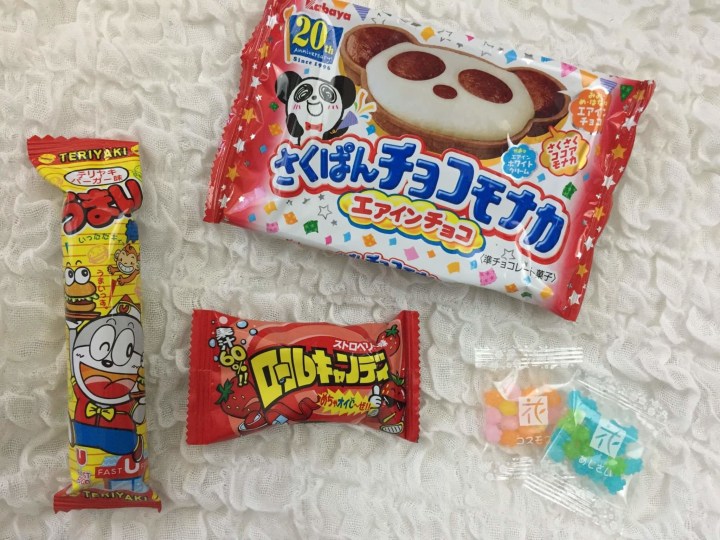 Teriyaki Burger Umaibo I love umaibo! This is a teriyaki beef flavoured corn snack.
Strawberry Roll Candy Basically fruit by the foot. Seriously, I feel like i'm 10 again!
Saku-Pan Choco-Monaka Monaka is a Japanese treat which is usually red bean paste between two wafers made of mochi — I've tried traditional monaka from Bokksu this month, but this monaka is made with chocolate in the middle! The chocolate is aerated (my favourite!) and is really tasty!
And it's adorable!
Hana Konpeito Konpeito is what the soot sprites (susuwatari) in the Studio Ghibli movies eat!
This hard sugar candy is pretty much like rock candy — very hard and crunchy and made of pure sugar. These konpeito are flower flavoured (hana means flower). Konpeito are actually pretty involved to make — it takes 7-14 days of rotating melting syrup over a single grain of sugar as the core.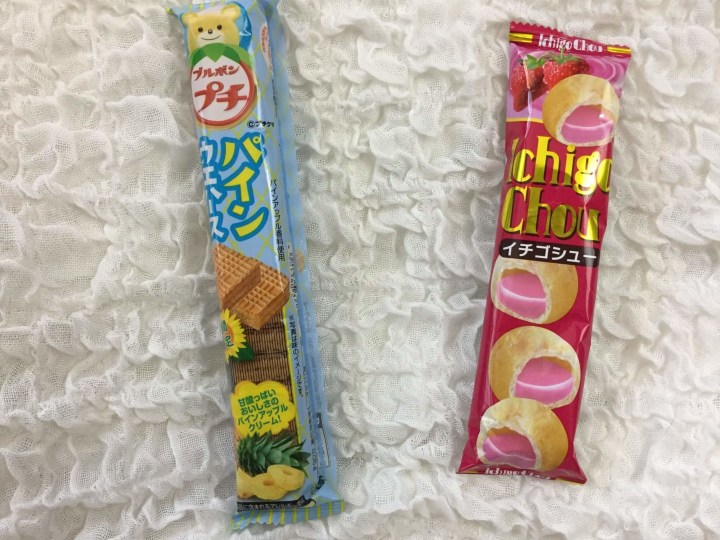 Pucchi Pineapple Wafers Yay, another Pucchi (pucchi means petit, or small) cookie I haven't tried! These wafer cookies have pineapple cream sandwiched between the layers. Perfect for summer!
Ichigo Chou These are little mini cream puffs with strawberry cream filling!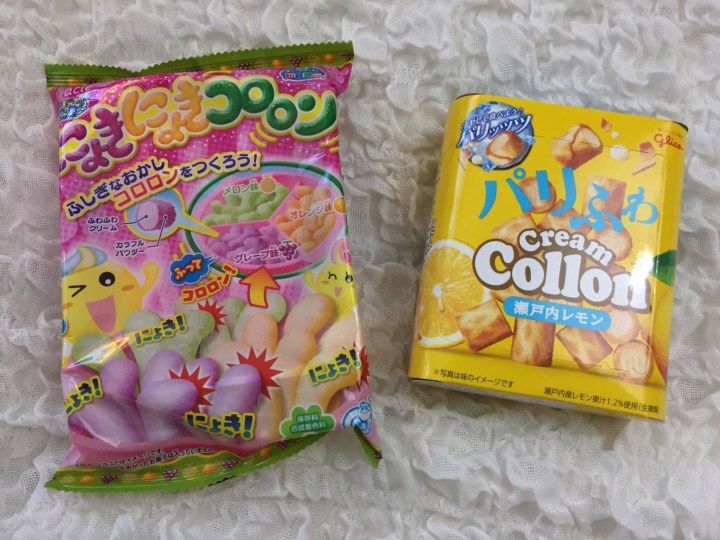 Nyoko-Nyoko DIY Kit Okay, I totally failed at this kit. You're supposed to be able to push cream through tiny holes to make powder-covered candies, but I couldn't get the right pressure and instead ended up with giant oozing blobs.
Cream Collon This is a lemon cream version of Collon! These are flaky biscuits and they're really addicting. They're made by Glico, most famous for Pocky.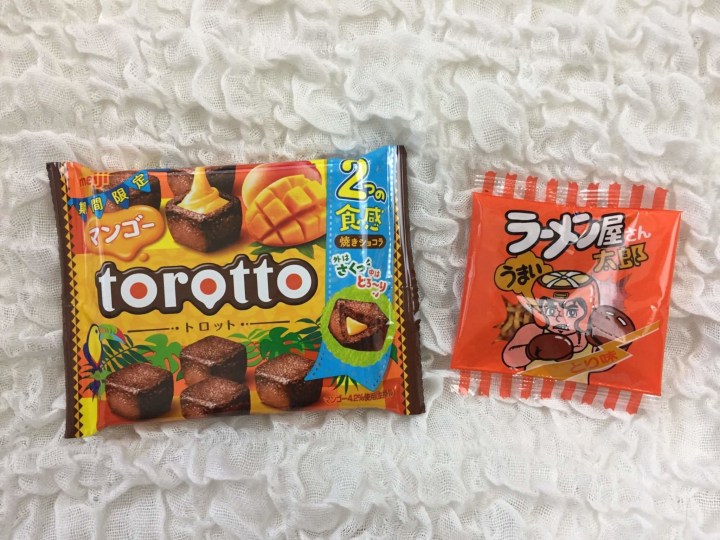 Torotto Mango This is a baked chocolate that has mango cream inside; I'm not crazy about mango so I didn't really like these as much as the other treats, but it's a Meiji product and their chocolate is always very high quality!
Ramen Taro Crunchy ramen snack with chicken flavour!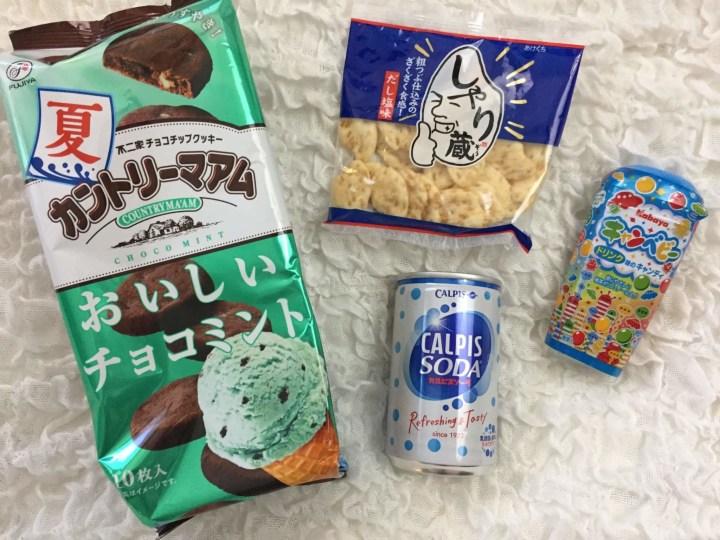 Country Ma'am Chocolate Mint Cookies This pack of cookies is huge! These chocolate cookies with mint chocolate inside are absolutely delicious, and I think I'm going to try freezing them since they taste so much like chocolate chip mint ice cream.
Sharizo Rice Crackers Crunchy crispy rice crackers with a seasoned broth flavour; they're really salty!
Calpis Soda I love Japanese sodas! Calpis is like a creamy Sprite — which I know sounds a bit unappealing, but it's a lemon-flavoured sofa with a milky look to it.
Kyan-Baby Drink Flavours These are small round candies flavoured like fruit sodas.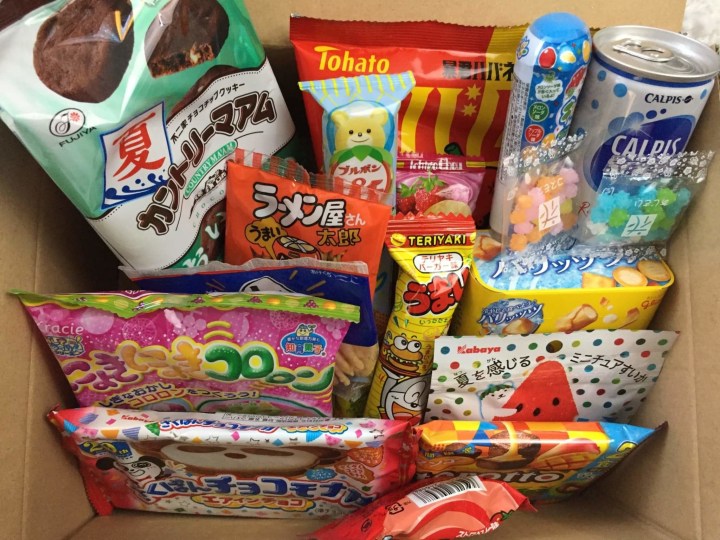 My first Okashi Connection box was awesome! Almost ALL of the items included were new to me, so I had a blast trying out a bunch of different goodies for the first time. This box was seriously stuffed with goodies, and even a drink (always bonus points from me for including a drink!) so I was really happy to open it.
What would you like to try from July's Okashi Connection box?
Visit Okashi Connection to subscribe or find out more!
The Subscription
:
Okashi Connection
The Description
: Okashi box is a monthly candy subscription box. Each month receive between on pound of Japanese candy. Okashi strives to include things that are difficult or impossible to get outside of Japan and seasonal items.
The Price
: $22.00 per month