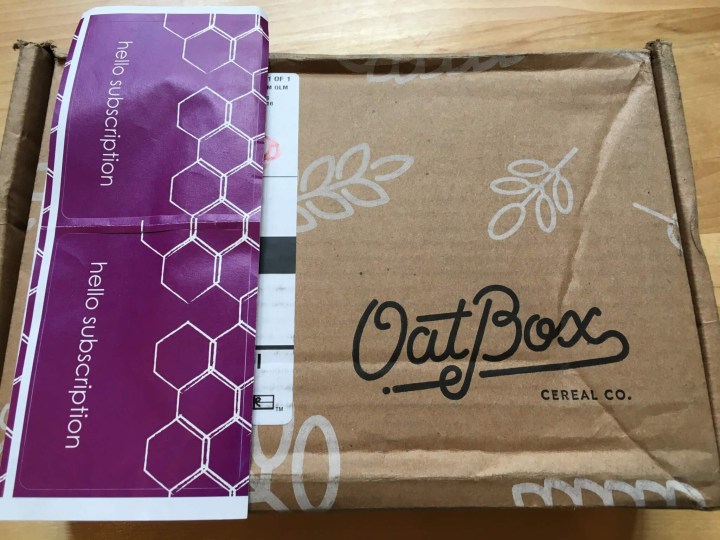 Oat Box is a subscription service that delivers healthy, tasty, all natural breakfast cereals to your home each month. Each cereal is handmade in Montreal, Canada by Oat Box's in house team of chefs. Each month, you'll receive eight servings each of two different cereals, each of which reflects the current season. You can opt out without charge if the offerings don't appeal to you. If you have food allergies, just get in touch with Oat Box, and they'll be happy to substitute another cereal for you. Along with your cereals, your first month's order will also contain a glass jar that you can use to snack on your cereals on the go. If you prefer to keep your cereal at home, each bag should last for approximately 3 months from the date of receipt. Shipping is free in both Canada and the United States. For every box shipped, Oat Box has teamed up with the Breakfast Club of Canada to provide one meal to a child at school.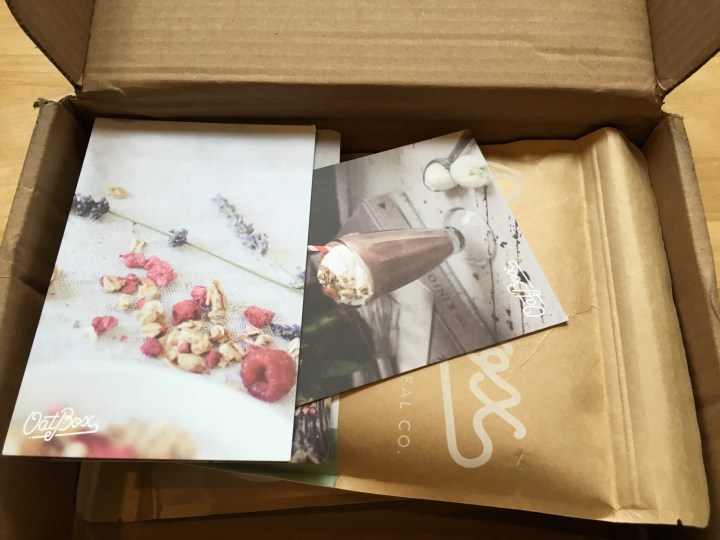 Each shipment of Oatbox arrives beautifully packaged. Each shipment includes recipes that feature each month's granola selections.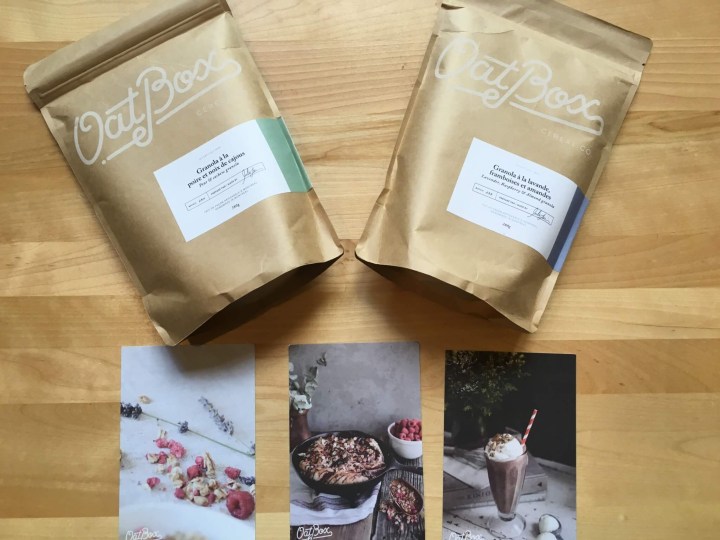 July 2016's box includes pear and cashew granola; lavender, raspberry and almond granola; two recipes and an invitation to visit Maison Lavande just outside of Montreal.
For those unable to visit Maison Lavande in person, Oatbox has included a coupon code that subscribers can use to obtain a discount from Maison Lavande's online store.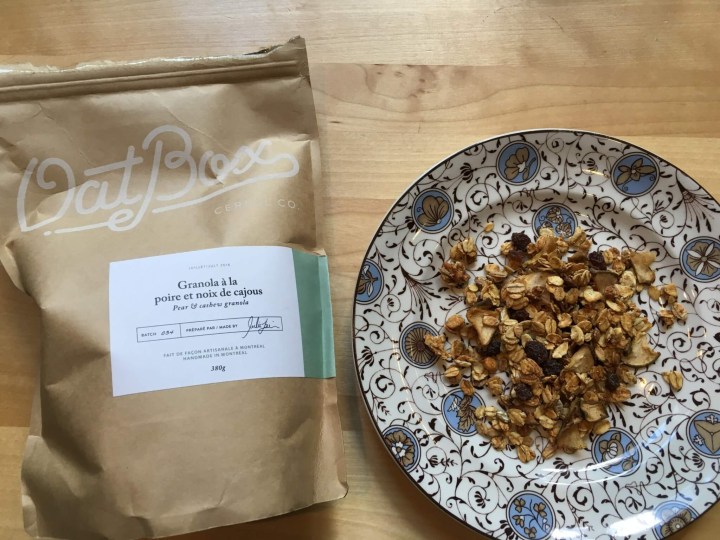 I couldn't believe how delicious both of this month's selections were! Either one would easily be the best granola I've ever had (it's even better than the granola I received from Auberge du Soleil in Napa for Christmas!). Now that I've had them both, all I can say is that they're both fantastic. This one features dried pears, cashews, raisins, honey, cinnamon and brown sugar. Many of the ingredients are organic. I offered some to a friend to try. She loved it, but didn't want me to hand over the bag. She was afraid she'd eat the rest of it in one sitting. Yum!
Oat Box included a Pear and Coffee Milkshake recipe that features the Pear and Cashew Granola.
I don't drink coffee, so I had to amend it a bit. Instead of coffee, I included pear brandy and the result was delicious!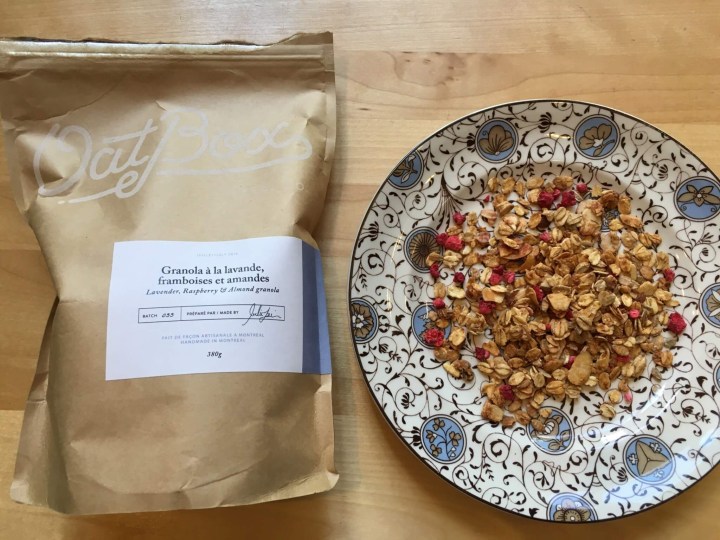 As I said before, this lavender, raspberry and almond granola was equally delicious! I love cereals that include freeze-dried raspberries, so this was a real win for me.
Unfortunately, I didn't enjoy this skillet bread as much.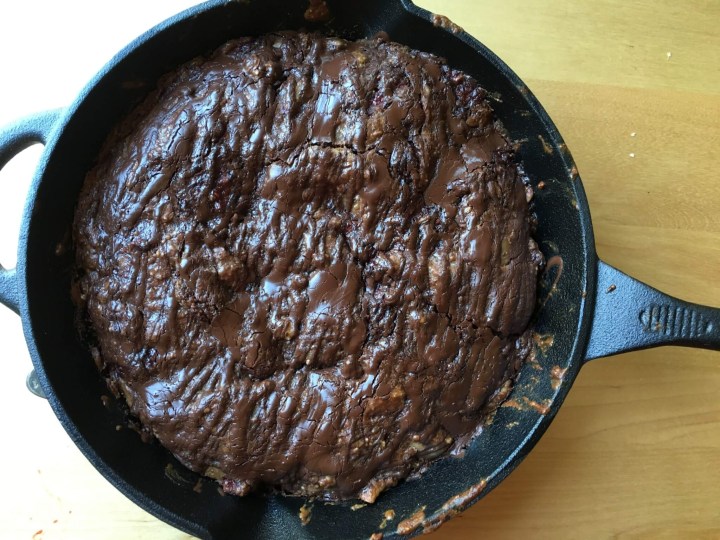 I'm not sure what I did wrong, but the dough wasn't as supple as I would have liked and the chocolate seemed to overpower the dish.
Still, the cereal themselves were fantastic! I can't wait to see what they send me next month! Given how good the cereal is and how quickly I anticipate finishing it off, I wish this were a biweekly subscription and not a monthly subscription!
Visit Oat Box to subscribe or find out more! You can save $5 on your first box – no coupon code required, just use this link to sign up!
The Subscription
:
Oat Box
The Description
: Oatbox breakfast cereals are made in Montreal from natural, healthy ingredients and inspired by entrepreneurs, foodies, artists, early birds and busy people.
The Price
: $20.00 per month