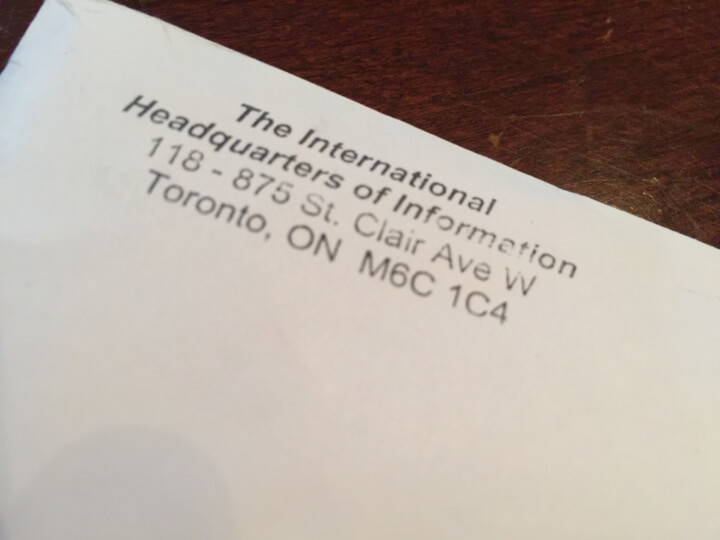 Mail Order Mystery is an activity subscription for kids, where you get a mystery via mail, one installment at a time. There are a variety of story lines to choose from, we got the Treasure Hunt which is designed for kids around 8 years old. The mystery is somewhat customized, you provide your child's name, and they are written into many of the letters you'll receive.
Our mystery started with a letter forwarded to us from the "International Headquarters of Information". The first thing I'd note about the Mail Order Mystery is that, if your almost eight-year-old is anything like mine, they will love getting mail addressed to them. Love, love, love it. I think if they just sent her a bunch of blank pages in an envelope, if it arrived via the U.S. Post Office, she would have been thrilled. So there's that.
Warning: Thar be spoilers ahead!
Editor's Note: At the suggestion of reader Christine, we've redacted the names of the characters involved to stump those pesky kids.I made them into images so it may look a little funny, but it preserves the review while preventing kids from spoiling their own mystery!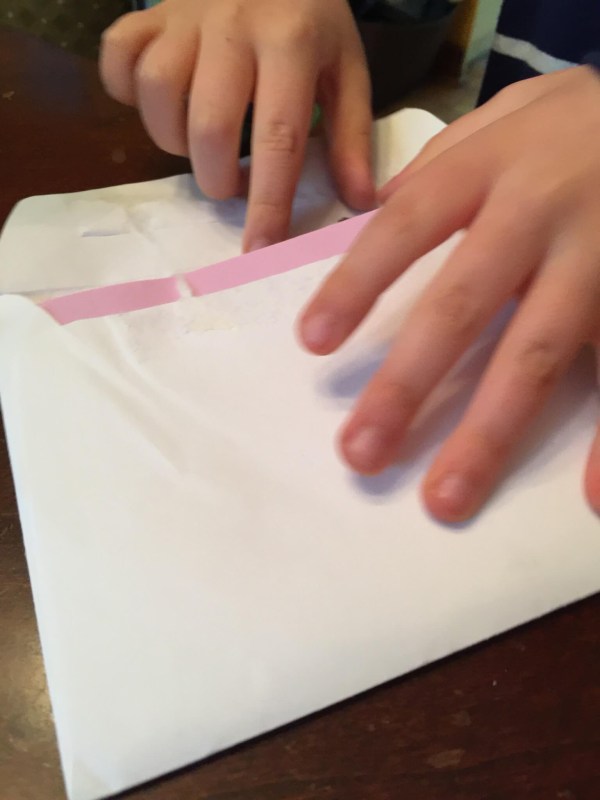 The thrill of opening the mail was palpable in our house.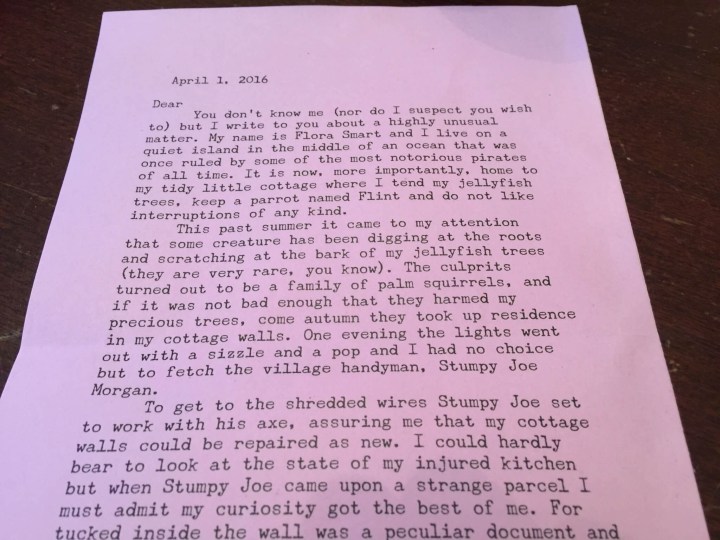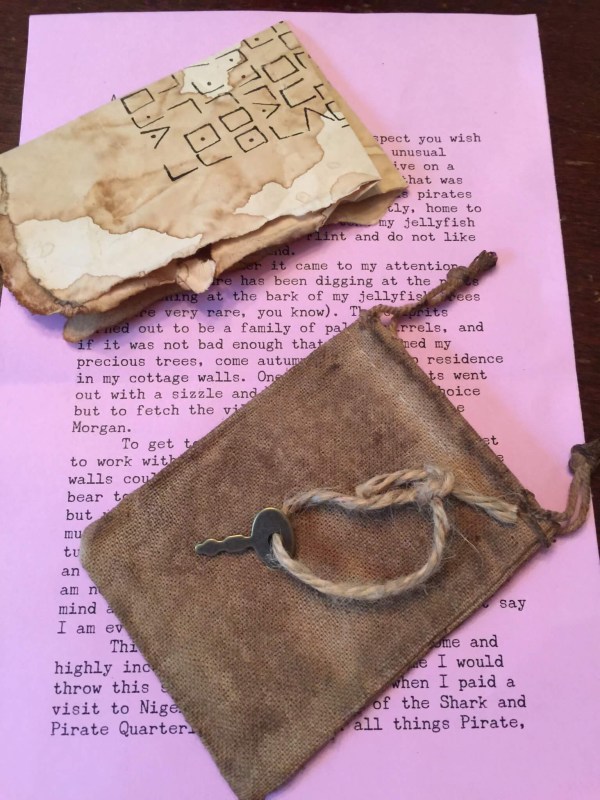 The first dispatch came with a letter from a woman living on a far off island, a treasure map, and a key. All of the mail is routed through the "International Headquarters of Information" a very handy organization, tracking people down and helping them get vital treasure maps and all. The letter explained who the writer was, and how she came to find the treasure map and key. In spite of the customization, my daughter was not fooled for an instant that this was a real letter–but that made no difference. She instantly thought it was fun.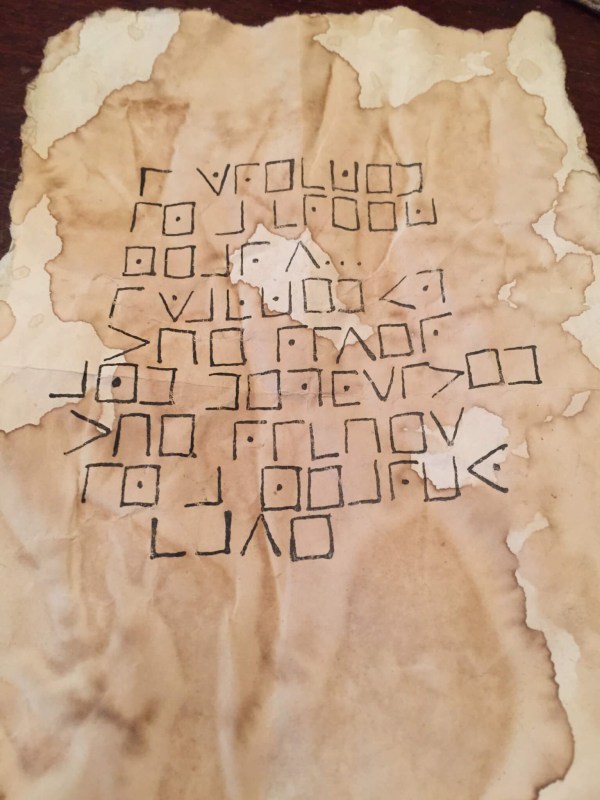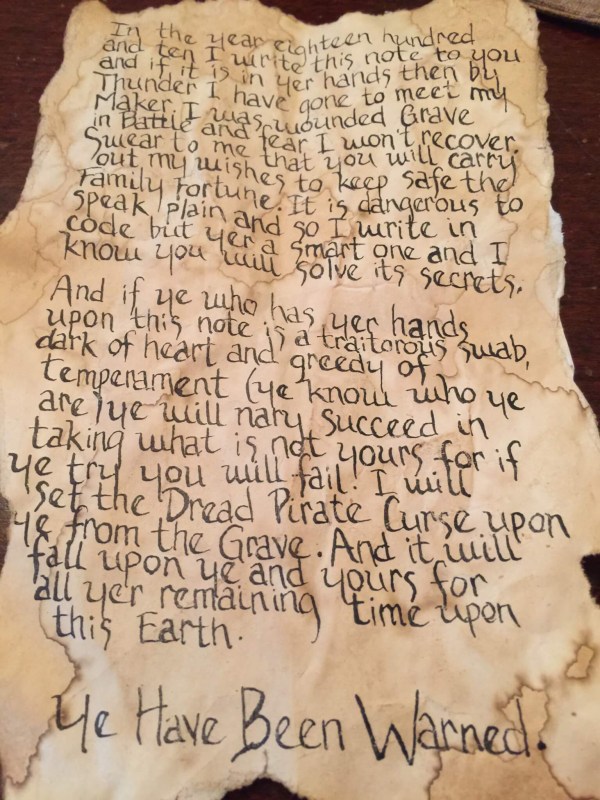 The map included some writings in a strange code.. well, strange to her. I'd seen it before, when I was  a kid. But we had a lot of fun pondering how we might crack the code. One thing I wasn't sure of is whether or not we were supposed to crack it on our own, or if there was a key coming. My daughter, of course, turned to the Internet and we found a key to a tic-tac-toe cypher and worked out the message. And, then waited.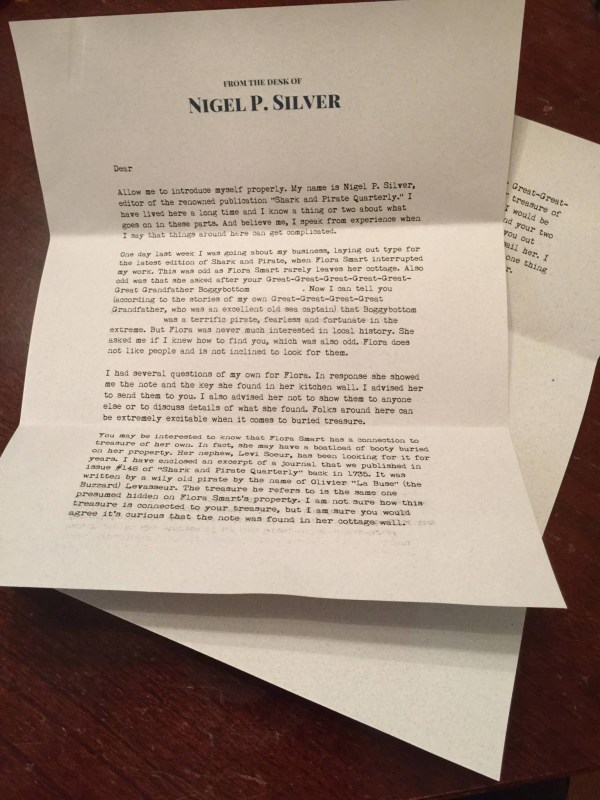 The next communication came from an expert in all matters pirate, who happened to edit a newsletter called the "Shark & Pirate Quarterly". It contained many helpful articles, including, as it would happen, one on codes. Guess we jumped the gun on that one.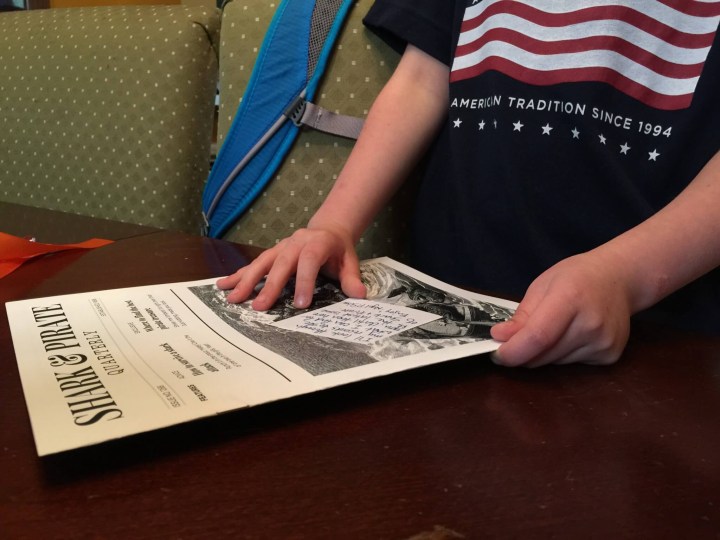 Shark & Pirate Quarterly was a very useful publication. But we weren't sure what to make of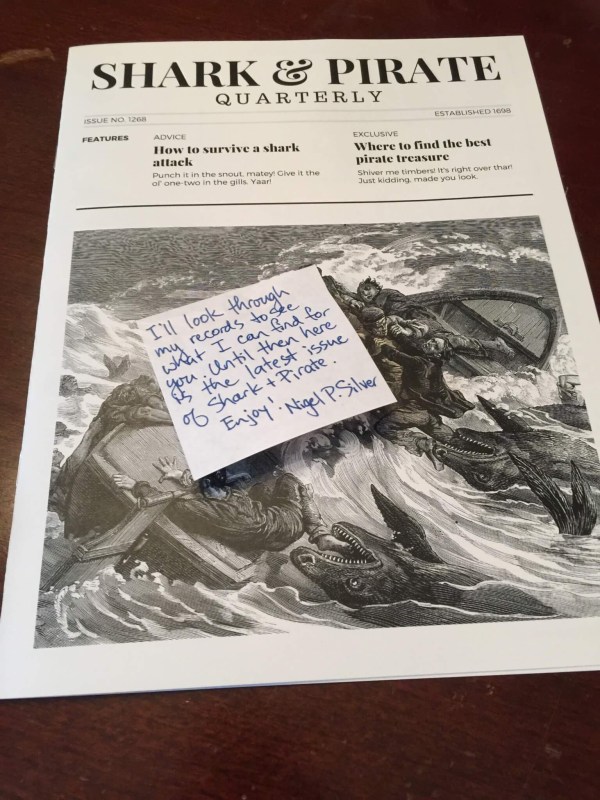 One thing about the mailings and the frequency: I think the timing is just about right. When we would receive a mailing, I would get pestered for a while after, "When is the next thing coming?! What's coming next? When will it be here?" And then she would lose interest and bam! something new would arrive.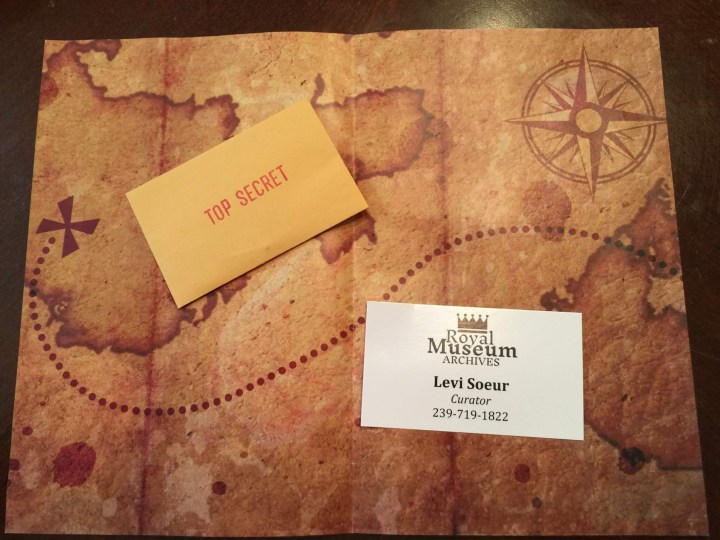 So, as we pondered 

, we got a package from 

. He provided us with another map, his contact info, and a key.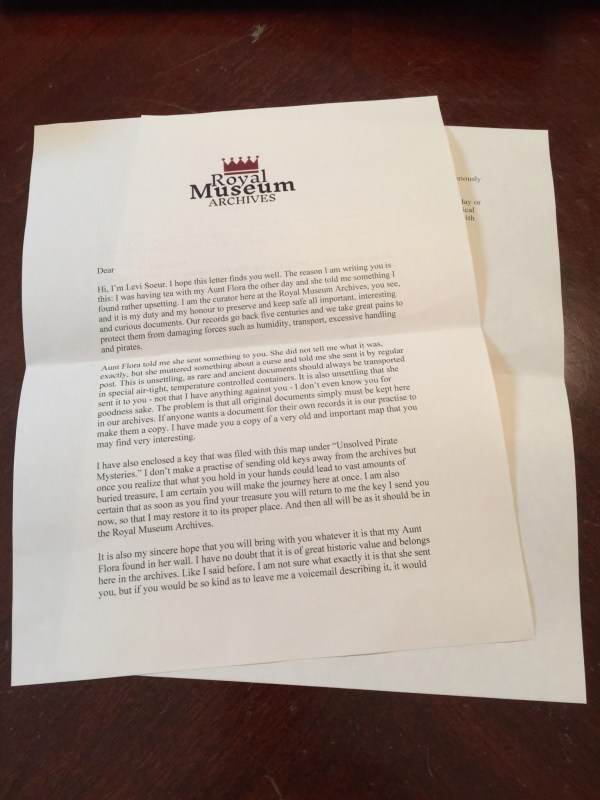 He also warned us about who to trust. Which didn't pass the kid sniff test. She didn't trust him. The Mail Order Mystery folks are pretty thorough: you can call the number on his card! That was fun, too. But the real treat in this package was the key. It was a lot fancier than the other key… what did it fit??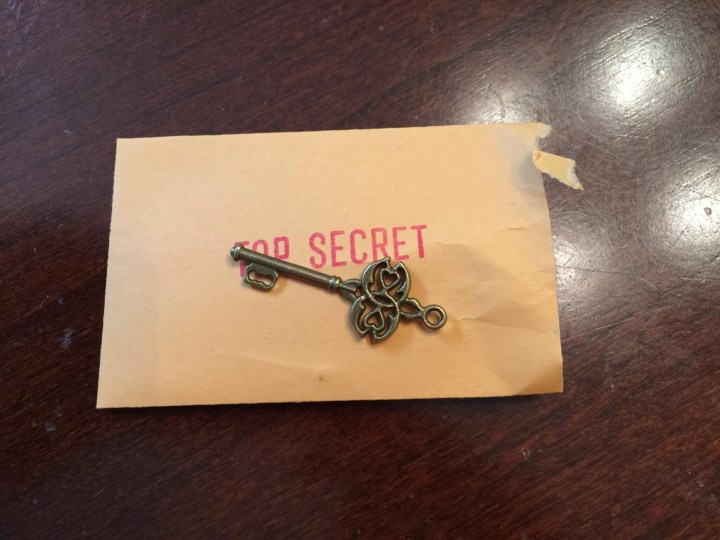 As it turned out, the instinct was correct. And we learned from the lady who contacted us initially that we shouldn't trust 
.

She also included another map with more code.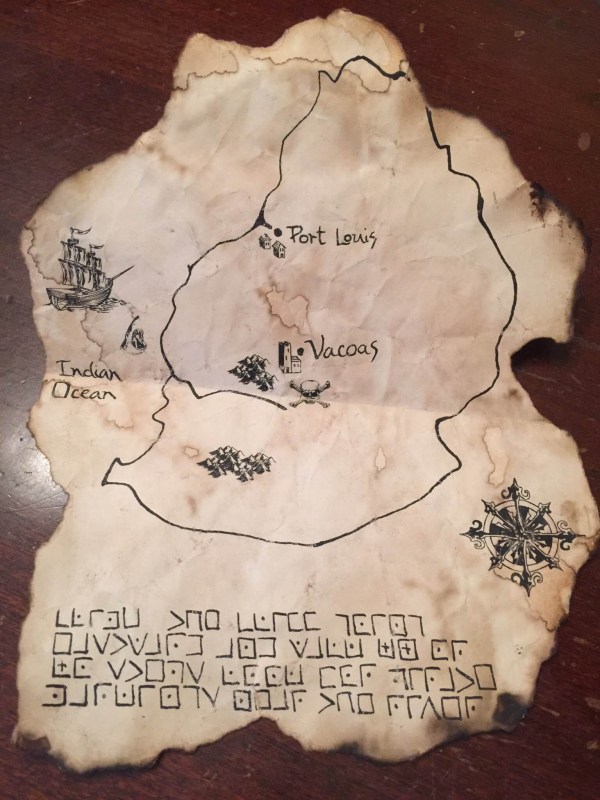 The maps and intrigue do showcase one of the limitations of a mystery through the mail: you never get to meet these people and explore the places. That was a bit of a downer for my kid. Yes, it's cool to imagine these characters and you get a lot of flexibility that way, but man, to meet some "shady" characters and to go hunt for treasure in the wild? Getting letters doesn't compare.
That said, the letters are well done, and even if a bit corny, they are just about perfect for a 6/7/8 year old.
The mystery wraps up with a final package, containing a locked wooden box, and a letter from the 
Police Department.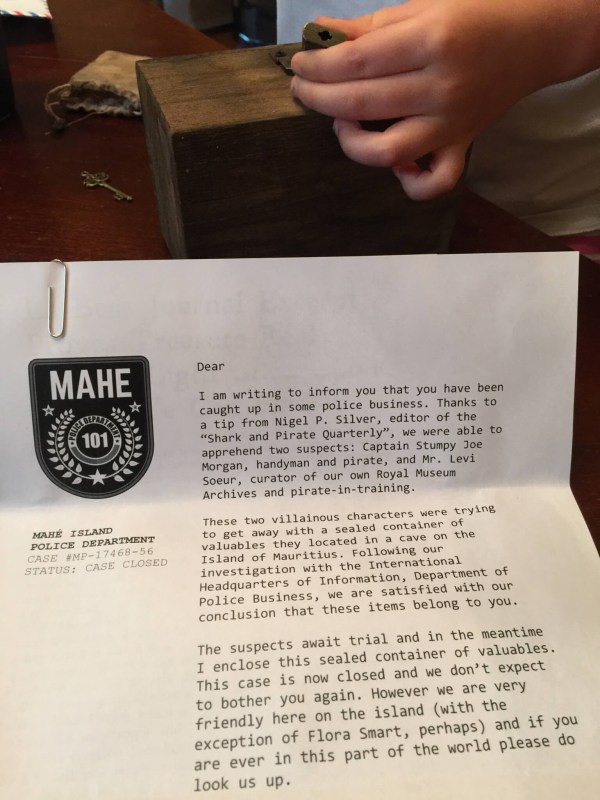 The letter explains how 

 helped them capture 
and 

trying to steal the treasure that was rightfully ours. It also included a clipping about treasure.
But really, she barely took the time to read any of that, because of the box. A mystery box, padlocked and delivered through the mail is a temptation no kid can resist. As it turns out, the key we originally received way back in the first mailing fit the lock. And inside…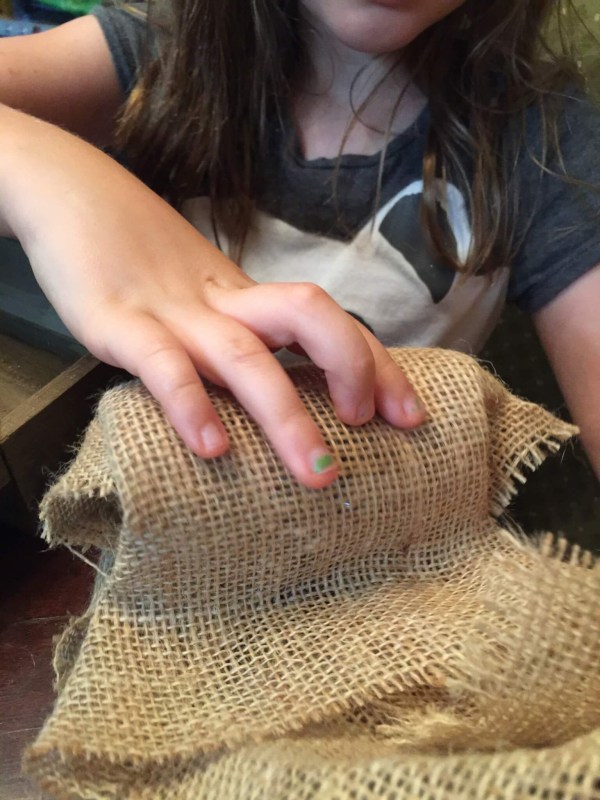 Were treasures galore… like the shark's tooth from the same shark that took our pirate kin's leg.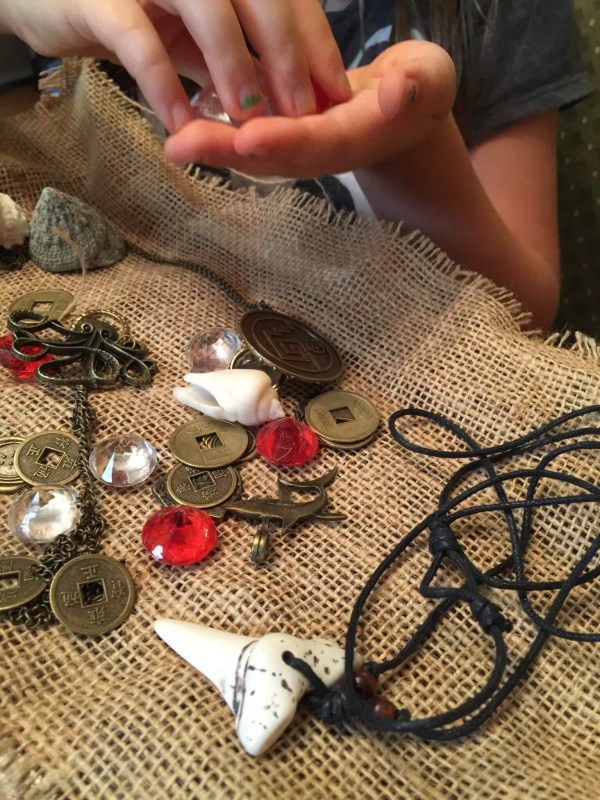 Coins and jewels. And a pretty awesome octopus pendant necklace.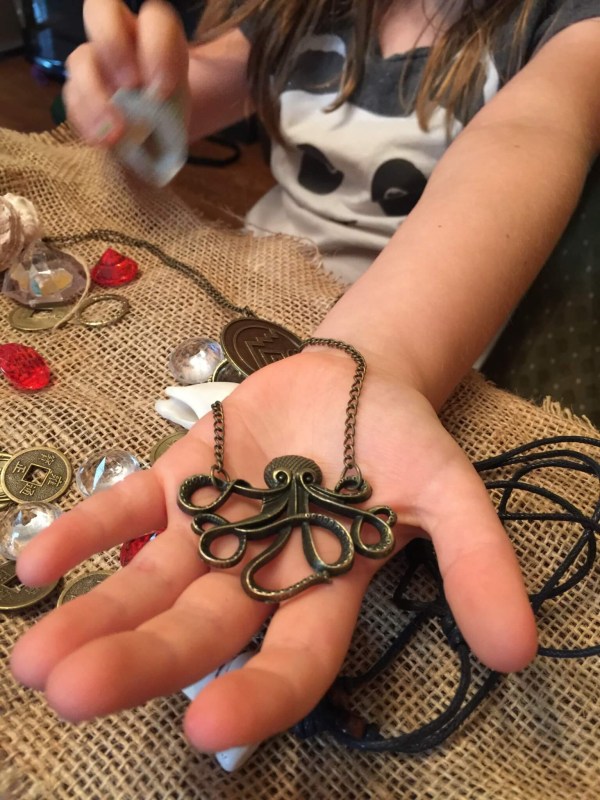 I would say that the Mail Order Mystery, Treasure Hunt was quite a success. As I mentioned, before, the timing of the mailings (six in all) was just right. And there weren't so many characters that my daughter couldn't keep track of them–which can be an issue with the delay between mailings, and the lack of visuals. It might have been nice to include some pictures of the characters–not having them leaves a lot to the imagination, but still, in this age of digital media, some pics might be nice.
Overall, it was a very cute and well done mystery that gave us something to look forward to and do together, which is really nice. If you have a kid with a good imagination, who can keep track of a story over time (I would say a 6 year old ahead of the game, or a 7/8 year old) then this would be a fun thing to do–especially over winter months when you're stuck inside and dreaming about an island mystery can take your mind off it. The important thing: my kid liked it. What more can you say than that?
Visit Mail Order Mystery to subscribe or find out more!
The Subscription
:
Mail Order Mystery
The Description
: We deliver mysterious experiences for kids through the mail! Your child receives letters & objects in the mail from the characters in a mystery. Imagine if your kid got a letter from a long dead pirate, a mission from a knight or riddles from a troll. There are codes to crack & clues to solve. It's an experience so cool you'll wish you were a kid again. Each mystery experience is a one time charge for six installments that are delivered over six weeks.
The Price
: $79.00 per box