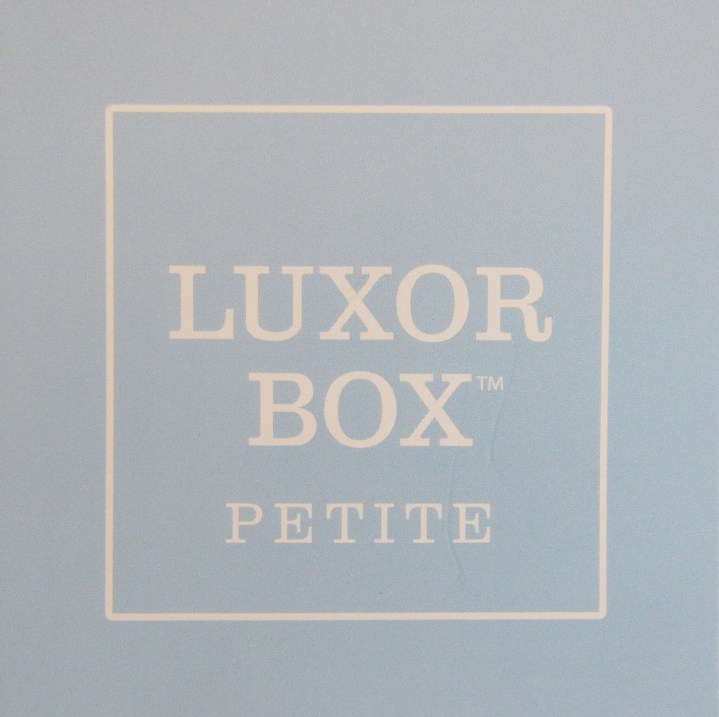 Luxor Box Petite is the mini-box version of the luxurious bi-monthly women's lifestyle subscription box full of high-end products and treasures: home, body, bath, accessories, jewelry, and more! The Petite Box promises 2-4 full-size products compared to the 5-9 full-size products in the regular size box.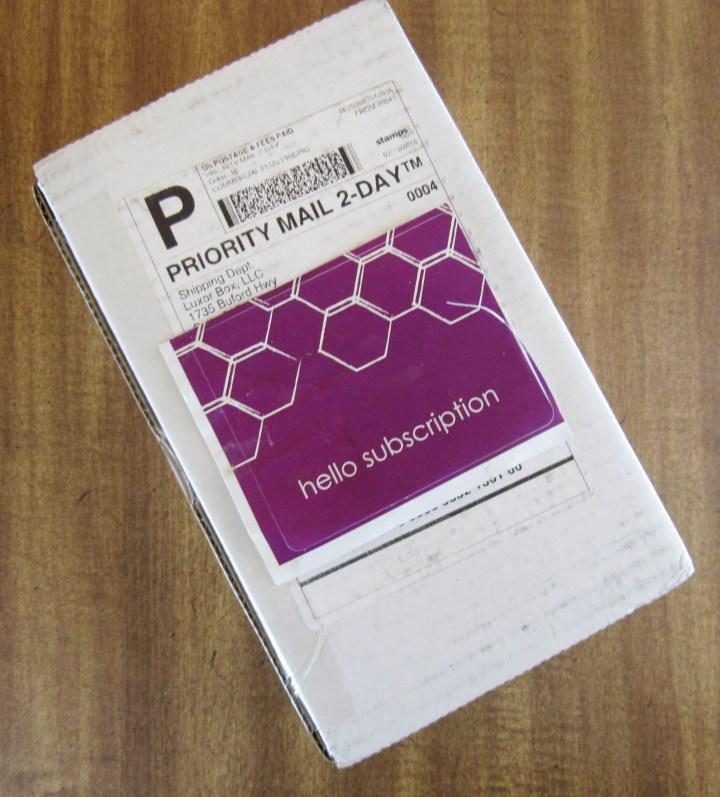 It's here! I wonder what will be in the box?
I see a beauty product!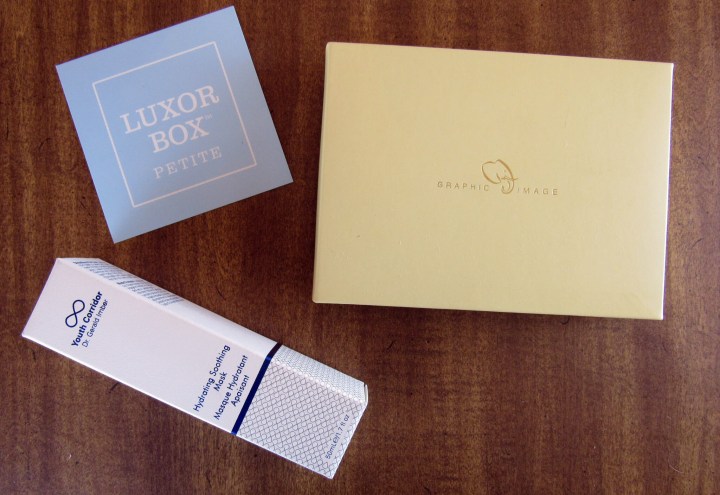 One of the things that I noticed about Luxor Petite Box is that the items are in their original packaging. It makes for easy gifting.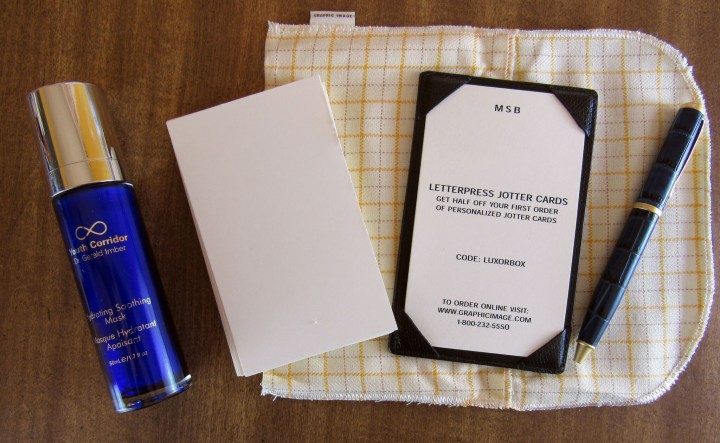 Here are the items in the Luxor Petite July box!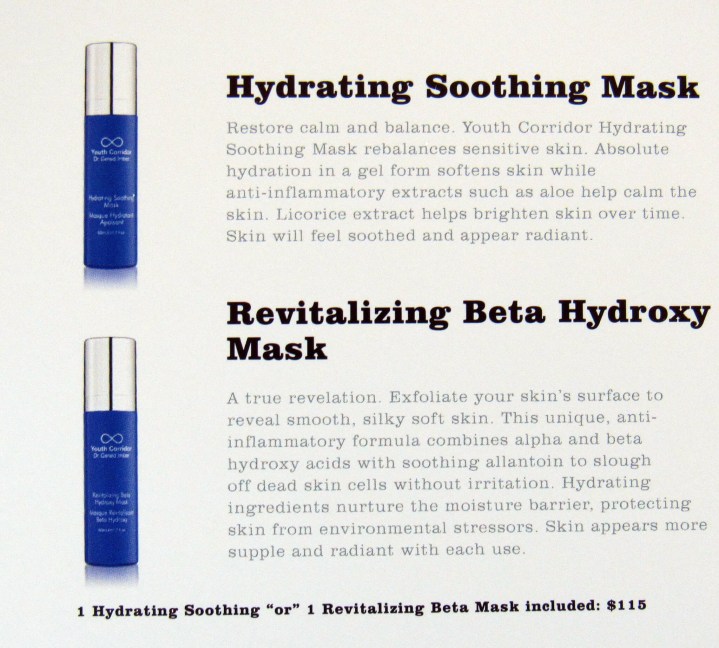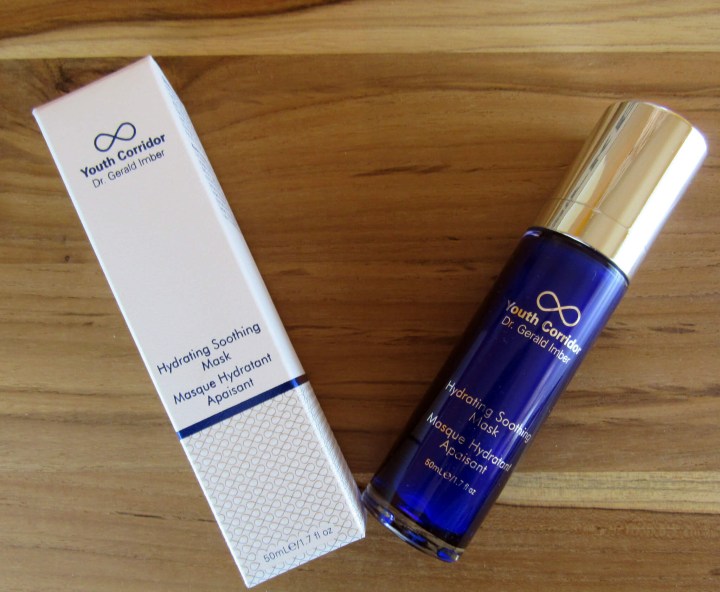 Subscribers could receive either the Revitalizing Beta Hydroxy Mask (1.7 oz, $115.00) or the Hydrating Soothing Mask (1.7 oz, $115.00). The skincare line is created by the  world renown plastic surgeon, Dr. Gerald Imber, who ranks in the top 1%. The beauty product line is free of parabens and surfactants. The line is carried in Harrods, UK.
I received the Hydrating Soothing Mask, which has aloe and licorice in it. It stung the back of my hand when I tried it for less than a minute. An hour later I can still feel the heat emanating from that spot despite washing it, putting lotion on it, and putting balm on it. The skin does feel smoother, but I am not willing to try it on my face. Did anyone else have the same experience? Maybe I am not willing to suffer for beauty!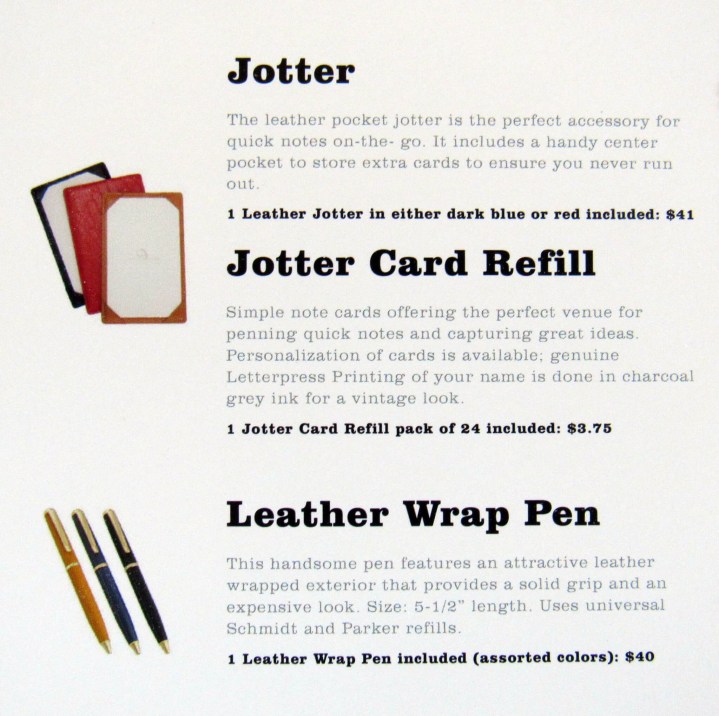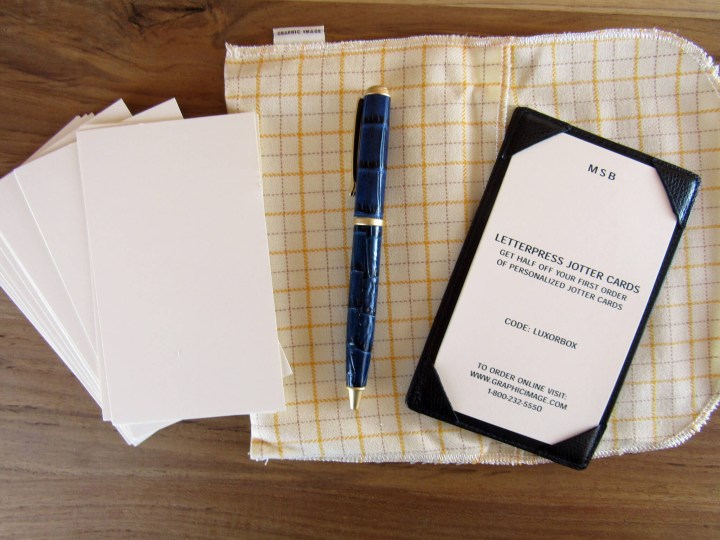 I confess that I do not know why this is included in a woman's high-end, luxury box. I feel it is more appropriate for Bespoke Post. I have nothing against the brand. I feel it has a more masculine feel than what I personally am seeking from this type of box.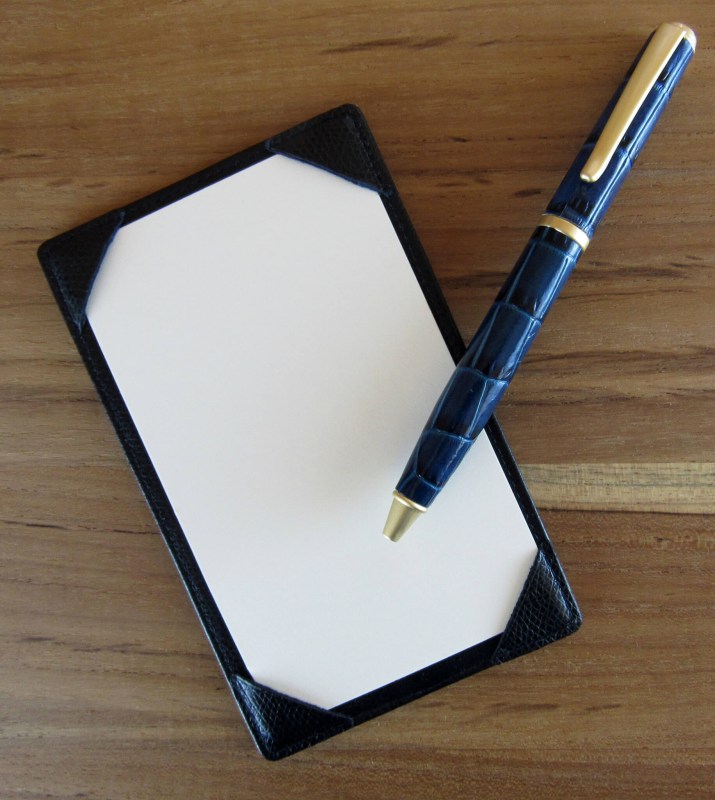 The Traditional Leather Jotter ($41.00 on information card, on sale for $20.00) comes in either dark blue or red. I feel that if we are going to receive something that states in the brand's description is a great gift for executives that maybe the brighter colors be selected instead. I noticed that Luxor tends to go with neutral colors.
The Leather Wrap Pen ($40.00 on information card, on sale for $20.00) is too heavy and cumbersome for my hand. The pen uses Schmidt and Parker refills and is wrapped in goatskin leather. My husband felt it was a great pen for a man. He liked the weight.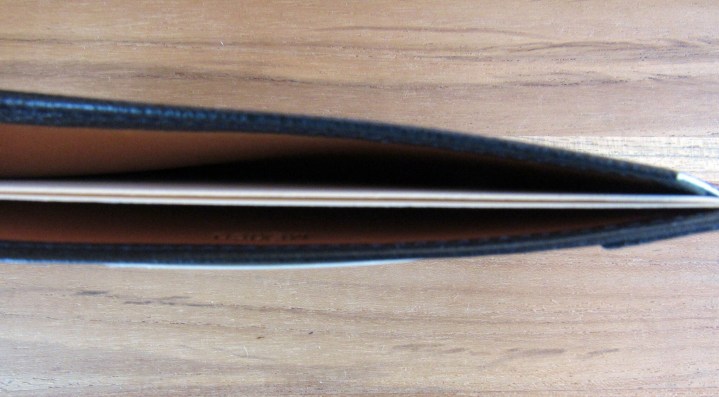 The jotter has a pocket that can hold a few extra cards. Luxor thoughtfully included a Jotter Card Refill Pack of 24 (information card $3.75, on sale for $1.88). It feels like cardstock or at very least a heavier weight paper.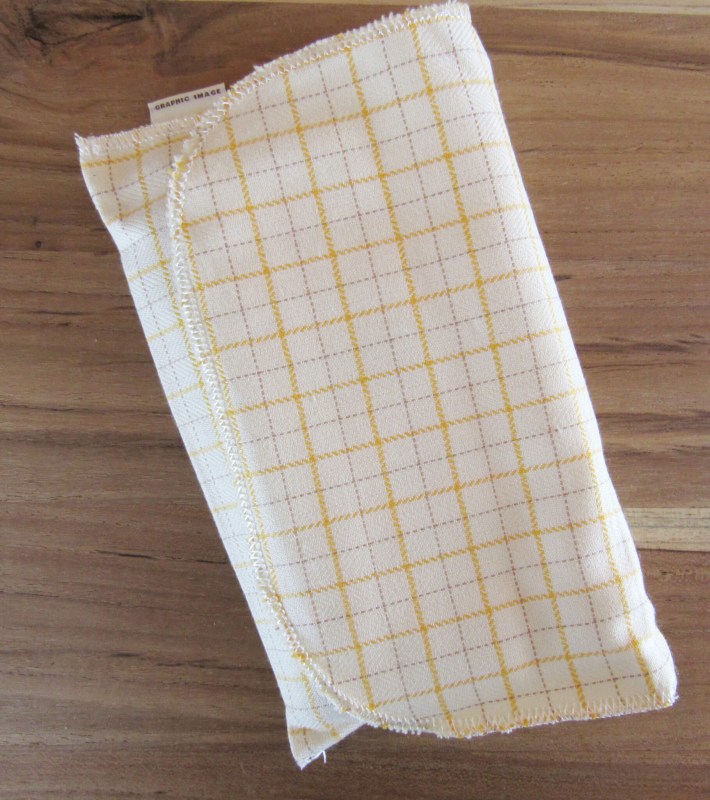 It comes in a cloth holder. I am floored that this is in a woman's luxury box. I am sure that there will be women that love it and can use it in their jobs. I am not one of them and am disappointed. Even my husband thought it came in a men's lifestyle box.
The July Luxor Petite Box did not work out for me. I greatly disliked the July box. Others will love it. Such is the risk when purchasing a subscription box.
The items are well-packaged. The brands are upscale. The care in selecting the Jotter items is shown by including the Jotter, Jotter Card Refill, and Leather Wrap Pen.  Such is the risk when purchasing a subscription box.  The value of the box is outstanding at almost $200.00 when not using the sale prices. The Luxor Box Petite is a great way to enjoy a few items from the full-size Luxor Box.
What do you think of the Luxor Box Petite? What is your favorite item? Am I being too harsh? Share below!
Visit Luxor Box to subscribe or find out more!
The Subscription
:
Luxor Box
The Description
: Each Luxor Box Petite delivery will be a delightfully different experience. You will discover a completely different assortment with each shipment. Surprise selections will range from high-end spa products, top-shelf beauty products, jewelry, apparel, home accessories and unique treasures from around the world. Every other month you'll receive 2-4 full size luxurious products with a $75+ value. Luxor Box is also available.
The Price
: $43.00 every other month