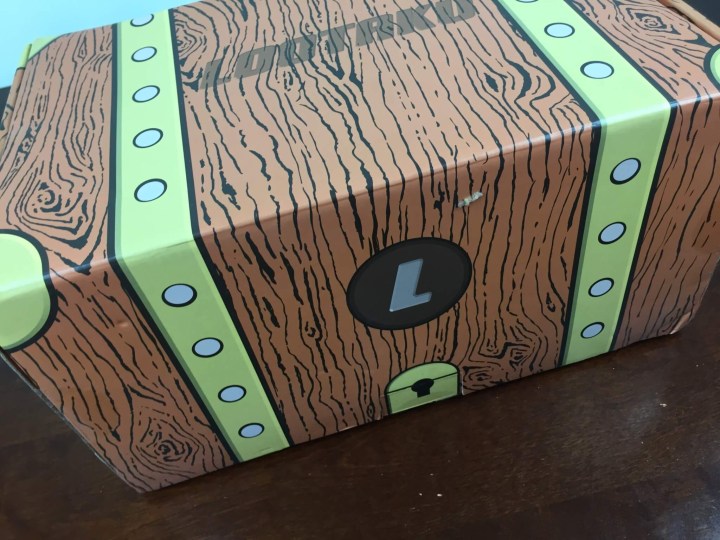 Lootaku is a monthly geek subscription box from Hong Kong that brings high-quality geek and gamer items. The subscription costs $49.00 per month + shipping (currently about $17 to the US), and you'll get 4-6 themed products, like plushies, action figures, memorabilia, etc., to satisfy your geeky cravings monthly – no fillers or promo items!
I like how the outside of the box is beautifully designed. A Chest – Full of Loot!
The items are neatly packed inside.
The letter on top totally set the scene, with a letter to Malrik from Lady Elissa to cross the Narrow Sea and find Daenerys! (some characters from Telltale Games GOT game)
BEFORE THOU GOETH FURTHER… BE WARNED THERE ARE SPOILERS FOR THE LAST FEW EPISODES OF GAME OF THRONES!
The information card shows the details about each item. The theme for June is Fire & Blood! The item information card is thick and glossy, very detailed. When there are variations it typically lists each possible variation!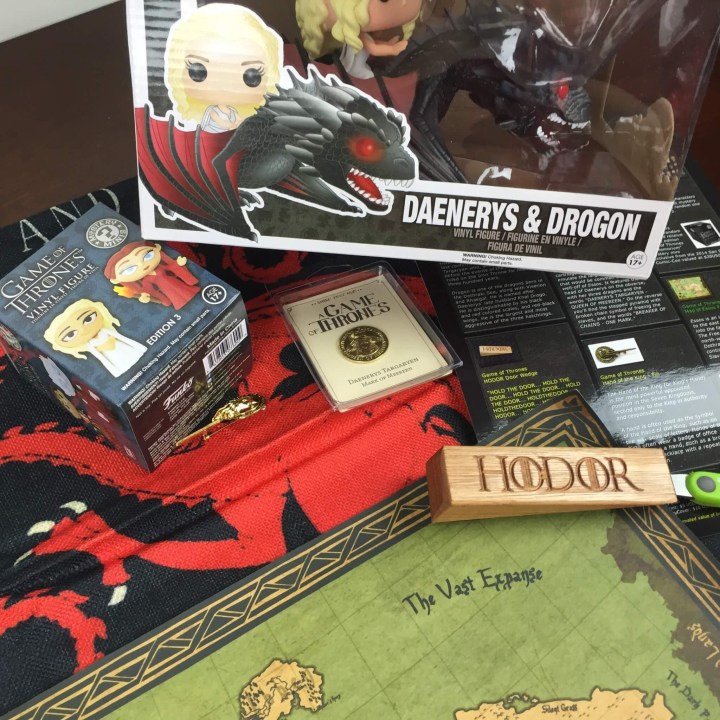 All the goodies inside my June Lootaku Box! AND WHAT. A. BOX! This was one of the most exciting unboxings I've ever done!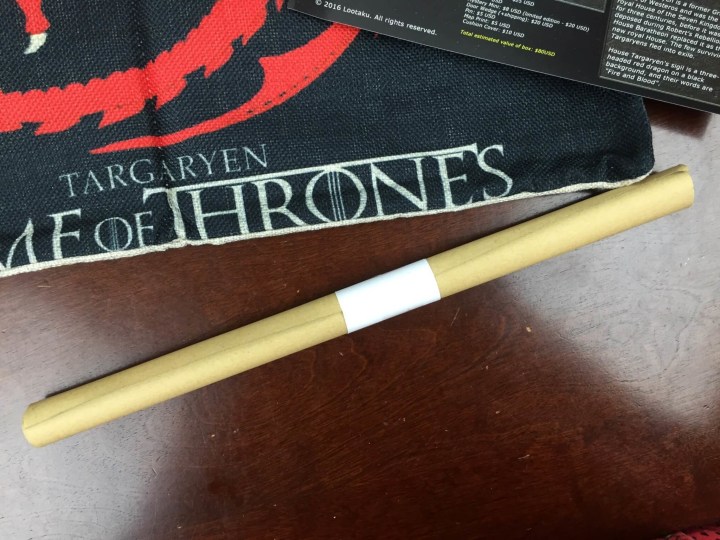 The first item arrived neatly rolled!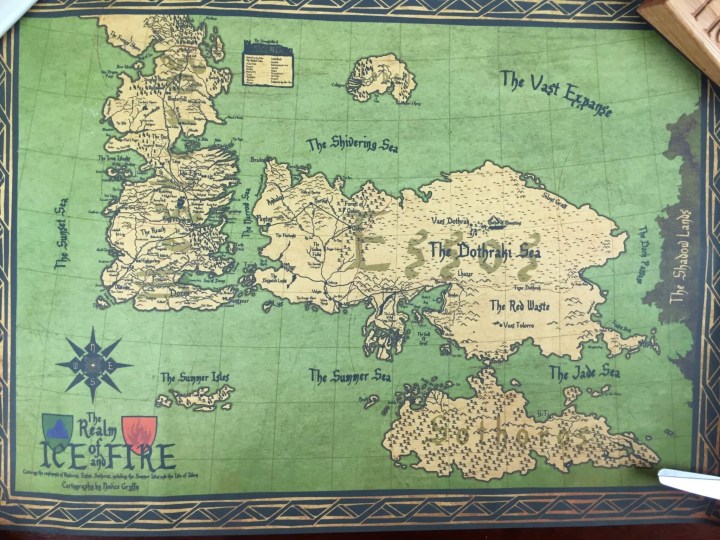 Game of Thrones Map of Essos Print ($12) This is a high quality map! It's printed on 11.70″ x 16.54″ paper and has all the places you might recognize (and more!) including Dorne, The Narrow Sea, The Dothraki Sea (not a sea at all). Really fun for any GoT fan! I want to add sticks to the back and make a hanger for it.
Game of Thrones Targaryen Cushion Cover ($10.99) It's a pillow cover! Featuring three dragons in the Targaryen sigil. I'm so excited that I'm ready to re-binge the entire series (seriously what else is there to watch for the next year?). I love it! I'm buying a pillow insert immediately!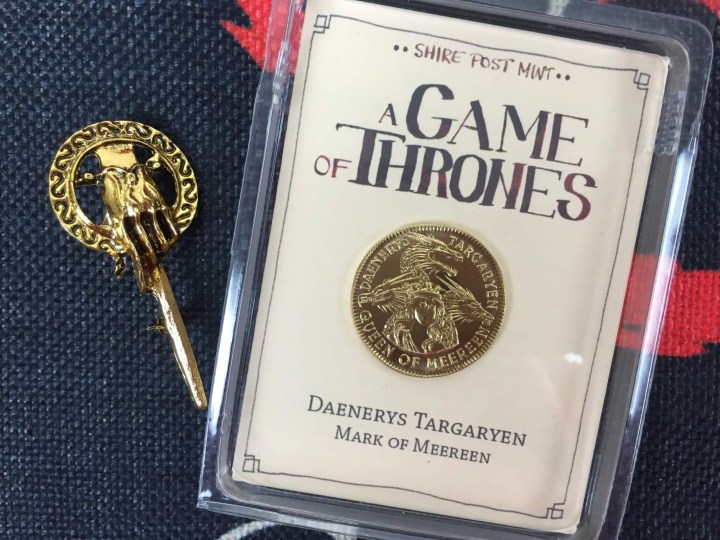 Game of Thrones Hand of the King Pin ($1.92) The Hand of the King is the monarch's executive and wields great power. The end of the show saw what appeared to be a genuinely humbled Tyrion becoming Hand of the… Queen!
Game of Thrones 1/2 Dragon of Daenerys Targaryen Type 1 Coin ($25) One side shows the pyramid and "Breaker of chains" and the other shows Daenerys Targaryen Queen of Meereen, and Dany in front of her 3 dragons. I checked out Shire Post's site and may not be able to resist the Valar Morghulis Necklace!! They also have a page showing you how the coins are made!
I received this same coin (except copper) in another box and this shows both sides in copper.  The brass is bright and beautiful and really a work of art.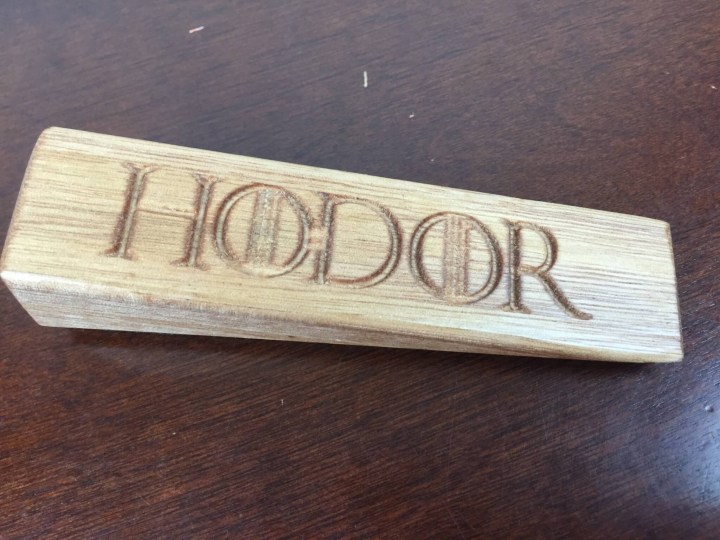 Game of Thrones HODOR Door Wedge ($5.74) ARE YOU SERIOUS THIS IS THE BEST ITEM I HAVE EVER RECEIVED IN ANY BOX EVER.
It's inspired, it's funny, it's heart-wrenching, and you will use it whenever you need to Hold the Door.
Game of Thrones Mystery Mini Series 1/2/3 + Limited Edition ($9.49) A random Funko Mystery Mini (from any of the 3 editions) was included – we got Varys!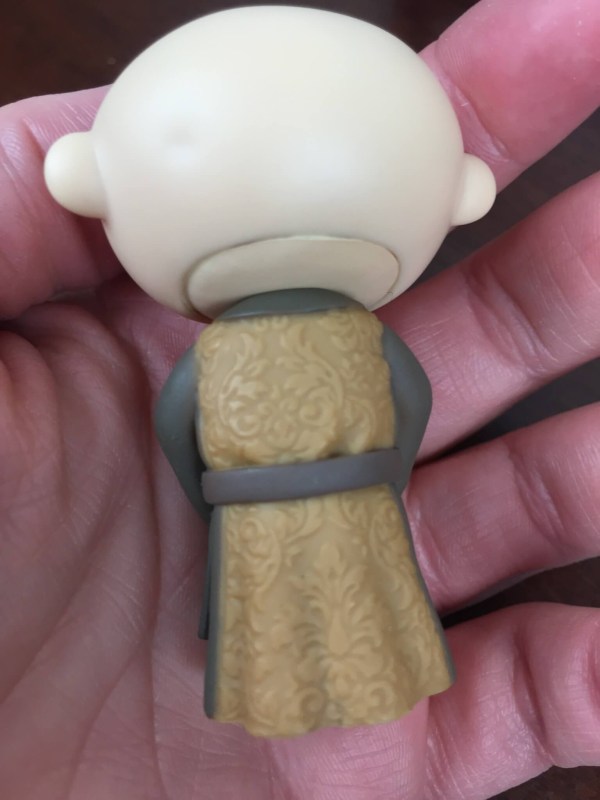 I find Varys' character quite delicious and I was happy to get him. His robes are pretty ornate, too!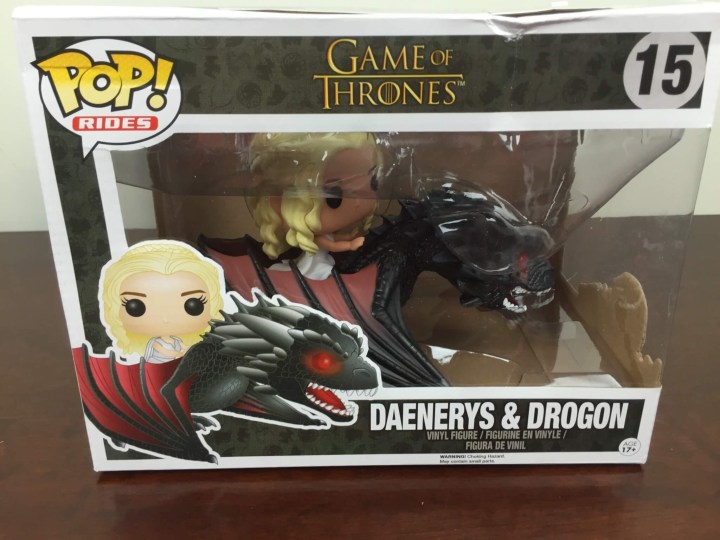 Funko Pop! Rides Daenerys & Drogon ($34.75) YES! How is this in a box? This is insane and beautiful and wonderful.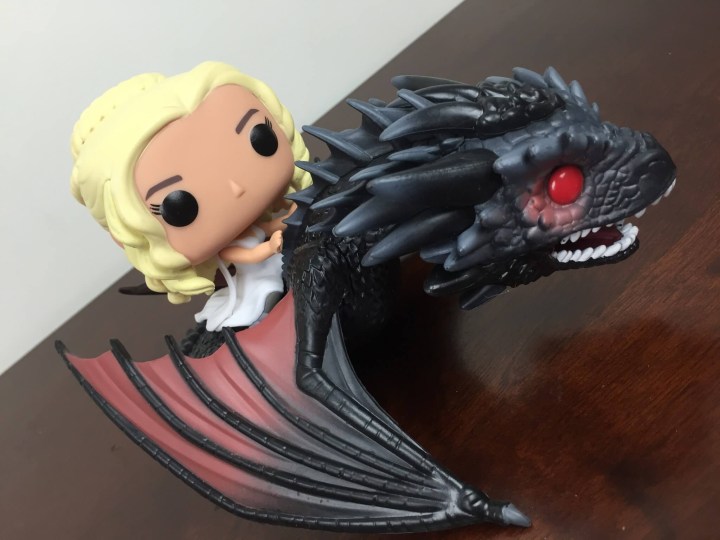 Daenerys is of course detachable from Drogon but she doesn't really stand by herself. But they're such a gorgeous, terrifying pair. Also how much did we love her Dothraki takeover? SO MUCH.
This is an incredibly detailed set of Pops!
Even with a couple of cheapy items in the box I still came up with a value of about $100, which is pretty freaking fantastic – and honestly I would have been happy with the Pops and the doorstop.
This box just put a giant smile on my face – it's a box for serious fans! Even their shipping updates are awesome – this box was a little late and they posted this on their facebook:
June "Fire and Blood" box shipping update:

The shipping is taking longer than expected as we underestimated the amount of men we needed to fight this battle. We rallied the northern Houses but it was not enough. The last of the boxes should be shipped out by tomorrow. Thank you all for your patience.
The July Box (sold out) is DragonBall Z themed and August is Dragon Ball X One Piece X Naruto!
What do you think about Lootaku? If you're looking to try it out, save 5% on your subscription – even longer lengths! Just use this link to get the deal.
Visit Lootaku to subscribe or find out more!
The Subscription
:
Lootaku
The Description
: Mystery box full of geek and gamer loot every month. Every box has 4-6 high quality oitems and we do not include filler or promotional items of any kind. We include full figure statues and not just small vinyl figures. Our themes are anime and gamer focused, and ideal for your monthly geek and gamer fix! It's like you just beat an epic boss every single month but you don't have to share the loot.Shipping from Hong Kong!
The Price
: $49.00 per month