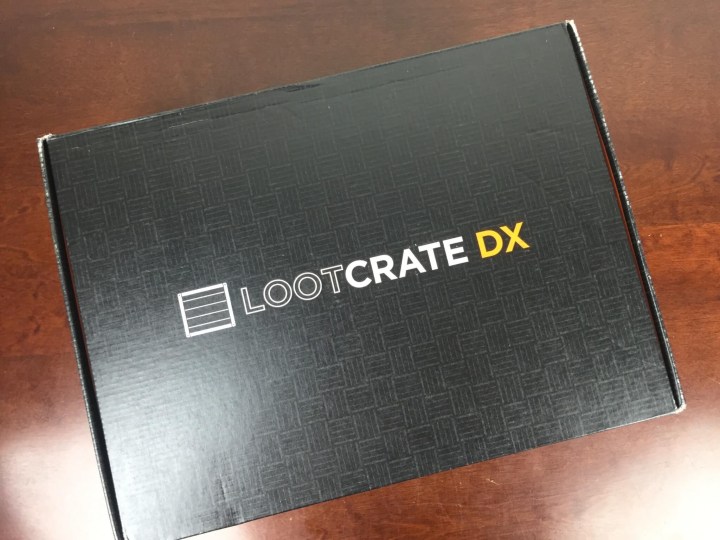 Loot Crate DX is a monthly subscription box from Loot Crate.  It's themed with the regular Loot Crate spoilers, except it contains premium next level loot for discerning geeks! It's like a special edition box from Loot Crate – every month!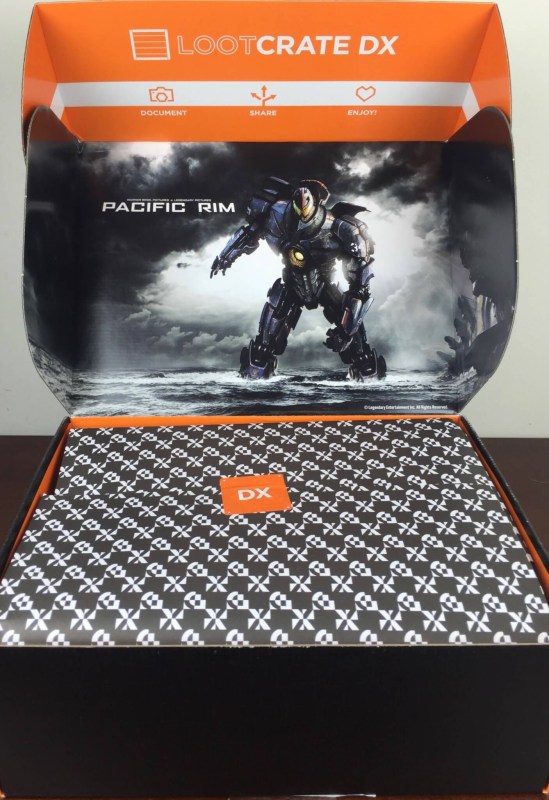 I like the classy style of the packaging with the slick paper. This month had a big Pacific Rim photo/promo/ad in the lid. Whatever, it was rad.
The bottom of the box says "Apocalypse Cancelled!"
The box comes with a tri-fold booklet with information about Loot Crate's community features on the back. Check out the theme experience hub here.
FUTURISTIC was the theme for the July box!
The information card gives you a list of all the items in the box.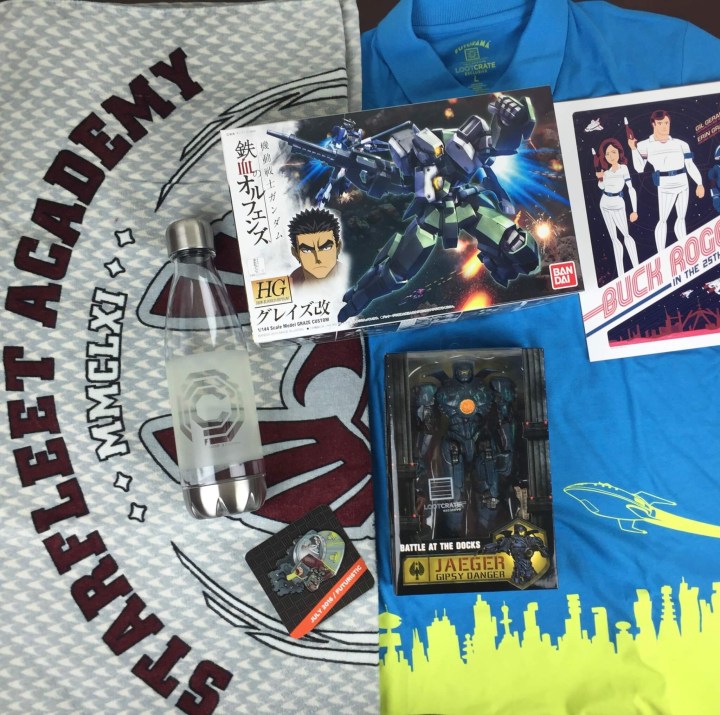 Everything in the box! It was unusually difficult to get everything in one photo!! This was one big box!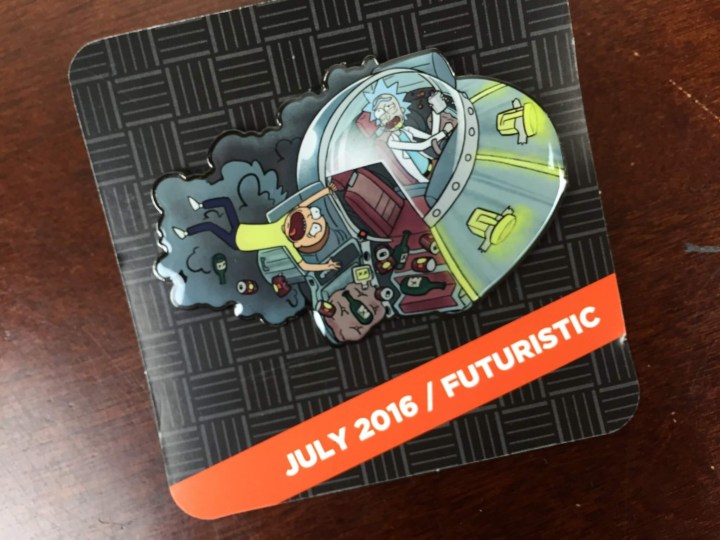 Rick and Morty Pin: This is a gigantic pin and in a really cool style – lacquered instead of enameled. It is definitely a centerpiece pin and I like the direction they're taking with the DX pins.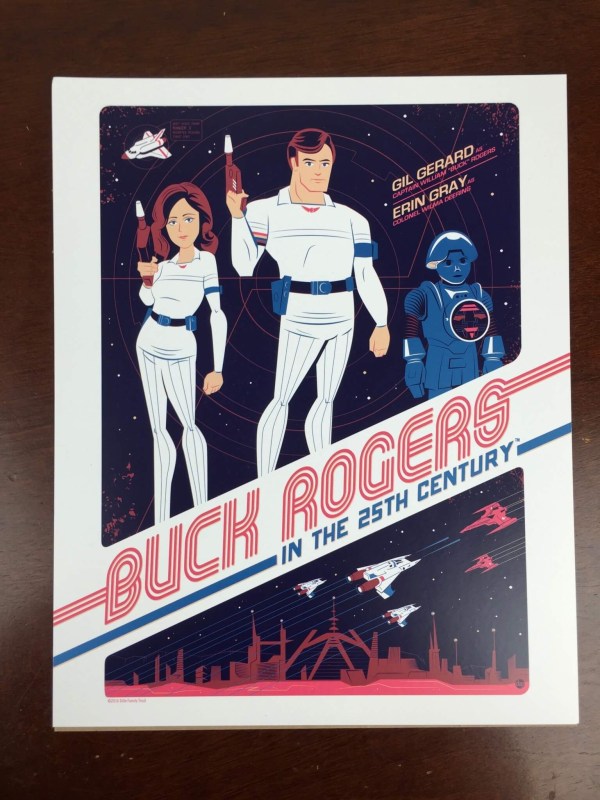 Grey Matter Exclusive Buck Rogers in the 25th Century Art Print: I love retro future styling and I think this print is a win for anyone who does. Plus – Buck Rogers is a classic!
But, I do have to nitpick –  I just don't think a print every month is the way to go. I happen to like this one but it's a bit of a curation cop-out.
NECA Exclusive Pacific Rim 7″ Gipsy Danger Figure ($33.85) This fig is commercially available but the Loot Crate one has exclusive accessories!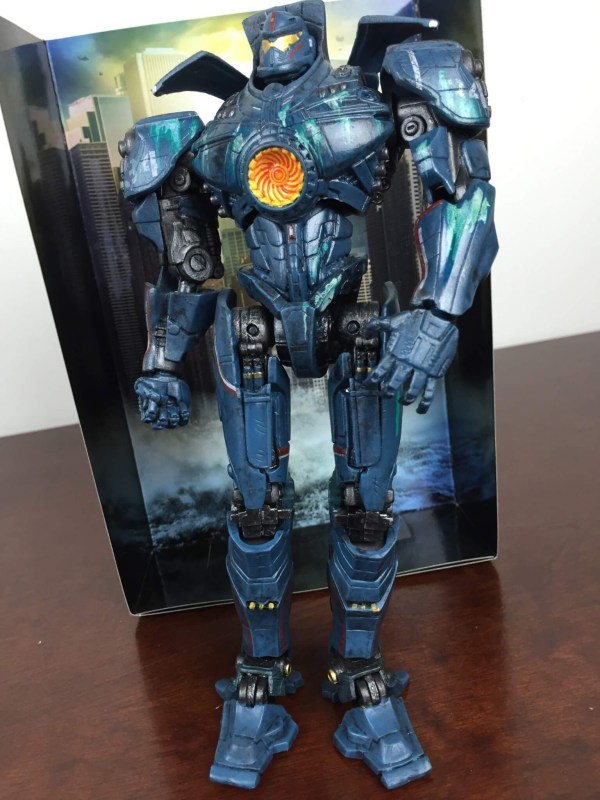 My husband got all Google eyed over this one. The figure is highly detailed and super articulated and it will do just about any pose. 
Apparently the mass market version actually has closed fists, so the open hands and shipping containers are very cool!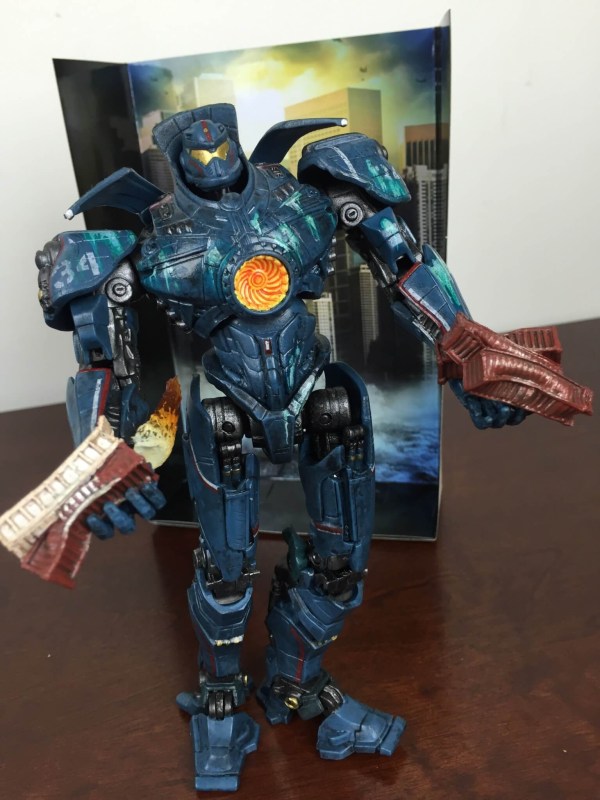 Smash! This is a great piece for any mecha fan!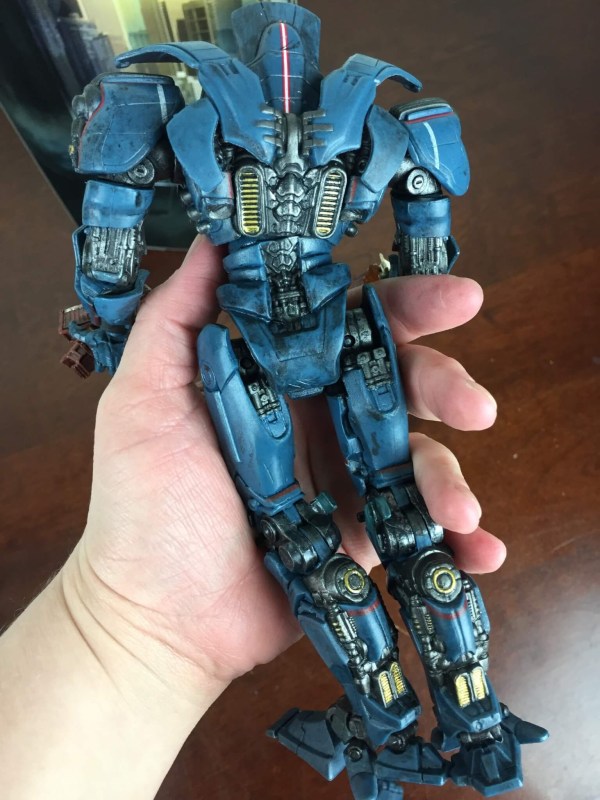 If possible the back is even more detailed than the front!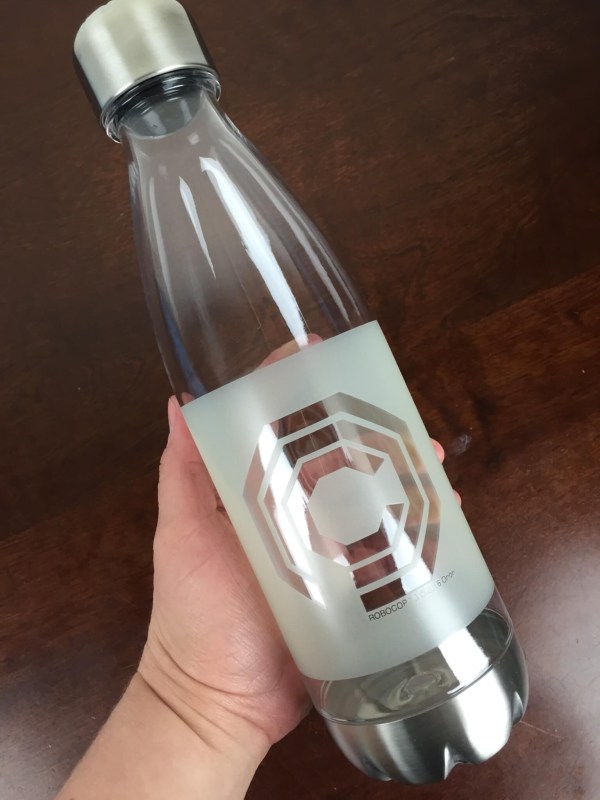 ROBOCOP H2Go Water Bottle: This item isn't even on the card! It had a slip of paper with care instructions inside the bottle – it's a 25 oz Tritan non-BPA bottle with a stainless steel lid and base. After looking at the H2Go site I didn't find it on there – only on promo item sites (estimated value ~$15 with the logo). This would have been a REALLY cool item if it had a vacuum chilling seal like their other products, but as it is, it's a neat bonus item that serves as a water vessel!
Loot Crate Labs Exclusive Futurama Polo Shirt: This is neat because it matches the Futurama item in this month's Loot Crate box! Yay Planet Express! Our box has my husband's size and I probably won't steal it from him – it's not my preference to wear shirts decorated on the bottom, but I do like that they mixed it up!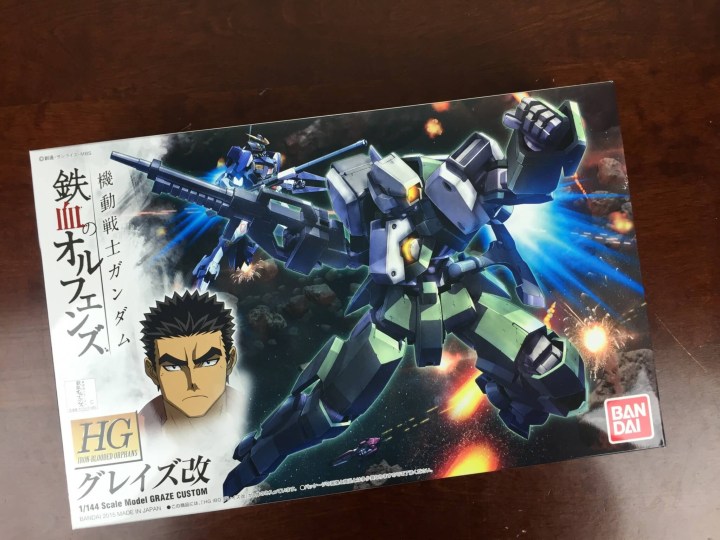 BANDAI Exclusive Gundam Model Kit ($12.80) I do not know how this is exclusive because I found it online at Amazon.
I'm saving ours for a rainy day because there's a whole lot of pieces!

Other subscribers have reported that this was a lot of fun to build! I'm looking forward to it!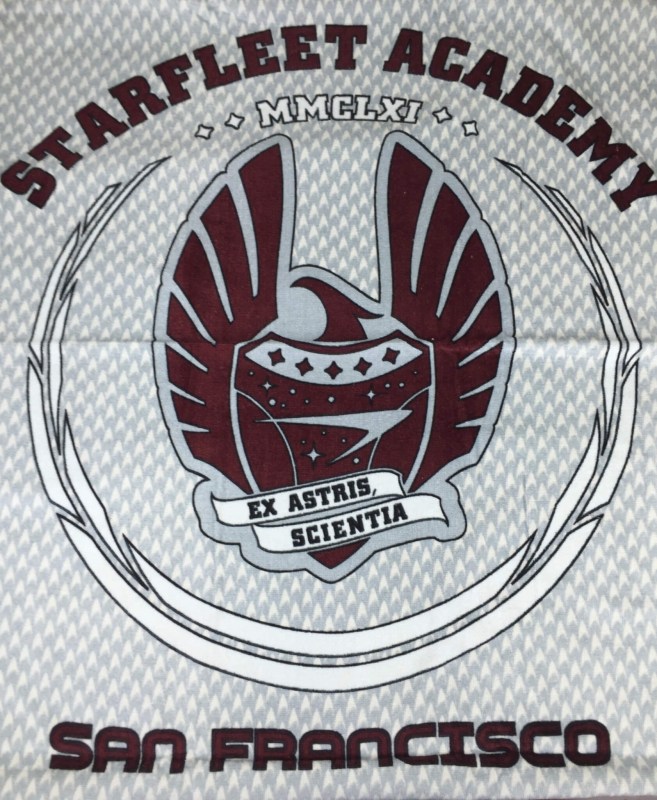 Quantum Mechanix Exclusive Star Trek Starfleet Academy Beach Towel: EASILY my favorite item in the box, and one of my favorite items EVER from Loot Crate!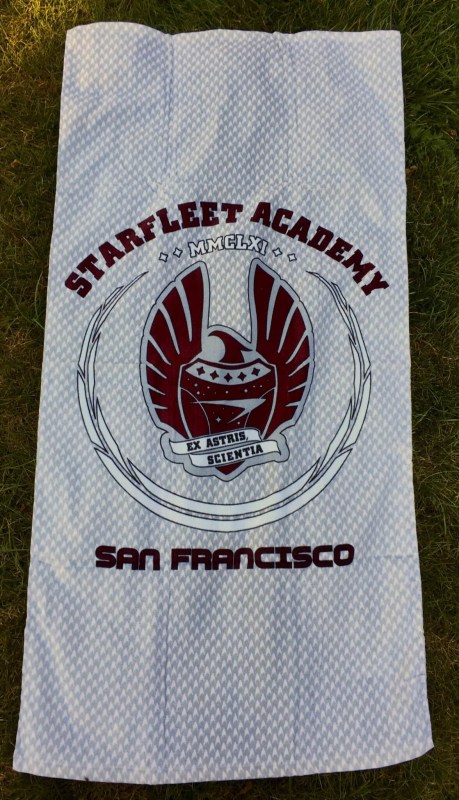 The beach towel is standard size (not the new huge kind, but the size you had when you were a kid) and somewhat thin, but everything is perfect about the printing and the design. There will be no question whose towel this is!
I was jazzed about the fun play-worthy toys, the great print (that I will actually hang up), and my NEW STARFLEET ACADEMY TOWEL! (YASSS). I actually wished that there was a bit less franchise overlap between DX & the Core Crate for July, except for Star Trek, which should be in every box.
What did you think of Loot Crate DX? Save 15% on any subscription when you use this link and coupon code HELLOSUBSCRIPTION15.
Next month's theme is ANTI-HERO- see the franchises included in the Loot Crate DX spoilers post here!
Visit Loot Crate DX to subscribe or find out more!
The Subscription
:
Loot Crate DX
The Description
: We've taken the curated geek and gamer excellence you enjoy with Loot Crate to the next level, with an elevated assortment of collectibles, apparel, home goods and more from your favorite pop culture franchises every month. $100+ value in every crate!
The Price
: $49.99 per month