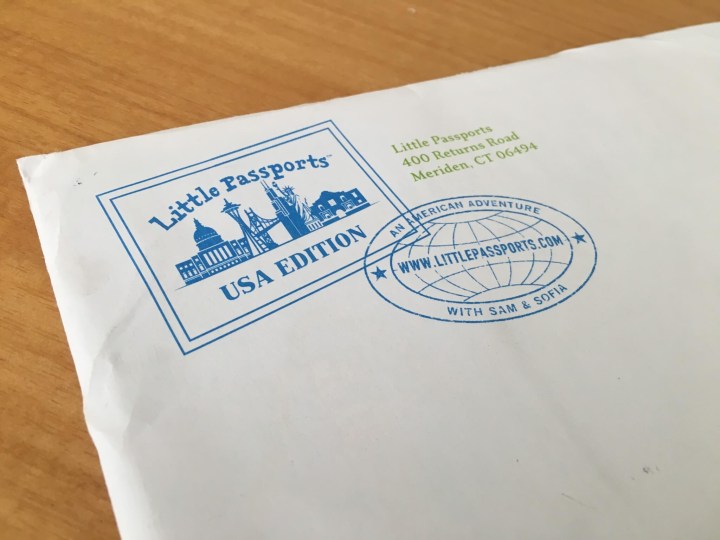 Little Passports (USA Edition) is a kids' educational subscription with crafts and fun activities about the fifty states.  This box is designed for children 7-12, but any bright kid 5+ would like it. Your kids will learn about the geography and culture of the United States with the USA Edition.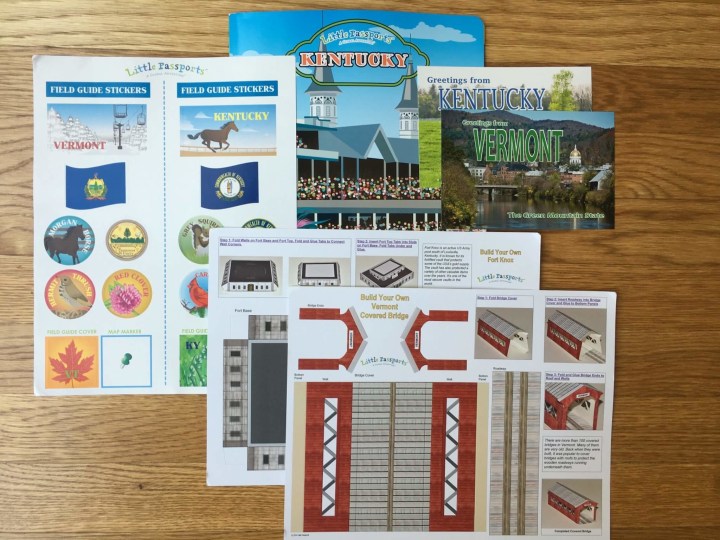 This month, Sofia and Sam visit Kentucky and Vermont.  Does LP always do one northern and one southern state?  I need to go back and examine this.  The box contains a cute double-sided activity book, postcards from each state, stickers for your field guide, and two stand-up models.
The postcards, stickers, and models are brightly colored and fun.  If Bernie Sanders found himself without wifi but with postal service, he could send Mitch McConnell a postcard about Senate matters.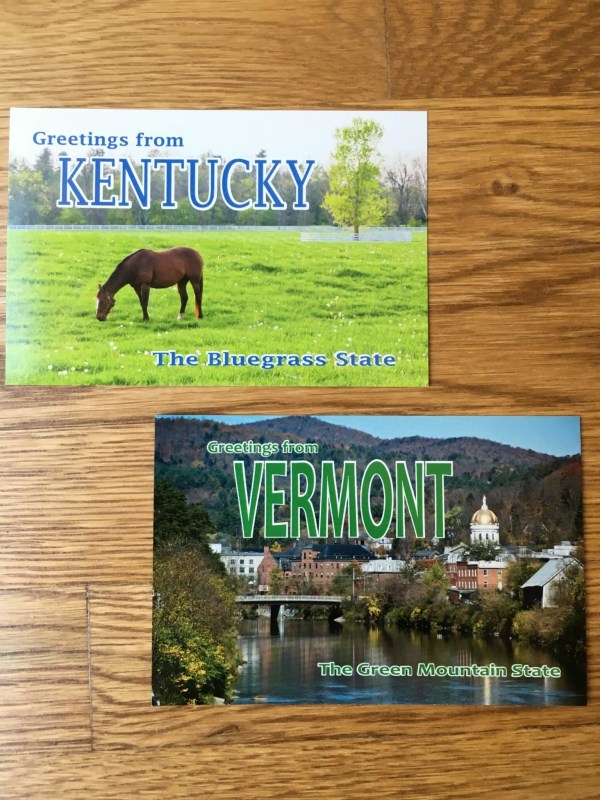 The stickers are for the Field Guide (you DID save the Field Guide, right?) and cover the state bird and flower and so on.  There are even "pushpin" stickers to mark the map poster (which you also saved?).  Nice, quality stickers.  It turns out that the Kentucky state animal is not, in fact, a horse, but the noble grey squirrel.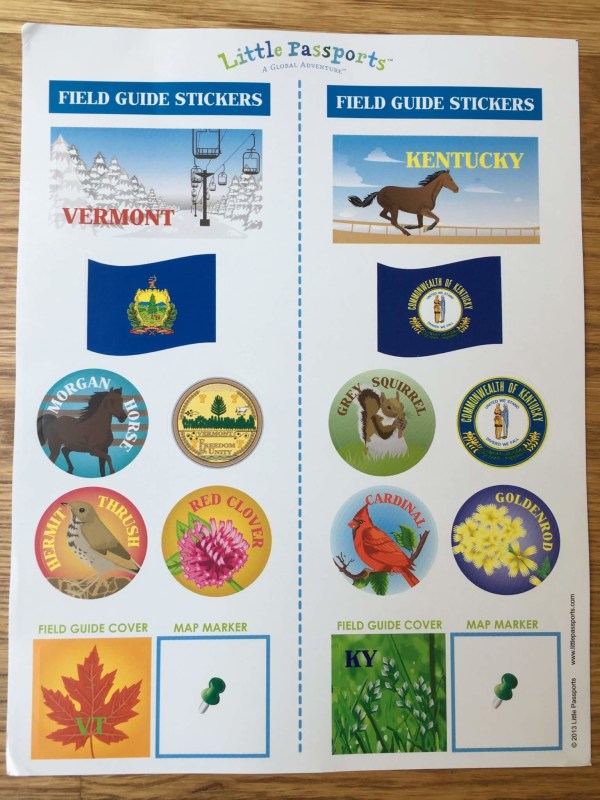 The models are punch-out coated paper and this month made an extremely insecure Fort Knox and a wee covered bridge upon which Lego people could propose to each other.  Fairly straightforward construction this month.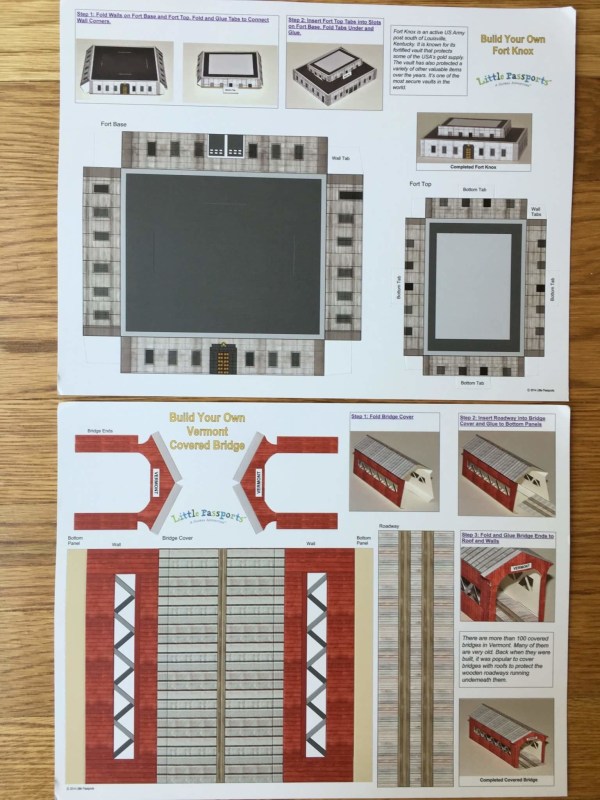 The activity book flips over and upside down to cover both Kentucky and Vermont.  It's a glossy, colorful, 32-page activity book with fun facts and games about the states.  Good stuff in the book this month!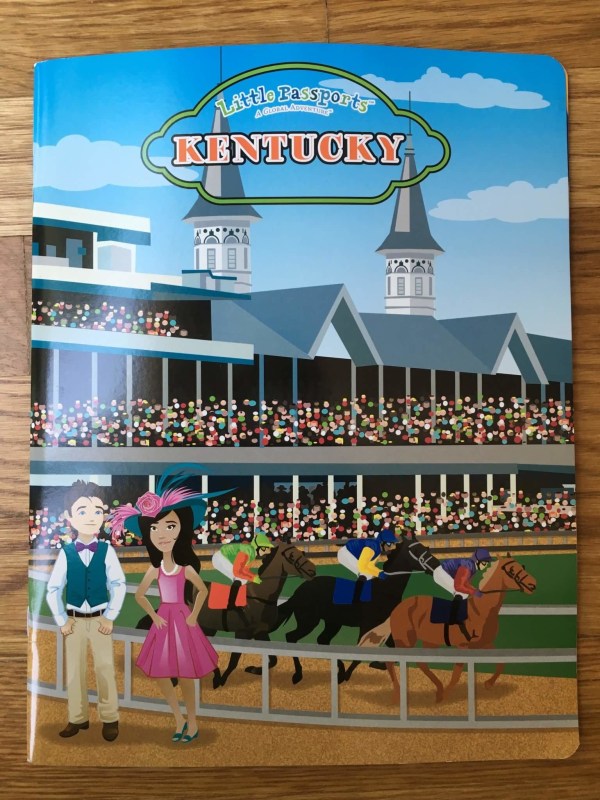 Some of the highlights of Kentucky include Sam's snappy bow tie.  Also, a logic game about the Kentucky Derby, fun with electricity, a maze, and Kentucky's pitch to claim Lincoln.  It did not, sadly, include a recipe for Mint Juleps or any mention of Kentucky's "other" major industry, bourbon.
On to Vermont, where it is, apparently, always autumn.  Highlights of Vermont include the letter and map, a complicated game about snow golf, the less-sultry comic version of Sofia, and fried dough with syrup.  Vermont appears to be awesome.
Another quality box!  The activities are fun and age-appropriate, and they do a good job highlighting some interesting aspects of the states.  Nonreaders will need help but older kids can do everything on their own.  We can't wait to see where they go next month!
This would be a great grandparent or aunt/uncle gift, or a supplement to a homeschool curriculum, especially ahead of a roadtrip or visit to another part of the country.
Save $15 on annual subscriptions! Use coupon code LEARN15. Expires 07-31!