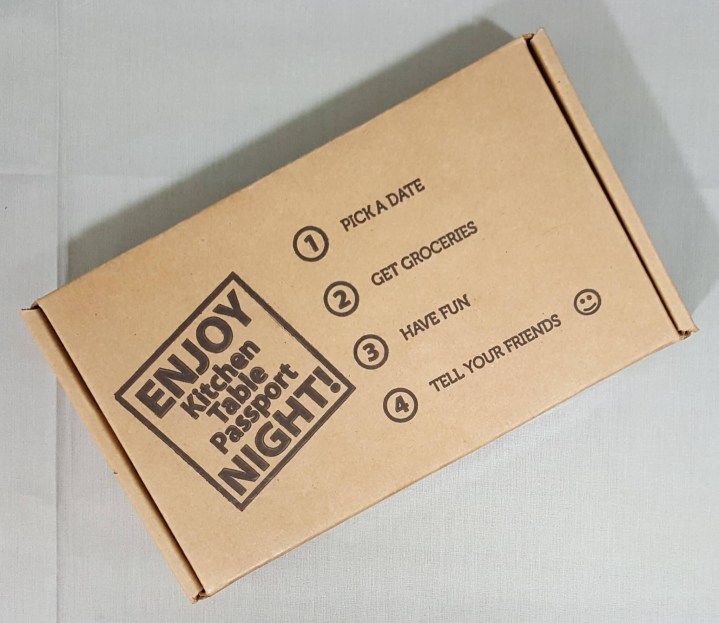 한국에 오신 것을 환영합니다 (Hangook-eh oh-sheen geos-ehl hwan-yong-hab-ni-dah)! Welcome to Korea!  Kitchen Table Passport is a meal-centered cooking and exploration kit.  Each kit features a traditional dish from the featured region, providing a recipe, spices, and pairing suggestions.  With the Full Package, the dish is the centerpiece of the evening, but you also receive "discovery items" – mementos emblematic of the featured culture and a stack of beautifully photographed cards replete with trivia and information.  The Taste Only Package provides just the spices and recipe.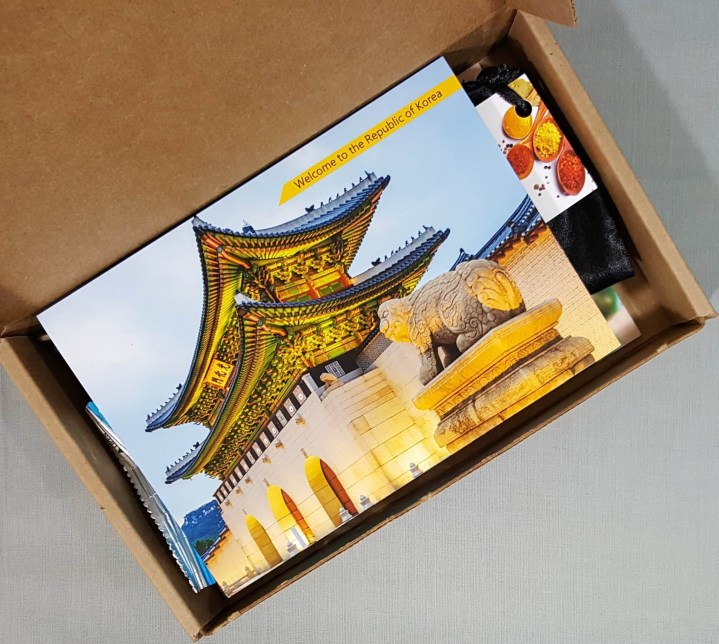 I had an inkling that this box featured Korea – it sounded like it had metal chopsticks rolling around.  I am so excited to see what recipe is highlighted this month.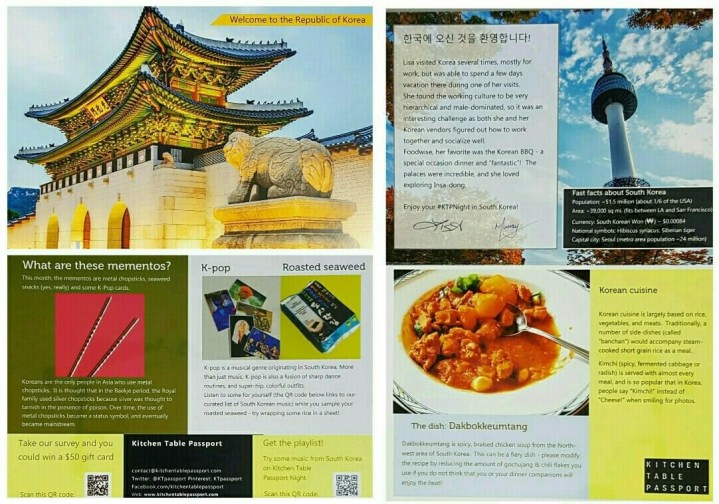 The fold out welcome card introduces you to the featured culture and provides some suggestions for serving your dish in an authentic way.  My featured dish was Dakbokkeumtang, a spicy braised chicken dish.  This is one of my all time favorites, and I can't wait to compare this recipe with my own.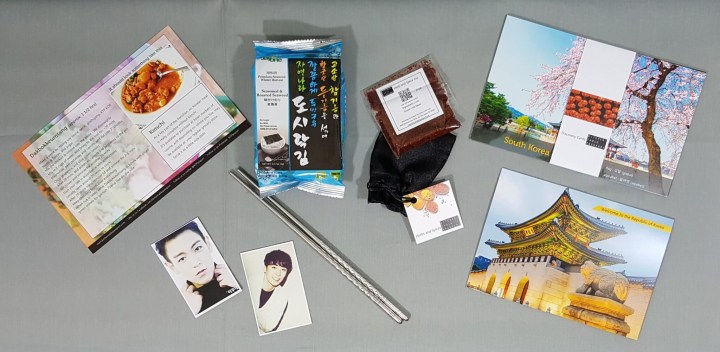 The contents of my box.  Korea is a mix of traditional and contemporary, and this box shows the dichotomy with pictures of temples and K-pop stars.
Mementos: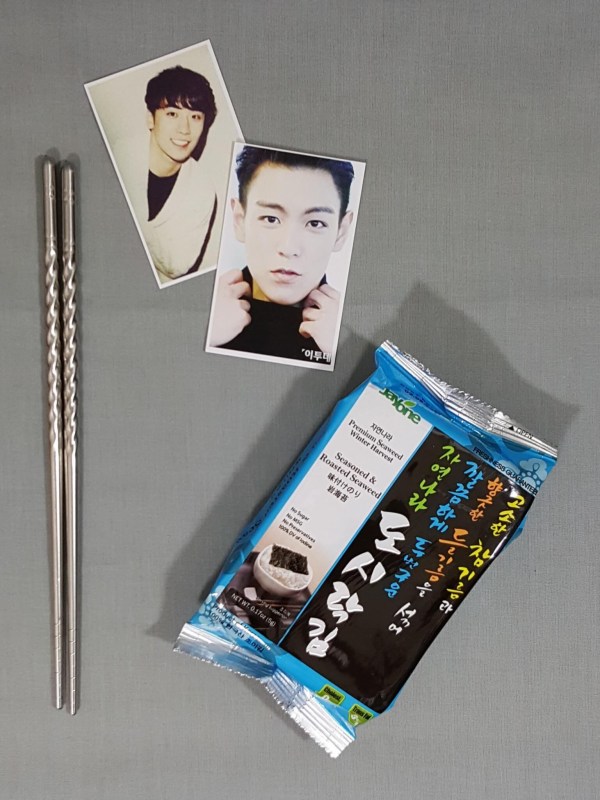 Metal Chopsticks – Metal chopsticks are uniquely Korean.  They are thought to have originated during the Baekje period.  The royal family used silver chopsticks because it was thought that silver would tarnish in the presence of poison.  Over time, the use of metal chopsticks became a status symbol, and eventually became mainstream.  I have several sets of metal chopsticks, but none with this pretty swirl.
Jayone Seasoned & Roasted Seaweed – Sheets of seaweed (known as gim/kim in Korean) are roasted, and then lightly brushed with oil and salted.  Eat these on their own as a snack or wrap a sheet around some rice with your meal.  They can be served as banchan (side dish).
K-Pop Cards – Unfortunately, my knowledge of K-pop is limited, so I can't tell you who these cuties are.  There are so many groups, and many have quite a large number of members.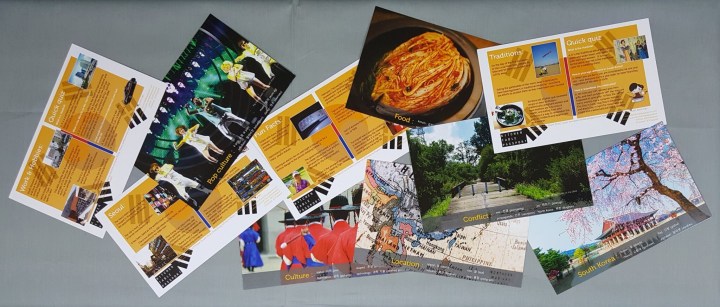 Discovery Cards:  Each card has a picture of notable Korean places, people, and items on the front.  The back of the card provides cultural and demographic information, as well as some words for you to learn.  These are a good tool to help your younger ones learn about other cultures.  That picture of kimchi is making me seriously hungry.
Recipe Card:  Dakbokkeumtang = dak (chicken) + bokkeum (stir fry) + tang (stew/soup).  In addition to the ingredients and cooking directions, the recipe card provides a full color picture of the dish, meal suggestions, and a list of equipment/tools that will be needed.  The directions were clear and easy to follow.  I recommend reading the entire card before you begin prepping.  This recipe calls for jalapenos which are not in my family's recipe.  It also states that sriracha can be substituted for gochujang, but while both are spicy, the flavors are quite different.
Herb and Spice Mix:  This really isn't a mix.  It is a package of Korean chili flakes, known as gochugaru in Korean.  This is used in many dishes and is what provides the main source of heat in kimchi.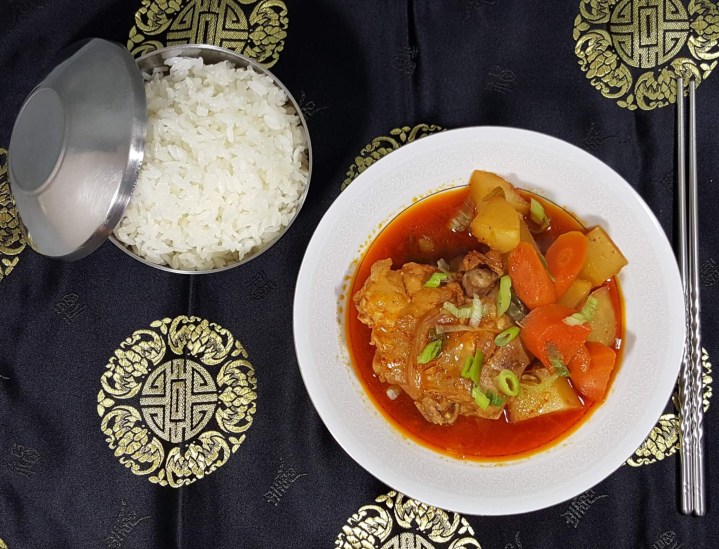 Here is my place setting with the completed dakbokkeumtang and bap (cooked rice).  I was being lazy and didn't set out any banchan.  This recipe would have benefited from a little salt or more soy sauce.  It also had more of a soupy base than what I'm used to, watering down the flavor a bit.  My version is more stew-like.  Overall, it was decent – 3.5 stars out of 5 was the family verdict.
The Full Package starts at $29.95 per month; however, this rate can drop to as low as $19.99 with subscriptions that are 6 months or longer.  This may seem high when compared to other meal boxes, but you are getting an immersive experience with the mementos and Discovery Cards.
Have you tried Kitchen Table Passport? You can save $10 on your first box of a full experience subscription with coupon code HELLOTENBUCKS.
Visit Kitchen Table Passport to subscribe or find out more!
The Subscription
:
Kitchen Table Passport
The Description
: Explore the world from your kitchen table! Different focus country every month to learn about with your family and friends. Contains country introduction, amazing photography, fascinating facts, recipe for local dish, unique herb & spice mix to get started, and authentic souvenirs. Choose between the Taste or the Full Experience!
The Price
: $9.95 per month