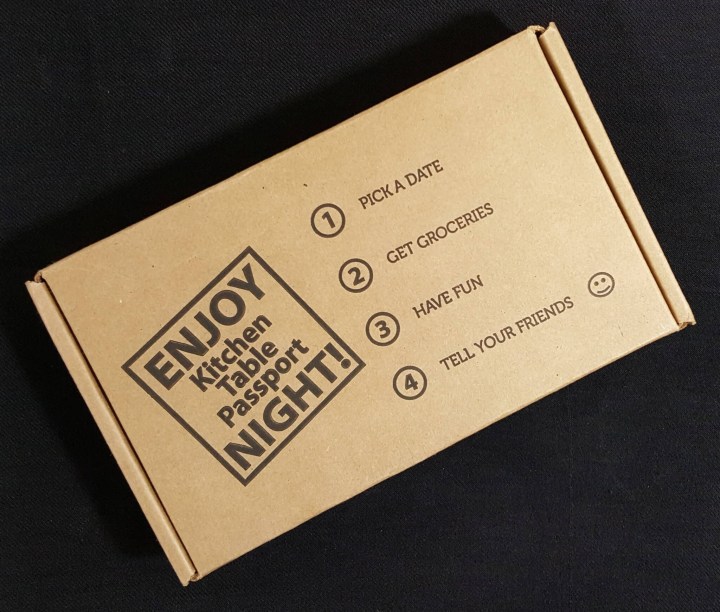 Добро пожаловать в Россию (Dobro pozhalovat' v Rossiyu)! Welcome to Russia!  Kitchen Table Passport is a meal-centered cooking and exploration kit.  Each kit features a traditional dish from the featured region, providing a recipe, spices, and pairing suggestions.  With the Full Package, the dish is the centerpiece of the evening, but you also receive "discovery items" – mementos emblematic of the featured culture and a stack of beautifully photographed cards replete with trivia and information.  The Taste Only Package provides just the spices and recipe.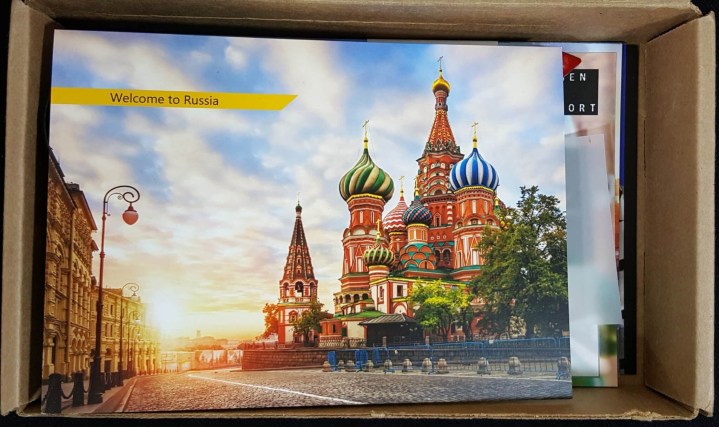 My first look in.  How gorgeous is the cover photo?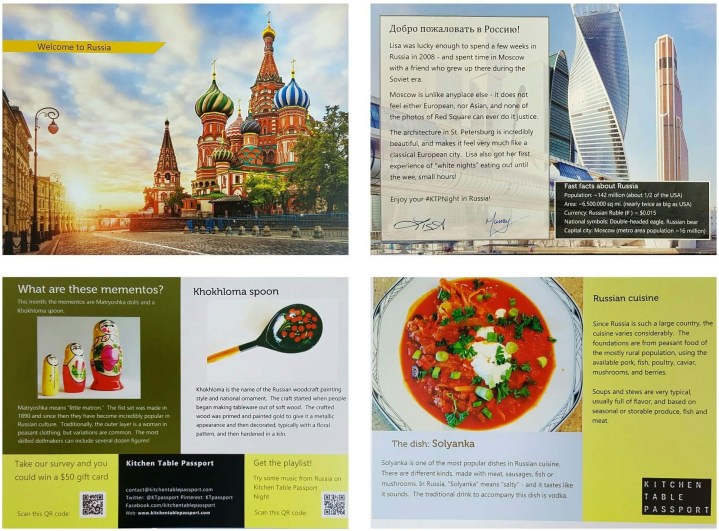 The fold out welcome card introduces you to the featured culture and provides some suggestions for serving your dish in an authentic way.  My featured Russian recipe was Solyanka, a hearty (and apparently salty) stew.  There are several variations on this recipe.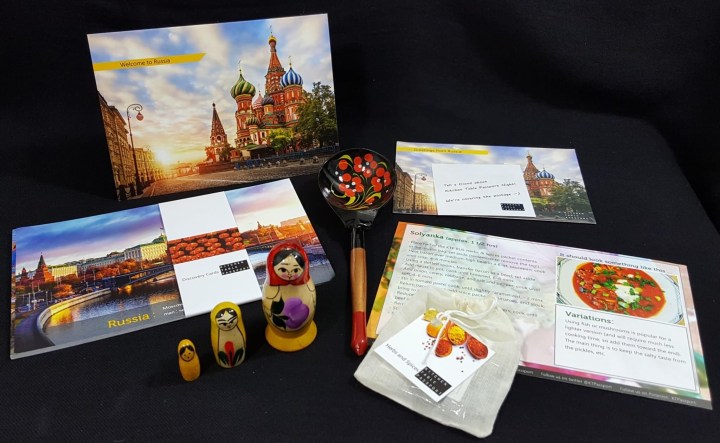 The contents of my box.  Everything is so brightly colored!
Mementos: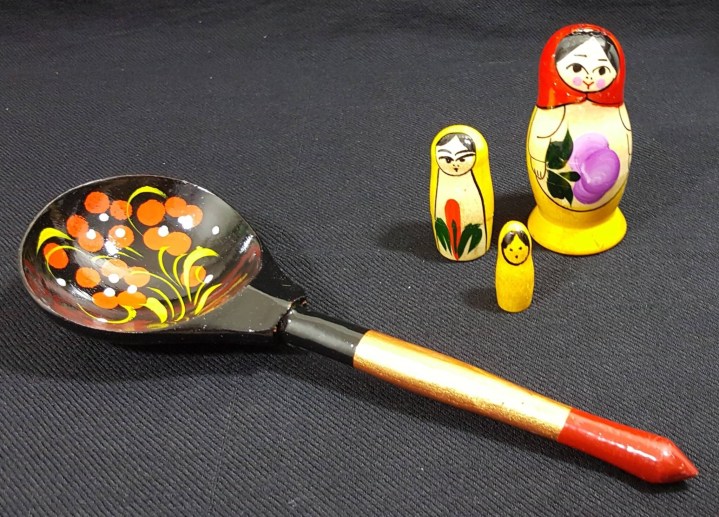 Khokhloma Spoon – Khokhloma is the name of the Russian woodcraft painting style and national ornament.  The craft started when people began making tableware out of soft wood.  The crafted wood was primed (often with clay mortar, linseed oil, and tin powder) and painted gold and gold over a black base to give it metallic appearance and then decorated, typically with a floral pattern, and then hardened in a kiln.  The spoon has a rustic feel, and I think the pattern is very pretty.  This is definitely a decorative piece.
Matryoshka Dolls (aka Russian Nesting Dolls) – Matryoshka mean "little matron".  The first set was made in 1890 and since then they have become incredibly popular in Russian culture.  Traditionally, the outer layer is a woman in peasant clothing, but variations are common.  The figures inside may be of either gender; the smallest, innermost doll is typically a baby turned from a single piece of wood.  The most skilled dollmakers can include several dozen figures!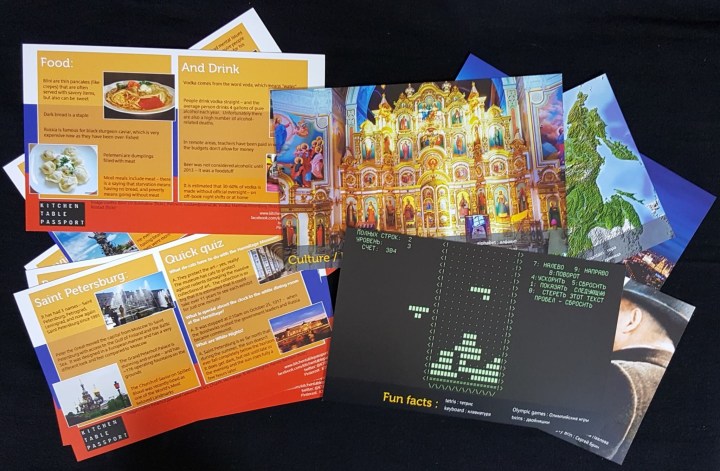 Discovery Cards:  Each card has a picture of notable Russian places, people, and items on the front.  The back of the card provides cultural and demographic information, as well as some words for you to learn.  These are a good tool to help your younger ones learn about other cultures.  Check out that old school version of Tetris!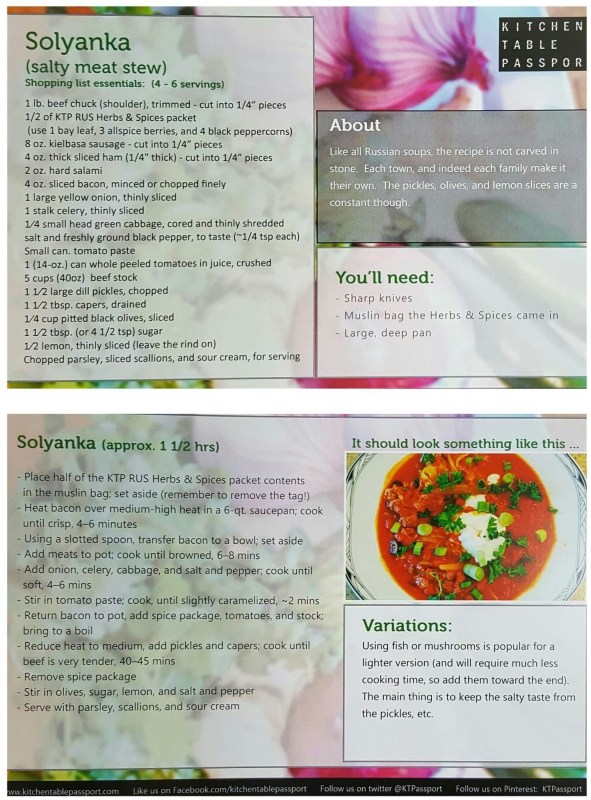 Recipe Card:  In addition to the ingredients and cooking directions, the recipe card provides a full color picture of the dish, meal suggestions, and a list of equipment/tools that will be needed.  The directions were clear and easy to follow.  I recommend reading the entire card before you begin prepping.
Herb and Spice Mix:  This mix came packaged in a muslin bag (which will be used during cooking) and provides enough to make 2 batches of the enclosed recipe.  The spices needed for Solyanka are Tellicherry peppercorns, Allspice berries, and Bay leaves.

Bonus:  KTP included a postcard so that you could share your Russian journey with a friend.
This is where I would have included a picture of my completed dish.  However, try as I might, I could not bring myself to make a salty stew in the middle of June (especially here in Florida).   It has been in the mid to high 90s nearly all month!  The scorching heat and intense humidity do not work well with this dish, and I feel that it would have been a better selection during one of the fall or winter months.  Also, did you check out the ingredient list on the recipe card?  I'm sure if I looked harder I could have found a recipe with a modified (shorter) ingredient list, but I like to try out a dish as it is and make my own adjustments if/when I make it again later.  Comments from other subscribers were that this was every delicious, so I anticipate making this when the weather cools.
To sum up, the Full Package starts at $29.95 per month; however, this rate can drop to as low as $19.99 with subscriptions that are 6 months or longer.  As I stated with my last box, this may seem high when compared to other meal boxes, but you are getting an immersive experience with the mementos and Discovery Cards.  Hopefully, future boxes will be more seasonally appropriate.
Have you tried Kitchen Table Passport? You can save $10 on your first box of a full experience subscription with coupon code HELLOTENBUCKS.
Visit Kitchen Table Passport to subscribe or find out more!
The Subscription
:
Kitchen Table Passport
The Description
: Explore the world from your kitchen table! Different focus country every month to learn about with your family and friends. Contains country introduction, amazing photography, fascinating facts, recipe for local dish, unique herb & spice mix to get started, and authentic souvenirs. Choose between the Taste or the Full Experience!
The Price
: $9.95 per month