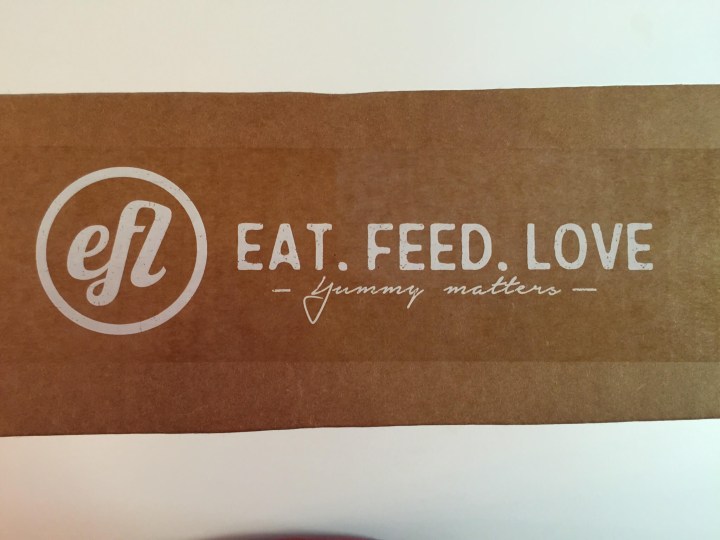 It's here! The June Taste Club Snack Box from the lovely folks at Eat.Feed.Love! The folks at Eat. Feed. Love offer a variety of food boxes via the Taste Club. This is the Snack Box, which delivers tasty, artisan snacks to your door for $35/month – and you can save 50% on the first box of any Taste Club subscription with code HelloSubscription!
The box comes packed full of snack goodies, a mixture of sweet and salty snacks, so there should be something in there for every type of snacker. As usual, Eat.Feed.Love. gives back to the community.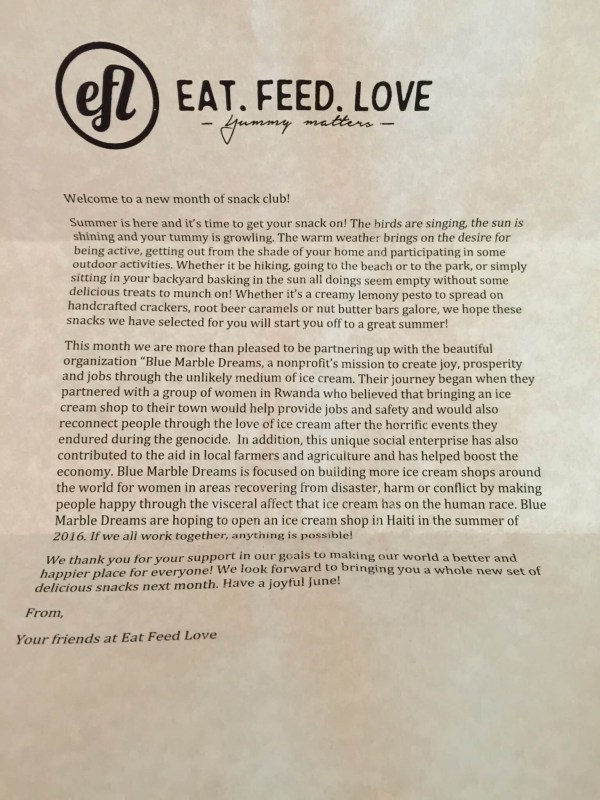 This month, they've partnered with Blue Marble Dreams, a nonprofit that created an ice cream shop Rwanda and soon hopes to open one in Haiti.
As usual, this month featured a little something for everyone from the sweet to the salty.
This month featured six snack options: ZLicious Confections "Oatmeal Cookie Salted Carmel Corn", Chocolate Twist's "Root Beer Caramels", Pulse "Roasted Chickpeas", Big Spoon Roaster's "Cherry Pecan" handcrafted Nut Butter Bar, Hayden Flour Mills' "White Sonora" Crackers, The Gracious Gourmet's "Lemon Artichoke Pesto".
So let's snack!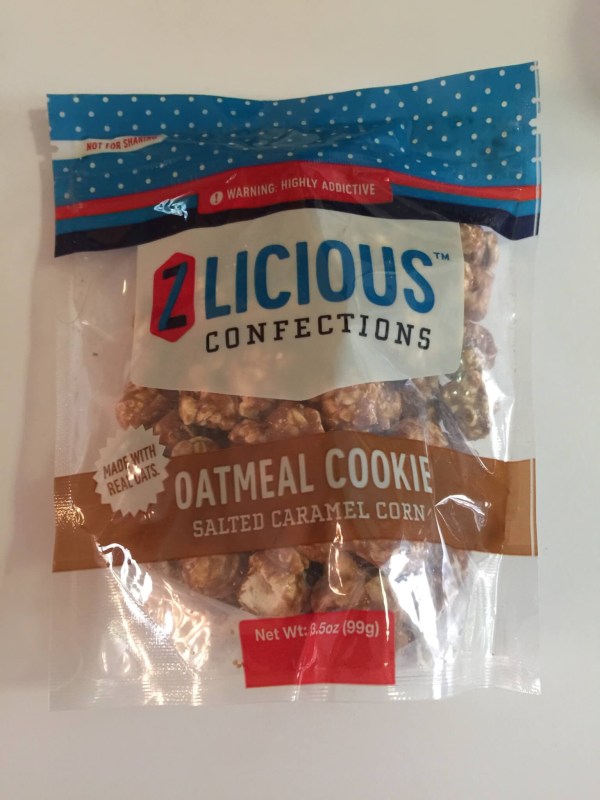 ZLicious Confections "Oatmeal Cookie Salted Carmel Corn"
How was it? I was really scared to try this because, well, I'm not a fan of oatmeal cookies. Raisins belong in your bran, not in a cookie. Cookies demand chocolate chips. So with hesitation I dug in and was really surprised. It really tastes like an oatmeal cookie! The combination of the popcorn and oats, along with the hint of cinnamon and vanilla really evokes an oatmeal cookie. And the caramel is really good, resulting in the first "oatmeal cookie" that I've actually enjoyed. Maybe it's because they left out the raisins, thank goodness.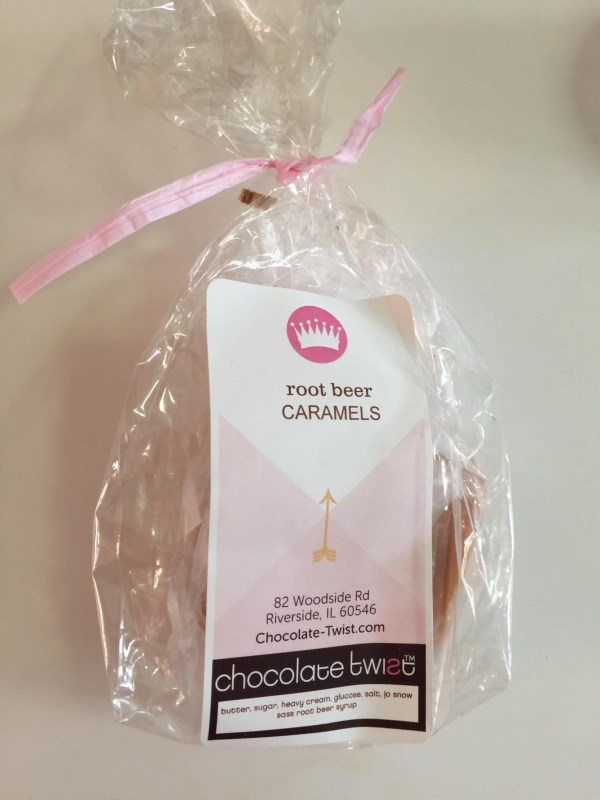 Chocolate Twist's "Root Beer Caramels"
How was it? Hey, I like root beer. I like caramel. So this seemed like it was going to be a winning combination right from the start. You know what? It was! And it's made in Riverside, IL, which means I could drive there and get more super easily. It's not a super chewy caramel, and it's not going to stick to your dental work. What it is is soft and buttery and creamy, with a hint–just a hint–of root beer. A really great sweet treat to balance out the salt in this month's box.
Pulse "Roasted Chickpeas"
How was it? I love chickpeas. In salads, as hummus, you name it, I love 'em. And these are pretty much straight up roasted chickpeas with salt and olive oil. The result is a really delicious salty snack, with some glorious roasted nuttiness. The only thing I didn't like is that they can get really dry, so you won't want to eat a ton at one time. But, they are still quite tasty and I think they would make a really great crunchy addition to a salad.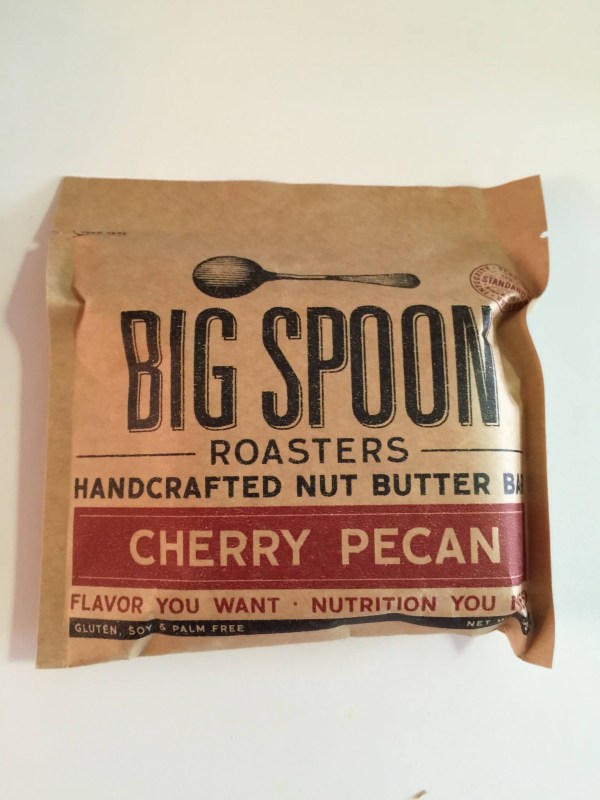 Big Spoon Roaster's "Cherry Pecan" handcrafted Nut Butter Bar
How was it? I am not a fan of bar food. My wife? She loves food in bar form. Both for nutrition and just snacks. Me? I like food not compressed into bars. It's just a personal preference thing. That said, I love pecans, so I couldn't resist this one. Once you get over the whole format of the thing, it does taste really, really good. The peanut pecan butter really comes through, and it matches very well with the honey and oats in the bar. The dried cherries give it a little extra sweetness, and there are some bits of crunchy quinoa that give it a nice texture. I still get a bit of the "whey protein" but its definitely one of the better food bars that I've had.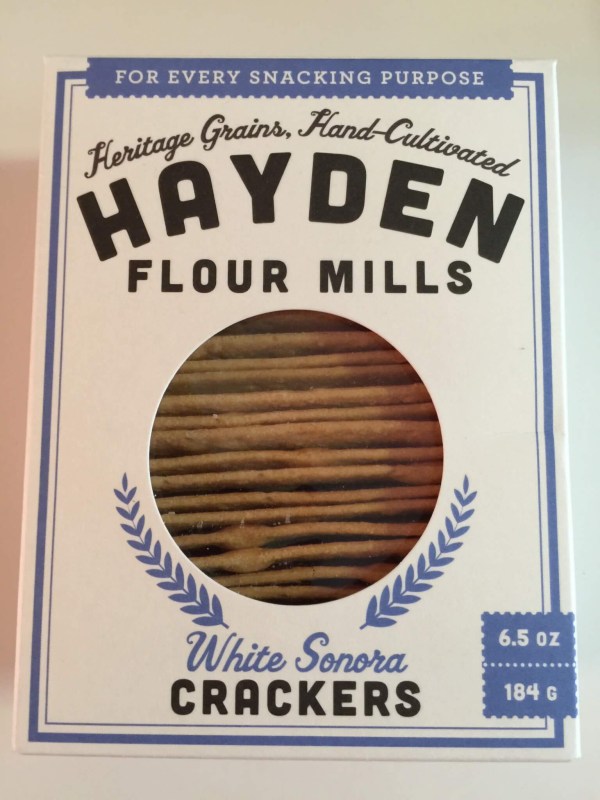 Hayden Flour Mills' "White Sonora" Crackers
How was it? Mmm. These would be really, really good with a strong, but not overpowering cheese. Like a nice aged gouda or cheddar, or a pecorino. The ingredients for these crackers is smack your head simple: stone ground sonora wheat, canola oil (non-GMO, natch) and salt. Pure crackalackin' cracker. They're really good enough to eat plain, but really, what cracker isn't taken to the next level with something great on it? Which brings us to…
The Gracious Gourmet's "Lemon Artichoke Pesto"
How was it? EAT THIS. EAT IT NOW. I could spoon this stuff straight into my mouth. Wait. Did I just say that? Okay, look, I love artichokes. And this is an outstanding blend of artichokes, olive oil and lemon. It's full on artichoke goodness, with lemon and just the right amount of salt. It's really excellent on those White Sonora crackers. But it's also good on all sorts of other crackers. And on pasta. And bread. And just spooning it into your mouth. Seriously, grab a spoon and devour.
Well, once again, Eat.Feed.Love. delivers with a snack box that will please the whole family, from the salty-snack cravers (me) to the sweet teeth (everyone else in my house).  I don't think you can go wrong with the snack box. Even when I've been "disappointed" with a snack, it's always just not to my taste, and someone else in the family ends up devouring it instead. So you'll get a great diversity of quality snacks. What more could you ask for in a subscription box?
Visit Taste Club: Snack Box to subscribe or find out more! Save 50% on your first box! Use coupon code  HelloSubscription. Good only on month to month plan.
The Subscription
:
Taste Club: Snack Box
The Description
: Tasty artisan snacks, no cooking required, just un-pack and enjoy. From chocolate fudge to caramel corn. The connoisseur snacker's dream..
The Price
: $35.00 per month