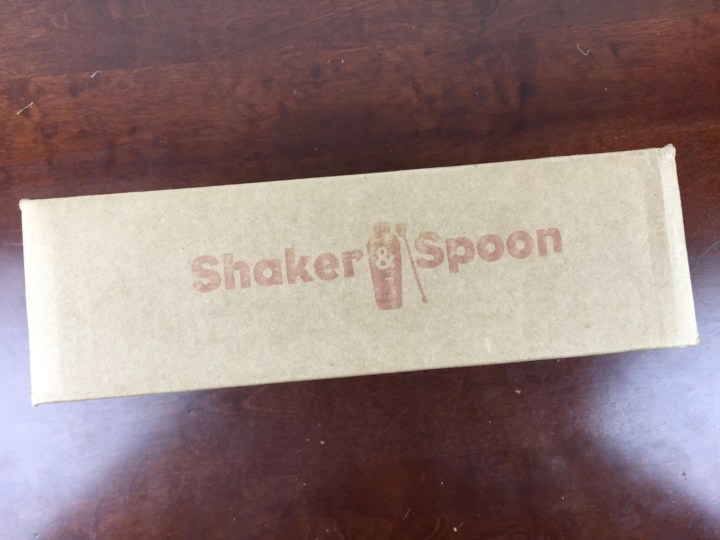 Shaker & Spoon Cocktail Club is a monthly subscription box that is a great way to discover new drinks.  It gives you all the ingredients you need (except the booze itself) to make high-caliber mixed drinks. This is a really awesome idea for people that prefer to procure their own liquor, or live in a state where it cannot be shipped to them!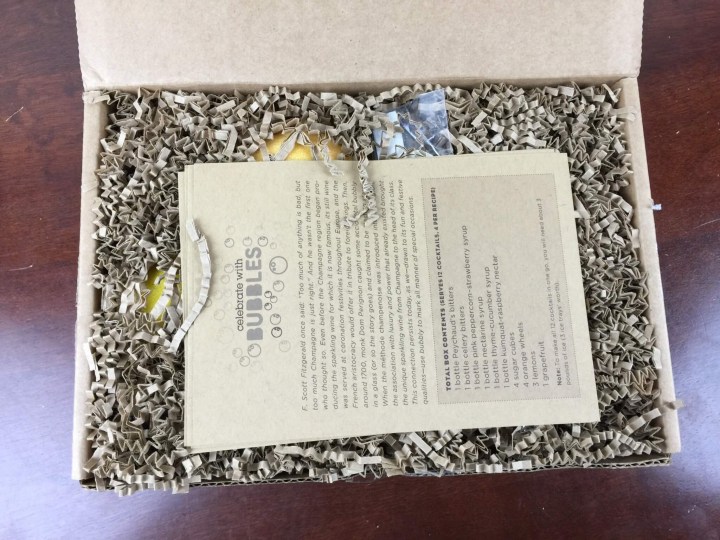 This month featured three great drinks using "bubbly!"  I went cheap, grabbing a Ballatore Gran Spumante to mix with, but you can use actual Champagne or your favorite sparkling white just as easily.  Shaker & Spoon sends a handy email to let you know what spirit will be needed for the box, along with a value and mid-range option.  They ask high-end bartenders for advice on the brand of liquor to choose, so some suggestions may be craft or small batch, of limited availability in your area, or a little pricey for your taste.  I loved the thoroughness of Shaker & Spoon — it includes all the syrups, bitters, and citrus needed to make the drinks.  Some months even have peculiar stuff like herbs and jam.  This month had some beautiful dried orange wheels as garnish.  Aside from ice and the liquor itself, the box came with all the consumable ingredients.
The card gives an inventory of the contents of the box and some information on the nature of the drink, as well as the recipes provided.  A useful glossary card introduces the novice barman to the tools and terminology that will be used in the recipes.
A visual inventory of the box allows a quick assessment of the contents, though everything is labeled, too! This card was super-helpful, describing the techniques and measurements peculiar to mixology.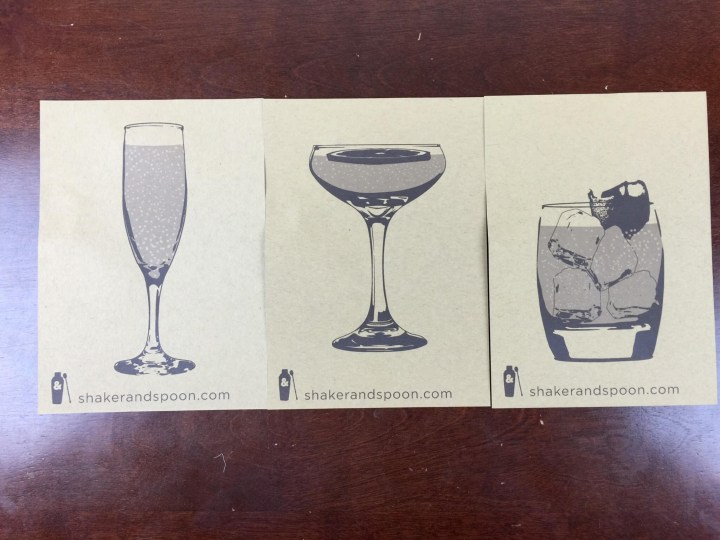 Pictures of the drink when served in the recommended glassware.  These recipes called for a flute, a coupe, and a rocks glass — typically the box will feature one recipe using a rocks glass, one suited for a highball, and one coupe-served recipe, but it changes depending on the booze and recipes concocted.  We use a rocks glass for most drinks, and we usually use either the pony glasses (quarter-pint glasses) we received in our Craft Beer Club subscription in place of a coupe, or we go with a pint glass, Teku glass, or wine glass — whatever seems to work with the volume and style of drink.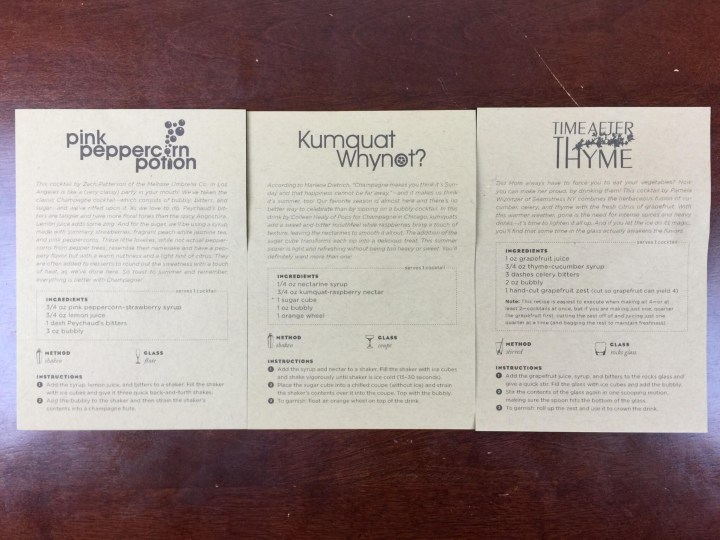 Three bubbly drink recipes, each described in detail with recipe and instructions.  This set of recipes differs from what you'll see in most Shaker&Spoon boxes — typically, they'll have a featured liquor-based formulation of an Old Fashioned, an original cocktail that speaks to the theme of the box, and a very drinkable remake of a classic, like a Collins, Martini, Boxcar, etc.  This monty, however, appeared to have three originals designed to showcase the unique qualities of bubbly.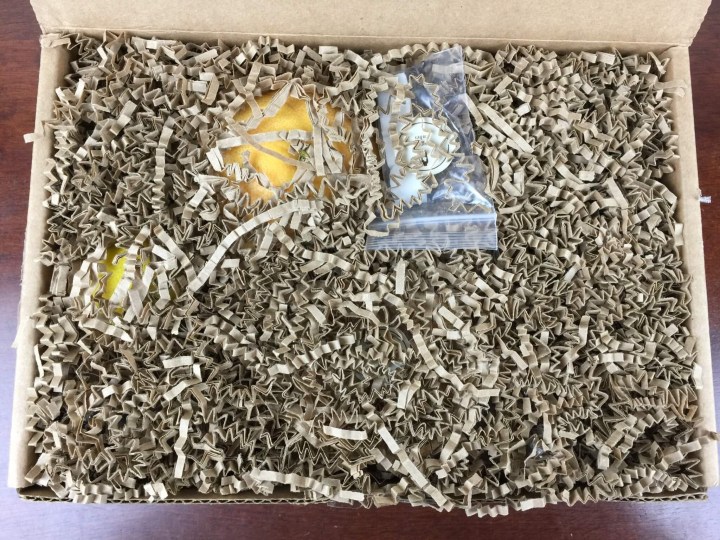 The box arrives with everything buried safely within a sea of squiggles.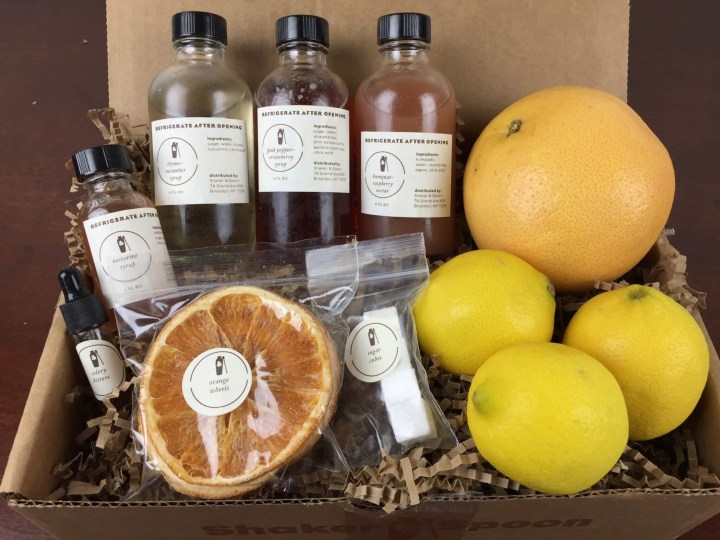 Everything in my box!   I love that the box usually has both staples you can use in tons of drinks (like Angostura bitters) and interesting flavors to experiment with, like the unique syrups in this box.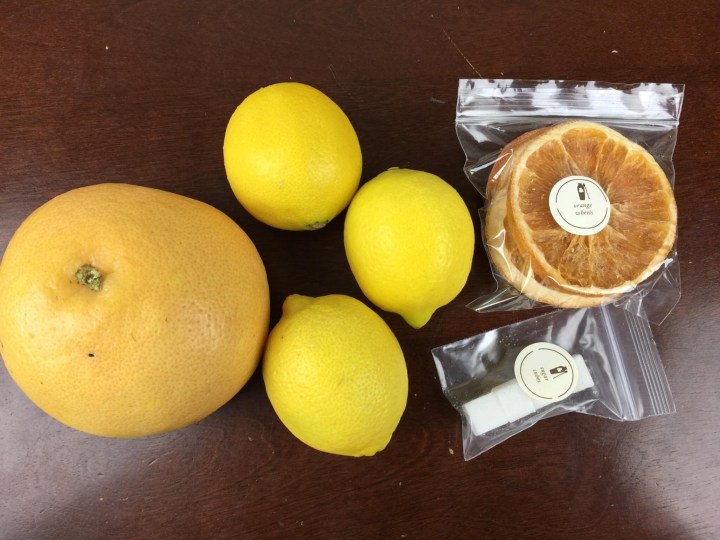 The kit usually includes a mixer and fresh citrus — this one had Meyer lemons, grape fruit and even orange wheels!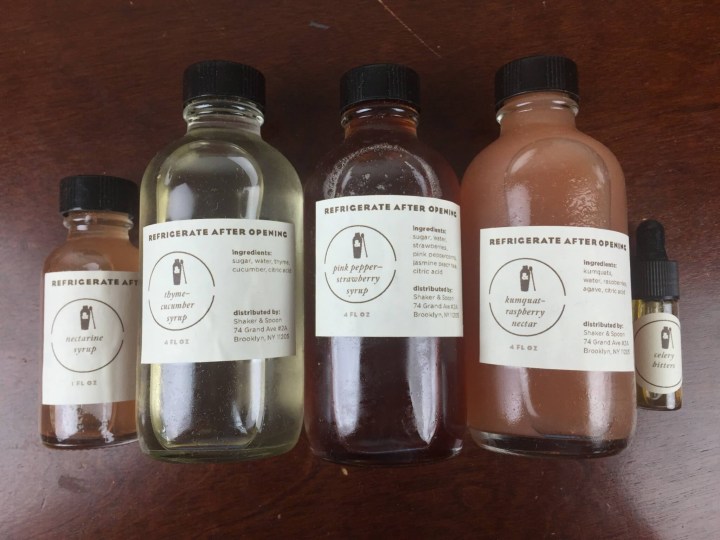 The syrups and bitters.  I was glad that this set of drinks had complex syrups in place of fresh herbs — It saved muddling and made the drinks much simpler to prepare.  Plus, it extended the fridge life of the box (sadly, we had to go several days before we had the chance to try out drinks, but the lack of herbs made this a good box to have a delay on).
Each drink was designed by a professional bartender or person in the know.  Here's what we made: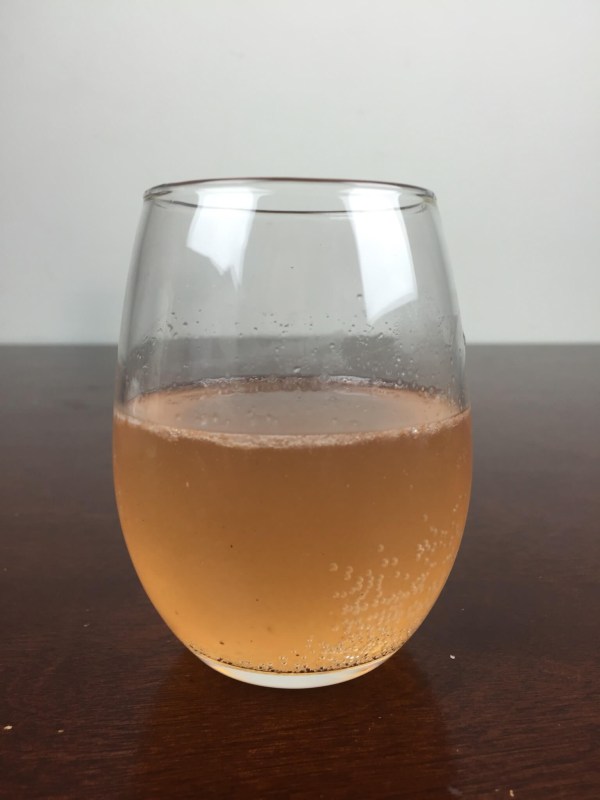 Pink Peppercorn Potion:  This version of the Champagne cocktail was created by Zach Patterson.  The large quantity of fresh lemon juice gives it a very tangy and zippy flavor, but the sweetness is well balanced both by the syrup and our use of a fairly sweet sparkling wine.  I like this quite a bit, and I thought it was well-designed to create a nicely portioned (and proportioned) drink.  Three ounces of bubbly rendered a good size cocktail.  Unfortunately, our Peychaud bitters were nowhere to be found (I can't say for sure whether they were omitted or I simply missed the small bottle within the squiggles), so I used some Angostura we had from a previous S&S.  The strawberry and pink peppercorn really transforms the tart lemon into a very nuanced mixer.
Time After Thyme:  This unique potion is the creation of Pamela Wiznitzer.  It is very delicious, and my favorite of this set of drinks, though I think it would have been cooler to just name it "the Wiznitzer".  Very well balanced, this drink blends thyme, cucumber, celery bitters, and semi-tart grapefruit juice into a lovely melange.  The flavors meld in such a way that the cocktail gains an indistinct fullness and herbaceous quality that makes it very drinkable and gives it a wonderfully rounded presence without overplaying any flavors.  In fact, it is only with the addition of the grapefruit zest garnish that the stingy citrus emerged from the mix.  I would never come up with this great cocktail on my own — one of the reasons this subscription is great.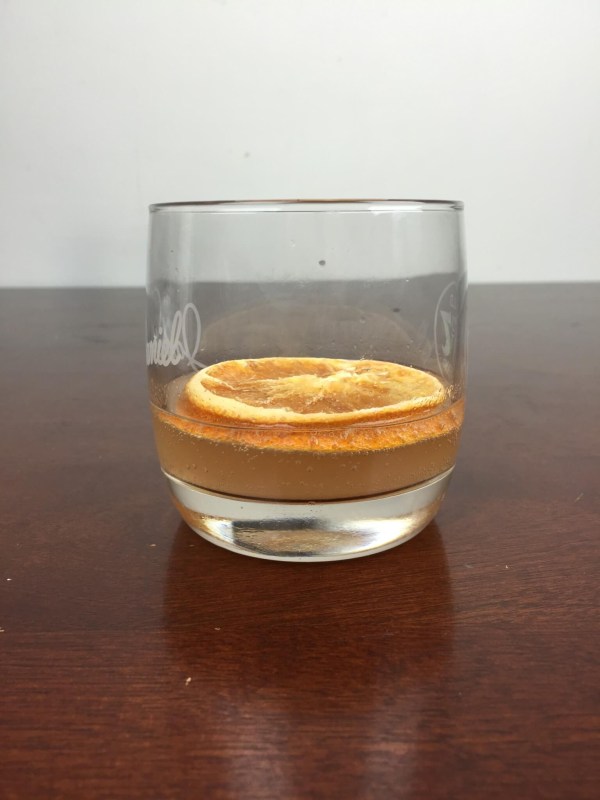 Kumquat Whynot?:  I found this drink to be very sweet and tasty, a sort of Bellini, except with odd proportions.  Typically you would mix four ounces or Prosecco with a couple ounces of nectar.  This drink mixed a single ounce of bubbly with an equal measure of nectar/syrup — plus, it added a sugar cube.  The result was a very sweet, and very tiny drink.  It was certainly beautiful with the orange wheel, and it would be a fine little taste of something to have as an after brunch drink.  Pictured is the cocktail as designed — it is intended to be served in a coupe, which is like a margarita glass with the top 2/3 chopped off.  I made a second round, doubling the mixer (but not the sugar) and quadrupling the bubbly.  I found the modified version to be more in line with my sweetness (and volume) preference.
This batch of drinks was very delicious, and I have to applaud the somewhat innovative use of sparkling wine.  Each was pleasant to imbibe, picking a favorite really just being a matter of whether you like tart, sweet, or balanced drinks.
I love the "just add liquor" concept of the subscription — especially since the recipes are versatile enough to work with any decent brand — they provide a mid-range option, so you don't have break the bank (and who wants to mix drinks with premium "sipping" liquor, anyway?).  Shaker & Spoon Cocktail Club fills a void in the drink prep world, and they do a great job!  I also love using the extra syrup, bitters, and garnish to make my own creations!  I really look forward to this subscription every month.
What do you think of Shaker & Spoon? Save 15% off 1 & 3 month subscriptions! Use coupon code  HELLO15. Cannot be combined with any other deal, only for first time subscribers.
Visit Shaker & Spoon Cocktail Club to subscribe or find out more!
The Subscription
:
Shaker & Spoon Cocktail Club
The Description
: Every month you'll get a box with 3 recipes for 12 drinks (4 from each recipe) and everything you need to make them—syrups, bitters, garnishes, citrus—besides the alcohol. You'll be exposed to new flavors and combinations, inspiring you to see your liquor cabinet in a whole new way. Subscribe today and be your own bartender before you know it.
The Price
: $55.00 per month with shipping.