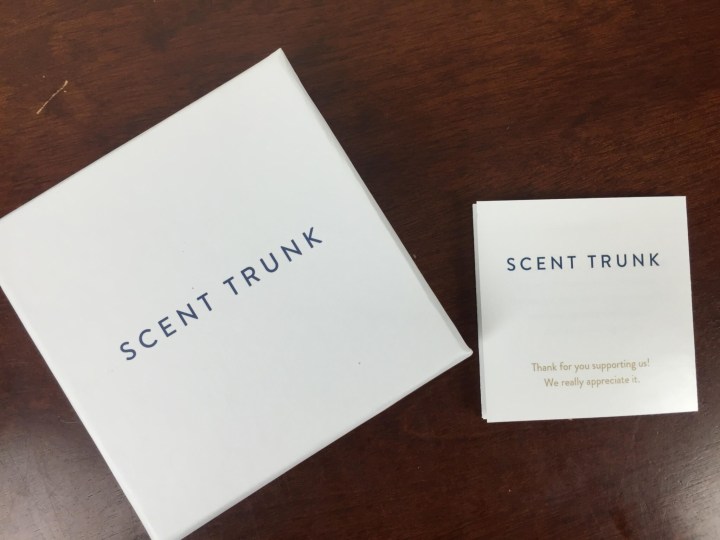 Ever smell something that triggers recall of a very distinct memory?  This month's Scent Trunk had just such a fragrance.  Scent Trunk is a scent discovery subscription.  Of the three men's fragrance subscriptions we regularly review, Scent Trunk is the subscription best triangulated between niche and mainstream — the fragrances are from niche designers, but they are closer in profile to mainstream scents than Olfactif's themed sets.  They offer both a men's and women's version. Every month you'll receive 3 niche scents to experience, try out, and enjoy!  Fill out a brief profile on their site and you'll receive a customized box of fragrances. They have a beautiful new website as well.
The box now contains a small accordion booklet that has general info on how to best wear and enjoy your fragrances.  It is similar to the tasting instructions you sometimes see in coffee or liquor subscriptions.  I guess this would be a "sniffing?"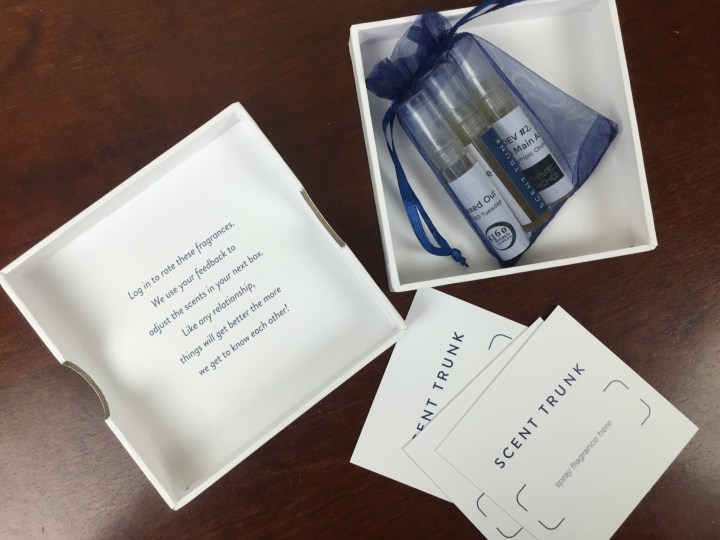 The three fragrances come in an organza bag inside a little box. You'll get 6mL of each fragrance.
There are 3 information cards in the box – one for each fragrance, and you can spray them with the scents and make your own little card catalog. The cards have information on each scent (for your "sniffing"), the longevity, and the sillage, which describes how far the perfume ingredients disperse (are you just smelling it or is everyone smelling it?), and the price. You get to sample extremely expensive fragrances in this one.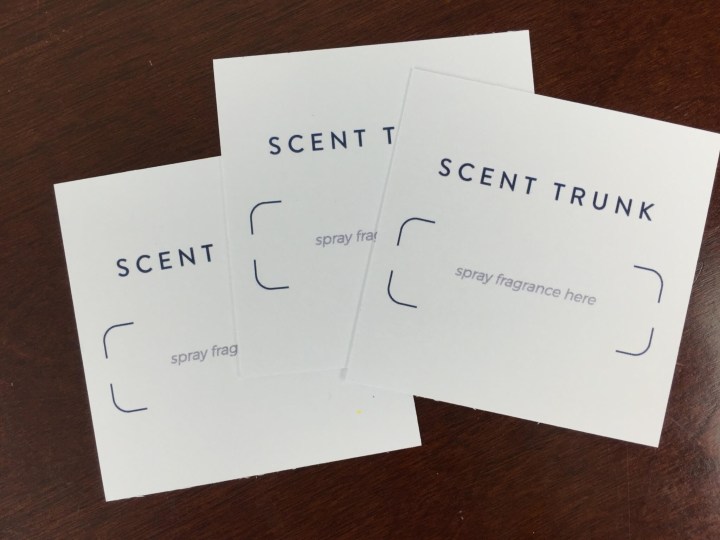 The tester cards are handy for a couple reasons — they let you separate the scents (which is very difficult when testing them all on your skin), and they let you test the sillage (which is nearly impossible without a separate test card).  You'll still want to actually wear the scents, though — the character of the fragrance can be quite different on skin.
Each of the sprayers has a cap and a label to identify the fragrance.
Maxed Out by 4160 Tuesdays ($285):   This one has an odd profile, in that it makes you smell like you've been out drinking the night before.  It initially smells strongly of rum, and the coconut and cumin notes only serve to make it smell like you were drinking out in the sun and eating kabob.  I love dry, woody notes, but the cutting dryness of cedar in this fragrance blends with what seems to be to be a bit of funky ambergris — the result is a lasting note that approximates advanced body odor.  This is the most expensive fragrance in the bunch, but I'm afraid it would make me smell like I did before I took my shower.
No. 6 Tempt Fate by Body Conjure ($68):  Very bright and citrusy at the beginning.  After time, it begins to smell like the thick, sun-baked canvas tents we had at Boyscout summer camp — mossy and woody, very similar to wet sawdust — a pleasant and comforting smell.  My favorite of the lot.
Dev #2: The Main Act by Olympic Orchids ($65): strong incense head note that only slightly dissipates.  Remains smoky and sweet, with really rich and resinous wood notes from the agarwood.  A bit of dry spice lay underneath the head notes.  I thought this was an enjoyable fragrance, too.
Scent Trunk is great for trying out expensive, and moderately priced, fragrances.  As is sometimes the case, the most expensive (by far) fragrance in this box was not nearly as pleasant as the more inexpensive offerings.  I'm glad I tried it through Scent Trunk instead of buying a bottle!  Finding a fragrance is a very personal endeavor, and it is all about your personal preference, scent biases, and what your nose is suited to detecting.  It can also be overwhelming, as your nose can only sniff so many fragrances in one session before overload.  This subscription is a perfect way to sample a few at a time and find one you love, or just add some variety to your fragrance stash.
Visit Scent Trunk for Men to subscribe or find out more! Save 40% on your first box. Use coupon code HELLO40. Or while supplies last get a free trial! Use this link to get the deal.
The Subscription
:
Scent Trunk for Men
The Description
: We don't wear the same clothes every day, so why wear the same scent? With Scent Trunk, you get a variety of fragrances, every month. Each box is customized to your unique tastes, so you'll love every box. You fill out a Profile which let's the Scent Trunk team know what you like, then, they scour the world to find the most unique fragrances which will suit you. Fragrance is the ultimate fashion accessory, and like fashion, we're all different. Scent has the power to change moods and evoke emotions, so 1.5% of sales go towards fighting mental
illness. Women's
also available.
The Price
: $18.00 per month