Loot Anime is a monthly subscription box from Loot Crate, just for Anime and Manga fans! Every month you'll get $60 worth of figures, collectibles, manga, apparel, accessories and more.
In celebration of their new partnership with Crunchyroll, Loot Anime's theme of the month is VICTORY. This pairing of two fantastic names in the anime community means better access and discounts for all otaku alike. When you link your paid Crunchyroll account with your Loot Anime account you will save $5 every month!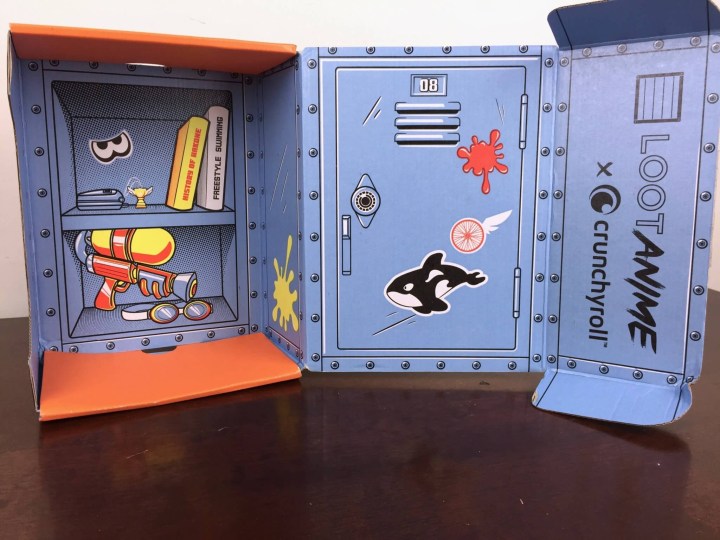 I love how well designed Loot Crate Boxes are! Even the inside of the box looks amazing!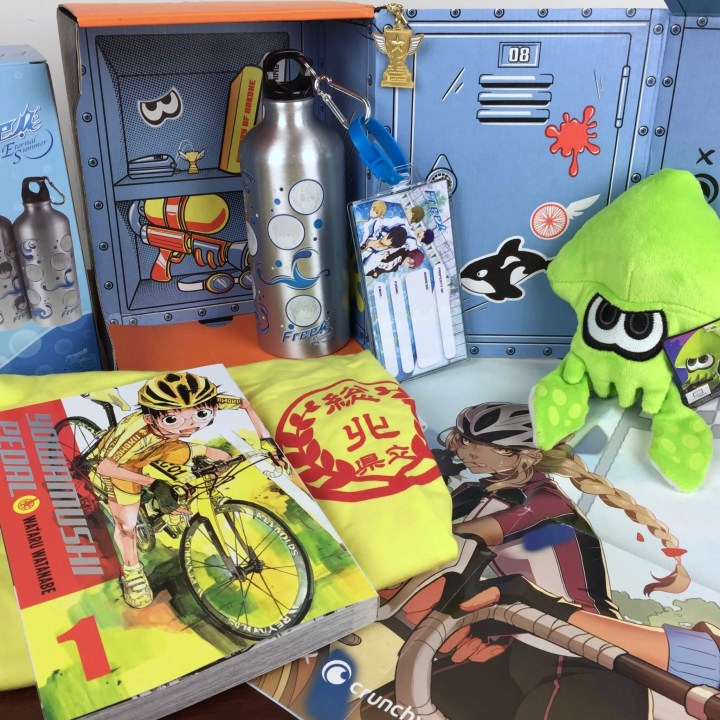 Everything in the June 2016 VICTORY crate! More specifically, it centers on victory achieved in athletics and most of the items represent this- lets dive in!
This month's poster depicts the wonderful art of Finni Chang, a freelance illustrator who especially loves to illustrate all things Nintendo (visit her Tumblr for more examples of her awesome work! finnichang.tumblr.com). For LA, she has depicted their mascot in manga format, and working hard to win a cycling race. Our winning heroine proudly displays her trophy, which looks like the LA phone charm.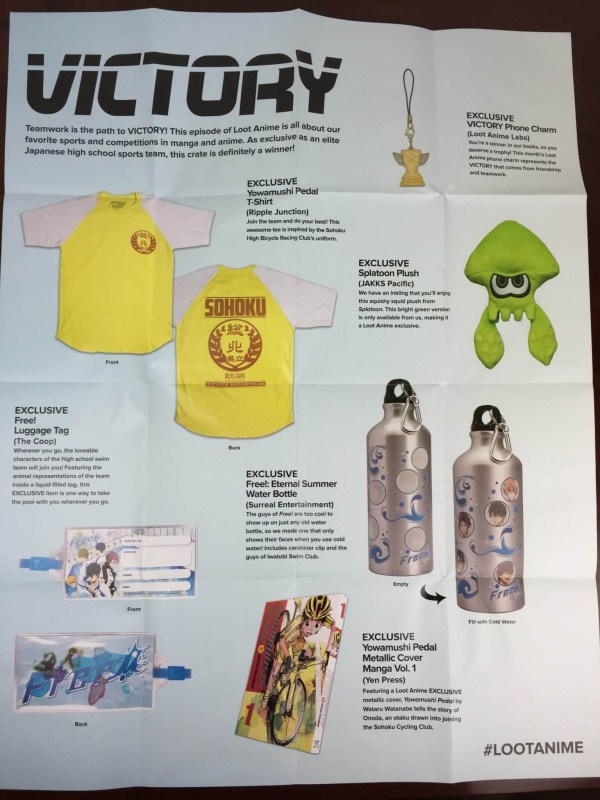 All the goodies in the box are printed on the back of the poster.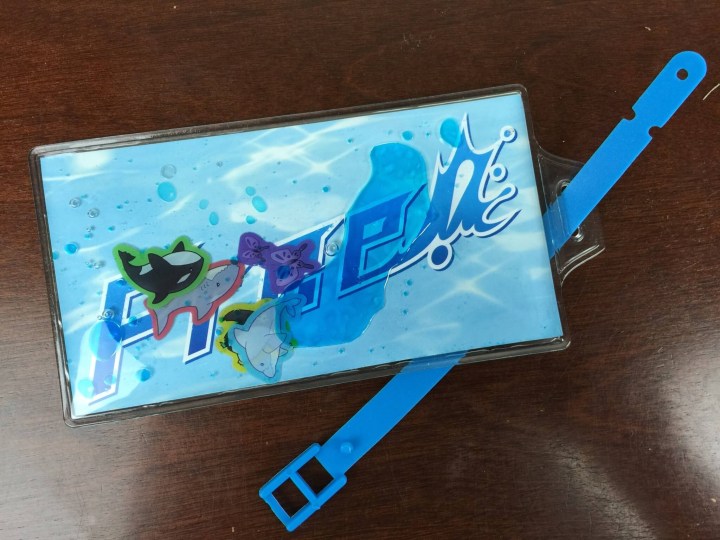 The Coop Free! Luggage Tag
This fluid-filled luggage tag is exactly the kind of simple thing that would entertain me for hours. A  satisfying squeeze of the slightly bulky tag sends beads of non-mixing blue liquid and animal representations of Free!'s swim team sloshing through the other clear substance sealed within.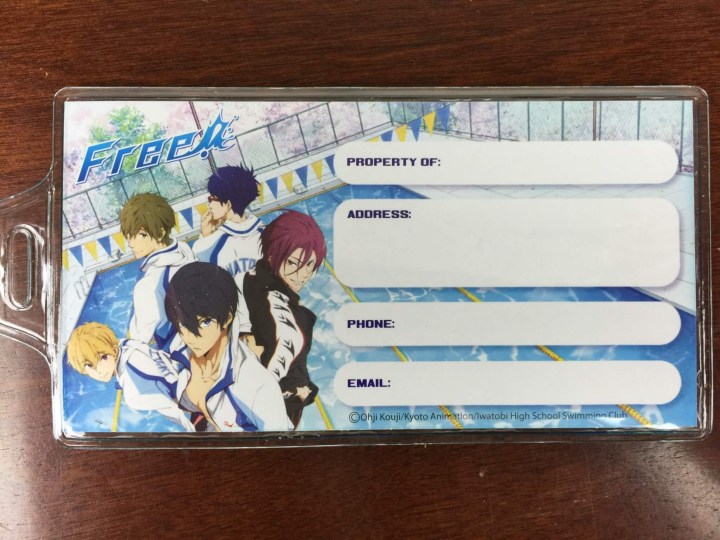 The tag itself is permanently fixed within the plastic and cannot be removed; however there are spaces on the  outside where one can write their name on the plastic.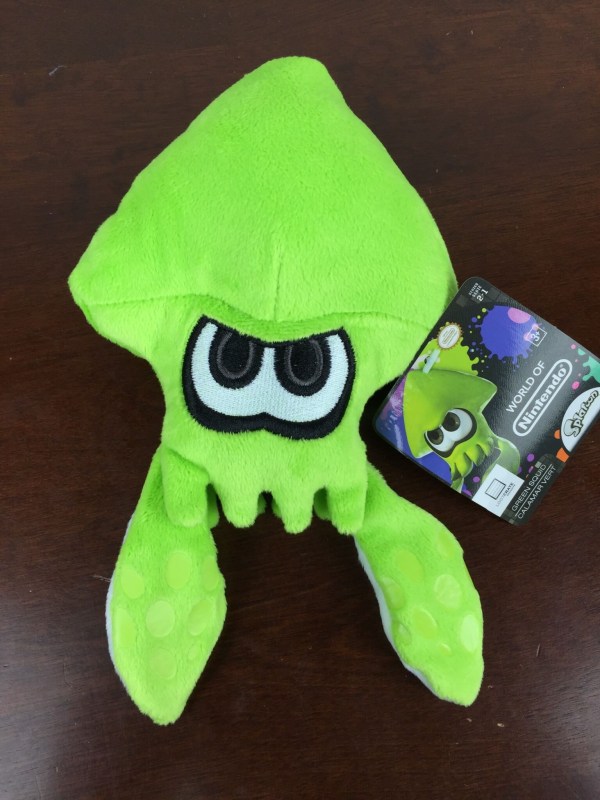 JAKKS Pacific Splatoon Plush
This popular game was made by Nintendo for the Wii U console and is a team-based, third person  shooter that centers on humanoid characters called Inklings. These unique Inklings have two forms:  human and squid, and switching between the two is both necessary and strategically important  throughout the game. From this game, Loot Anime brings us an Inkling plushie in squid form. The lime green color is a LA exclusive and the detail and quality of the plush is wonderful; along with the shirt,  this plush is my favorite item in the box!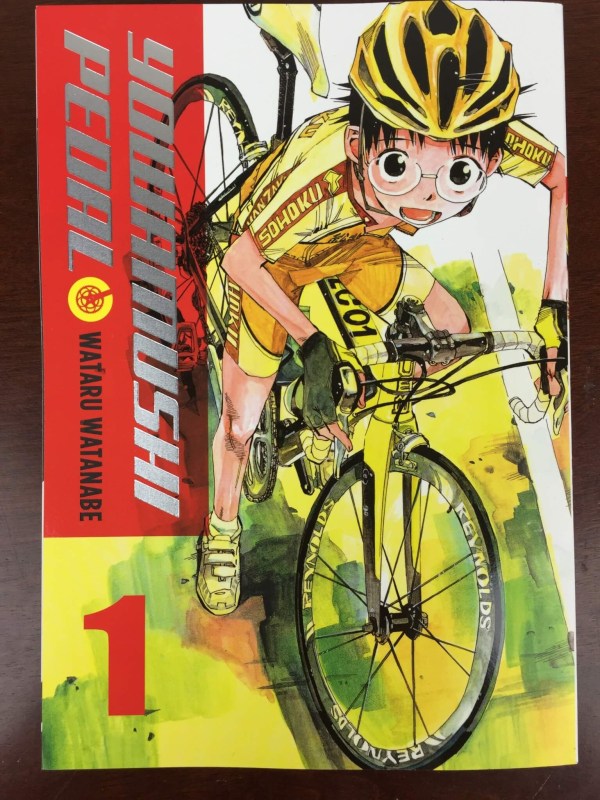 Yen Press Yowamushi Pedal Metallic Cover Manga Vol. 1
Learn more about the Sohoku cycling club and the main protagonist of the story, Sakamichi Onoda by  picking up the next item in the box, a copy of volume one of Yowamushi Pedal! Translated as 'Weakling  Pedal', the story opens with Onoda and his bulky 'mommy bike'.
Unimpressive and designed only for  short distances, Onoda rides the bike with skill and strength, impressing the other members of the  cycling racing club who encourage him to join. The manga is a substantial volume- larger than others of  its ilk and the cover art is a Loot Anime metallic lettering exclusive.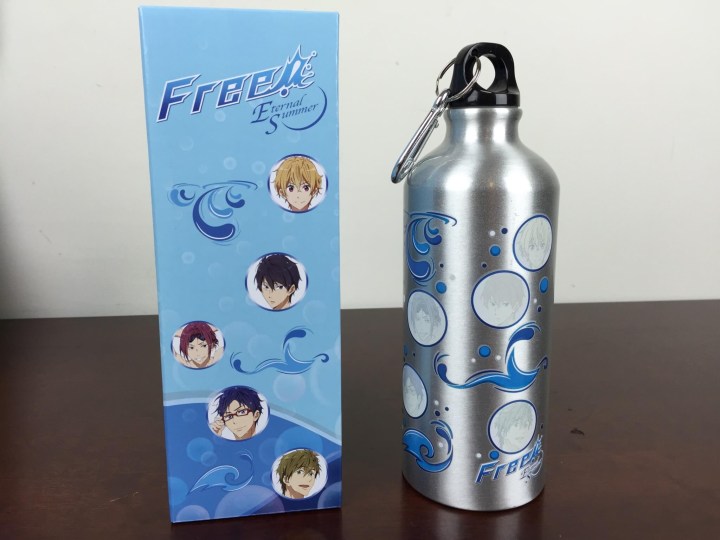 Surreal Entertainment Eternal Summer Free! Water Bottle
What is a story about swimming if you can't interact with a little water yourself? Enter Loot's Free! waterbottle. Free! Eternal Summer is the second season of the anime franchise and as your subscription  to Loot Anime includes a discount on Crunchyroll's premium memberships, you'll be happy to know that  both seasons are available at Crunchyroll's website for your viewing pleasure. The water bottle is made  of stainless steel and is, for lack of a better word, pretty!
The outside shimmers like a pool's surface and filling it with cold water will reveal the profiles of the main characters. A small carabiner attached to the  lid via a keyring ensures that you can easily take this bottle with you wherever you go.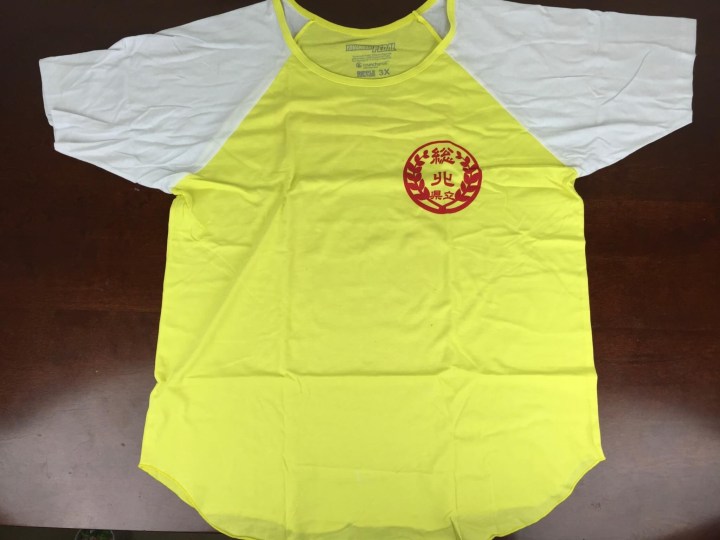 Ripple Junction Yowamushi Pedal T-Shirt
This fun shirt is the official uniform of the hard-working cycling racing club at Sohoku High School. It is  high quality and visually pleasing with its large logo on the back.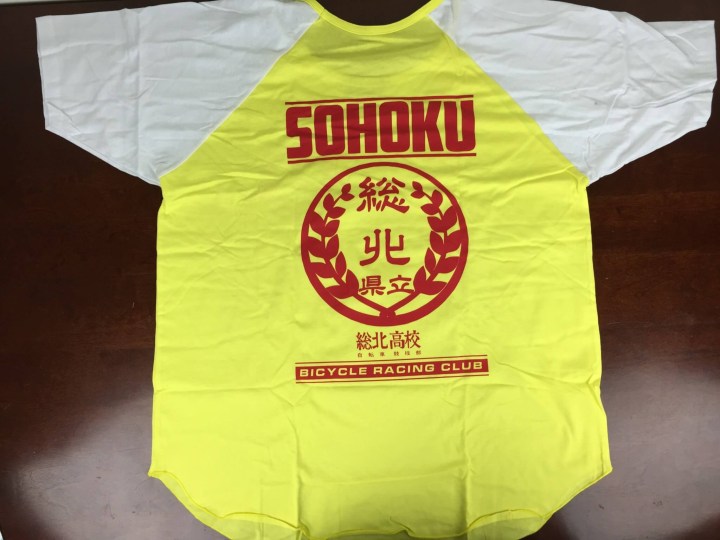 In a further step in attention to detail, the shirt is even cut at the bottom to resemble a cycling jersey!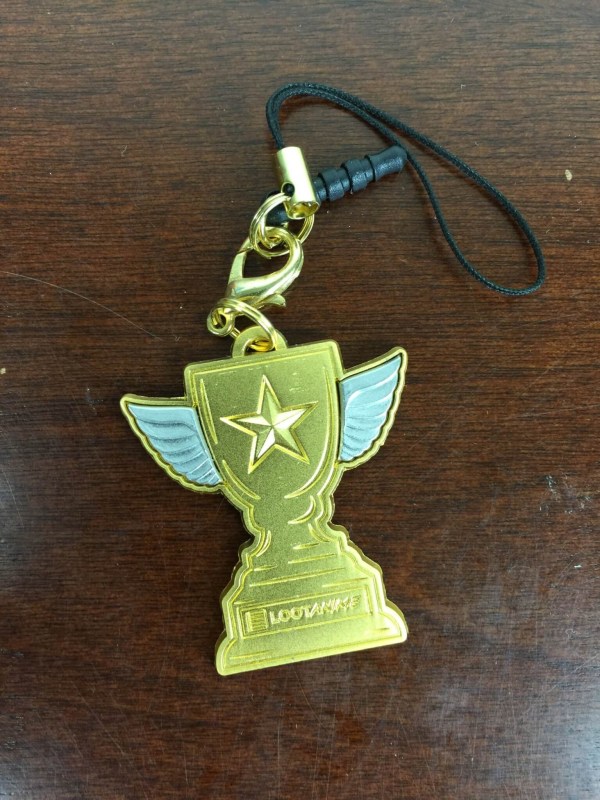 Loot Anime Labs Exclusive VICTORY Phone Charm
This month's charm is in the shape of a trophy.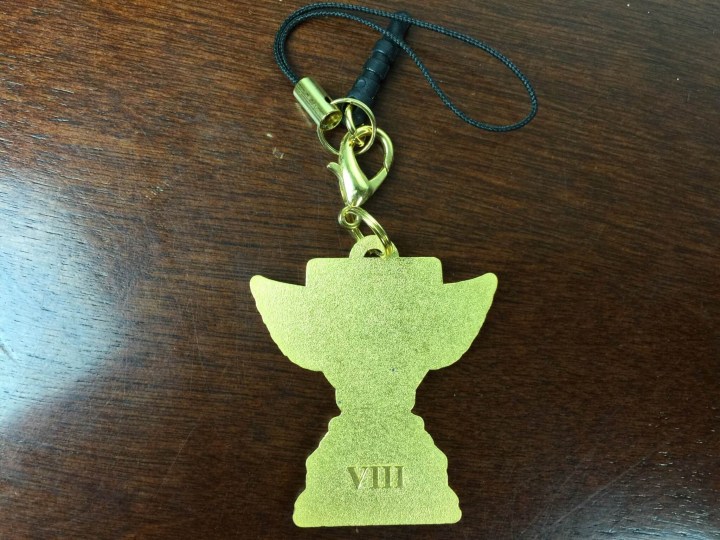 The words, 'Loot Anime' and their insignia appear in the  bottom name area and on the back is the number 8 in Roman numerals.
Have you tried Loot Anime? What did you think about the VICTORY crate? Save 15% on any subscription plan when you use this link and coupon code HELLOSUBSCRIPTION15.  HELLOSUBSCRIPTION.The box cut-off is on the 27th – see Loot Anime spoilers here!
Visit Loot Anime to subscribe or find out more!
The Subscription
:
Loot Anime
The Description
: Loot Anime is a monthly mystery bundle of figures, collectibles, manga, apparel, accessories and more from some of your favorite anime and manga series with a new theme every month! $60+ value in every crate! From Loot Crate!
The Price
: $29.95 per month