Pip & Lola's Everything Homemade Soapy Subscription Box is a customizable soap box! First, select the "Duet Better Package" (2 soaps) or the "Soaping Solo Package" (1 soap). Next, chose one of three options. The first option is the standard option of any soap from their 100 different varieties. The second option is the dude package which contains more "man-friendly" soaps and no floral scents.  The third option is the vegan package which will have soaps that do not contain goats milk, beeswax or honey in them. All options include body, facial, and shampoo soaps. Lastly, pick your payment option. Enjoy the wonderful world of soap!
I will be reviewing the Duet Better Package Standard Option. It is wide open to what I may receive. I wonder what will be in the package?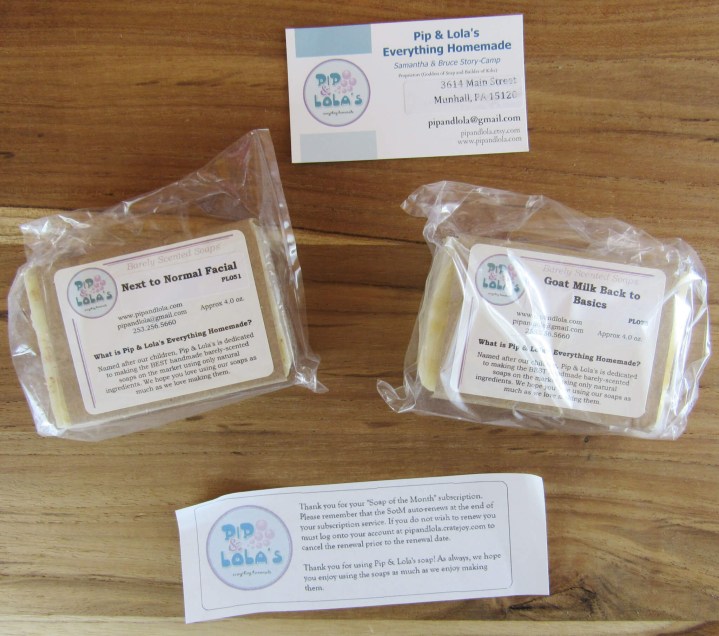 I couldn't wait to see what was in the July box!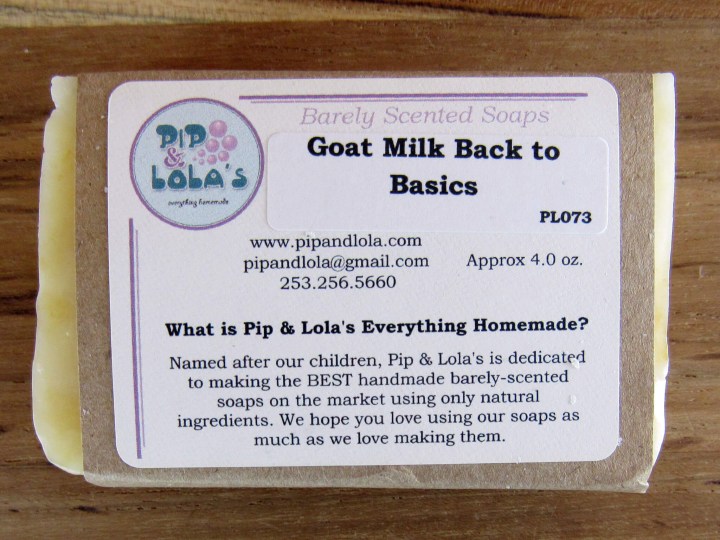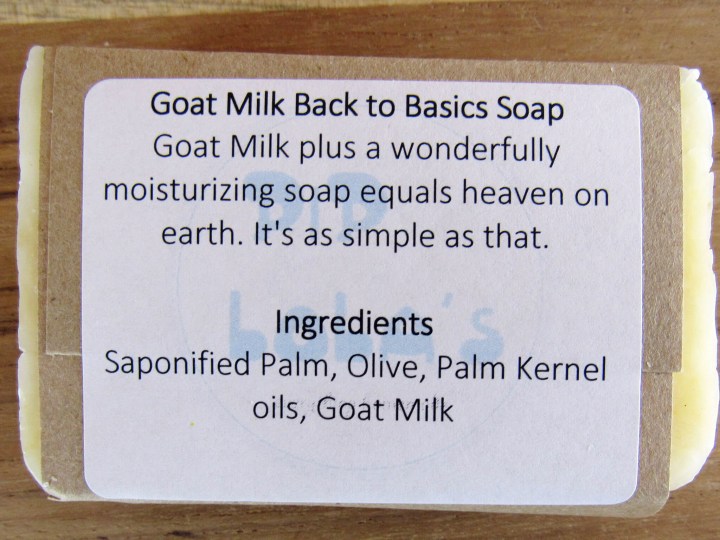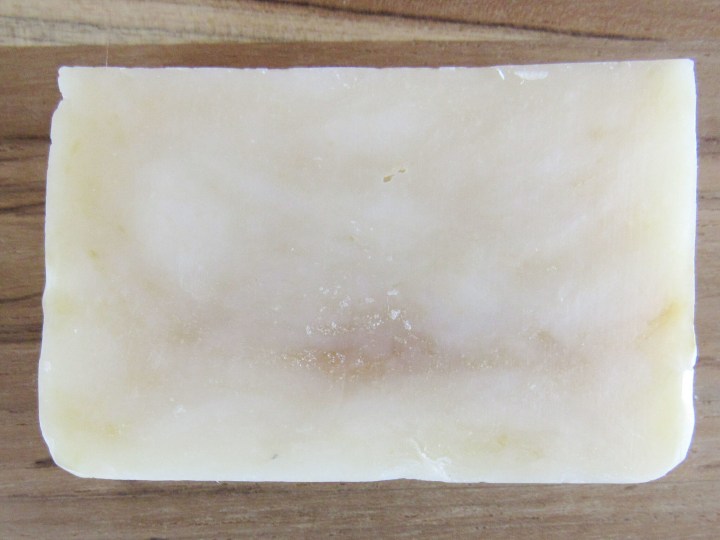 Boy, oh boy! I was surprised to see the Goat Milk Back to Basics Soap (appx 4 oz, $5.99). I received it in my May Box. My older son used it right away because he has some type of itchy rash from doing a service project on his trip last week. It helped soothe his skin. The Goat Milk Back to Basic Soap is a hot process, vegetarian soap. The unscented soap lathers easily and is creamy.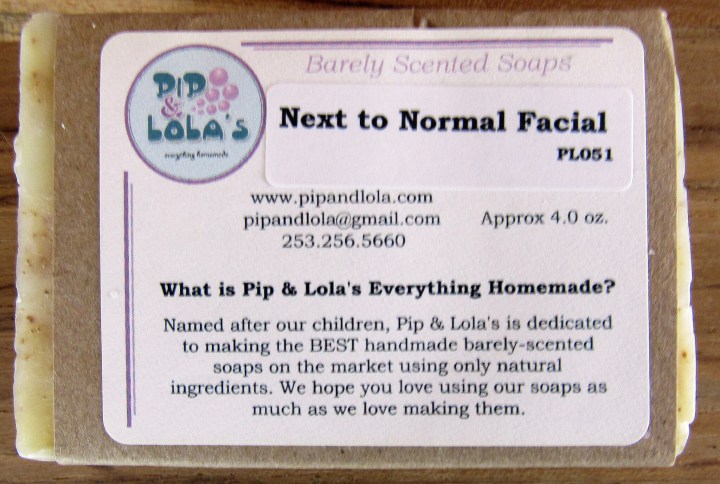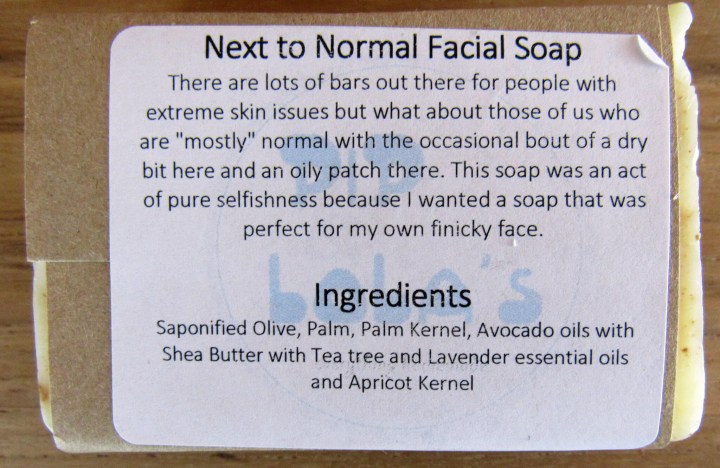 I have high expectations of the Next to Normal Facial Soap (4 oz, $6.99). I based the price on a similar facial bar. The facial bar felt soothing against my skin. The tea tree and lavender scent was just right. It wasn't a medicinal tea tree scent or a strong lavender scent. It was a light scent that brought out the best in both scents. I am impressed.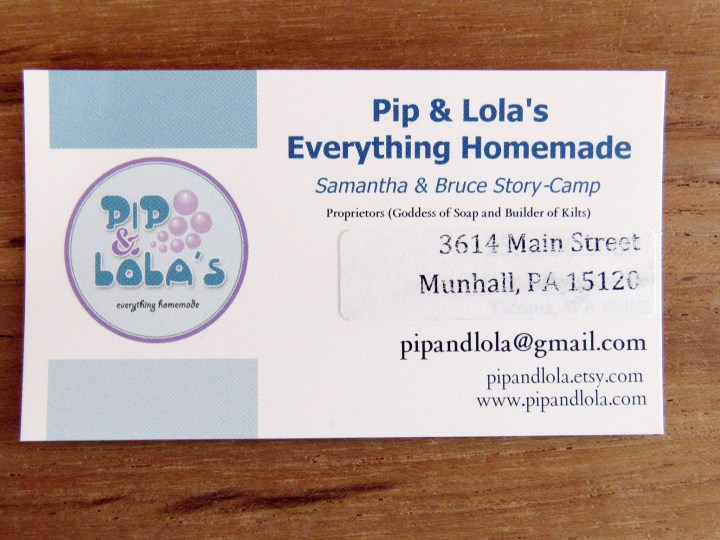 No secrets with this subscription box. You have their information.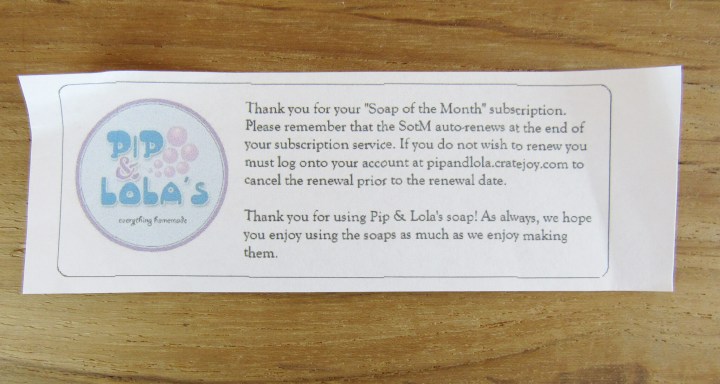 While I was surprised to receive a repeat soap, it ended up being used right away. Overall, I was happy with my selections although I would have loved to try out two new soaps. Both soaps are excellent.  My family uses lots of soap and loves having a variety. Pip & Lola's Everything Homemade is fun for the adventurous soap user.  The standard duet subscription price is $6.99 + $3.54 shipping (single soaper $3.99 + $2.75 shipping,) The soaps are worth $12.98! It's the perfect box for soap lovers.  I love that different options are included to meet everyone's needs!
Did you love Pip & Lola's Everything Homemade as much as I did?
Visit Pip & Lola's Everything Homemade to subscribe or find out more!
The Subscription
:
Pip & Lola's Everything Homemade
The Description
: We specialize in Handmade Barely-Scented soaps made from only the GOOD stuff. All-Natural. Standard packages = ANY soaps from our almost 100 varieties. Dude packages = more "man-friendly" ie. the spicy soaps/no florals. Vegan packages will exclude any soaps that contain goats milk, beeswax or honey. Sent the 10th of each month. Samples always included.
The Price
: $7.14 per month