eSalon Custom Hair Color is an at home custom color subscription.  This is my second application of their permanent color.  I had switched to the permanent last time and I feel like my color did last longer and I didn't notice my gray as quickly.  I actually kept my same color and mix from last time since it was perfect for me for summer time.  I don't go for a huge change with my color and really just want to enhance what I've already got and cover some of the gray that is starting to shine through.  When you first log in you fill out a survey and answer questions about what you are looking for in a color and what color your currently are etc. They then had a chart showing where you are and what would work for you. From this they will send a custom blended color right to your door.
eSalon's color is $24.95 per box, $19.99 on subscription – try your first month for $10 with this link!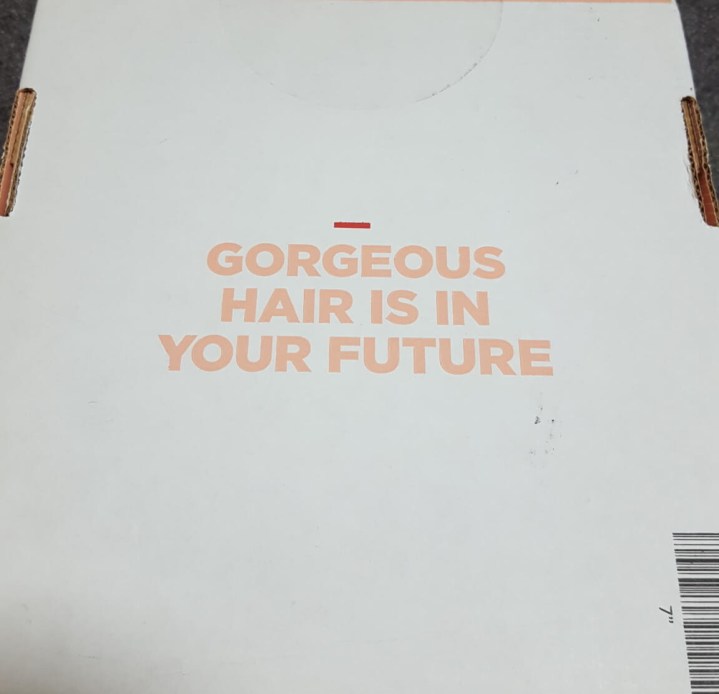 eSalon has a great box and even the bottom lets you know that gorgeousness is headed your way.  These boxes are made just for you and they make sure you know.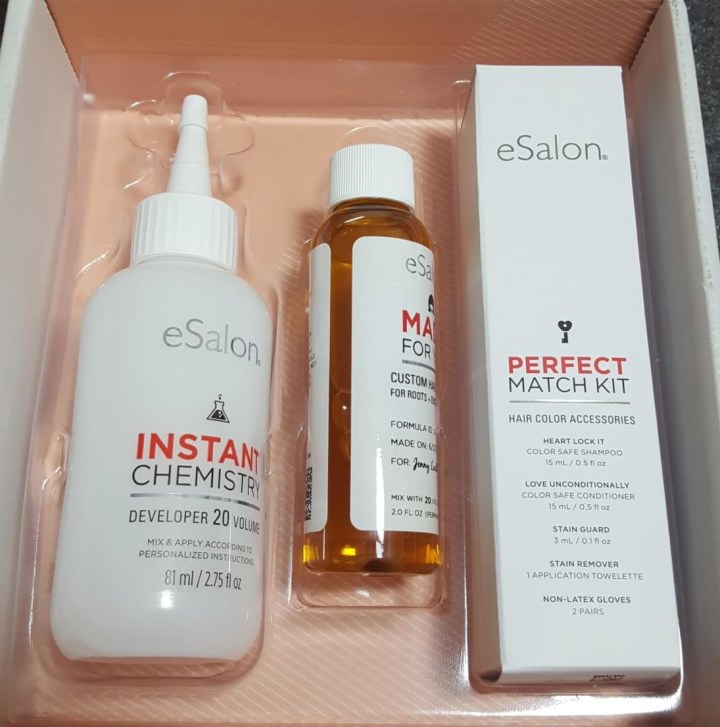 When you first open the box you see your info card which I'm showing below but once you move that you get to see everything that comes in the eSalon box.
Here is the custom color solution. When you are ready to color your hair you will mix these up.
This is perfect and is all included in the little box.  It is all the extras you will need to color your hair: shampoo, conditioner, stain guard, stain remover, and gloves.
The subscription comes with easy to follow instructions.  I didn't make any changes from my past month but if I had they would have shown on here and told me what was different.  Making changes is easy and you can do it in your online account and they will send you a message saying they received it and are going to make the adjustments.
The instructions are easy to read and to follow.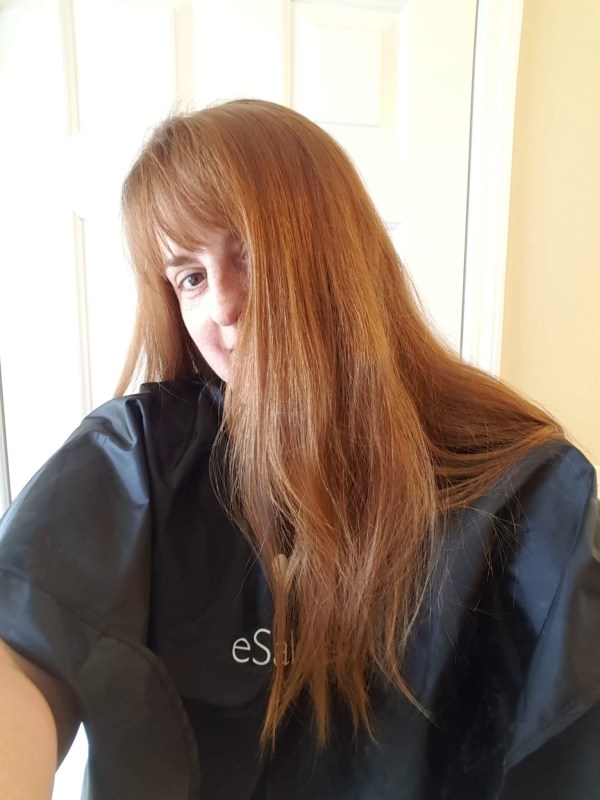 Me and my hair again.  It is getting crazy long and I'm going to have to get it cut soon. I swear it's grown inches just this summer.  I am using my cape from my first The Matchup box.  It was much easier to color with the cape instead of the towel that I used to use.  The towel was clunky and hard to move my arms around but the cape was lightweight and easy to maneuver with. It also didn't keep falling down since it hooks in the back.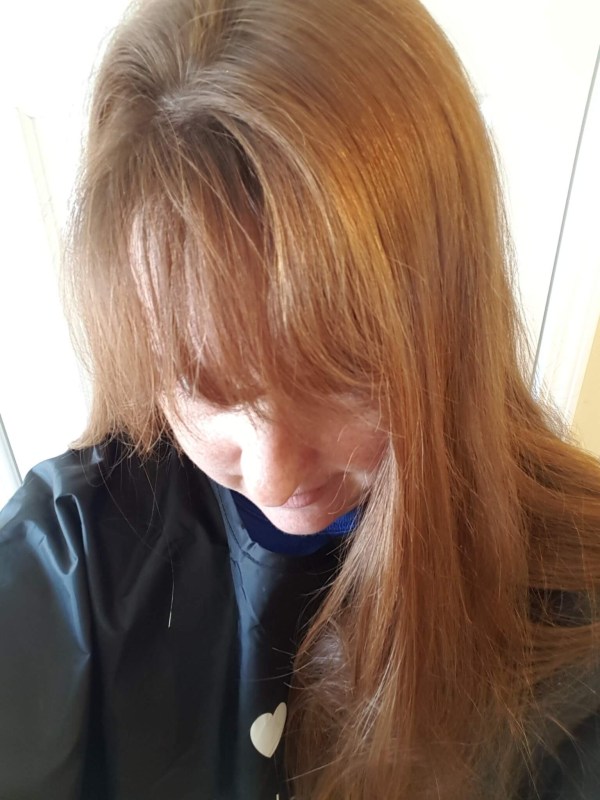 My hair is pretty faded right now since I spent a week at the beach and it definitely got a little bleached out.  With the permanent color this time I did not notice the grays popping through nearly as much as last time.
Here is my hair all pulled up and with color on it.  My instructions say to start at the roots and that is what I do and then I work some through the rest of my hair.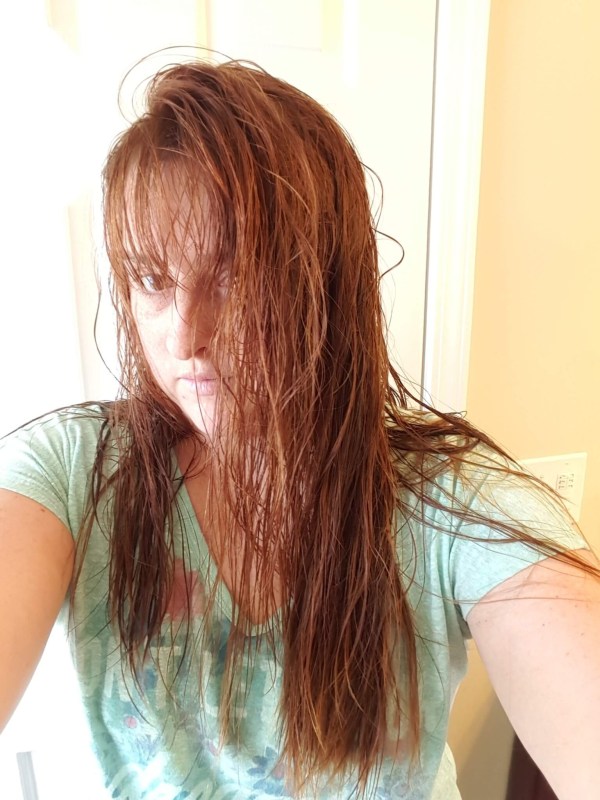 Out of the shower and combed out.  I can see the new color right away even when wet.
Here is my hair all ready to go.  I have a silly grin in this one but I do love my hair. While the color is only slightly noticeable that is what I wanted and I love that the shine and vibrancy is back.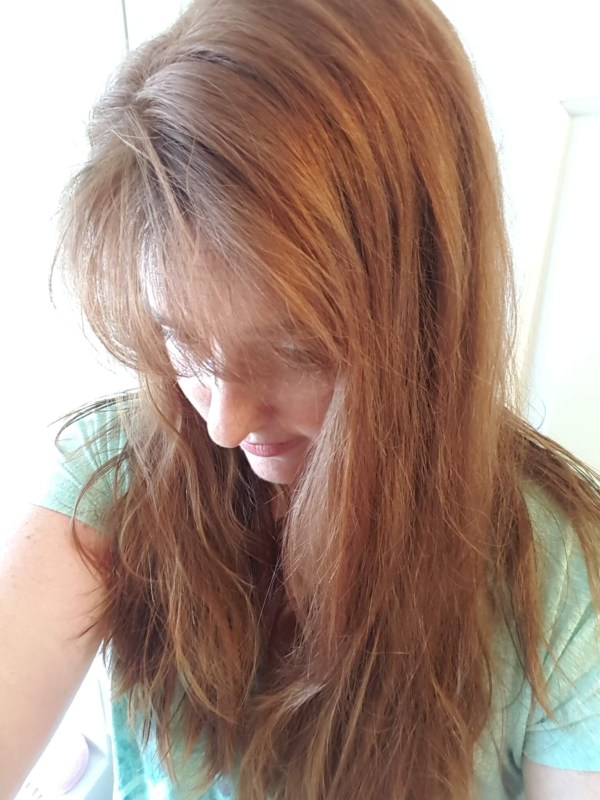 I'm actually loving this picture and you can see the top of my hair with my color and blended tones.  I have a ton of hair and I use most of the bottle when coloring my hair.  I actually used more this time then I had in the past and that was by design as I feel like I always have too much left so I really tried to be more heavy handed this time and I think it looks great.  I'm excited to see how long the color lasts with the heat of the summer and all the pool time I get here in the summer.
I love eSalon and the ease in which they  made selecting my color and then the easy to follow instructions.  I was always afraid to do my own hair but they make it easy to follow and I'm loving my results each month.  My hair feels great and looks so shiny and happy that I like to just swing it back and forth.  I've been coloring it about every 8 weeks and that seems to be a great time frame for me but you can easily modify that window when you are in your account to what works for you.
Do you color your own hair? Have you tried eSalon? You can try your first at-home color for $10 with this link – no coupon code required!
Visit eSalon Custom Hair Color to subscribe or find out more!
The Subscription
:
eSalon Custom Hair Color
The Description
: Get individually blended hair color crafted just for you by professional colorists. Individual hair color, crafted just for you, with personalized instructions for an easy at-home application. Advanced formula with high-quality ingredients for rich, long-lasting color and superior gray coverage. Our hair colors are not pre-stocked. Every order is custom blended, bottled and packaged, then sent to the client as soon as it's completed.
The Price
: $19.99 per month