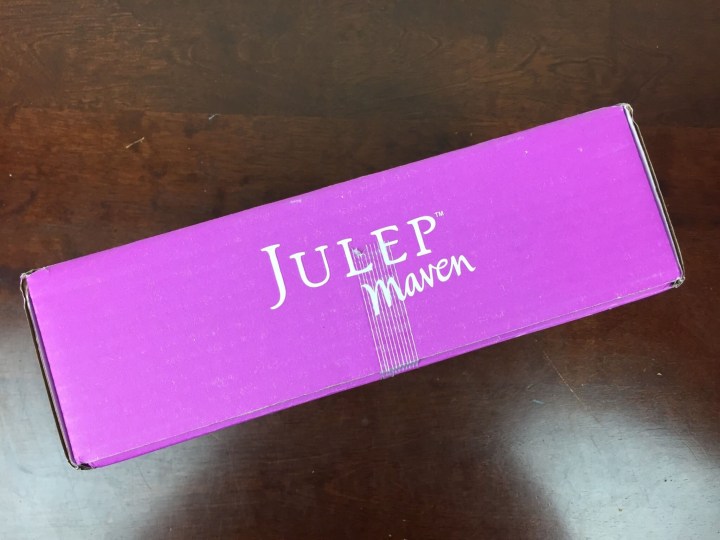 July's Julep Beauty Box theme was Into the Sea! This collection focused on saturated brights and seaside shades. Julep Beauty Box is Julep's monthly subscription box — from nail polish to makeup to skincare, they cover everything but mostly focus on nails. It's completely customizable — you can choose a pre-curated box or pick and choose what you like. You can skip your box or send it to a friend. There's always a plethora of coupons as well, which is great.
My box arrived extremely late this month. The Lip Sheer product in the box was delayed.
If you're not a subscriber, you can get a free welcome box with a prepaid subscription (or 50% off if you choose a monthly subscription).  Get a savings of $5 per month if you prepay for 3 months!  Julep is skippable and giftable, so we recommend the longer term. Join by the 18th and you'll be able to select your first box!
Julep is now CLOSED!
Check out FREE BOX deals here and the latest and best coupon codes on every box, including beauty boxes, here!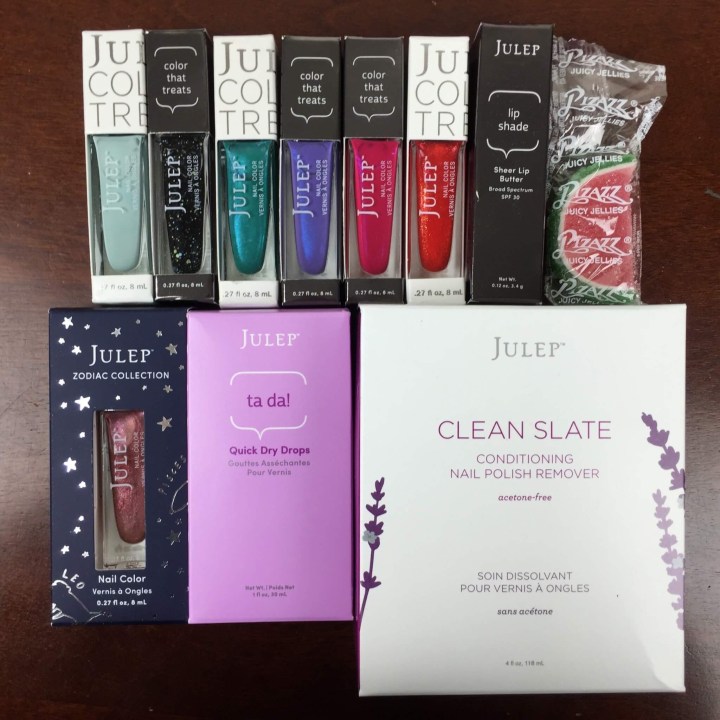 Everything in my box. I selected my regular subscription, plus a few add-ons, which also netted me a free gift.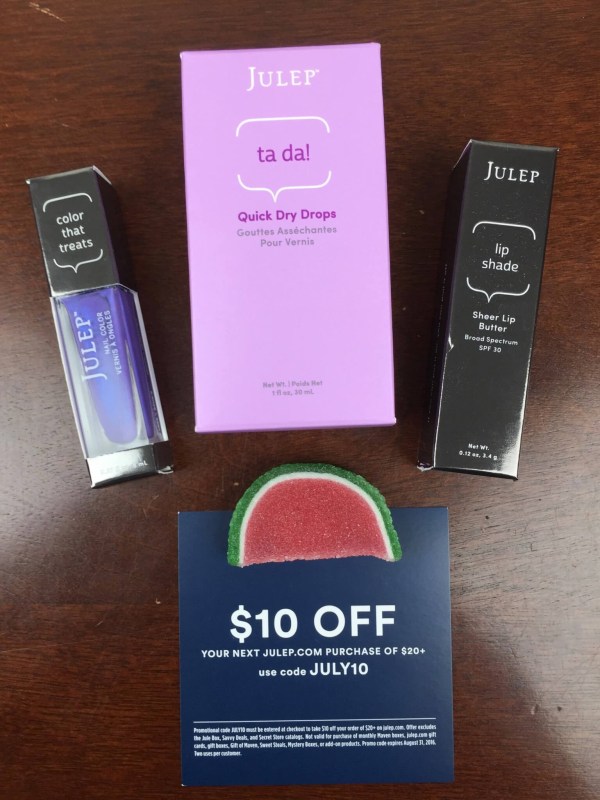 Julep's Beauty Box subscription is customizable – you can swap out products to get exactly what you want from the available selections – this was the basic portion of my box – what you get for the regular monthly fee. There's usually an extra goodie – I got a watermelon jelly (it came wrapped of course, but I couldn't wait to eat it – I  love jelly candy!).
If you're a current Julep Maven you can use these codes when you shop at Julep (and of course you have free shipping!)
Annalise – Boho Glam ($14) Vivid wisteria ghost iridescent. I have this swatched below, but the iridescent you can see glimmering in the bottle in the photo below doesn't really show up on the nail all that much.
Lip Shade – Currant ($22) I waffled between the color I picked – Currant – and Dahlia. It has a sleek magnetic case, which I like a lot. More on this product below!
Ta Da! Quick Dry Drops ($18) New packaging for these lavender & ylang ylang drops which dry your mani in a few minutes. I found them less heavily scented than the last bottle I got, which was a plus for me. We use a lot of these and they are a definite must-have!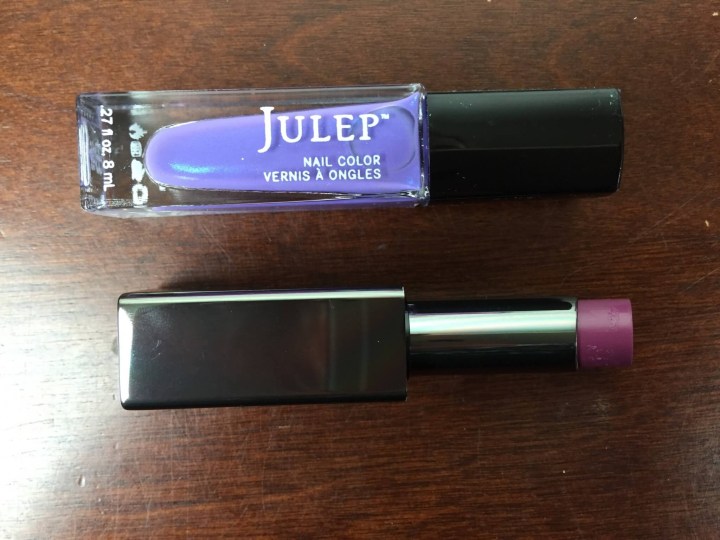 Lip Shade was advertised on the Julep Blog as follows:
Give your lips a well-deserved dose of luxury with the sheer wash of luscious color it craves and the SPF 30 broad spectrum sun protection it needs daily. Lip Shade Sheer Lip Butter is crafted with a nourishing blend of soothing shea butter, protective broccoli seed oil, reparative rosehip seed oil, and softening black currant seed oil to keep your lips silky smooth as you bask in the sunshine.

Rest assured we'll be reaching for these lip butters all summer long (and beyond)!
I noted during box selection time that Lip Shade couldn't be shipped outside of the US, which I thought was curious. This box was delayed because of the lipstick.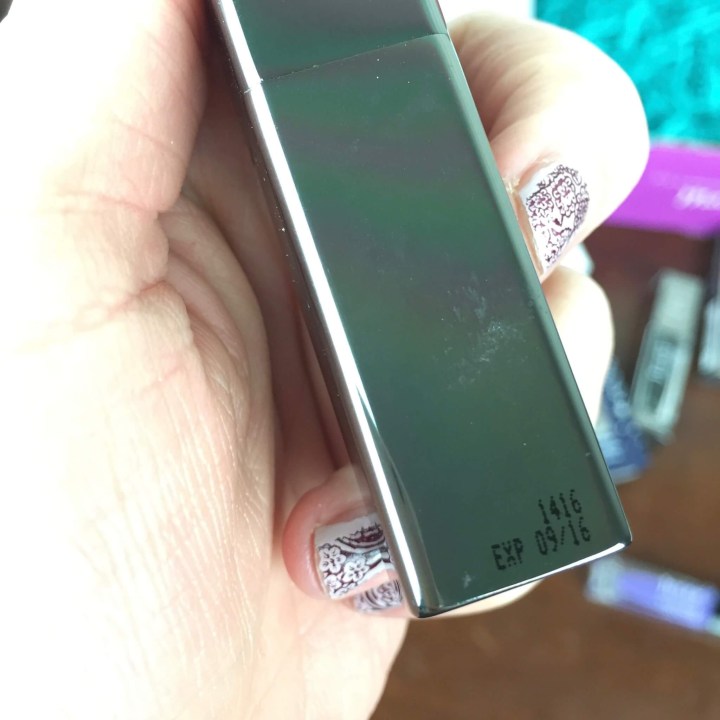 And now we know why. It has a shockingly short expiration date. According to Julep the SPF in this product expires at the end of September (some shades had an 8/16) expiration. I think that's unacceptable and wouldn't recommend this product.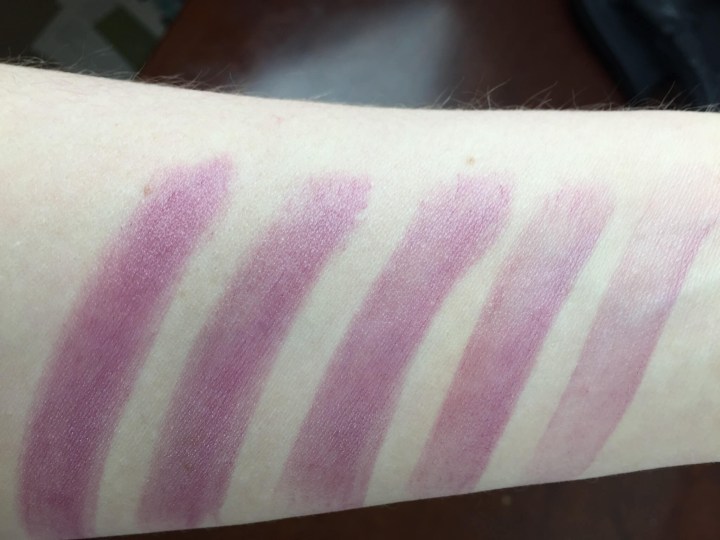 I liked the formula itself – it's sheer but buildable – but it smells like sunscreen so I would only use it as a lip sunscreen, and not just to be pretty. I think it's disingenous at best to include a product that has active ingredients that expire shortly after receipt while advertising it as for summer and beyond. It was disappointing and not what I expect from this company.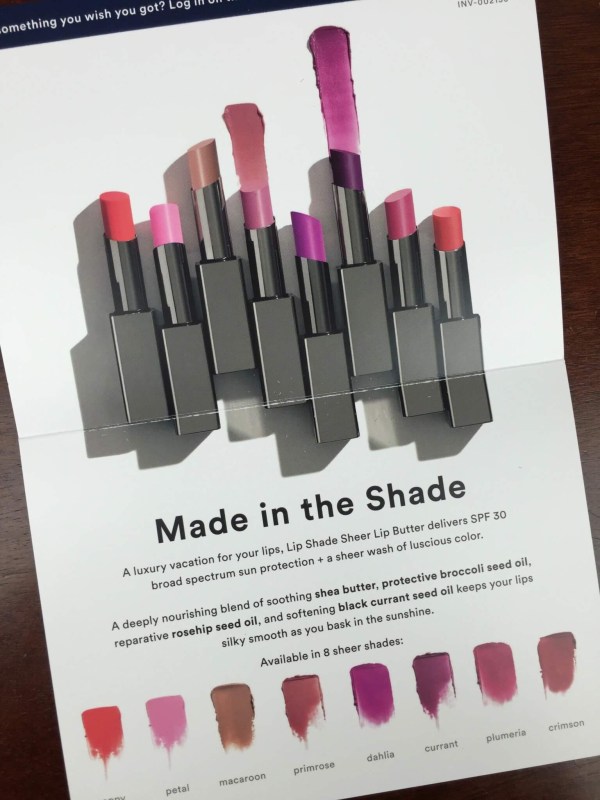 Here's all the shades. I suggest not adding any to your box.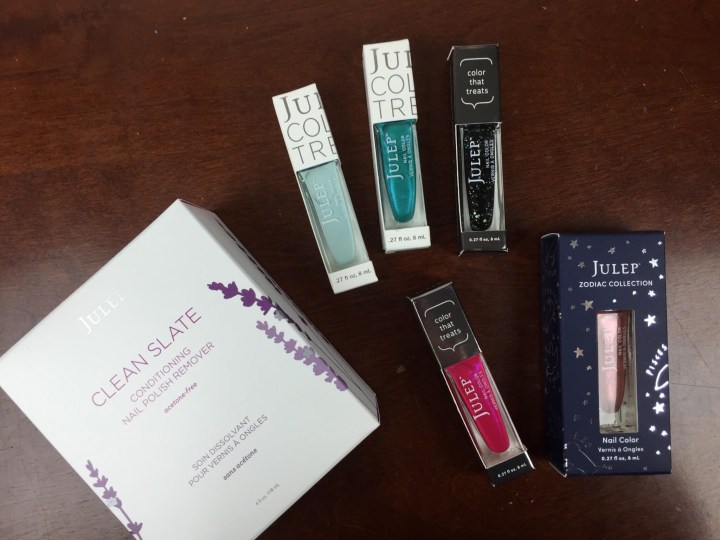 Here's my add-ons! I picked up nail polish remover, the Seaweed Trio, Mickey, and Cancer from the Zodiac Collection.
A closer look at the polishes.  Swatches for these are below.
Cancer: Glistening crab shell duometallic. It's super metallic and a little hard to work with compared to a normal polish.
Mickey: Pink geranium ghost iridescent. Like Annalise above the sparkle doesn't really show up.
Trio:
Shelly: Wintermint crème.
Becca: Viridian tide shimmer.
Fleur: Evening Matte Bloom Glitter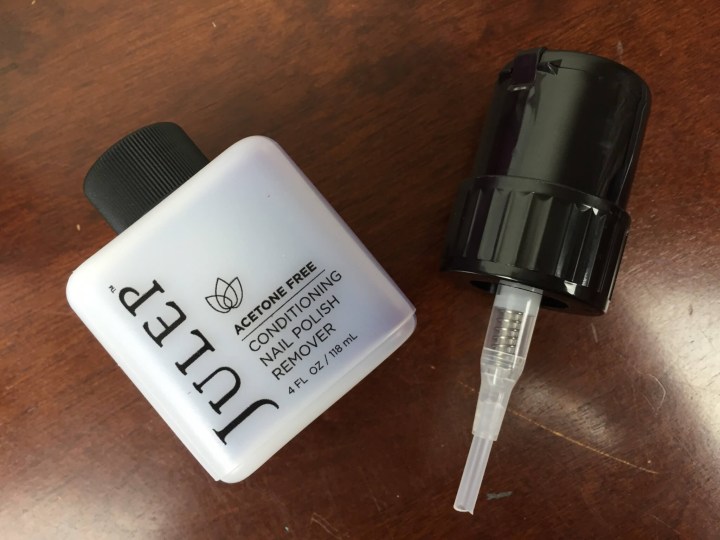 The acetone-free polish remover has a neat lid. Twist to unlock and then just press down to dispense. Retwist to lock.
It does work amazingly well for an acetone free remover!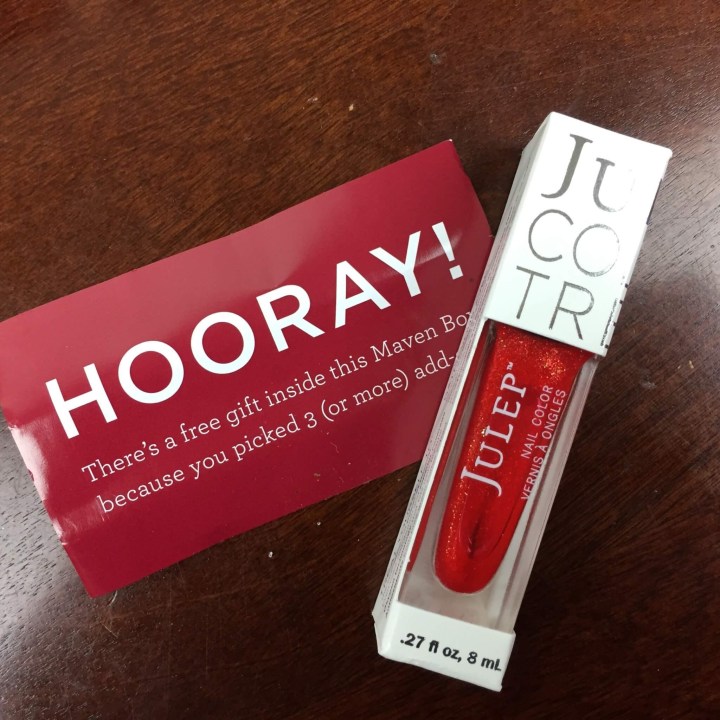 I got this freebie for picking up 3 add-ons.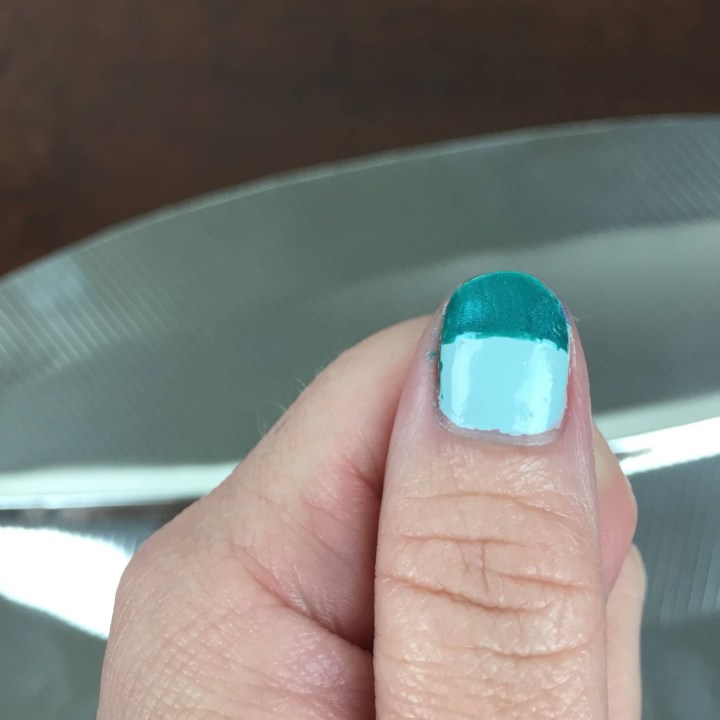 Shelly & Becca. 
And the other polishes. 
I wasn't in love with my box this month, but I was glad to have picked up more quick dry drops and polish remover. I wish the iridescents had a little more shimmer but I'll use them as bases for nail art. My personal opinion is that the Lip Shade should have never shipped and Julep should credit everyone who received one with 1/3 of a box.
What did you pick in your Julep Beauty Box this month?
Visit Julep to subscribe or find out more!
The Subscription
:
Julep
The Description
: Nail polish box and a beauty box. Get either 3 polishes, 2 polishes and a beauty product, or 2 beauty products per month. All polishes are 5-free with no harmful toxins, never tested on animals. Polishes are nail strengthening and all named after cool women! Totally customizable! You can swap out products, select add-ons, or upgrade your box (or skip!).
The Price
: $24.99 per month