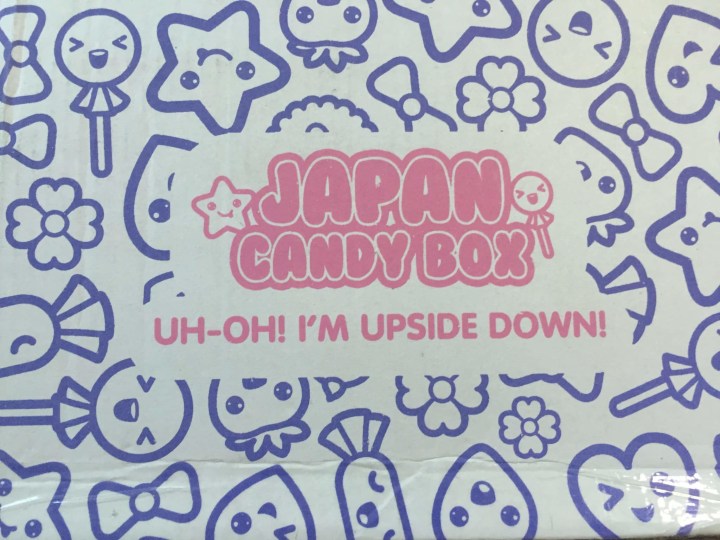 The May box from Japan Candy Box arrived fashionably late at the end of June. These boxes aren't the sturdiest; this is my second box and both times they've arrived pretty beaten up.
Luckily the tissue paper is just as cute! I love how it matches. What's underneath?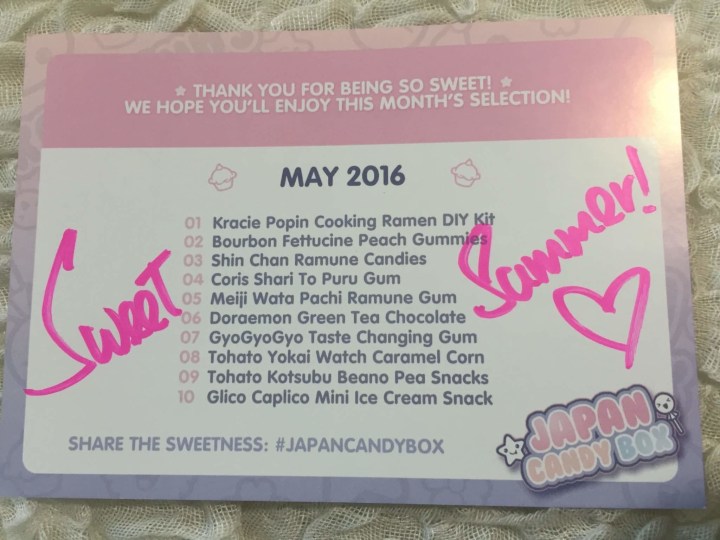 There aren't a lot of details about each individual item, which is something I personally prefer — I need to know if this cracker is squid-flavoured before I dig in.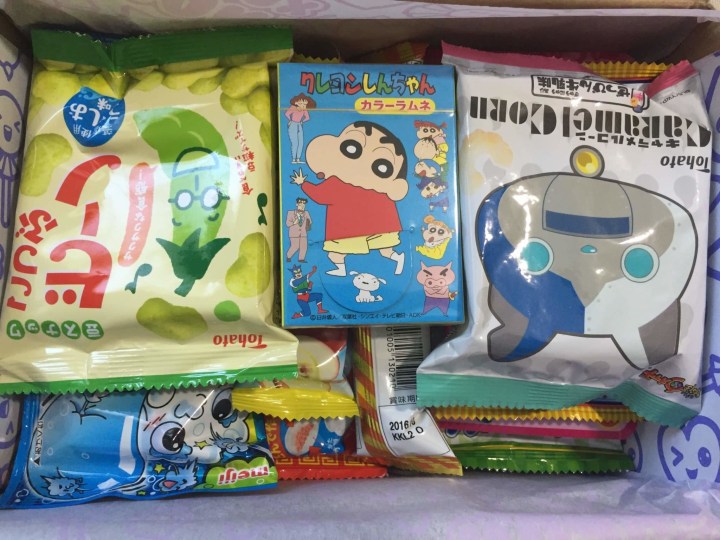 Despite the outer box being a bit beat up, everything inside was safe and secure.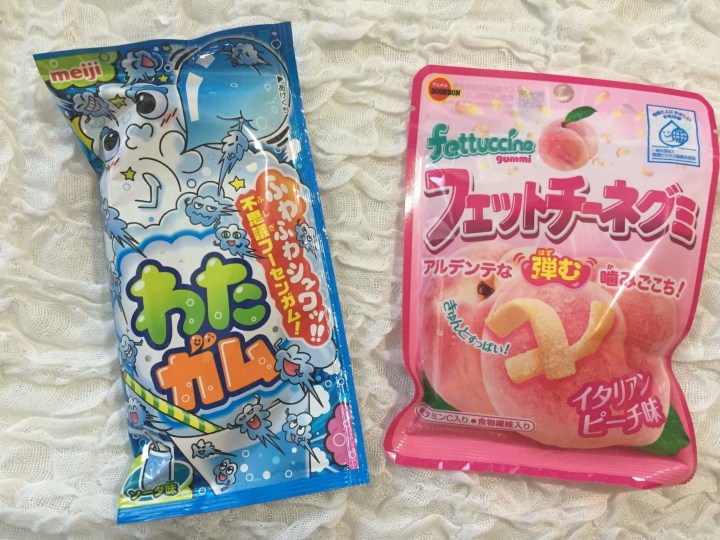 Pachi Ramune Gum This is on of my favourite Japanese candies ever — I'm always excited to see it. It looks like cotton candy, but when you eat it, it turns into chewy gum! This is ramune (citrus) flavoured. They also have a version that has pop rocks in the cotton candy, too.
Fettucine Peach Gummies This is a new treat for me, but oh my gosh I'm hooked. These are small flat (noodle shaped!) gummies, and they taste like a less sweet fuzzy peach.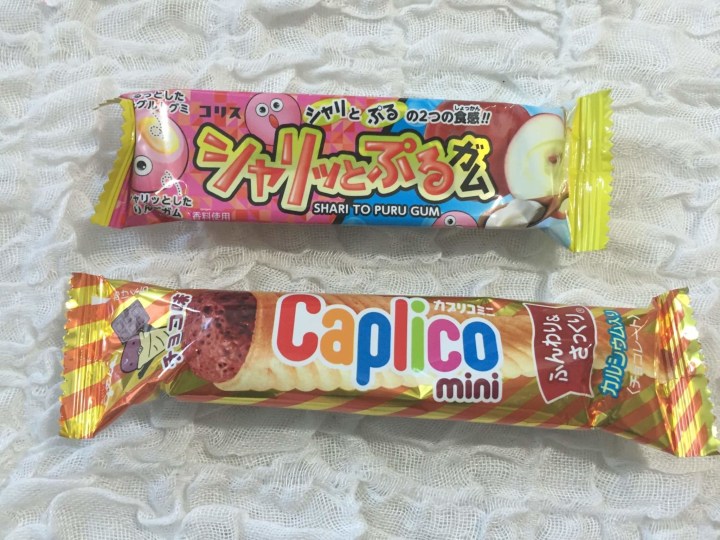 Shari to Puru Gum I didn't really like this — it's an apple flavoured gum, which would be okay, but it's covered in a weird yogurt candy sort of shell I didn't care for.
Caplico Mini Caplico makes those fake ice cream cones stuffed with aerated chocolate, so this was a smaller version. I love Caplico, so I was happy to see this.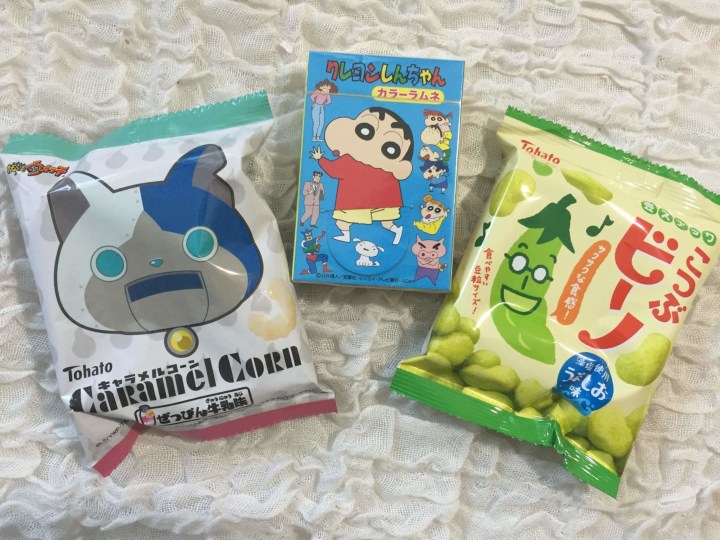 Tohato Caramel Corn This is limited edition packaging featuring a character from Yokai Watch! Tohato makes awesome corn snacks — these aren't popcorn, they're flavoured corn puffs.
Crayon Shin-chan Ramune Candies Hard ramune-flavoured candies; Mitch loved these — I thought they were just okay, not too exciting.
Kotsubo Bean Snacks I hate green beans, so I gave these to Mitch as well — he thought they were more like edamame. (They probably are!)
Doraemon Green Tea Chocolate I've had a chocolate version of a treat like this — it's a wafer filled with aerated chocolate. I'm not as big of a fan of matcha, so Mitch got to enjoy this one, too. I love Doraemon, though!
GyoGyoGyo Gum This package contains strips of different flavoured gum — try them one at a time or combine them to make your own flavours. I stole all the peach ones.
Kracie Popin Cookin Ramen Kit I've done this kit about three times now, and it's one of my favourites. The little gyoza shells are made of ramune flavoured taffy, and are stuffed with candy pease & meat. The noodles are also ramune flavoured, and the broth is cola. As an added bonus, I actually took a picture of my attempt: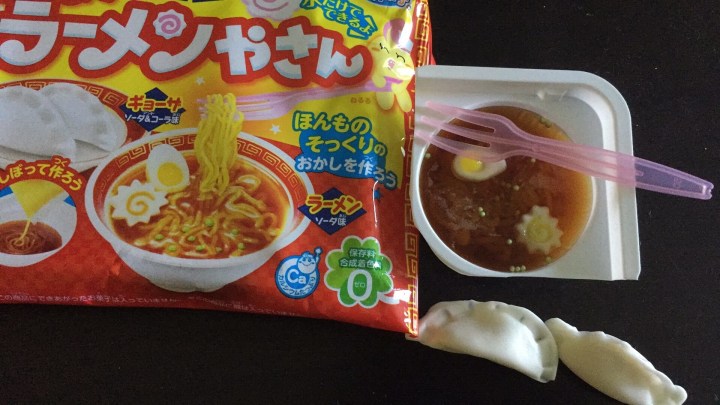 Nailed it.
Japan Candy Box was full of great items this month! I love that they always include a DIY kit, and there's always a good variety of items.
What did you think of May's box?
Visit Japan Candy Box to subscribe or find out more!
The Subscription
:
Japan Candy Box
The Description
: Every month Japan Candy box will send you a box filled with a carefully selected mix of quirky Japanese sweets & snacks. Each box will include 10 sweet treats delivered right to your door.
The Price
: $19.90 per month