Isle Box is a monthly subscription box containing items of interest to  outdoor enthusiasts of all persuasions. Its curators, adventurers themselves, strive to select current, indispensable items for those who love the outdoors. The box is named after Isle Royale, a National Park in the middle of Lake Superior.
Isle Box offers an array of collections to suit outdoor enthusiasts of all persuasions, whether first timers or seasoned adventurers. When you sign up, you'll select between the monthly subscription or seasonal subscription. This review covers their monthly subscription box for June.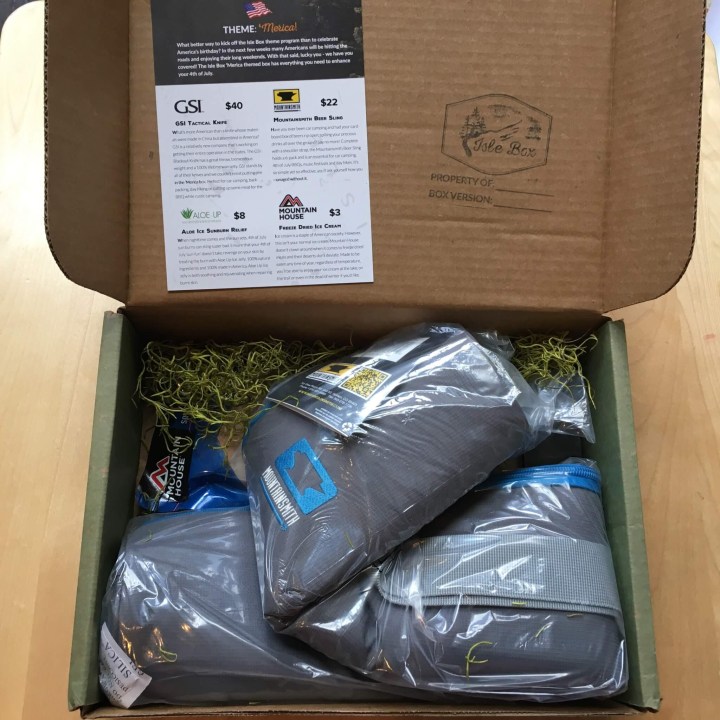 Each monthly pass box includes 4-6 items not typically found at REI. These include one big ticket item valued at $30 or more, 2-3 supplemental items valued at $15 or more and 1-2 food items valued at $5 or more. In all, you should expect to save at least 25%  from suggested retail values when purchasing this box! The box costs $44.99 each month.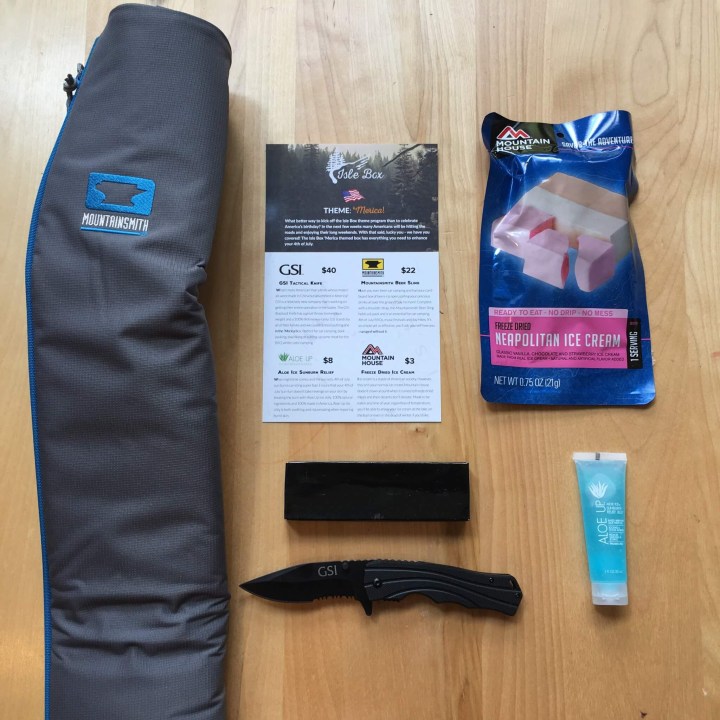 June's box contains a knife, beer sling, sunburn relief gel and freeze dried ice cream.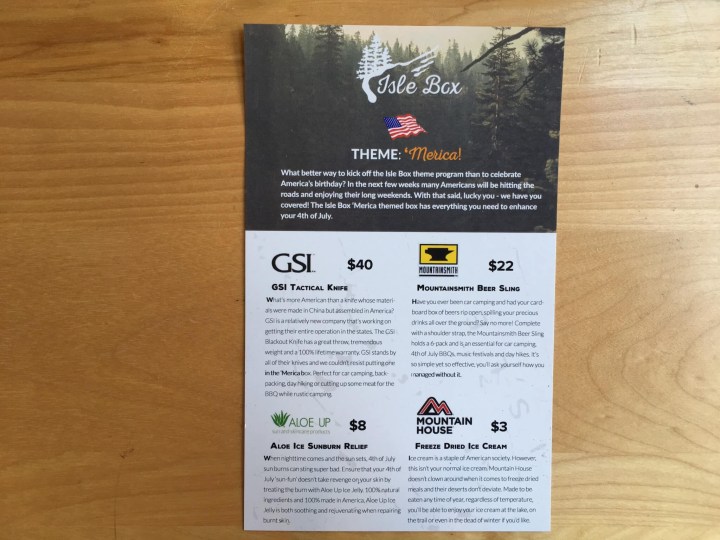 Each month's package arrives along with a list of the box's contents and their respective retail prices. June's theme is 'Merica! All of the items in this box are designed to ensure you have a fun, happy 4th of July.
GSI's Backout Tactical Knife ($40) is assembled in the US using material sourced from China. A relatively new company, GSI is in the process of moving their entire operation to the United States. This knife boasts a spring assisted mechanism for easy opening as well as a clothing clip and lanyard hole for easy carrying. It comes with a 100% lifetime warranty. I can't wait to take it with me to the Santa Fe Mountains this summer!
Aloe Up's Ice Sunburn Relief Gel ($7.99) is the perfect antidote to a fun-filled day outside. This aloe vera based formula moisturizes dry skin, reduces inflammation and itching and soothes sunburned skin. It is made in America.
Mountainsmith's Beer Sling ($21.95) is the perfect solution to the age old problem of breaking cardboard beer containers. This sturdy cooler sling holds 6 beers while freeing up your hands for lugging other gear to your picnic table, campsite or boat.
Mountain House's Freeze Dried Neapolitan Ice Cream ($2.99) is delicious! Although I was never a fan of astronaut ice cream as a child, I loved this! It's soft and creamy and the flavor is perfect. I can't wait to surprise my son with this on our camping trip in New Mexico later this summer!
I think Isle Box is great! I've used the gear they sent me in December repeatedly while car camping with my son, and I'm sure to get a lot of use out of this month's selections as well. I love that their gear is down to earth and accessible while also being useful to more seasoned adventurers of any persuasion.
I really enjoyed the products contained in Isle Box this month and hope to receive many more installments in the future!
Visit Isle Box to subscribe or find out more! Save 10% on your first box! Use coupon code  NATIONALPARKS.
The Subscription
:
Isle Box
The Description
: Isle Box seeks to give you the greatest gear that you don't even know you're missing out on. Some of the greatest adventures that you can have are spawned from the unknown and that is exactly what we aim to bring you with Isle Box: an unknown box of gear that we know you're going to love. Get the Monthly Pass or the Seasonal Pass.
The Price
: $44.99 per month for the Monthly Pass, $124.99 per quarter for the Seasonal Pass.