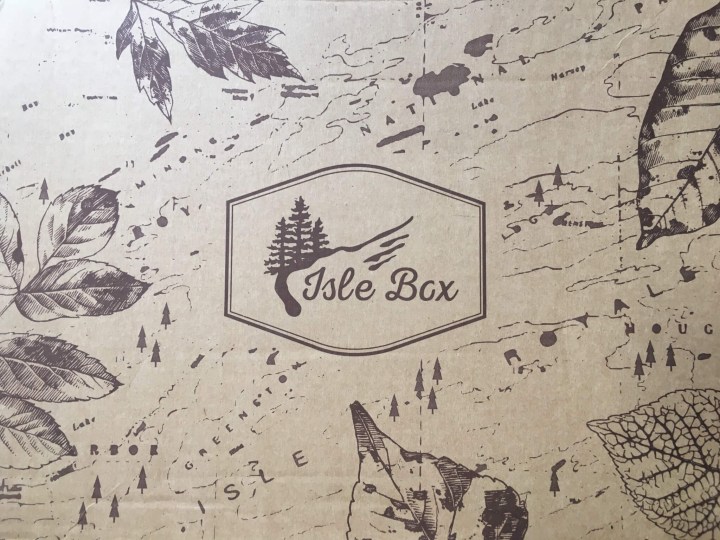 Isle Box is a monthly subscription box containing items of interest to outdoor enthusiasts of all persuasions. Its curators, adventurers themselves, strive to select current, indispensable items for those who love the outdoors. The box is named after Isle Royale, a National Park in the middle of Lake Superior.
Isle Box offers an array of collections to choose from. While some would be perfect for first timers, others may appeal more to seasoned adventurers. When you sign up, you'll select either the monthly subscription or a seasonal subscription. This review covers their monthly subscription box for July.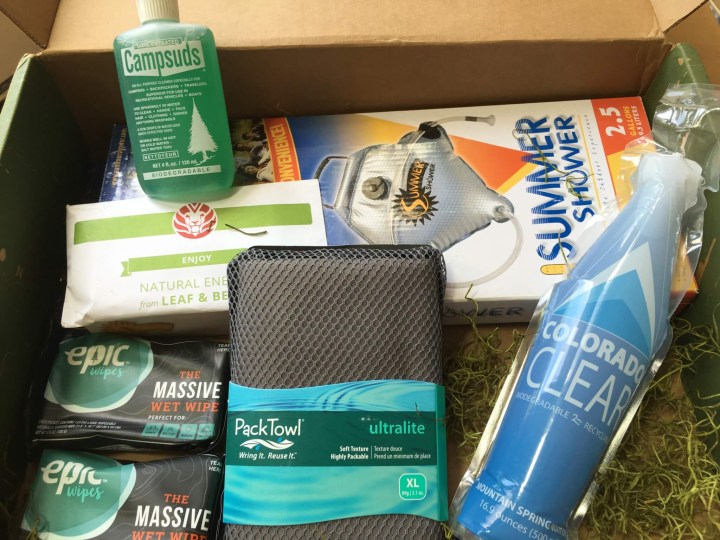 Each monthly pass box includes 4-6 items not typically found at REI. These include one big ticket item valued at $30 or more, 2-3 supplemental items valued at $15 or more and 1-2 food items valued at $5 or more. In all, you should expect to save at least 25%  from suggested retail values when purchasing this box! The box costs $44.99 each month.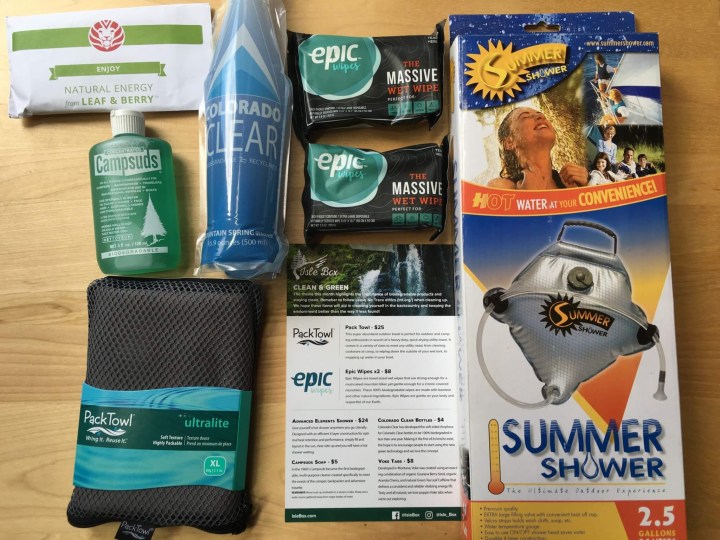 July's box contains a towel, wipes, shower, soap, water and an energy supplement.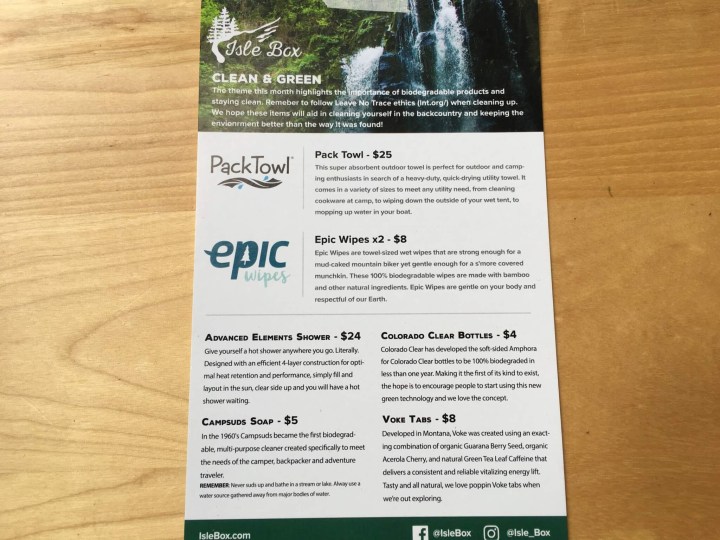 Each month's package arrives along with a list of the box's contents and their respective retail prices. July's theme is Clean and Green!
The theme this month highlights the importance of biodegradable products and staying clean. Remember to follow Leave No Trace ethics (lnt.org/) when cleaning up. We hope these items will aid in cleaning yourself in the backcountry and keeping the environment better than the way it was found!"
PackTowl's ultralite XL towel ($25) is a huge (roughly 27″ x 50″), light (3.1 oz), soft, heavy-duty, quick-drying wonder that comes with a handy hook for hanging. I'm so excited to replace my current, small camping towel with this one. What a luxury!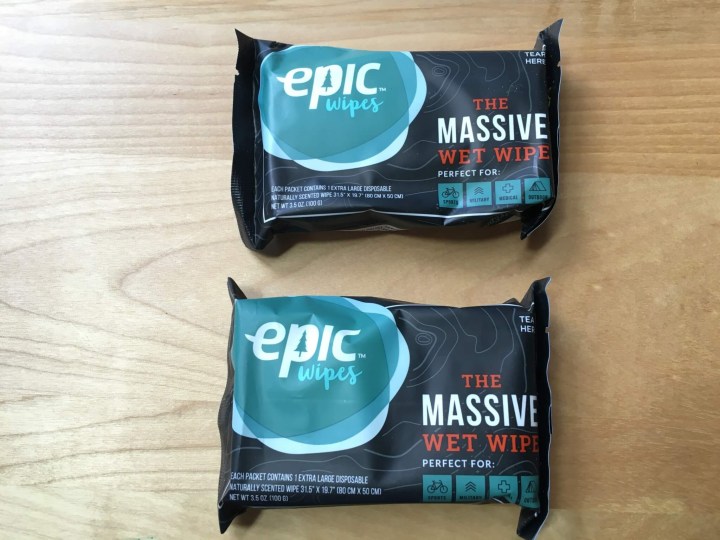 Each of these two packages of epic wipes ($7 based on the cost of 4) contains one large wet wipe the size of a towel! Made from bamboo and antibacterial essential oils, it's environmentally friendly, paraben free and toxin free. It's a shower in a 3.5 oz package!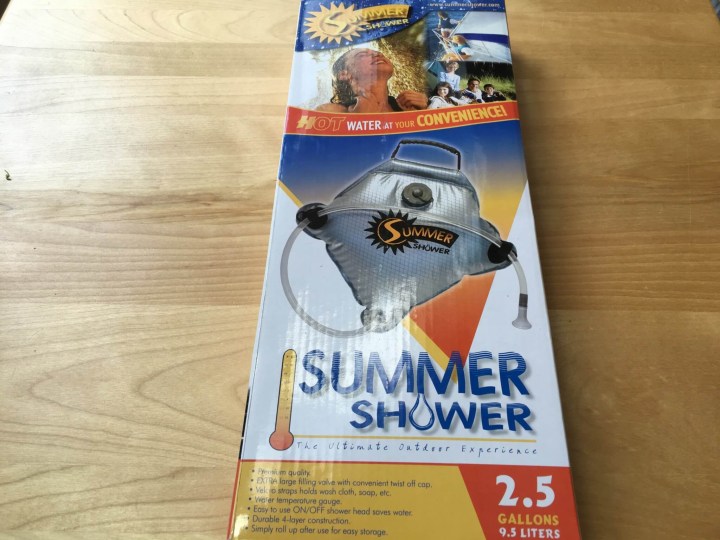 Speaking of showers, this 2.5 gallon Summer Shower by Advanced Elements ($19.99) will make the experience feel great even when no plumbing is available! Just leave the bag out in the sun and monitor the temperature gauge. Once the temperature gauge reads the desired temperature, you're all set (if you leave the summer shower clear side up outside in direct sunlight on a 70 degree day, you can expect the water in it to reach 100 degrees in less than three hours)! I'm thrilled to receive this! I currently have just one shower for both me and my son. Now we can each have our own, and we we'll only have to fill them up and wait once a day instead of twice a day. Thanks, Isle Box!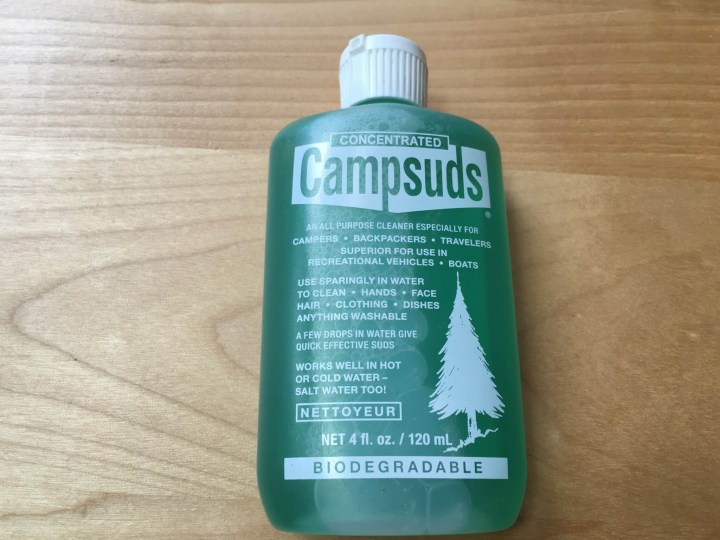 As you're feeling the rush of water run down your body, be sure to have Campsuds ($5) in hand! This biodegradable soap effectively cleans anything that's washable, be that you, your clothes or your dishes. It works well in both hot and cold water. It's concentrated, though, so a little bit goes a long way. I appreciated Isle Box's note:
"Remember: Never suds up and bathe in a stream or lake. Always use a water source gathered away from major bodies of water."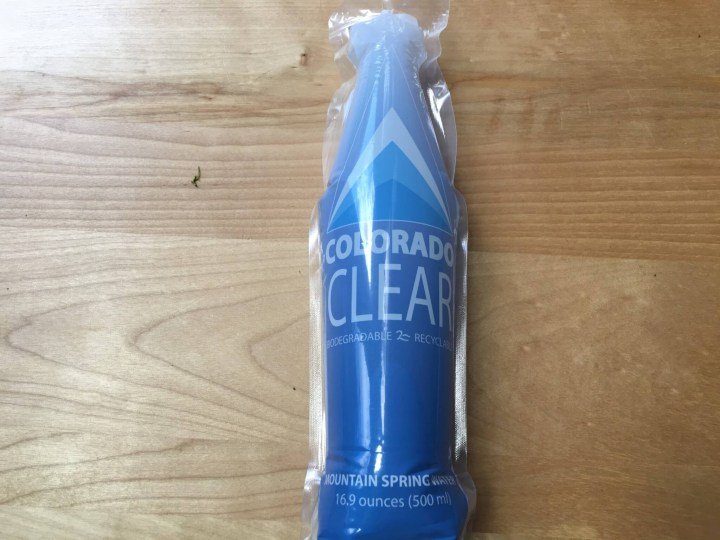 Colorado Clear Mountain Spring Water ($4) is contained within a pouch that is both biodegradable and recyclable. How cool! In fact, they're guaranteed to be 100% biodegradable within one year. That's pretty amazing, especially considering the fact that it takes an average plastic bottle nearly 700 years to decompose! The water itself has a somewhat alkaline pH of 8.5. Filled with electrolytes and minerals, it's sourced from Rapid Creek, off Grand Mesa in Colorado.
Voke Tabs ($7) are a chewable energy supplement that has been sweetened with rebiana and monk fruit. Containing organic guarana for focus and memory, green tea leaf for caffeine and organic acerola for vitamin C, these tablets promise to keep you alert and focused, ready to encounter whatever lies in store. Although these sound like a great inclusion for most people, my doctor tells me I can't have caffeine, so I'm going to pass these along to a friend who will love them.
I think Isle Box is great! I've used the gear they've sent me repeatedly while car camping with my son, and I'm sure to get a lot of use out of this month's selections as well. I love that their gear is down to earth and accessible while also being useful to more seasoned adventurers of any persuasion. I also think the value is great–this month, you're getting approximately $68 worth of gear for just under $45. That's pretty hard to beat!
I really enjoyed the products contained in Isle Box this month and hope to receive many more installments in the future!
Visit Isle Box to subscribe or find out more! Save 10% on your first box! Use coupon code  NATIONALPARKS.
The Subscription
:
Isle Box
The Description
: Isle Box seeks to give you the greatest gear that you don't even know you're missing out on. Some of the greatest adventures that you can have are spawned from the unknown and that is exactly what we aim to bring you with Isle Box: an unknown box of gear that we know you're going to love. Get the Monthly Pass or the Seasonal Pass.
The Price
: $44.99 per month for the Monthly Pass, $124.99 per quarter for the Seasonal Pass.