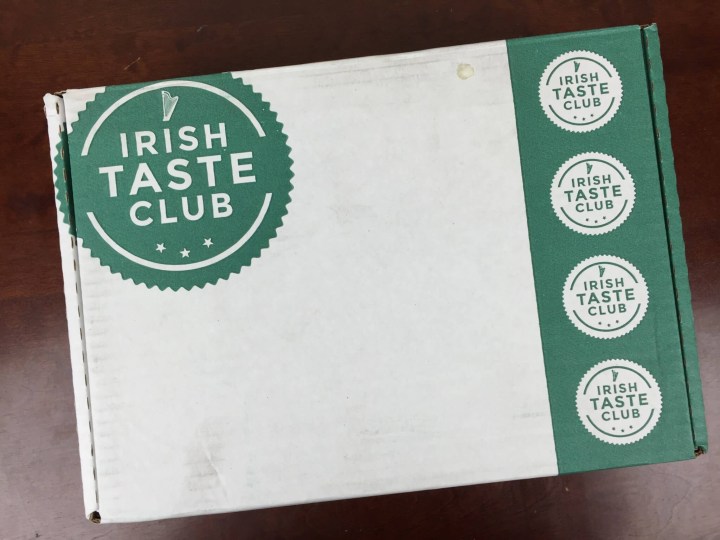 Irish Taste Club is a perfect fit for those seeking gourmet foods that are simultaneously international and comfortingly familiar.   Irish Taste Club is a monthly subscription box providing the best in Irish artisan food products.  Each month, subscribers receive 6-7 full size products, all from award-winning cottage and small-batch producers.  Selections include everything from snacks and desserts, to baking mixes, condiments, and cooking oils.
Everything in the box is Irish-made and ships directly from the Emerald Isle to anywhere in the continental U.S., included in the cost of the subscription.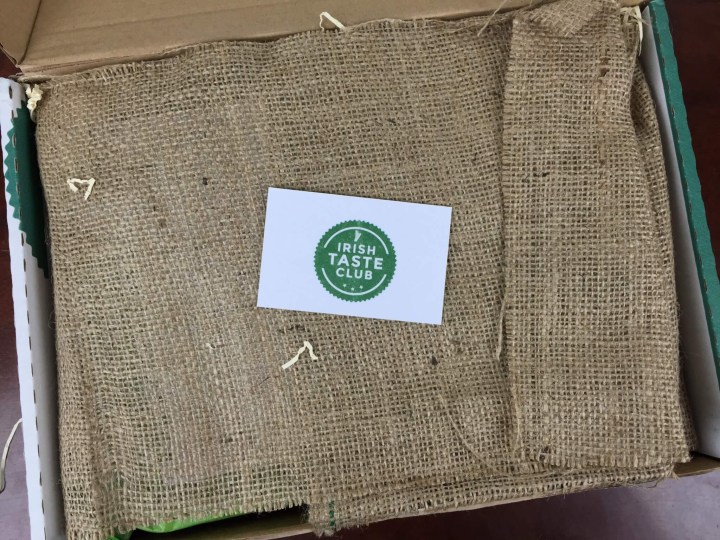 The box itself is cool looking, reminiscent of dry goods packaging of yesteryear.   A layer of green-seamed burlap surrounds all the items.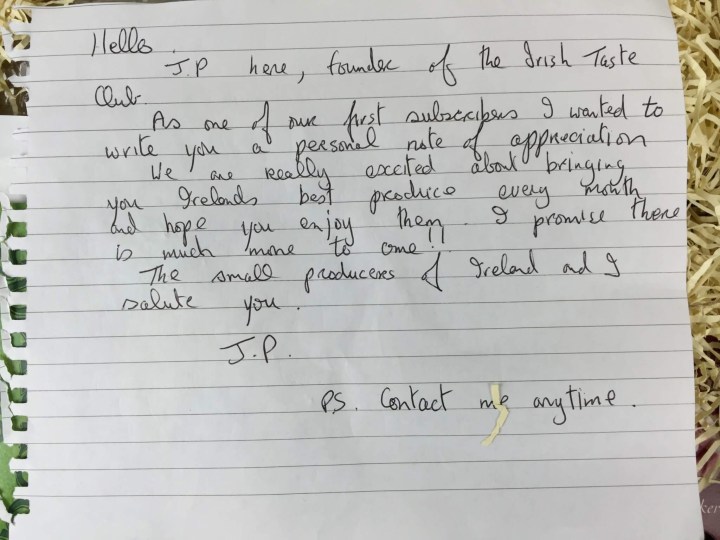 The founder of Irish Taste Club even included a nice hand-written to us as long-time subscribers, giving thanks for helping get the box off the ground.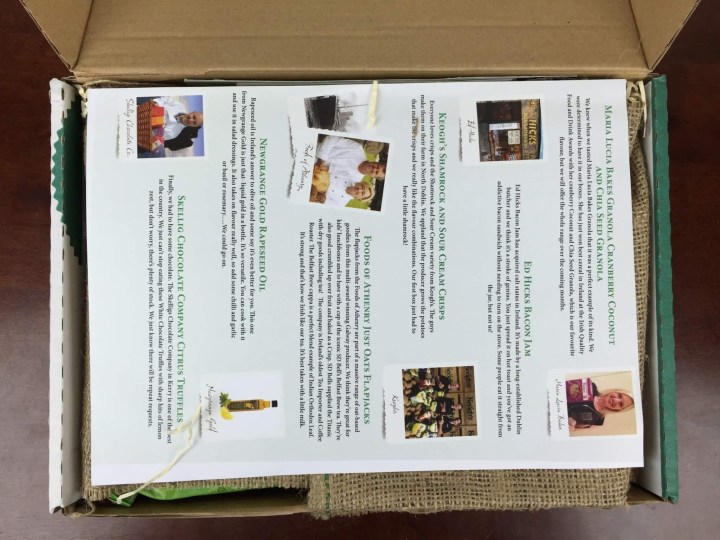 The packaging had a wonderfully cottage feel to it, from the two-tone box, to the interior padding.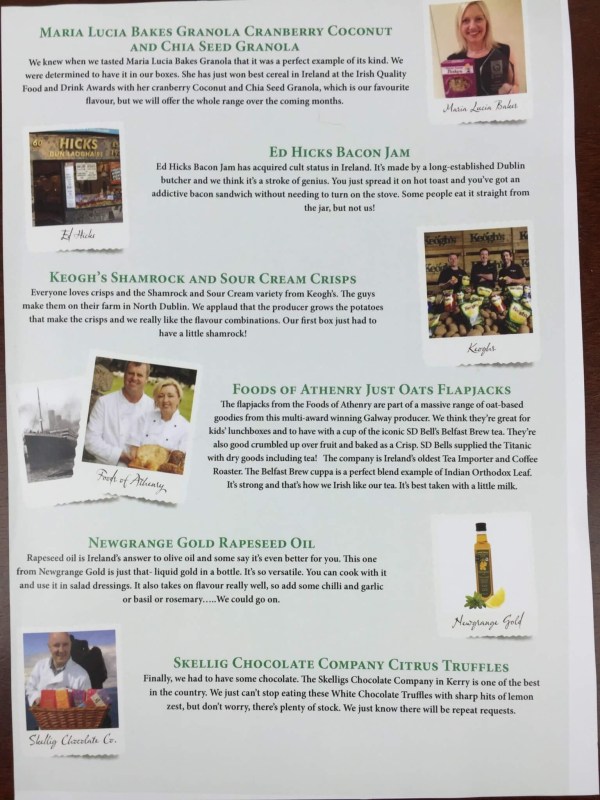 The information sheet provides some wonderful insight into the background of the fine products, and the artisans that produce them.  Everything is produced right in Ireland by small producers that have been recognized for the quality of their products and their dedication to their craft.  The products are professionally made and packaged, but they retain a clearly cottage feel and evidence an attention to quality.  One edit occurred following printing of the card — in place of the Bacon Jam, we received Ballymaloe Sauce and Tea.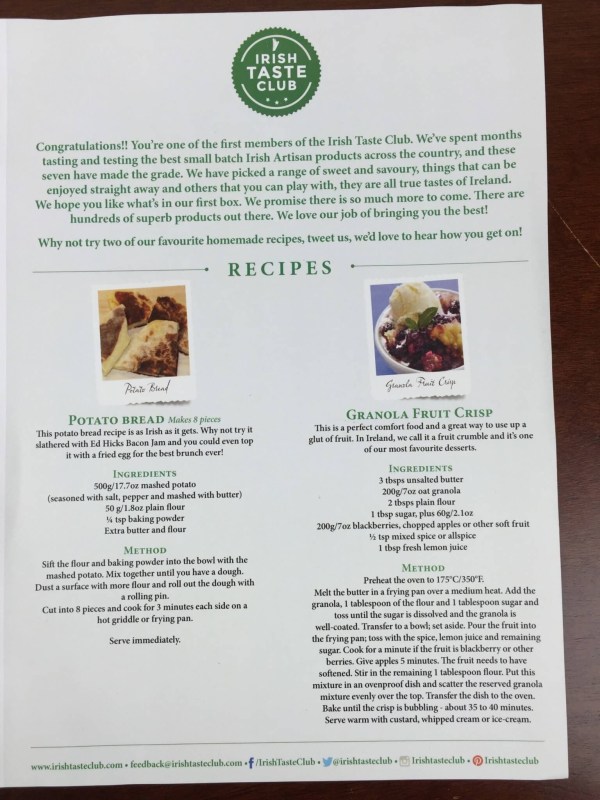 The reverse side even included two recipes incorporating the items in the box.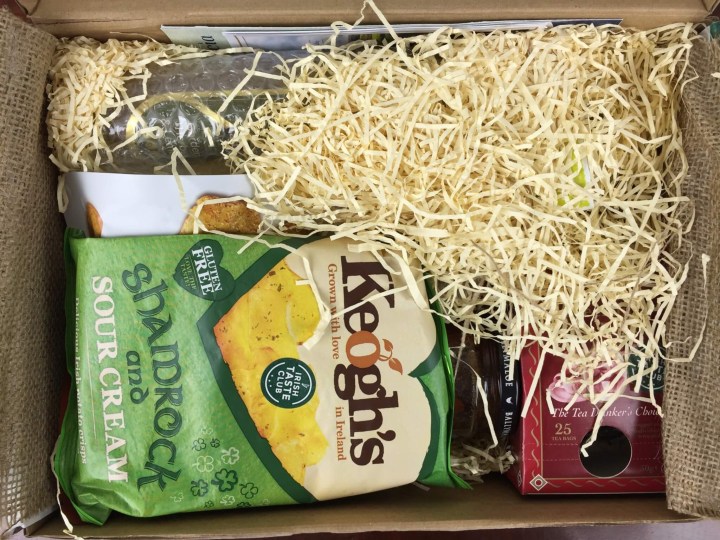 Everything was nestled safely within paper "straw."
The jar of oil had the additional protection of a layer of bubble wrap.
A couple of the items were accompanied by product literature.
The booklets showed additonal products form Newgrange Gold and Maria Lucia Bakes.
Everything in the July box.  The box contained some classically Irish selections, as well as some really good stuff that just happens to be made in Ireland.
Newgrange Gold Rapeseed Oil (€3.75, roughly $4.18):  Rapeseed oil is a traditional oil with a slightly cruciferous flavor and a smoking point higher than olive oil.  Canola oil is a low acid Canadian version of this more sophisticated classic.  This Garden Herbs & Lemon variety is ideal for use as a salad or cooking oil.  Grown in Ireland's Boyne Valley, this would be the perfect rub for a roast chicken.
Ballymaloe Original Tomato Sauce ($9.99):  This thick catsup based sauce is a specialty of the Ballymaloe Country House, a restaurant built around a 15th century Norman Castle.  Sultanas and mustard seed augment the sauce, making it a perfect accompaniment for all manner of pub food.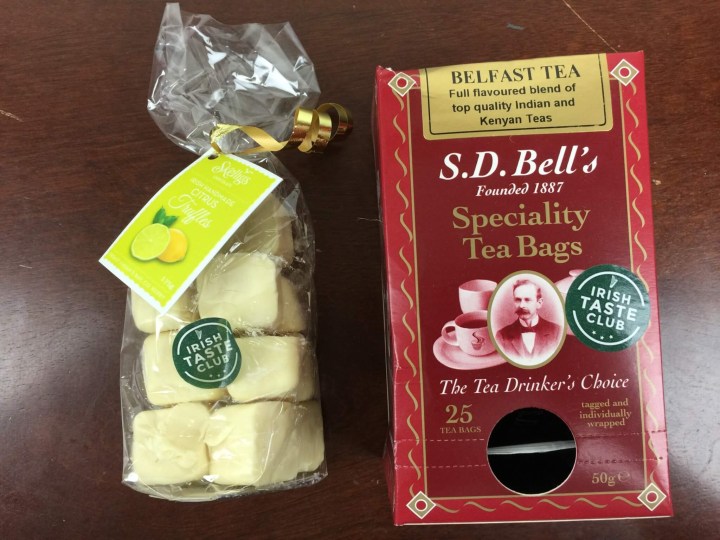 Skellig Chocolate Company Citrus Truffles (€6.50, roughly $7.24):  This creamy cubes have real lime and lemon zest and oil mixed within the crumbly white chocolate.  The citrus is just intense enough to freshen your palate as you eat it, making it all too easy to plow through the bag!
S.D. Bell's Belfast Tea Specialty Tea Bags (£2.50, roughly $3.32):  This Belfast blend has a very British composition, combining tea from the former colonies of India and Kenya.  It is nice to see some items from Northern Ireland included in the box.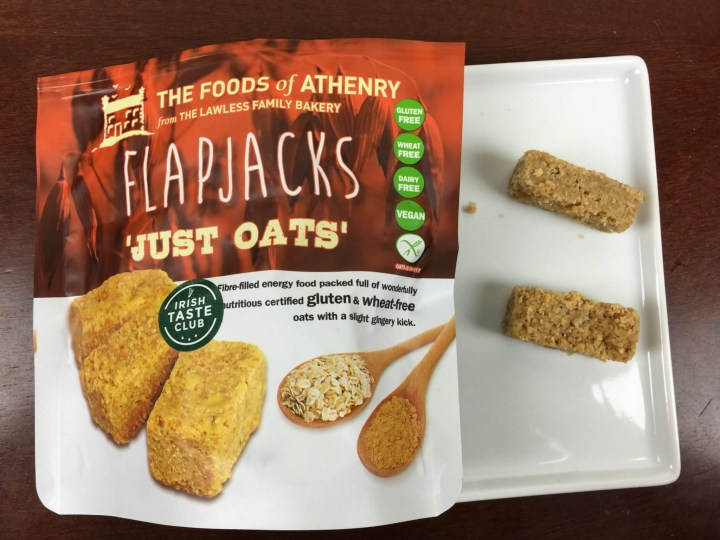 Foods of Athenry Just Oats Flapjacks (£3.25, roughly $4.32):  Made with oats, brown and golden sugar, margarine, and and a touch ginger, these bars have a delicate texture and wonderfully natural flavor.  The simplicity of the recipe lets the complex flavor of the oats shine through.  Prior to seeing these, I had not been aware that Flapjacks were an actual style of bar — I had only seen the term used to describe pancakes and thought NatureBox borrowed the term to describe their own hearty bars.
Maria Lucia Bakes Granola Cranberry, Coconut, & Chia Seed Granola (€5.99, roughly $6.67):  Very gently sweetened, this granola is hearty and versatile.  Natural and toasty, it is spiked with pepitas and cranberries.  Makes an excellent yogurt topper or breakfast cereal, providing lots of texture and flavor without tons of sugar.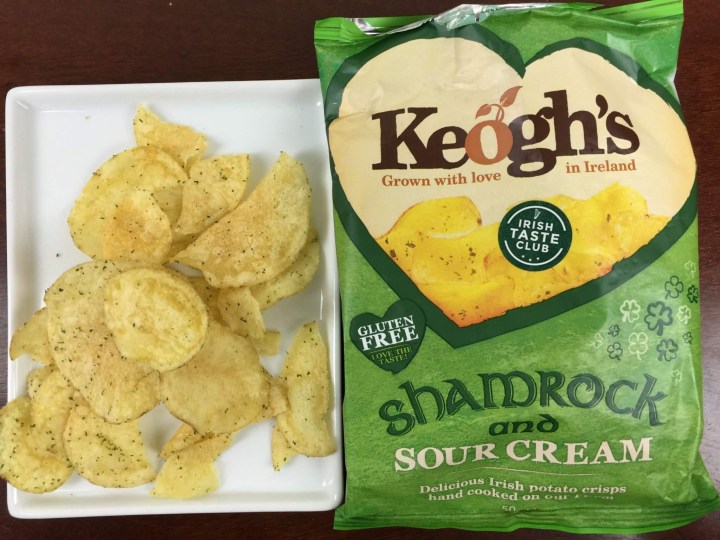 Keogh's Shamrock and Sour Cream Crisps ($4.39):  Lovely crispy potato chips flavored with real shamrock oil and sour cream.  The shamrock adds a slight green note, similar to chives.  The chips themselves are very crunchy and have good flavor.
We look forward to this box every month.  Each item is of the very highest quality, and the curators do a lovely job of selecting products that showcase Irish-grown ingredients and local culinary tradition.  We have found every item we received to be tasty and in line with our food preferences.  These are the very best gourmet foods of the sort you would find at a specialty food store or farmers market, all with their origins on the Emerald Isle.  With every item an award winner, it is hard to go wrong.  The O'Grady Family approves of this box!
Save 10% on your entire subscription with coupon code ITC10 – this makes each box $36 on an annual plan.
Visit Irish Taste Club to subscribe or find out more!
The Subscription
:
Irish Taste Club
The Description
: Irish Taste Club is a monthly subscription service that sends our members 6-7 full sized Irish artisan food products. Each product is made by an award winning Irish cottage producer in small batches and is imported exclusively for our members. These products may include jams, infused oils, relishes, chutneys, dressings, vinegars, spices, condiments, baking mixes, confectionery, gourmet snacks etc. Shipping is free to anywhere in continental USA.
The Price
: $49.00 per month