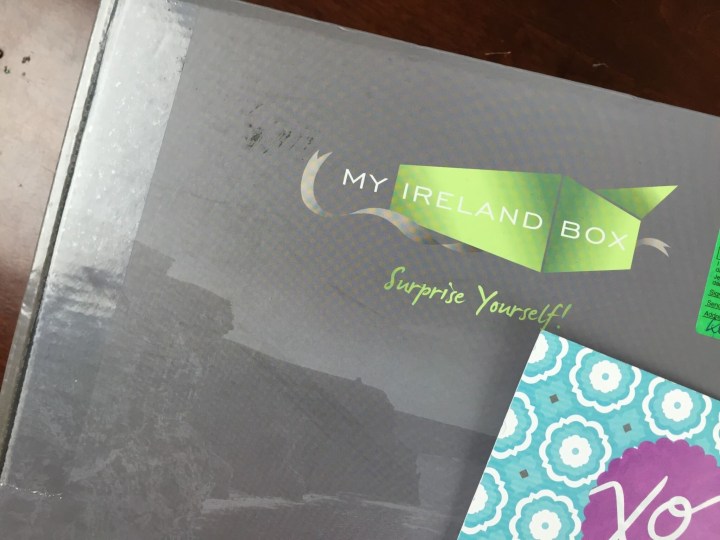 My Ireland Box is a monthly subscription box from Ireland filled with the best of Irish-made craft (artisan) goods.  You can expect to receive Irish made jewelry, housewares, and craft and beauty products. They ship to the US, Canada, EU & Australia (anywhere with a significant proportion of people with Irish last names live!). This box ships from Ireland!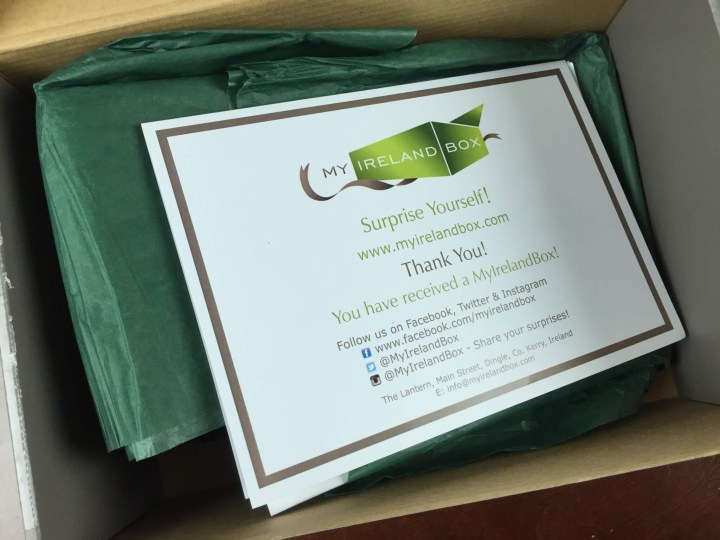 Everything in my June MyIrelandBox!  Usually we see three or four items in a box — but this box had two due to the high value ($75) of one of the items.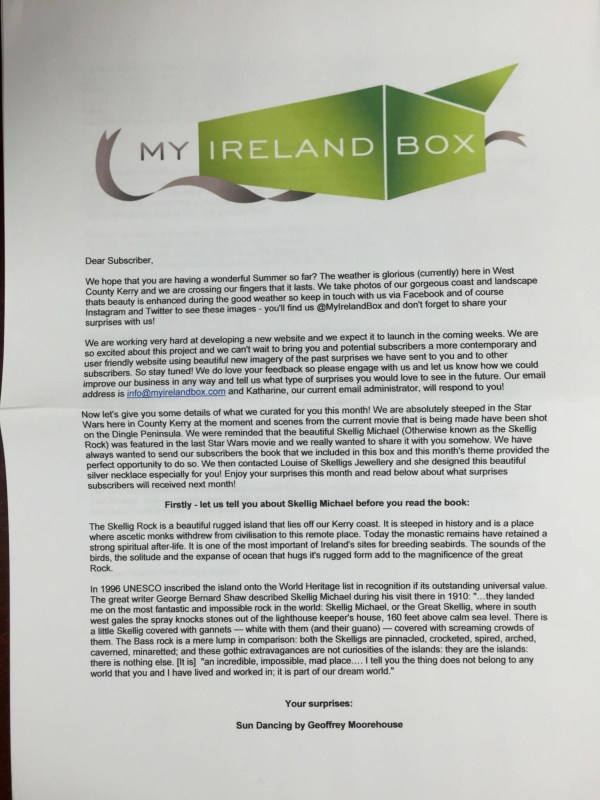 A letter containing extensive information about each product and its maker/designer comes with the box. We really like their information sheet because it gives each item a real sense of place and we get to learn about the influences of each item, the inspirations of the designer, and more!  It is really one of the most detailed information sheets you'll ever see in a box.
The letter notes that they are steeped in "the Star Wars" in County Kerry and the Skellig Rock was featured in the last movie!!! And it's featured in this box!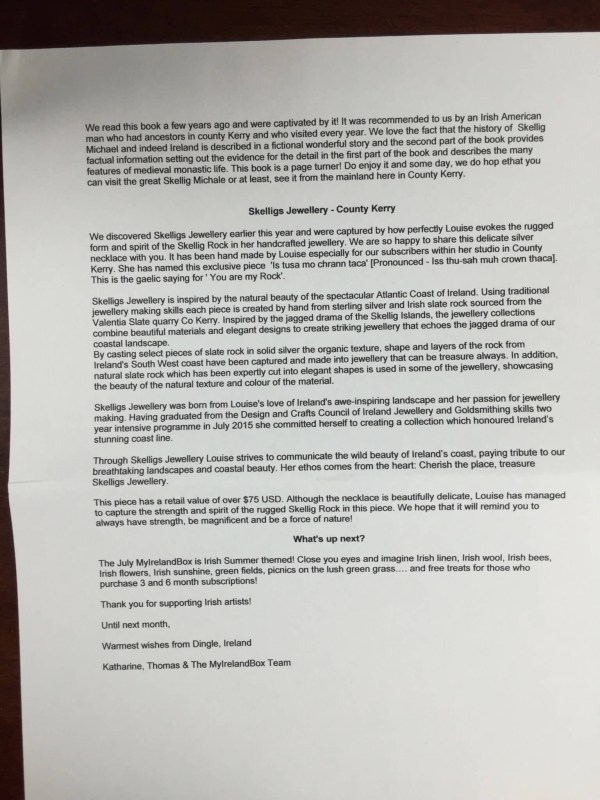 The last pages of the curator letter lists upcoming spoilers – the July box is Summer themed! "Imagine Irish linen, Irish wool, Irish bees, Irish flowers, Irish sunshine, green fields, picnics on the lush green grass… and free treats for those who purchase 3 and 6 month subscriptions!"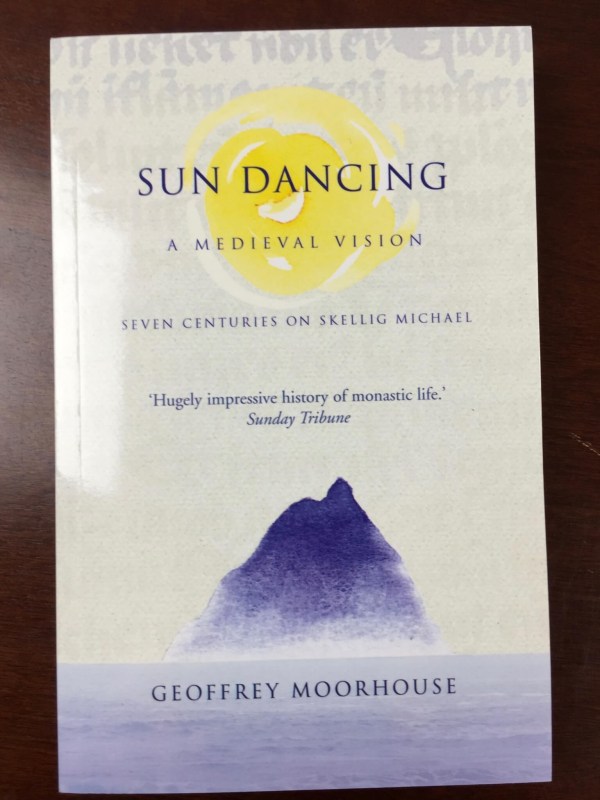 Sun Dancing: A Medieval Vision by Geoffrey Moorhouse ($22.95):  This book blends together two separate approaches to examine the long monastic tradition on Skellig Michael, a rocky island off the Atlantic coast in County Kerry.
In this remarkable feat of imagination and reconstruction Moorhouse shows how the medieval monastic community of The Great Skellig, an island off Ireland's southwest coast, worshipped and survived from 500 bc to ad 1200. The first part of the book is a fictional description of the austere life of the monks beginning with their arrival on the island, withdrawing from the world to a life of prayer, fasting, hardship, and danger. Subsequent scenes depict aspects of Celtic spirituality, a dangerous Viking raid, and spiritual crises. Finally, the abbot and his aging disciples abandon the island following a severe storm. The second part is a collection of short essays describing the many features of medieval monastic life.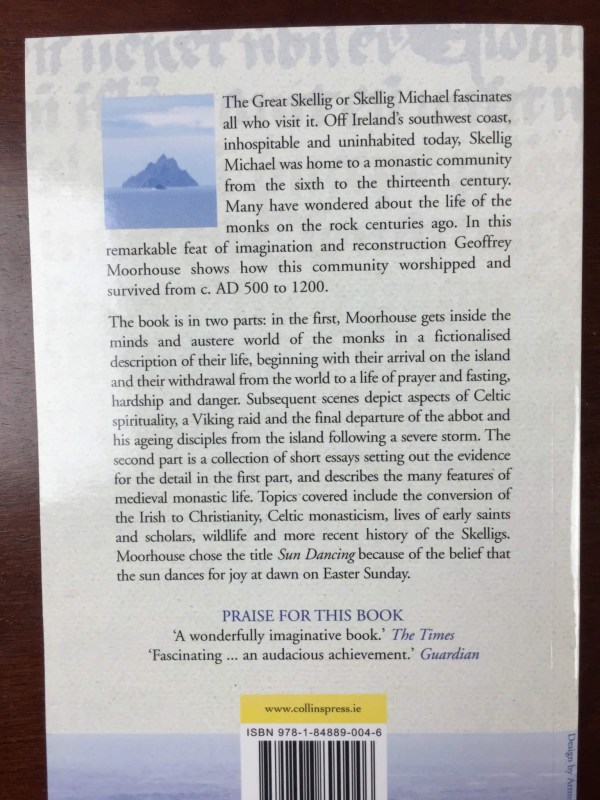 The first part of the book renders a fictionalized account of early monastic life on the island.  The second examines the historical record and provides support for the events depicted in the first.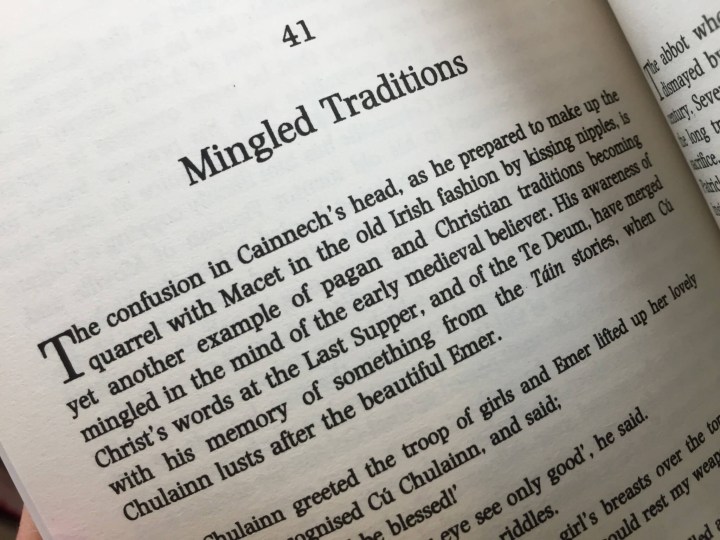 The book is an interesting mix of bard's tale, historical lecture, and initiate's diary.  It beautifully captures the intense mixture of Celtic tradition and Catholicism that informs Irish culture to this day.
I swear I just randomly flipped to this page. Apparently you show your submission to the ruler (in ancient Irish time) by suckling his nipples. Who knew?!
Skellig's Jewellery Sterling Silver Necklace ($75+):  This lovely piece is inspired by the Irish phrase "You are my rock," and symbolizes strength and support, depicting the stern, steadfast face of Skellig Michael.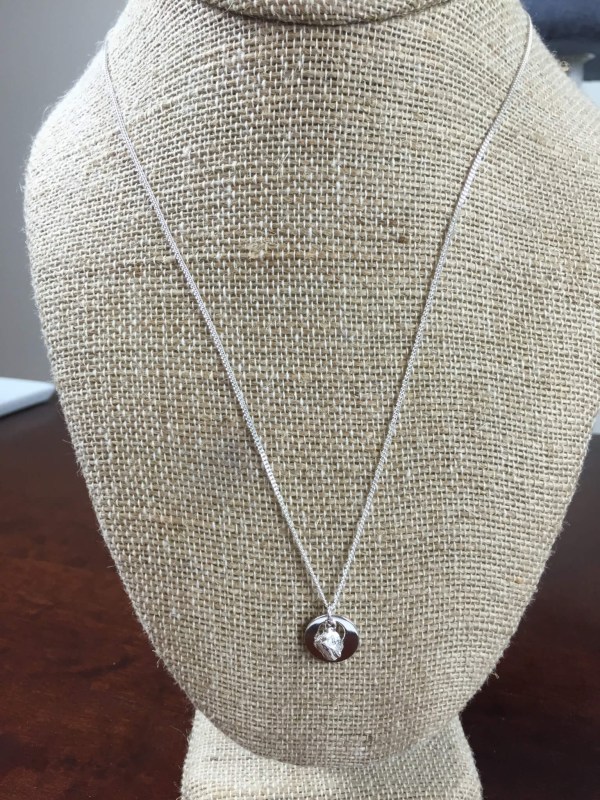 The chain hangs 3/4 way to mid chest, with a very bright silver finish (sterling!) which complements the pendant.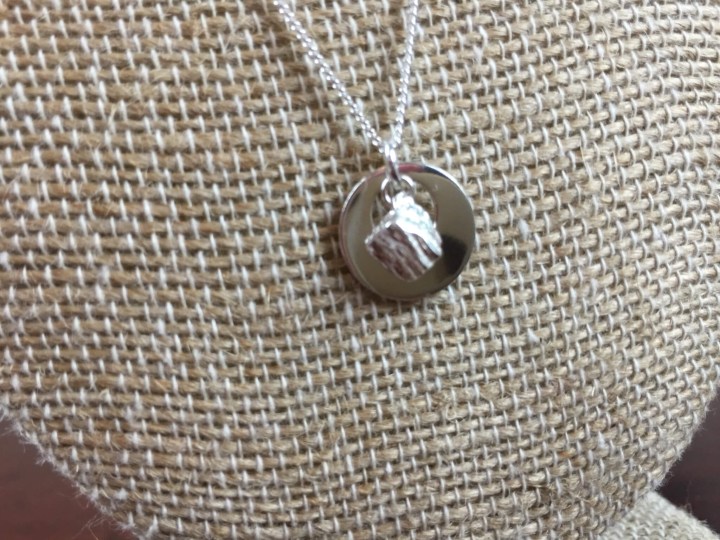 The pendant features a relief of Skellig Michael, crags and all, set against a smooth disk with a cut-out to accent the peak of the rock.  It is likely to draw compliments and inquiries, as it is lovely, but also not likely to be recognized by those outside of Ireland, inviting a bit of story-telling!.  The piece is handmade in Ireland by Skellig's Jewelry of County Kerry. Gorgeous!
What an amazing way to do a Star Wars theme and an fantastic box from this totally unique subscription!  This month was laser-focused, with two items celebrating a single, beloved landmark off the Southwest coast of Ireland.  I love the ingenuity the curators employ in selecting themes for the boxes and bringing them to life.   They've maintained a focus on cottage and unique goods while exploring truly distinct facets of Irish culture.  Next month is a Summer themed box as noted above, and I'm very curious as to whether they will keep it very high level or take us on a deep dive into a specific Irish locale.
What did you think of this month's selections?
Visit My Ireland Box to subscribe or find out more!
The Subscription
:
My Ireland Box
The Description
: MyIrelandBox curates the best of Irish made craft: jewellery, homeware, craft, and beauty products, delivering a monthly box of surprises to your door!
The Price
: $45, €6.20 to Ireland & Great Britain, $10.50 internationally