My Ireland Box is a monthly subscription box from Ireland filled with the best of Irish-made craft (artisan) goods.  You can expect to receive Irish made jewelry, housewares, and craft and beauty products. They ship to the US, Canada, EU & Australia (anywhere with a significant proportion of people with Irish last names live!). This box ships from Ireland!
Everything in my July MyIrelandBox!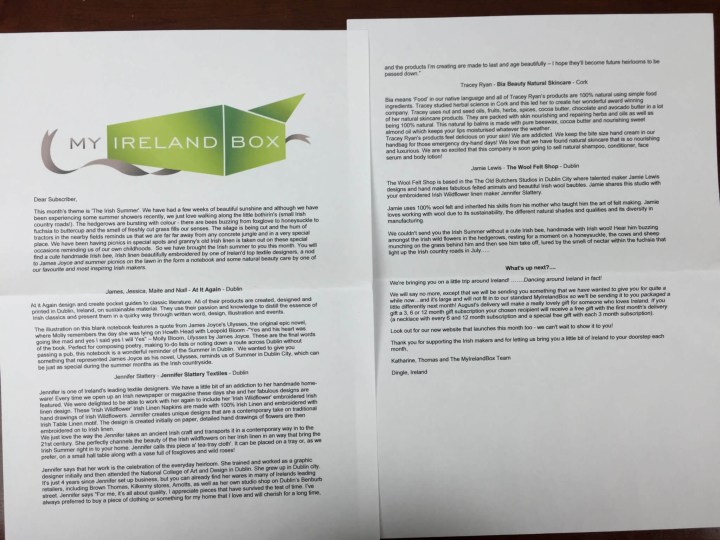 A letter containing extensive information about each product and its maker/designer comes with the box. We really like their information sheet because it gives each item a real sense of place and we get to learn about the influences of each item, the inspirations of the designer, and more!  It is really one of the most detailed information sheets you'll ever see in a box.
The last pages of the curator letter lists upcoming spoilers – the August box is said to take you to a little dancing trip around Ireland!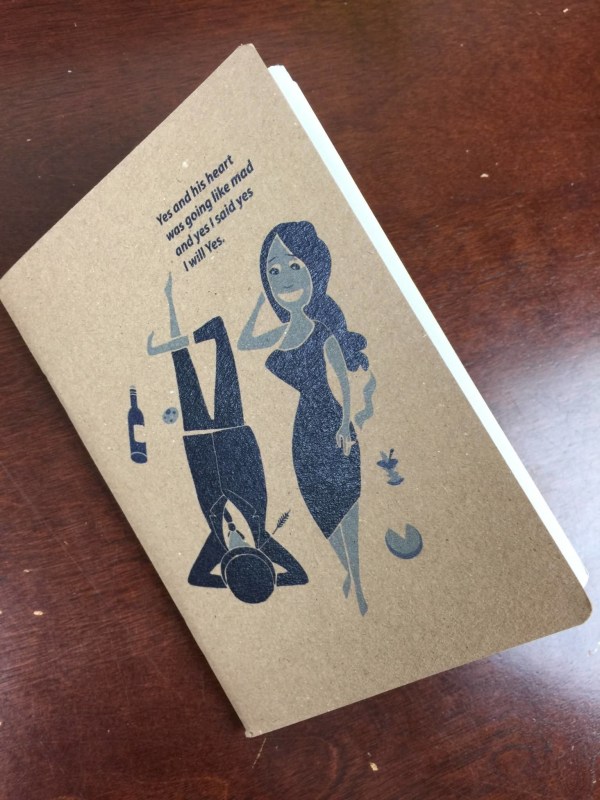 At It Again Romping through Ulysses Notebook (€5, roughly $5.58) Well what a dainty quotation from the end of Ulysses! The entire quote is
I was a Flower of the mountain yes when I put the rose in my hair like the Andalusian girls used or shall I wear a red yes and how he kissed me under the Moorish Wall and I thought well as well him as another and then I asked him with my eyes to ask again yes and then he asked me would I yes to say yes my mountain flower and first I put my arms around him yes and drew him down to me so he could feel my breasts all perfume yes and his heart was going like mad and yes I said yes I will Yes.
So if you know James Joyce's masterpiece then this notebook brings to mind quite a bit more!  It's a fun wink and a smile.
The Wool Felt Shop Handmade Bumble Bee (€14, roughly $15.60) The Wool Felt Shop practices their craft in The Old Butchers Studios in Dublin City. I cannot felt to save my life and I think this bee is wonderful and fun and a great accompaniment to the towel!
Bia Beauty Natural Skincare Lime Pie Lip Balm (€4.95, roughly $5.52)
Bia Beauty Natural Skincare Handcream (€14.95 full size, roughly $16.65)
Both these Bia Beauty products from Cork contain beeswax, and it makes a nice laying on the grass sort of theme!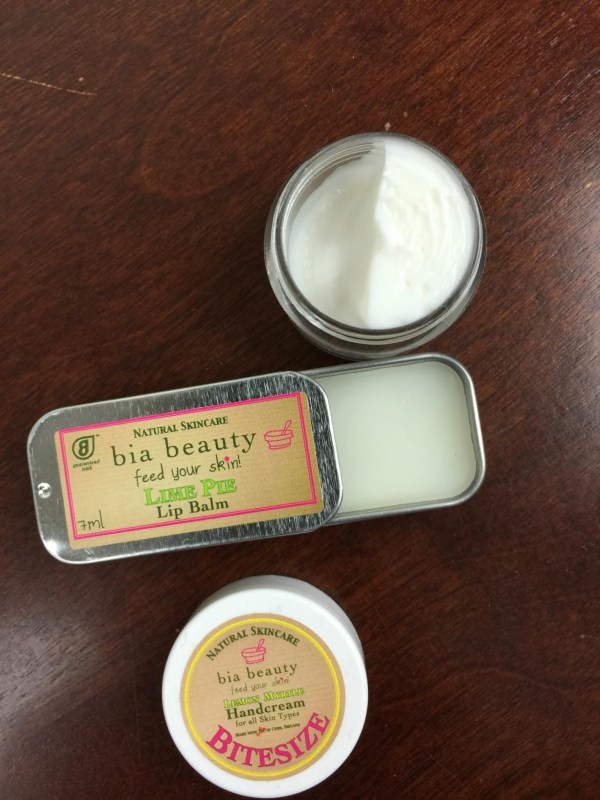 Although small the products themselves are scrumptious, and packs a punch! The little bowl logo indicates that they're crafted with food ingredients! I thought the lime was delicious for summer.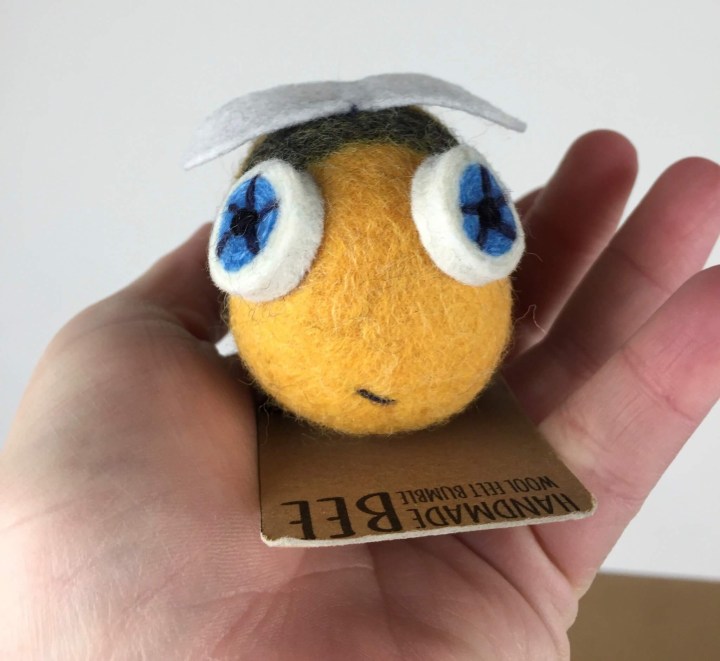 Buzz! I love his cute quirky smile! I should note also that the detailed letter really always brings these items to life, describing the bees in the Irish honeysuckle and July fuchsia.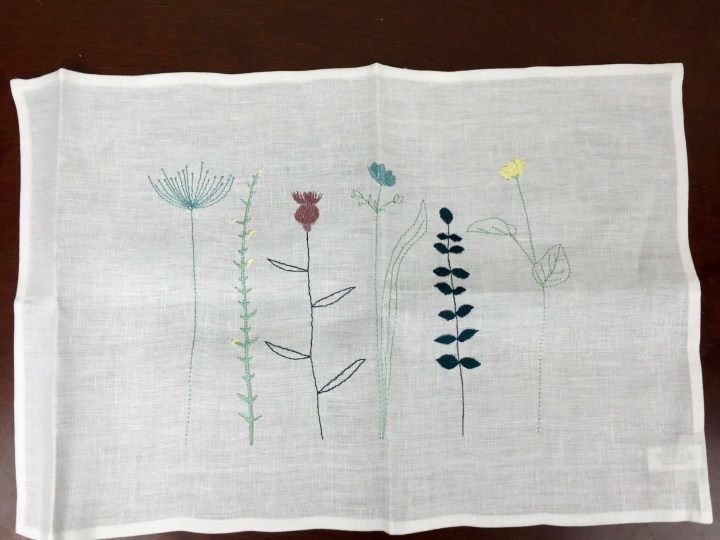 Jennifer Slattery Textiles Irish Wildflower Irish Linen Napkin (€16.33, roughly $18.19)  Why not linen for an Irish countryside picnic? The artisan calls it a tea tray cloth and you can certainly use it for that. Hopefully with the bee amongst the flowers and some sort of scrumptious "rocks" at the bottom. We've received products from this artisan before and they're all lovely with modern interpretations of traditional Irish themes!

I thought July's theme was so sweet and I liked the products in this month's box. Although they were all of the small variety they each seemed to bring summer into my home in their own way!
What did you think of this month's selections?
Visit My Ireland Box to subscribe or find out more!
The Subscription
:
My Ireland Box
The Description
: MyIrelandBox curates the best of Irish made craft: jewellery, homeware, craft, and beauty products, delivering a monthly box of surprises to your door!
The Price
: $45, €6.20 to Ireland & Great Britain, $10.50 internationally