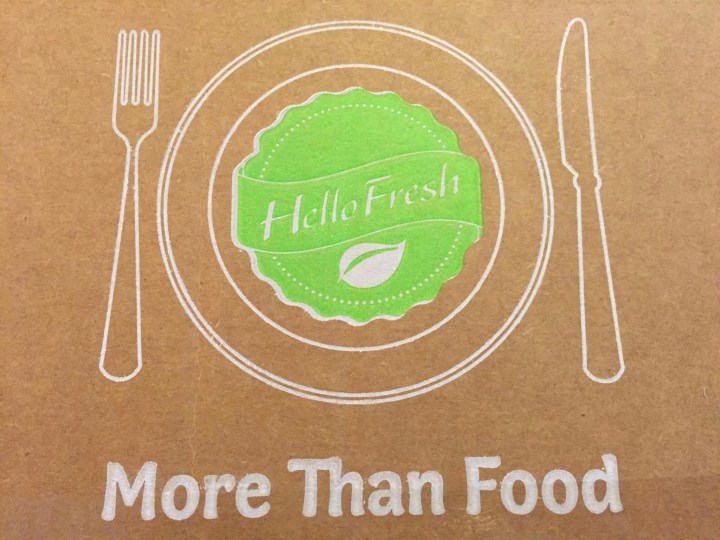 Hello Fresh is a meal kit subscription box with complete recipes and ingredients to make 3 meals every week, with each meal feeding either two or four people, depending on the plan you choose.  
Though it is a subscription, you can pause your deliveries when needed — whether you are out of town, have other dinner plans, or just aren't in love with that week's selections.  The standard subscription provides high-quality meats (free-range chicken, antibiotic meats, etc.) to use in the recipes.  Though we do eat meat, we cook vegetarian three times a week.  Thankfully, Hello Fresh has a vegetarian subscription for both casual and dedicated vegetarians.  This review covers the vegetarian box, which featured a recipe by Jamie Oliver!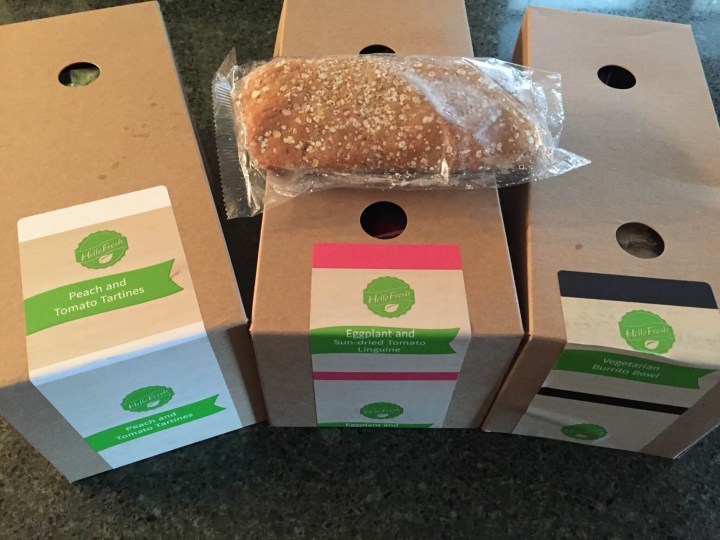 The boxes used by Hello Fresh keep all the ingredients for the recipes in order, and they stack nicely in the fridge.   Within each box, everything but the largest vegetables is separately packaged.  Condiments and canned goods are provided in high-end, commercial packaging.  Hello Fresh usually provides spices in their own, pre-measured branded packaging.
Hello Fresh has great instructions, and they are easy to follow even if you are an inexperienced cook. There are even some kitchen tips included in the information card.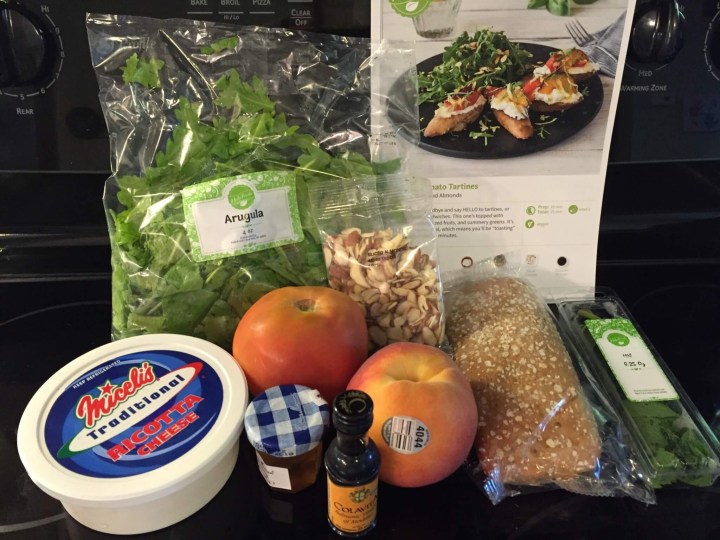 Peach and Tomato Tartines With Ricotta, Mint, and Almonds. 25 minutes, level 1, 493 calories per serving.
When I was looking ahead at the calendar to schedule my Hello Fresh dinners due to vacations I decided to get them while my husband was in Detroit.  Well, I sent him off yesterday for a 5 day trip to his home town.  I couldn't go because of various reasons but thought I'd like to get my dinners anyway, it would be fun to do it by myself.  Last night it ended up that I didn't have much time to cook and eat my dinner so I chose this meal.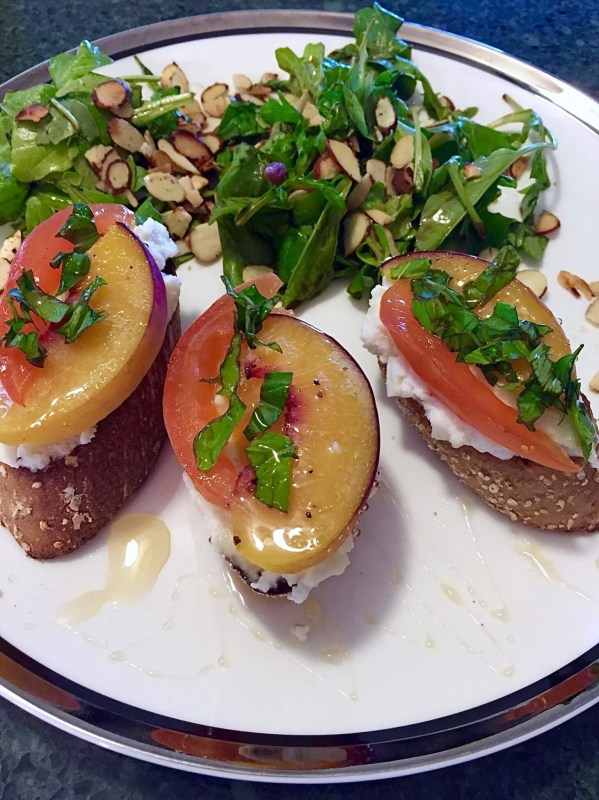 Great selection!  It was fairly quick and easy and delicious.  And of course, I'm by myself so I'll be eating the leftovers for lunch.  My dad was never a big leftover kind of guy, I'm not like my dad in that respect.  I LOVE leftovers, just nuke and they're ready to go and I find the flavors have blended and the taste is even better than the first time.

I'm looking forward to dumping the leftover ricotta with the unused peach and tomato on top of the arugula salad!  Yum.
I'm still not a fan of arugula but the dressing and toasted almonds made it very palatable.  Mint is also a giant NO for me, I substituted basil, yum.  Just personal preferences which is what is another great feature about Hello Fresh, easy to make small substitutions.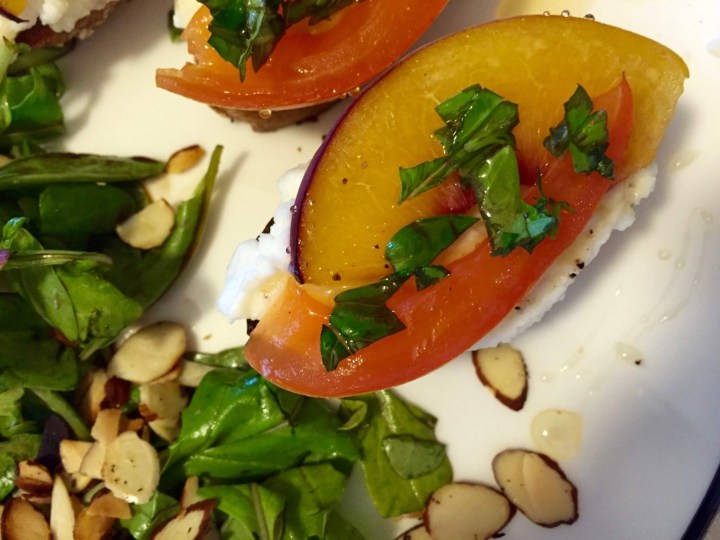 I give this dinner a 9.5.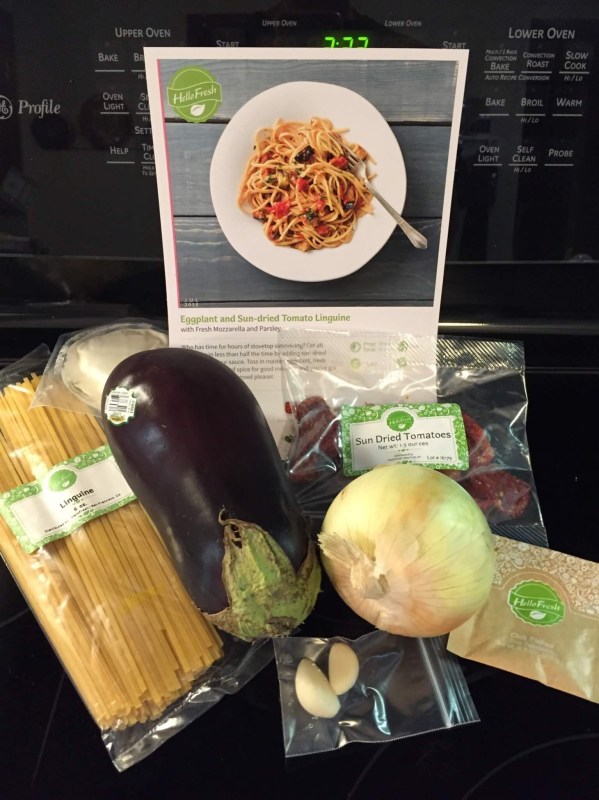 Eggplant And Sun-Dried Tomato Linguine With Fresh Mozzarella And Parsley. 35 minutes, level 1, 696 calories per serving.
I just knew I was going to love this recipe.  With eggplant and sun-dried tomatoes you just can't go wrong.  There's something powerful about the flavor of sun-dried tomatoes.  Raw tomatoes are good, canned tomatoes are good but sun-dried, there's just a punch of flavor to those.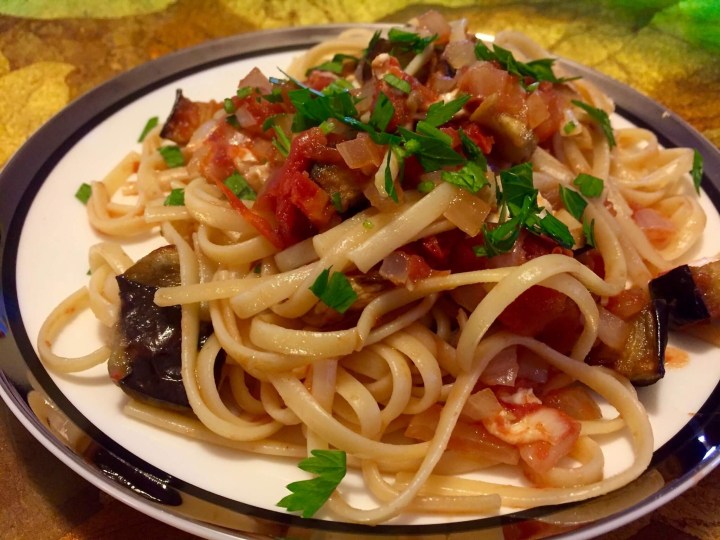 The last time I put in all the chili flakes I made a mental note to use only 1/2 of the package, it doesn't matter what you're making. Whew, I'm so glad I did but it was still hot, I'm making another mental note to cut it down to 1/4 of the package.
It was just me, myself and I for dinner tonight so I ate about a third of the meal and I am so looking forward to leftovers tomorrow.  Lunch will be this meal and I bet you're thinking dinner will also be this meal…nope.  Dinner will be this meal AND a glass of wine.  I do like my leftovers and can't wait to taste this again to see how the flavors have blended over night.
The three of us, me, myself and I give this a 3 thumbs up 10!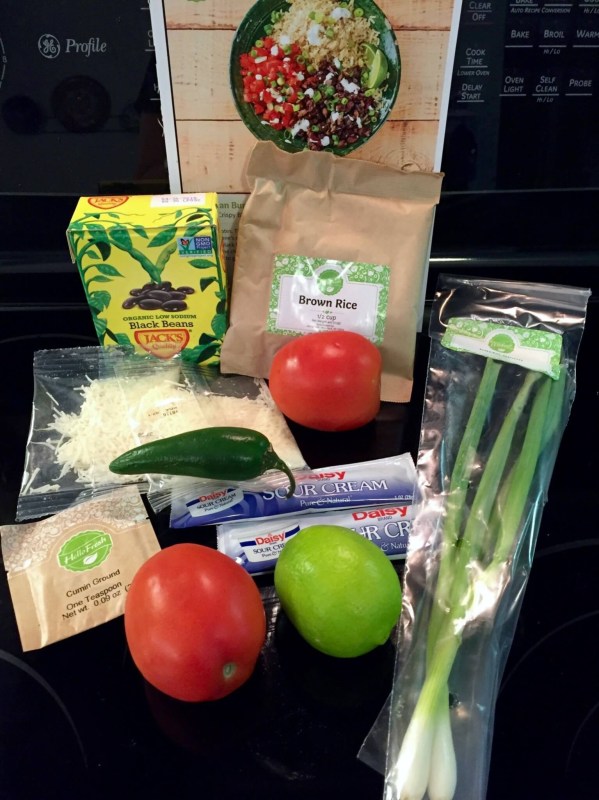 Vegetarian Burrito Bowl With Salsa, Crispy Black Beans, And Monterey Jack. 35 minutes, level 1, 561 calories per serving.
I am truly a lucky woman, my parents live next door and my husband (he's 16 years my senior at 72) is best buds with my dad (he's 81).  Life is good!  Anyhow, my folks have been in Pennsylvania on vacation and just came home on Thursday.  I knew they'd get in around dinner time and wouldn't feel like cooking so I invited them over for a Hello Fresh dinner.  I'd have plenty because my husband is off doing a high school reunion and family reunion in Detroit. My dad is a meat and potatoes kind of guy but I gave it a shot anyway and they responded yes, they'd come.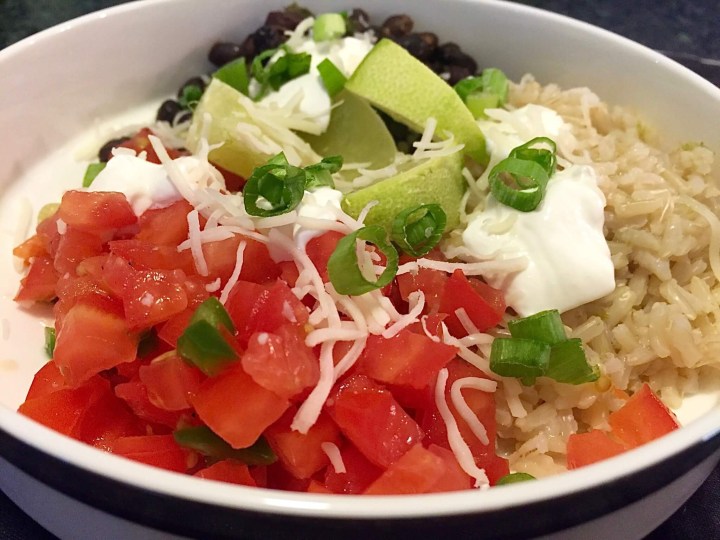 So my folks came over and watched me cook this rather fast which most of Hello Fresh's dinners are.  After I plated their meal and we sat down, the comments on the meal started.  My mom liked the freshness, said it wasn't strong but nice mild flavors.  Then she obviously got a nice bite of the jalapeno that was in there!  Then her comments were all about spicy/hot.  I mentioned that a whole jalapeno was in the dish and I didn't find it strong at all.  My dad said it was good, real good.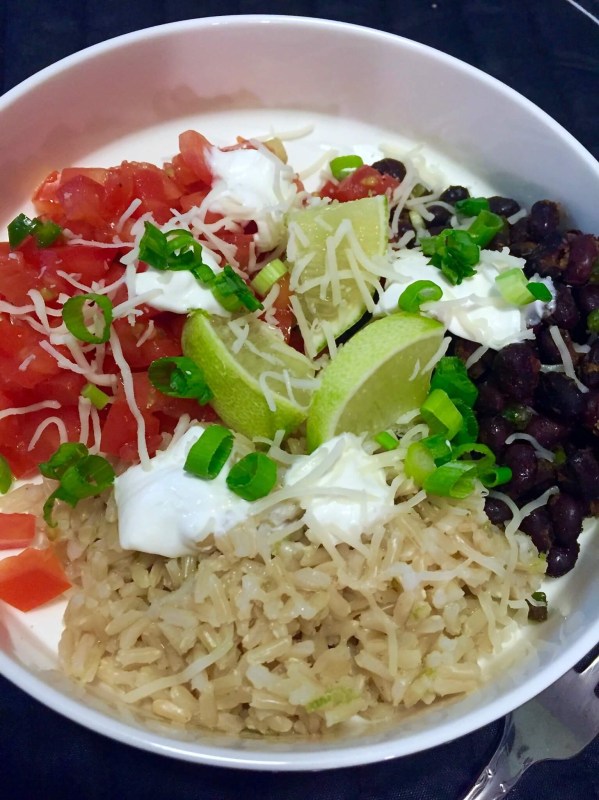 When my dad finished his bowl full he said, "it was damn good!"  Wow, from a non-vegetarian that's a 10+.
Have you tried Hello Fresh? Currently you can get a $50 Discount on your First two Boxes with coupon code HF50SUMMER.If you just want to try one box save $40 off your first box with coupon code 7UT7K8.
Visit Hello Fresh to select your box for next week!
The Subscription
: 
Hello Fresh
The Description
: Each week Hello Fresh delivers beautifully photographed step-by-step recipe cards, with the exact fresh ingredients needed to create a selection of new recipes.
The Price
: $69 per week for 3 meals (59 vegetarian)