Heaven's Honey is a fairly new subscription box that features one-two artisan body care brands a month. The products will be all natural, chemical-free, and cruelty-free. 5-8 products will be showcased each month. As Heaven's Honey explains, " Examples of natural body care items that can be featured are body butters, soaps, lotion, face scrubs, face moisturizers, deodorant, toothpaste, body scrubs, face parfaits, eye creams or parfaits, body wash, bath bombs etc." All items will be chemical, toxin, phthalates, sulfate, pesticide, herbicide and gmo-free. Time to indulge in luxurious, natural body care products!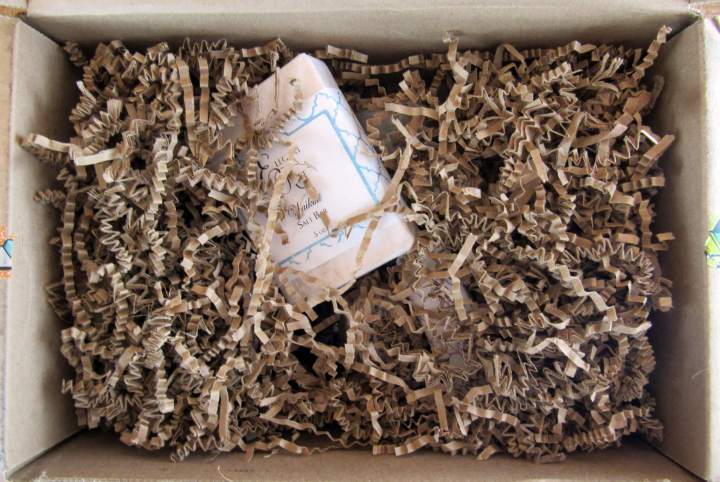 No leaks! I see a soap peaking out at me. Everything arrived intact.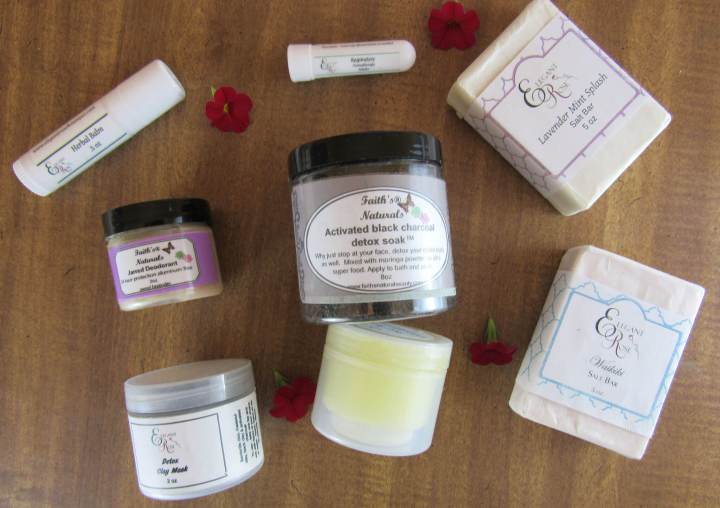 There are two featured product lines in the July 2016 Heaven's Honey Box. I checked through the squiggles carefully to make sure I did not miss anything.
Elegant Rose Boutique specializes in handmade soaps made from the finest ingredients and essential oils. The boutique offers other pampering items such as bath bombs, lotions, natural deodorants, and more. They also offer a subscription box that is customized to your skin type!
The Elegant Rose Lavender Mint Bar (5 oz, $6.00) has an amazing lavender and mint scent. I love, love, love the scent. I had a hard time lathering the bar up to decent lather which surprised me because it is described as being creamy. It has dead sea salt, orange, lavender, and spearmint oils in it.
The Waikiki Salt Bar Soap (5 oz, appx $6.00- currently sold out) lathered easily for me. It has a tropical floral scent. The scent is a combination of ylang ylang, lavender, bergamot, other citruses and a hint of vanilla. Most floral scents, including this one, does not appeal to me. It does smell like a summer scent!
The Elegant Rose Detox Clay Mask (2 oz, $20.00) uses clays and activated charcoal to clear impurities out in your face. I added yogurt to the clay mask and let it sit for ten minutes. My skin felt refreshed. I will be using it once a week! I based the price of the sampler pack which I hope to see in a subscription box one day!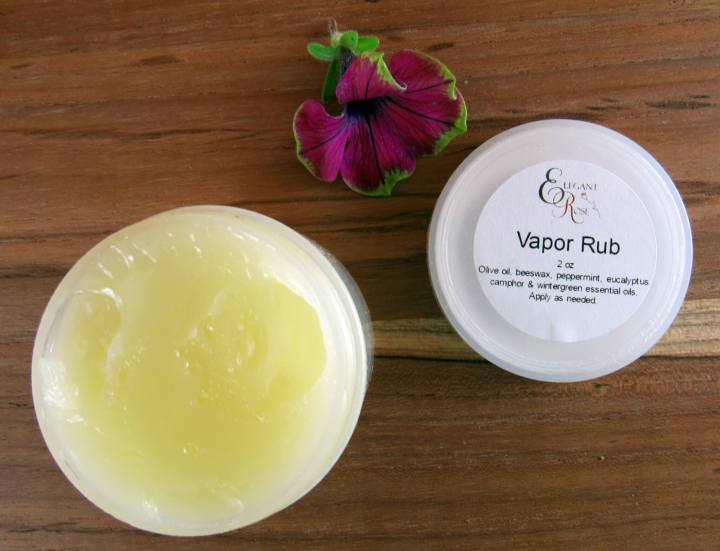 I always welcome vapor rubs. The Elegant Rose Vapor Rub (2 oz, $12.00) has that great eucalyptus smell that lets you know that you can breathe clearly again. I rubbed some on me now because I am stuffed up. I am allergic to cats and have one sitting right by me.
I am in love with the Elegant Rose Respiratory Aromatherapy Inhaler ($6.25) and will buy a few more closer to winter. The inhaler is great to use on allergies, sinus issues, congestion and more. I am a little worried that my congestion of lately may be related to something more sinister than the cats. The inhaler helped clear out the congestion I experienced the other day.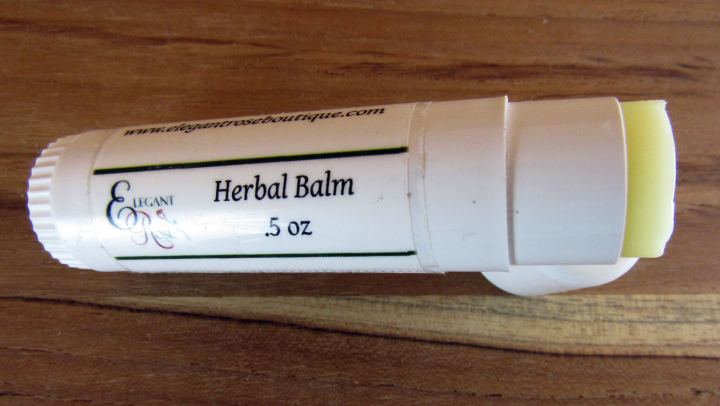 The Elegant Rose Herbal Balm (.5 oz, $3.00) needs to be near my teenage son at all times. I linked to the family size balm because I did not see a smaller size. My teenager is sensitive to mosquito bites and usually runs through poison ivy a few times each year during cross-country practice even though he recognizes poison ivy. I am excited that it has jewelweed which is nature's antidote to poison ivy. They can be found growing near each other in wooden areas and creeks. Break open a jewelweed leaf and rub it on your skin if you encounter poison ivy by accident. Your skin will thank you.
Faith's Naturals Beauty is a natural and organic hair and skin care company that is free of all the nasties that I try to avoid. I hope to see more of her products in future subscription boxes!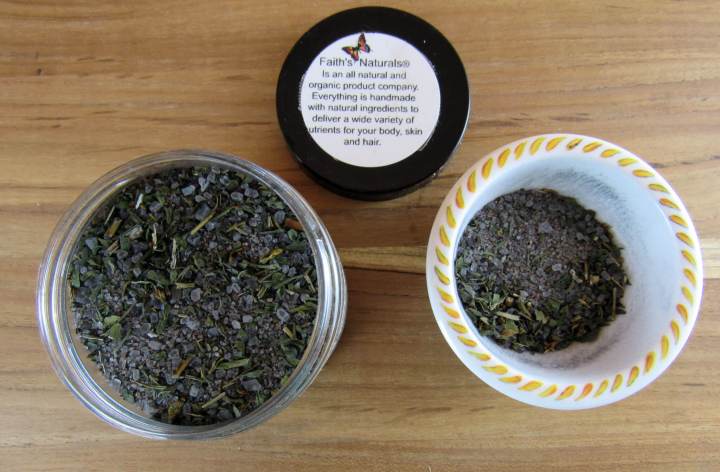 The Faith Naturals Activated Black Charcoal Detox Soak (8 oz, $15.00) is beautifully made with salts, essential oils, and moringa powder. I do believe that this is the first time I received a body care item with moringa powder! It's a super food that contains much needed vitamins. Use a muslin tea bag or something similar if you want to keep the greens off of your skin while bathing. I prefer to put it directly in the bath for the maximum benefit which requires the extra step of wiping off anything that is sticking to me and the bath tub.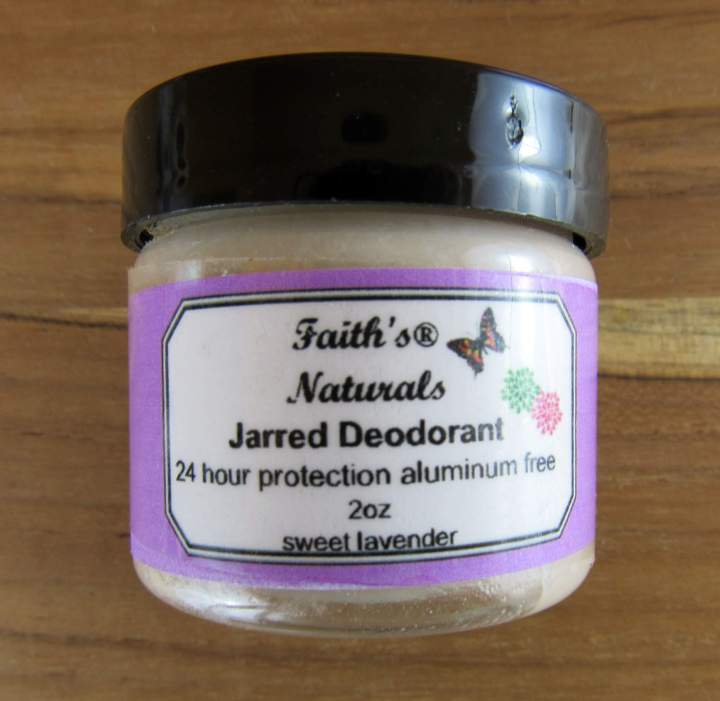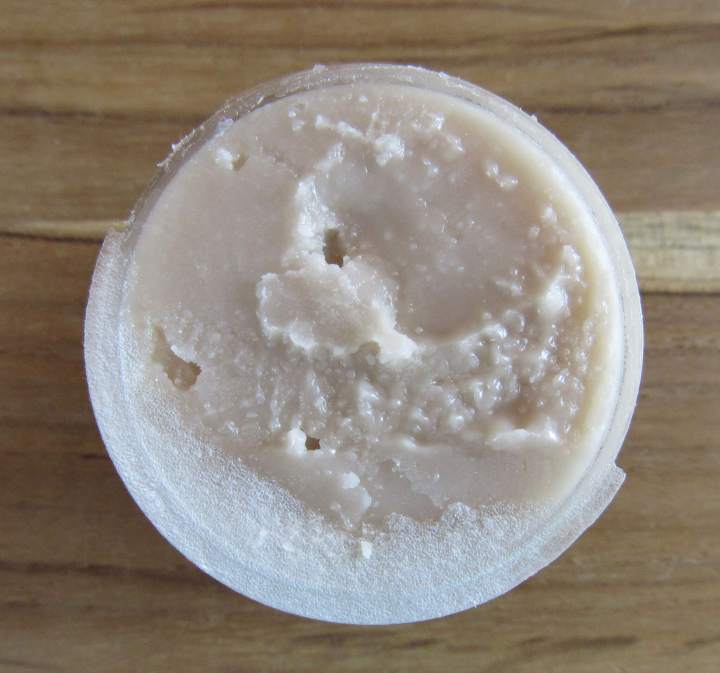 Faith's Natural Deodorant (2 oz, $5.00) smells good enough to eat! The lavender and vanilla scent is perfect for me. It passed the working around the house test. I will test it outside after the heat wave is over. I will buy the stick version in the fall if it holds up to working outdoors. I keep a spreadsheet of the items that interest me from subscription boxes. Does anyone else do that?
I am impressed with Heaven's Honey. The variety and brands are fantastic. The items selected each month shows a balance of items quickly consumed versus products that are used over a longer period.  Once again, it was a joy to learn about two businesses that are passionate about their products.  The value of the box is over $75.00. Overall, the variety is great, the ingredients are excellent,  and the selection reflects upon Heaven's Honey mission of wanting to provide an array of natural body products!
What did you think of Heaven's Honey? Save 15% on your first box with coupon code HELLOSUBSCRIPTION.
Visit Heaven's Honey Box to subscribe or find out more!
The Subscription
:
Heaven's Honey Box
The Description
: Heaven's Honey is a luxury subscription service that delivers an enticing package of natural body care products. Discover a wide variety of Artisan companies who offer quality products and uncover the benefits these products provide.Every month subscribers receive 5-8 quality, full/value size natural body care products. 1-2 Artisan companies will be featured every month and will create a package that they feel our subscribers will love. All products will be toxin and chemical free the way your body prefers it.
The Price
: $49.95 per month