Hamptons Lane is a luxury monthly subscription box catering to cooking enthusiasts. Each month Hamptons Lane sends out themed recipes along with 4-7 curated artisanal ingredients and a kitchen tool that you can use to make delicious food at home. Once you sign up, each month you'll receive an email describing that month's new box. You can choose to skip that month without any penalty (no later than the fifth of the month), substitute another box for the current offering or, if need be, you can cancel at any time.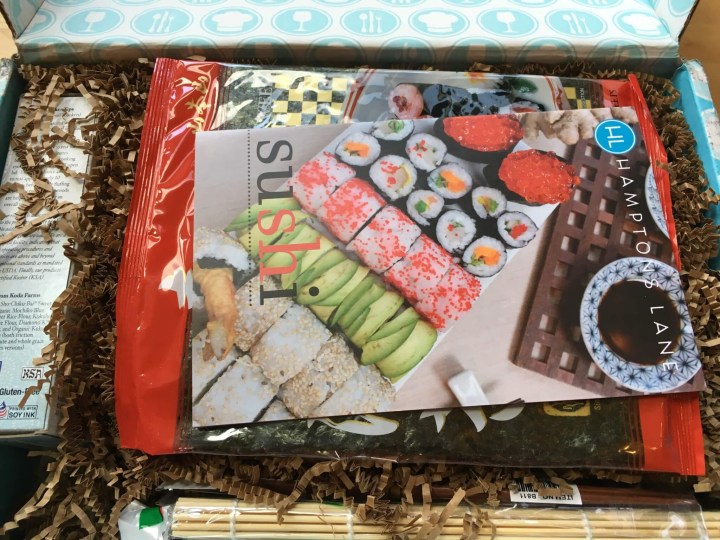 All supplies arrived well packaged in a beautifully decorated box!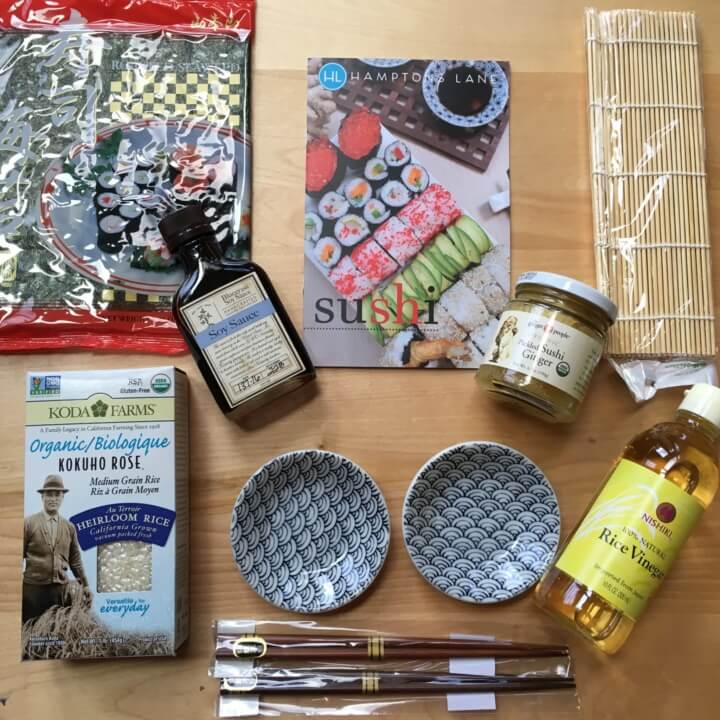 The theme for June was sushi! The box arrived full of things to help you on your sushi making journey: chopsticks, soy sauce bowls, a rice paddle, a bamboo sushi roller, rice vinegar, soy sauce, pickled ginger, rice, seaweed and a gorgeous recipe book.
The recipe book included gorgeous color photographs of all of the box's ingredients along with a guide to making sushi rolls, flavor combination ideas and a recipe for shrimp tempura rolls.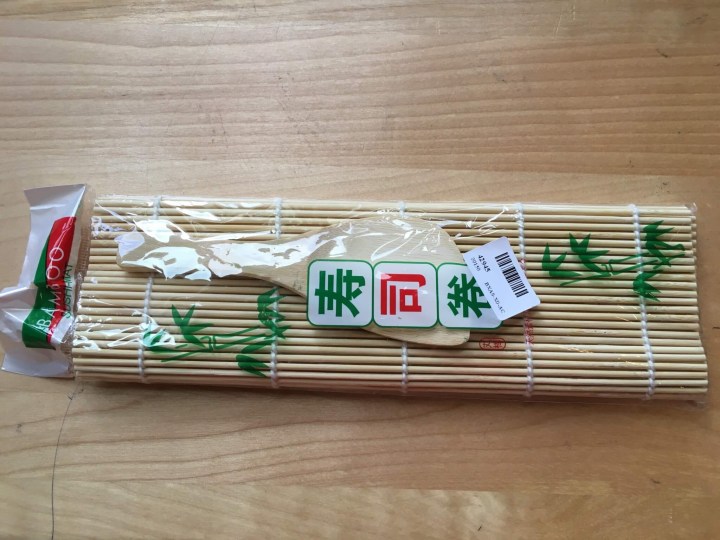 This bamboo sushi roller and rice paddle ($2.35) are both indispensable tools for the aspiring sushi chef. The roller allows you to roll your own rolls, whether you prefer traditional maki or inside out rolls, and the rice paddle helps to ensure both the even distribution of ingredients in and the even aeration of the sushi rice. Bamboo is ideal for both tools as it doesn't impart a flavor onto the sushi. As I was mixing the rice, I wished that the rice paddle's handle had been longer.
Hamptons Lane claims that both items were produced especially for Hamptons Lane. The picture of the rice paddle on their website, though, clearly isn't the picture of the rice paddle included in this set. Also, since the packaging of this set doesn't indicate that it was made for Hamptons Lane, I'm guessing a substitution occurred here.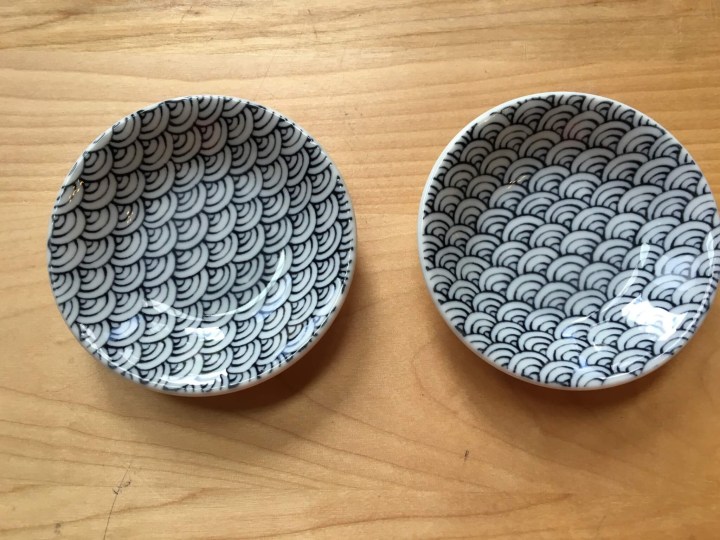 These two gorgeous bowls by Miya Company ($8)  are used to hold soy sauce for dipping. I couldn't help but notice the pattern on these! My daughter was wearing a top in the same pattern the day my Hamptons Lane Sushi box arrived!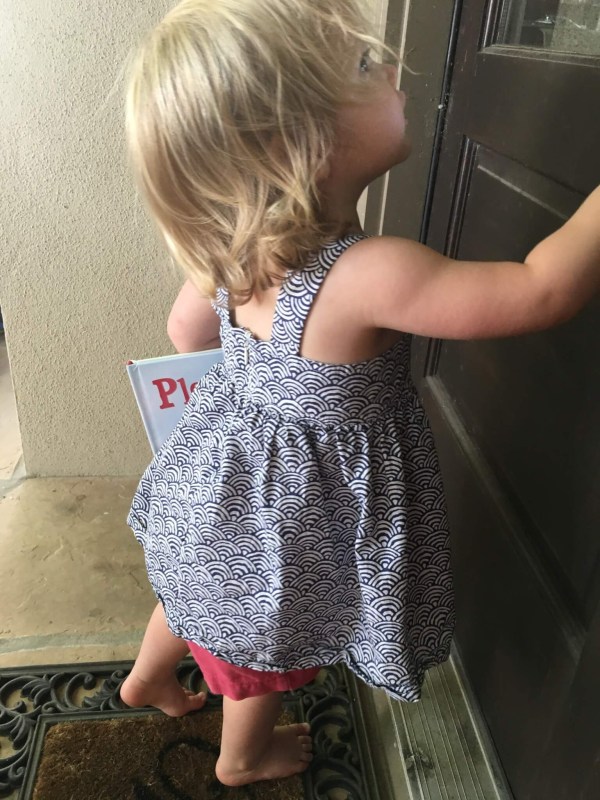 I never realized that this is a classic Japanese wave pattern called Seikaiha! I loved the pattern when I bought my daughter the top, and I loved receiving these plates with my Sushi box! Thanks Hamptons Lane!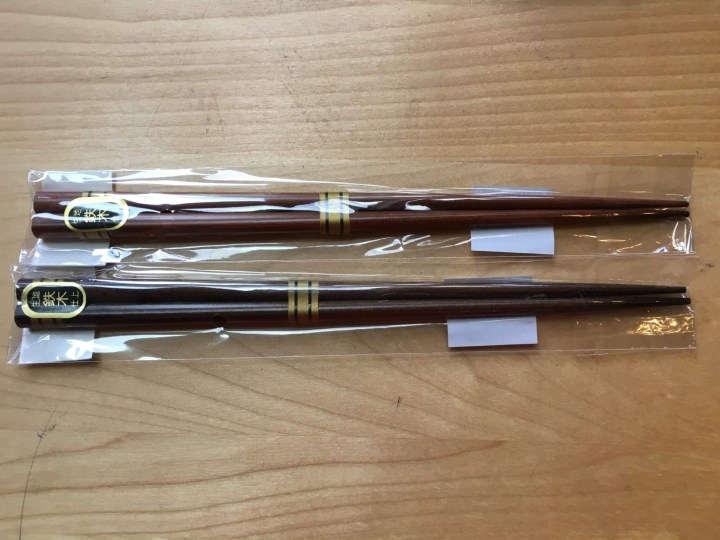 The sushi box also included two pairs of Miya Company's chopsticks ($6), each one a different, but similar, dark wood. These are gorgeous and sturdy! I look forward to using them again and again. Handwashing is recommended.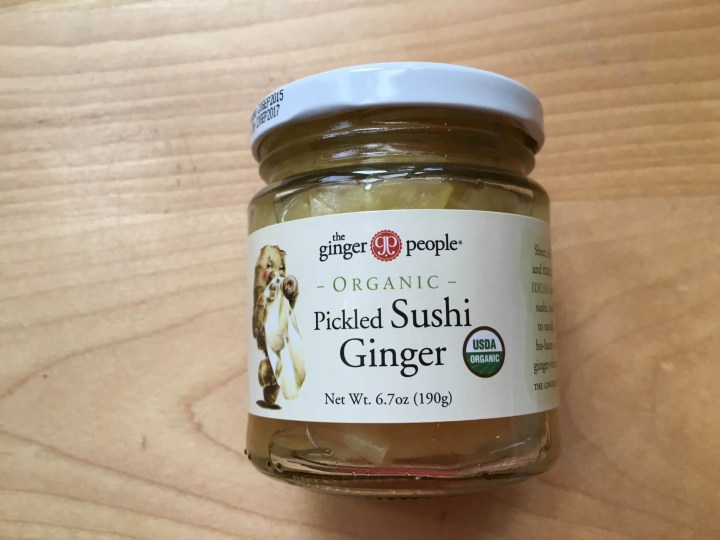 The Ginger People's Organic Pickled Sushi Ginger ($2.62 based on cost of 12) is delicious. It's a bit sweeter and more subtle than other pickled ginger I've had, but I love it nonetheless.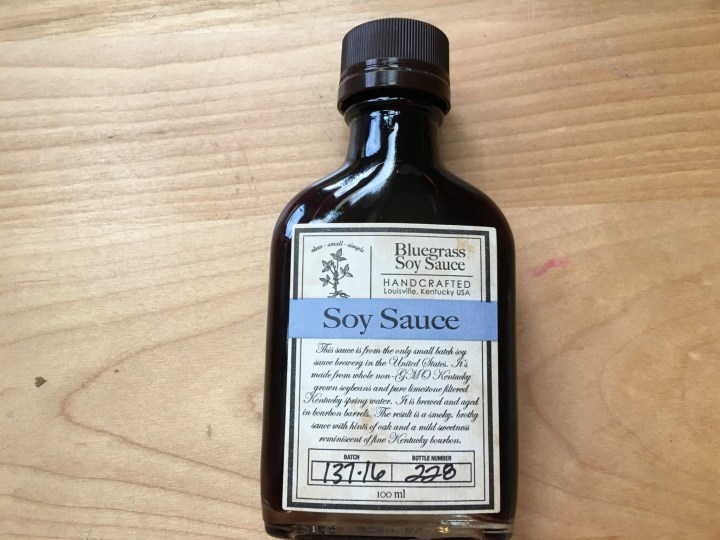 Bourbon Barrel Foods's Bluegrass Soy Sauce ($7) is microbrewed in Kentucky from non-GMO soybeans. It's aged in used bourbon barrels, imparting a mellow oakiness to its flavor profile.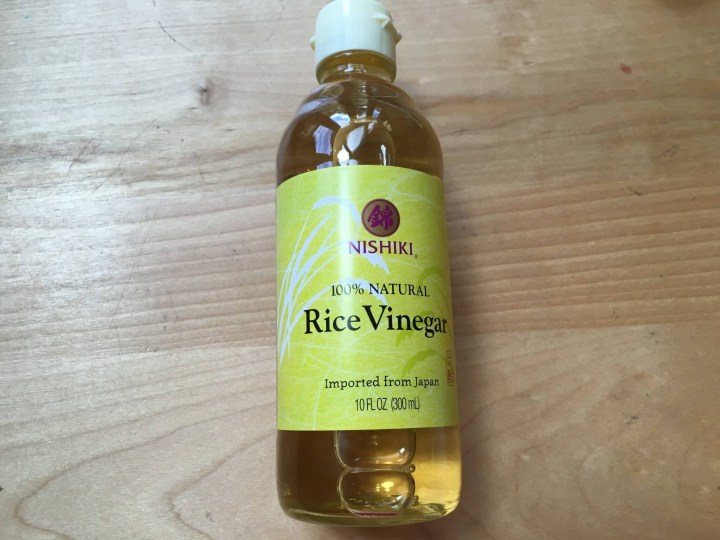 Nishiki's Rice Vinegar ($4.29 based on cost of 6) is imported from Japan and adds the perfect depth of flavor to the sushi rice. It also helps the sushi rice adhere to the seaweed.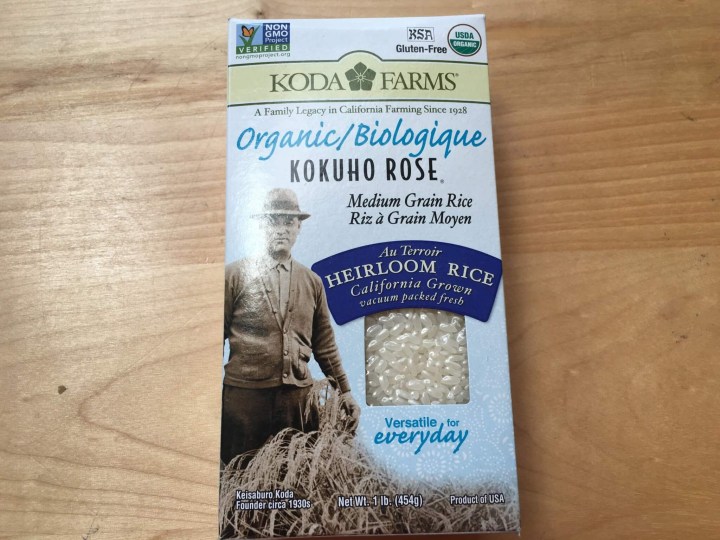 Koda Farm's Kokuho Rice ($5) is an heirloom medium grain rice that is organically grown in California. Originally produced as a specialty rice for Japanese Americans, it was the first premium medium grain rice introduced to the American market. To this day, it's only grown by the Koda family.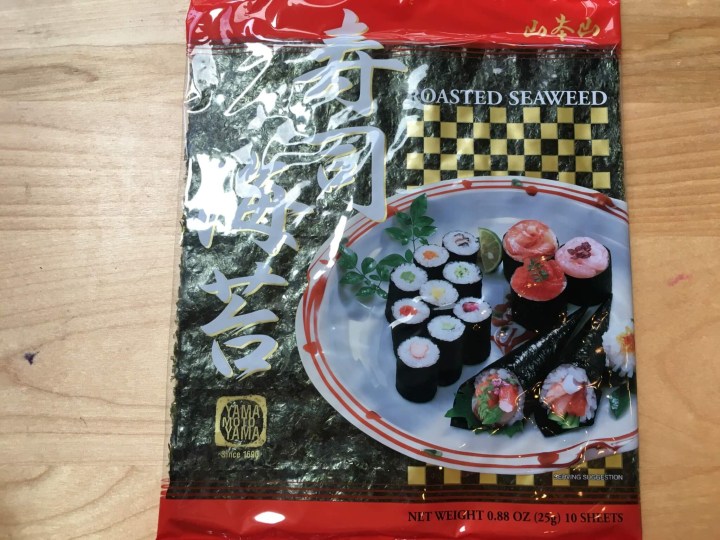 This toasted seaweed by Yamamotoyama ($3 based on the cost of 12) is an ideal product to use when creating sushi rolls. Once the vinegar in the sushi rice penetrates the seaweed, it becomes nice and supple.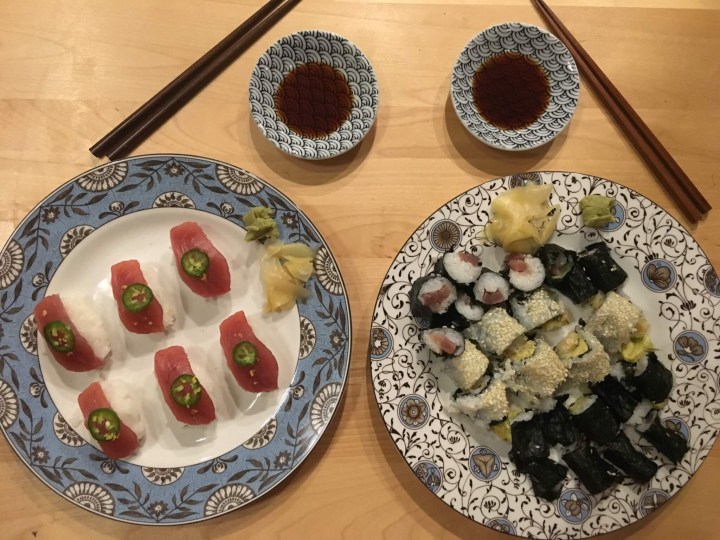 I had so much fun making sushi for my husband's and my date night this week! Alas, the rolls didn't look beautiful, but they tasted fantastic! They included different combinations of yellowfin tuna, cucumbers and avocado along with shrimp tempura inside out rolls. The shrimp tempura rolls were easily the best I have had. Next time, I'll buy a lot of extra shrimp and have extra shrimp tempura on the side. I also made nigiri with yellowfin tuna, lemon zest and thinly sliced jalapeño. These were the surprise stars of the night. They left my husband begging for more!
I love Hamptons Lane! I enjoy cooking with their boxes so much that I'd like to buy some of the old ones on my own to try out new skills and recipes. So far, every recipe I've made with them has been absolutely divine.
Do you subscribe to Hamptons Lane? How did your sushi turn out? If you haven't, get $10 off your first box with coupon code  hellosubscription10.
Visit Hamptons Lane to subscribe or find out more!
The Subscription
:
Hamptons Lane
The Description
: Each month, Hamptons Lane curates an amazing box of artisan foods, kitchen tools, and serveware for the food lover. Each month is different – spotlighting a different region, food, ingredient, skill, or activity – and you can always skip if you don't want that month's box, free of charge.
The Price
: $47.00 per month