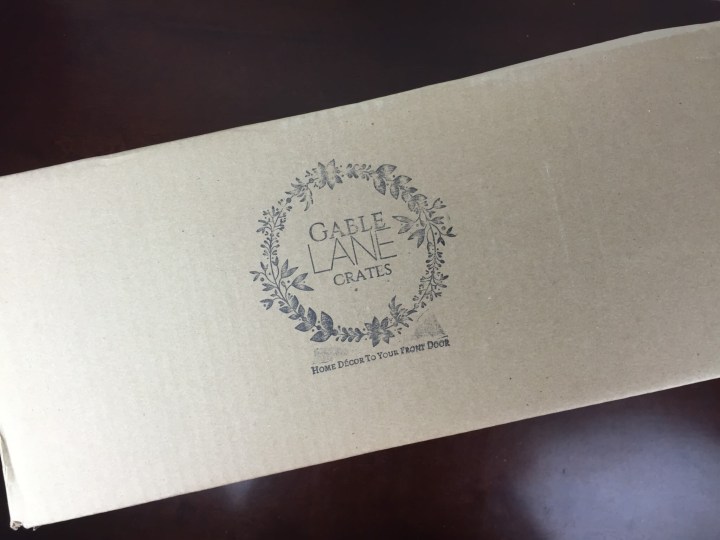 Gable Lane Crates is a monthly subscription box dedicated to make your home decor shopping easier. If your decor veers towards rustic, cottage, farmhouse, urban or vintage, you'll definitely enjoy opening this box every month.
The subscription is a little hard to grasp – here's how it works:
Gable Lane pre-announces the box themes. There are two every month, plus special edition boxes.
Sign up for one crate during the announced sale period, or a three box series. (If you can stand it, I recommend waiting for spoilers because if you buy in advance all you have is the name of the box to go on).
Your box will ship during the month you bought it for.
There are two sizes of box –  $49.95 per month for the original and $89.95 for the exclusive. You'll get a box filled with home accessories and decor to liven up the rooms of your house.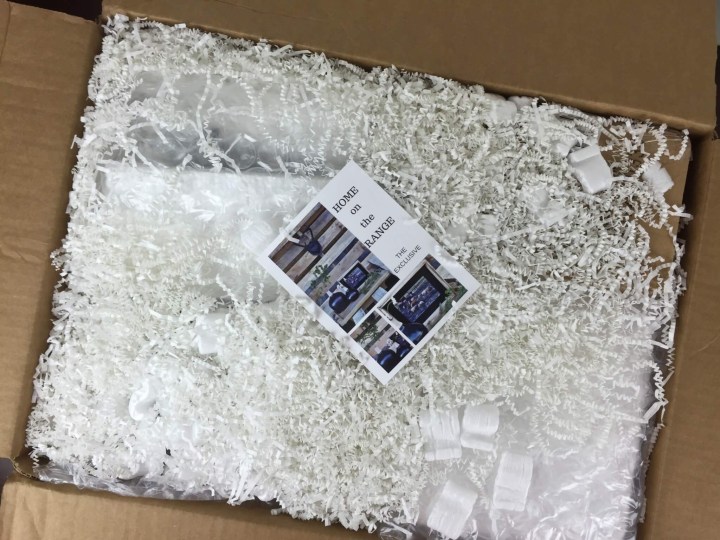 This box is a Exclusive Home on the Range Crate. The price was $89.95 + shipping.
This box was VERY VERY big.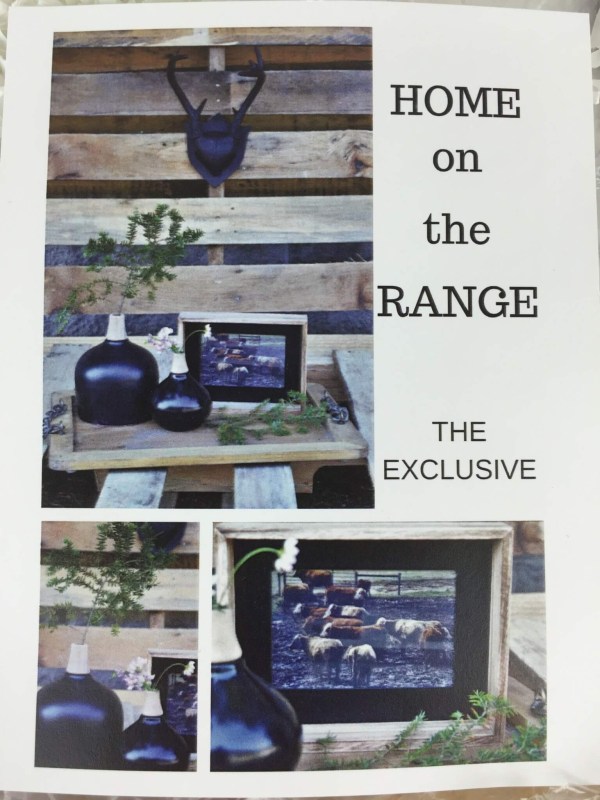 The Exclusive boxes are the larger size of box and the contents vary somewhat from the other boxes.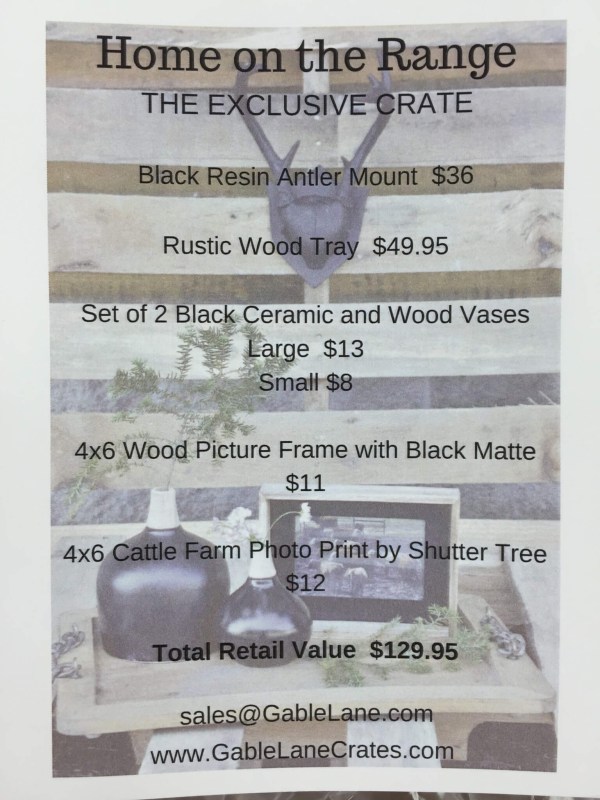 The information card shows a list of all the items included, as well as their prices.
Everything in the Home on the Range box!
Rustic Food Tray ($49.95) Love this big tray! If you want trays – and large ones – this subscription is for you, especially if you're of the farmhouse ilk. This tray has already made it into quite a few photos on the blog – and we've found it convenient to use too.
I like the nice rounded corners and that the handles fall out of the way.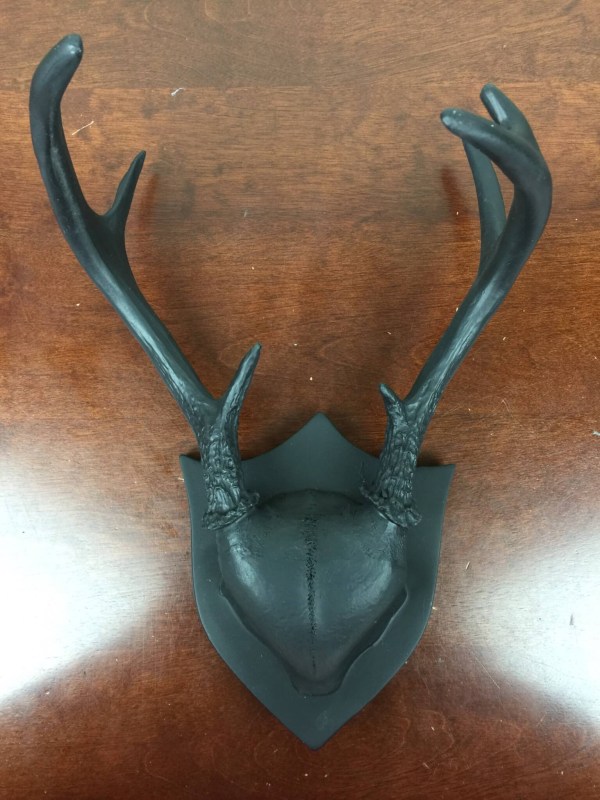 Black Resin Antler Mount ($36) This is going right on the wall in our kids' adventure themed room, it will fit right in.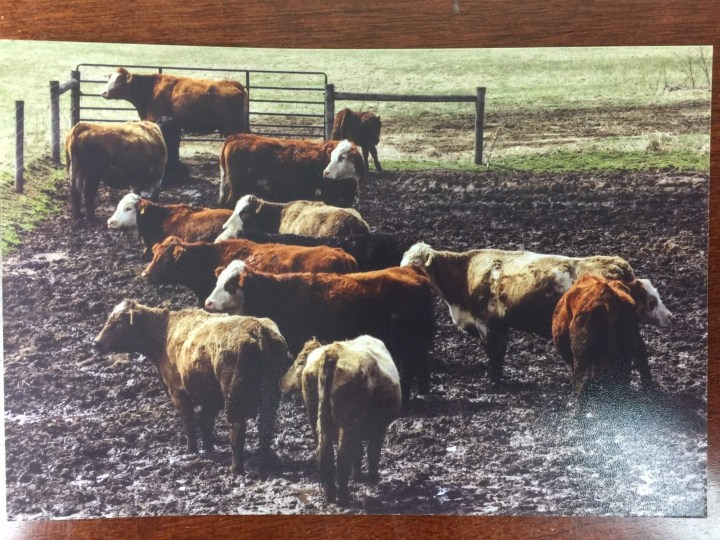 4 X 6 Cattle Farm Photo Print by Shutter Tree ($12) This is a picture of cows.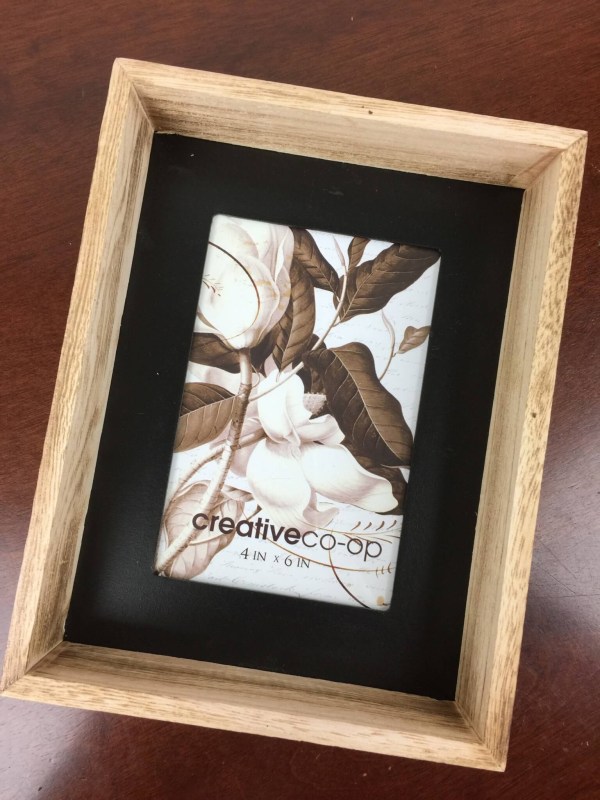 4 X 6 Wood Picture Frame With Black Matte ($11) I was really excited about this frame. After years of moving we're finally trying to find frame-homes for our favorite photos and get things on the walls.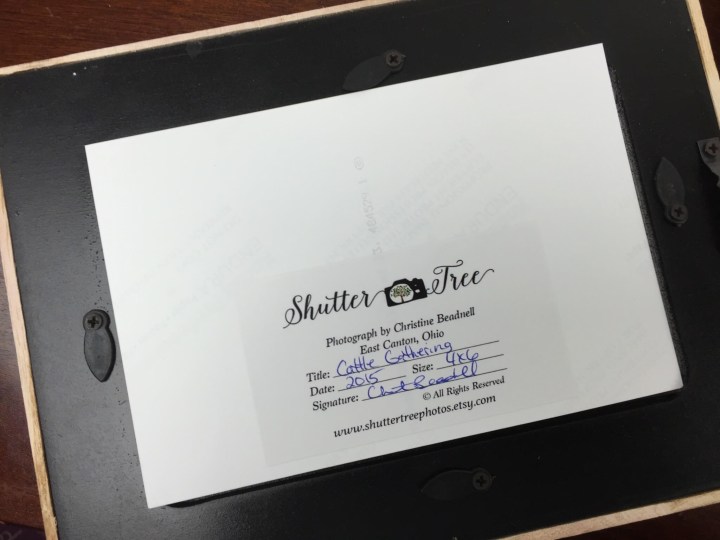 Unfortunately this frame doesn't actually fit a 4×6 print. We measured the print, it's not some weird size. I'd be happy to cut up the picture of cows to make it fit, but I doubt I'll add a cow photo to my walls. I'll find something else that works for this.
Set of 2 Black Ceramic and Wood Vases in Large ($13) and Small ($8) Some nice rustic accents for this theme! They'll fit in nicely to add a pop to a white bookcase.
I do really like this subscription but I think in the future I'll just buy individual boxes if I like the spoilers. Sometimes I've found myself liking the original (smaller) box better and some themes just aren't me. Gable Lane Crates does an excellent job of advertising the themes and spoilers (which we post here).
Have you tried Gable Lane Crates? What did you think of this month's box?
Visit Gable Lane Crates to subscribe or find out more!
The Subscription
:
Gable Lane Crates
The Description
: Gable Lane Crates are the new way to shop for home decor. We bring you trending home accessories for a different room in your home, delivered once a month.If your style pulls from a farmhouse, rustic, cottage, vintage or an urban styled home, you're sure to love the contents of our crates. The element of surprise is part of the fun!
The Price
: $49.95 per month