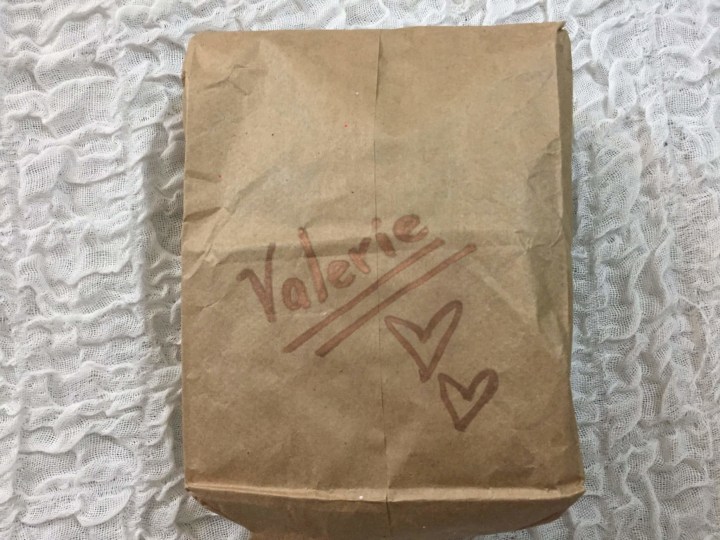 FVS Nail Polish is based out of Alberta and makes awesome vegan, cruelty-free polishes! They sell the polishes individually in their Etsy shop but also have a monthly subscription box! Because of the possible mail disruption with Canada Post, the owner graciously offered to send me all three months at once which I really appreciate! When you subscribe you can choose between cremes, shimmers, holos, and glitters — I chose mixed, as I wanted to try a little bit of everything!
Everything arrived safe and sound — while the brown paper packaging was pretty nondescript, the goodies inside were anything but! Warning: glitter! There was a lot of loose glitter, which I mostly cleaned up for the below photos. (Most of the glitter landed on me. I'm sparklier than a vampire in Twilight.)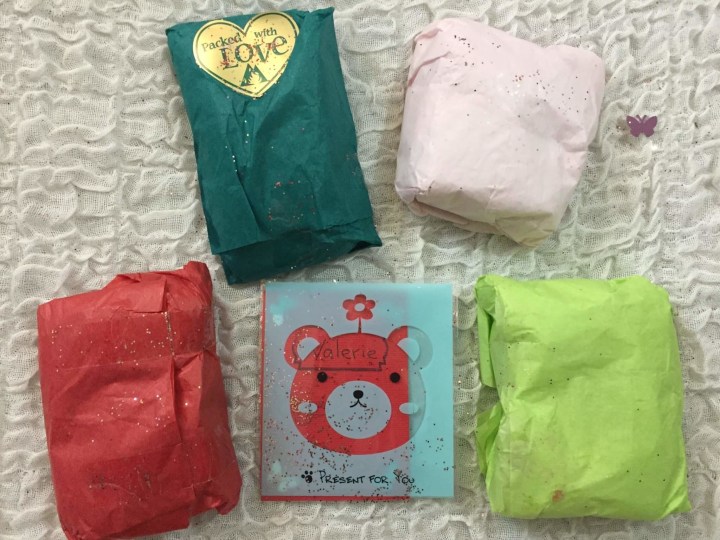 Everything included! (See what I mean about the glitter?)
I swatched five of the seven polishes on my nails — the photo will be at the end of the breakdown!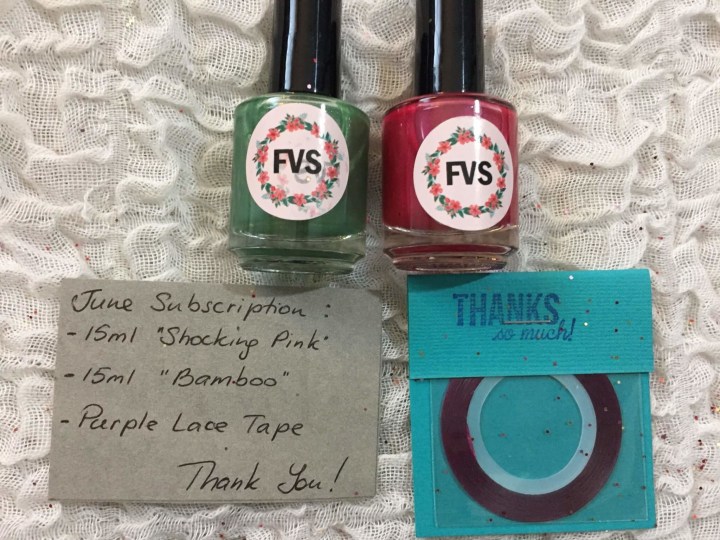 June included polishes in Shocking Pink, a shimmery raspberry pink, and Bamboo, a shimmery green I really like! I think these are great summer colours. Bamboo is the more sheer of the two — I had a hint of visible nail line after two coats but I think three would have been perfect. Shocking Pink was opaque after two coats.
Lace tape was also included! Make striped designs on your nails using this purple tape — I think it would look particularly awesome with either the pink or the green polish!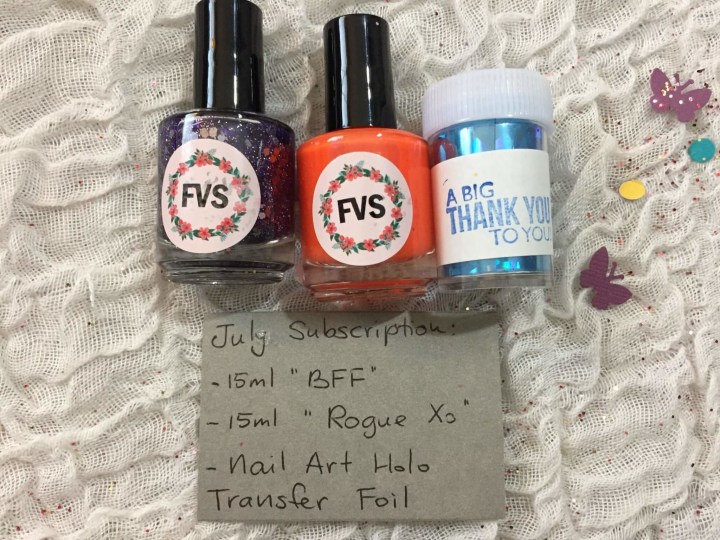 July included a fantastic creme polish in a gorgeous orange called Rogue Xs. No shimmer to this one, it's just a lovely creme that was fully opaque after two coats. BFF is a purple and silver glitter — I didn't swatch this one just because it can be a pain to remove and I couldn't commit to doing a full manicure tonight. I was also sent holo transfer foil to try my hand at a new (to me!) style of nail art — just press a sheet of the foil to your nail, leave it for 90 seconds, and then carefully peel off to have a neat graffiti effect. I can't wait to try this!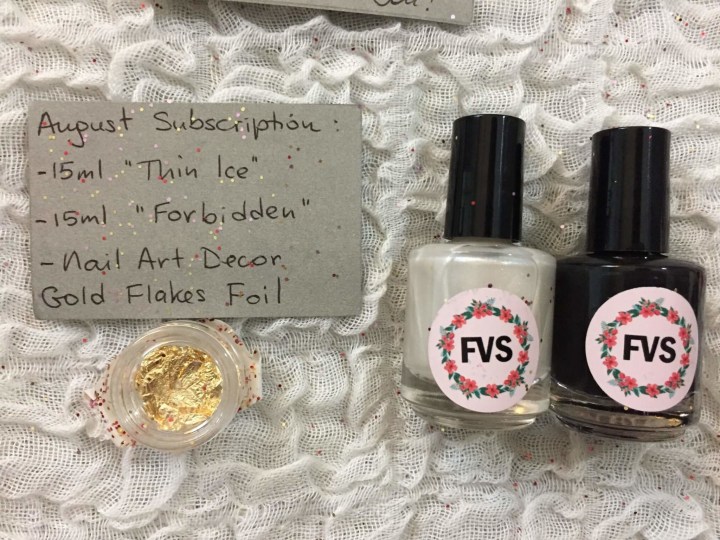 August featured monochromes! Thin Ice is a mother of pearl shimmer, which has a really nice pearly finish but was fairly sheer — like Bamboo, I think a third coat would have been perfect. And Forbidden is a creme black that was actually opaque with just one coat! I was also sent gold flake foil, which I think would look great on the white but AMAZING over the black… I'm getting ideas already.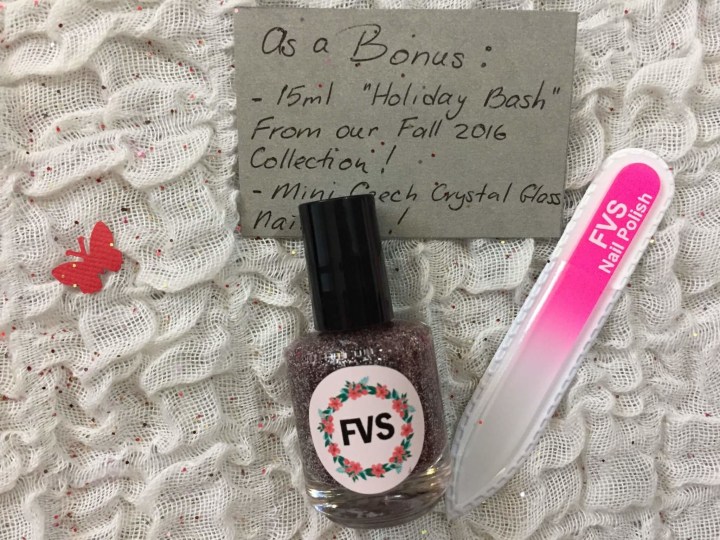 Some bonuses were included! I love crystal files; they don't pull or tear at the edges of your nails. And the Holiday Bash is such a cool glitter — again, I didn't swatch, but it's great. A burgundy base with silver glitter — love it.
Swatches! From top to bottom: Bamboo, Shocking Pink, Rogue Xs, Thin Ice, Forbidden. All with two coats.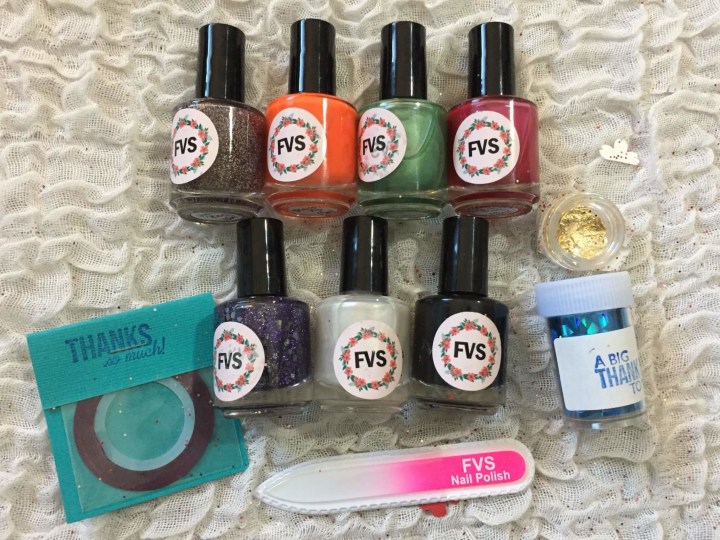 I really enjoyed trying FVS Nail! I loved the variety of colours I was sent, and I like that you can choose what finishes/styles you prefer for your subscription. The bonus item each month was also a great complement as well. Best of all, the polishes are 5-free, vegan, and cruelty free as well — I feel good about wearing their polish on my nails! I could do without the rainstorm of glitter, though!
Which FVS colour was your favourite? Let us know below in the comments!
Visit FVS Nail Polish Monthly Subscription Box to subscribe or find out more!
The Subscription
:
FVS Nail Polish Monthly Subscription Box
The Description
: If you LOVE surprises or sometimes you just cannot make up your mind – this is made for YOU! This is also Your perfect opportunity to expand your FVS Nail Polish Collection at no hassle to you. You will receive FVS Nail Polishes as well as minor nail art accessories such as Lace Tapes, Rhinestones, Nail Art Foil Flakes, etc.
The Price
: $31.42 per month