FaithBox is a Christian company that seeks to help strengthen your faith in God with their devotional and bring joy with their great products from companies that do good.    With the purchase of each box they provide 3 meals for hungry children through a partnership with Rice Bowls.  In 2015 they were able to provide over 100k meals for hungry children.  Plus, you get a box full of cool stuff in the process.
Feeding hungry children should transcend all political and religious ideologies.    I don't care who you are, feeding hungry babies is a good idea.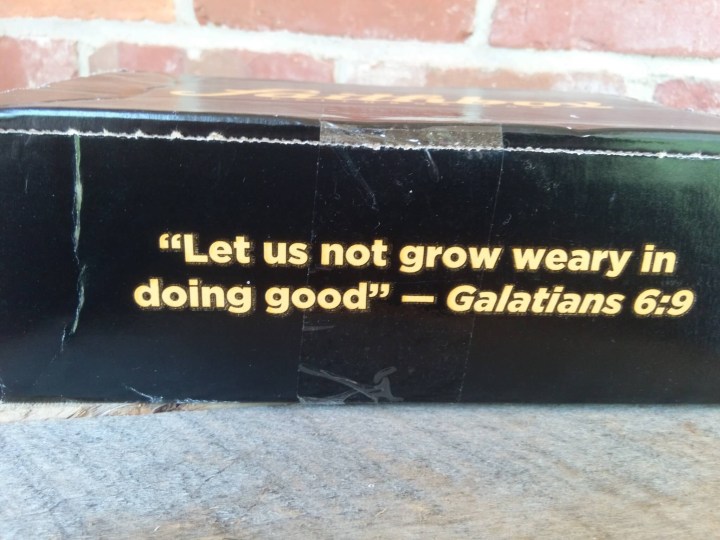 You can subscribe to Faith Box with a month to month plan, a 3 month plan or a one year plan.  With the month to month plan you pay $20 plus $5 shipping each month.  The 3 month plan reduces the price per box to $19 plus $5 shipping when you pay for 3 months ahead of time.  For the best price per box you can pay for one year at a time and get each box for the price of $17 per box plus $5 shipping.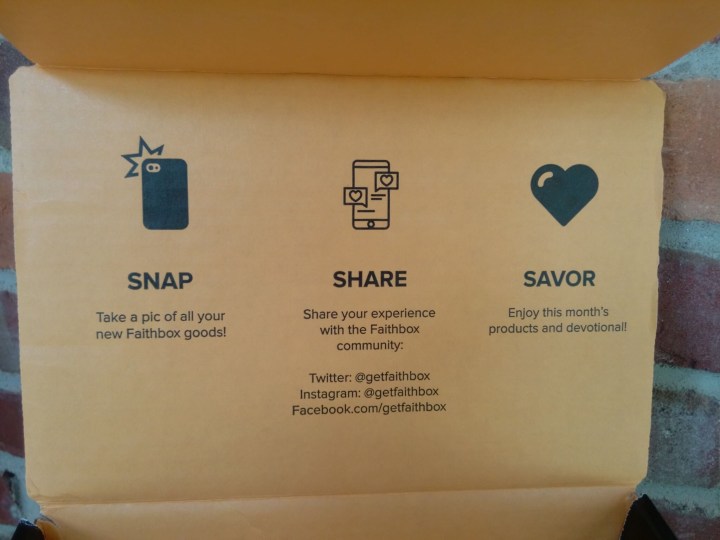 The inside of the top of the box invites you to share your Faithbox experience with others.
All of this goodness was in the box.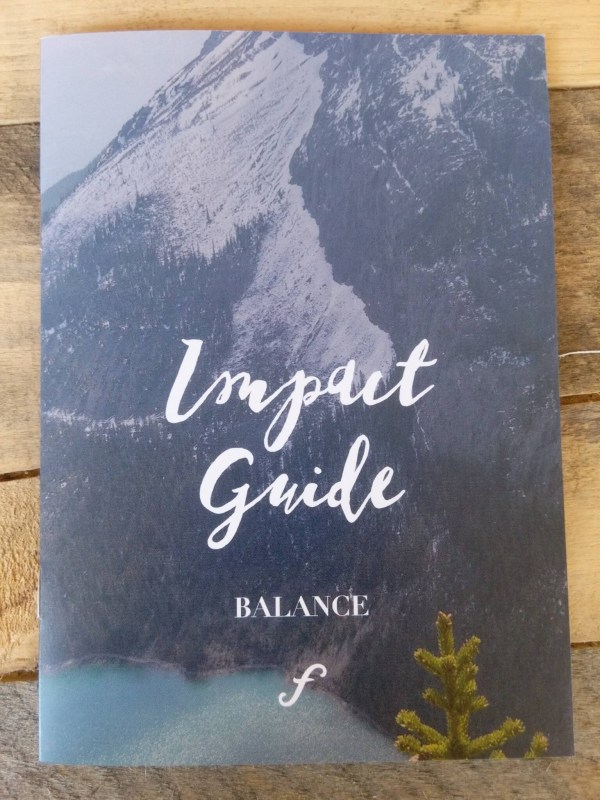 The Impact Guide in each box will give you a detailed description of each product in the box and tell you a little about how the companies that make each one are striving to impact the world for good.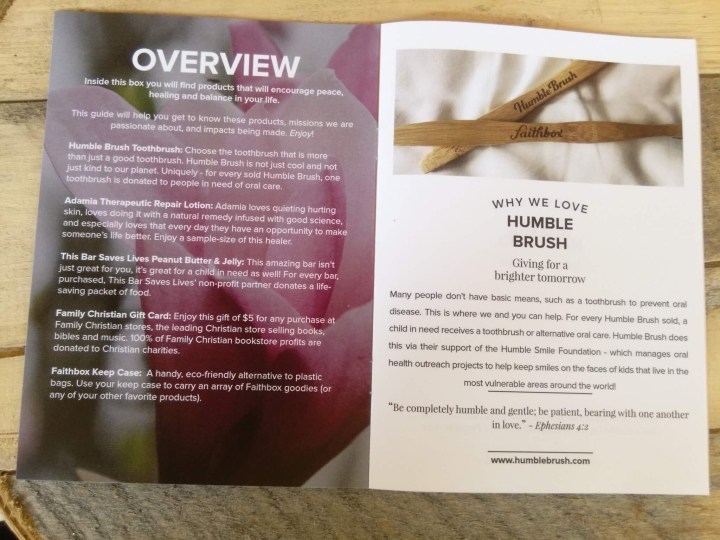 The Impact Guide really goes into detail with a glossy picture for each product, a description of the product and the company that makes it, and a verse that corresponds to the products.



This is awesome.  I mean, it is a wooden toothbrush.  Everybody needs one.  And, for everyone that is purchased, one is donated to a child in need through the Humble Smile Foundation.  Cool.  Cool.  Cool.  The Humble Brush is, according to their site, the world's most sold eco-friendly toothbrush.  The brushes are made from naturally sustainable bamboo and all processing and production up to the packaging is all done by hand.  I found them on Amazon for $4.99.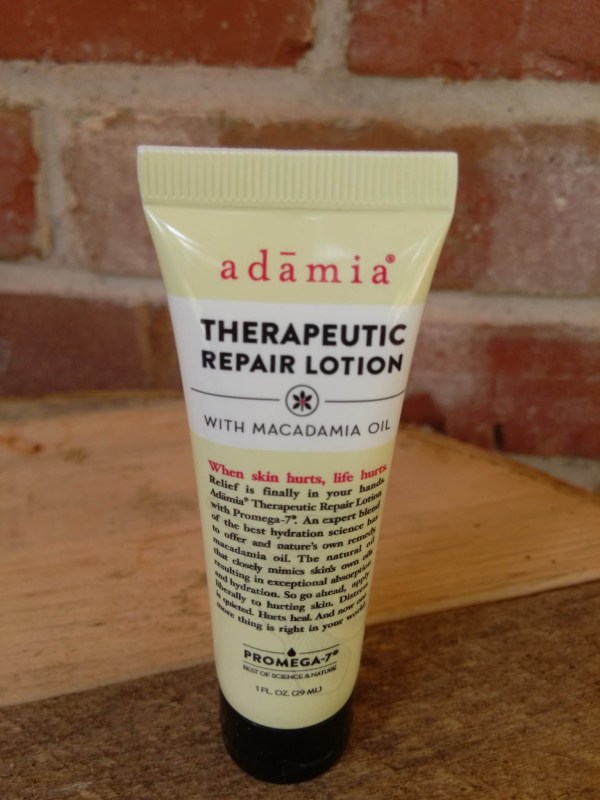 1oz Adamia Therapeutic Repair Lotion with Macadamia Oil: "Adamia found a tree simple in natural beauty but comlex in its skin-health benefits – the macadamia tree.  Because macadamia oil is most like skin's natural oils, it penetrates like no other lotion to restore health to skin and peace to living.  This ancient remedy has worked for centuries.  And that's why Adamia uses it to change lives today."
It is dermatologist tested, fragrance free, non-allergic, non-greasy, has excellent absorption, and is clinically proven to improve distressed skin.  I found a 4oz bottle on Amazon for $9.99.  It really has no fragrance, not even a chemical smell.  This lotion is perfect for my second daughter.  Her sensitive skin can't tolerate fragrance filled products.  Her hands get so dry from washing and it is hard to find a lotion that doesn't make them worse.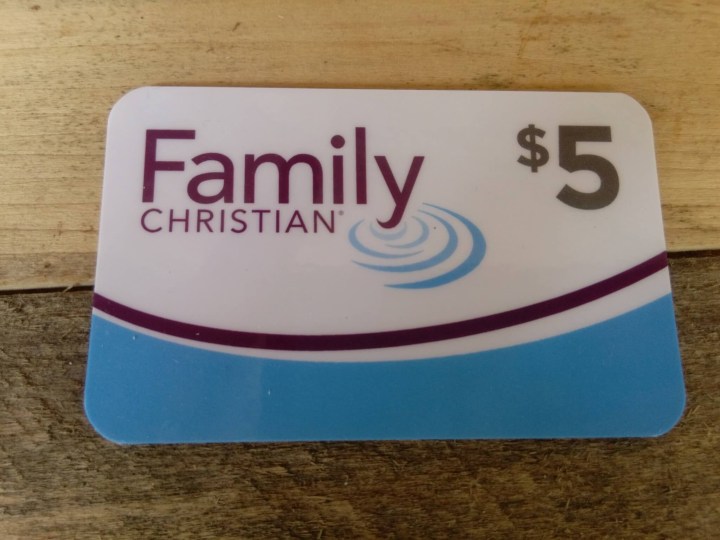 This $5.00 gift card to Family Christian was in the box.  "Family Christian loves carrying products that help you grow your faith and share it with others.  And that's not all they love doing!  They love giving back – and this giving isn't possible without YOU.  You see, when you shop with Family Christian, your purchases support their efforts to unite with ministries that are helping children and families in need around the U.S."
This gift card is perfect to keep in my purse to hand to a Sunday School kid when they run up and hug the back of your knees and scream, "Did you know it was my birthday?!!"  "Yes, yes, I did.  (Lying in church.) Here's a giftcard from Family Christian for you."
This Peanut Butter & Jelly granola bar from This Bar Saves Lives was in the box.  It really had the taste of a PB&J, but the texture of a chewy granola bar.  It was good.  You can order a box of 24 on the This Bar Saves Lives site for $24.99.
"The Peanut Butter & Jelly bar will bring back the best memories from your childhood.  They're packed with crunchy peanuts, sweet strawberries, and creamy peanut butter.  All-natural, non-GMO, gluten free, kosher, and just plain awesome.  For every bar you buy, a packet of life-saving food is given to a child in need."
If you are keeping track that is 4 meals and a toothbrush going to the needy from the purchase of this box so far.
This zippered bag was in the box.  "With all of the amazing products included in this box, we wouldn't for a second want you to lose them!  Use this case as an eco-friendly alternative to plastic bags.  Whether it's carrying around your Faithbox products and devotional, other toiletries, or art supplies, we've got you covered."
I like that the bag is simple and not overly feminine.  It would be suitable for anyone who wanted to use it.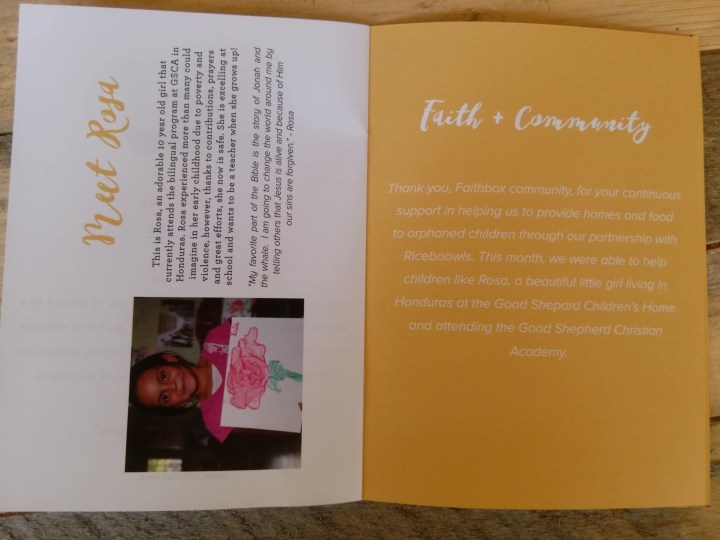 This page of the Impact Guide introduces you to Rosa, a child who has been impacted in a positive way by the donations from Ricebowls to her school in Honduras.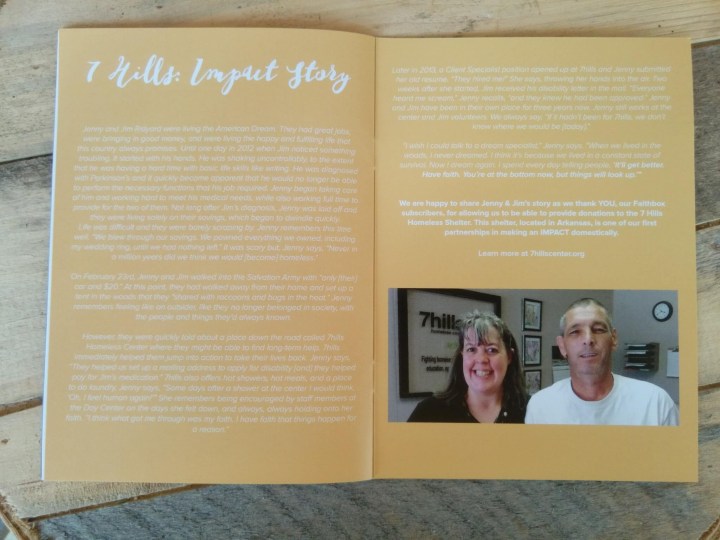 The last page tell us about another set of lives impacted by donations from Faithbox to a homeless shelter.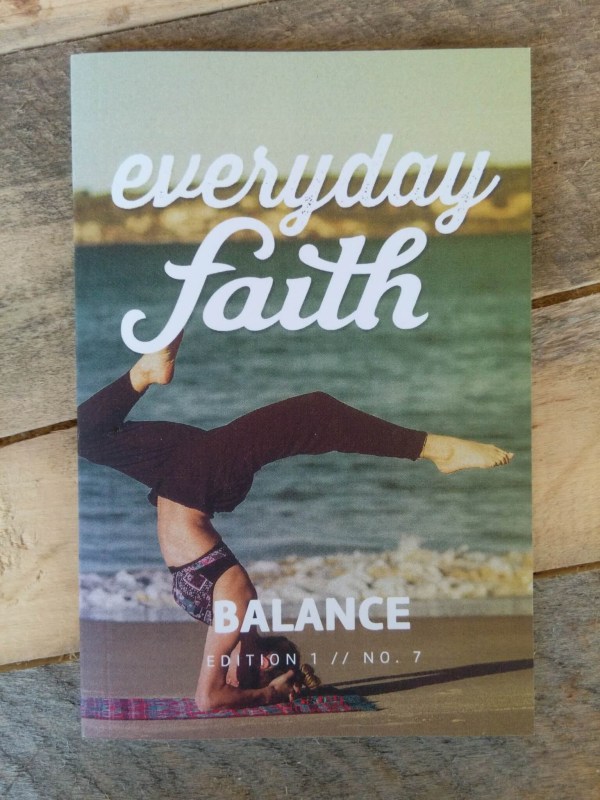 This is their monthly devotional book, Everyday Faith, that was in the box.  They are now offering a monthly subscription called Every Day Faith for just their devotionals.   If you pay month to month you can get the book for $8 a month, shipping included.  If you prepay for the year the price drops to $6 a month, shipping included.  They also provide meals to 3 children for each of these purchased.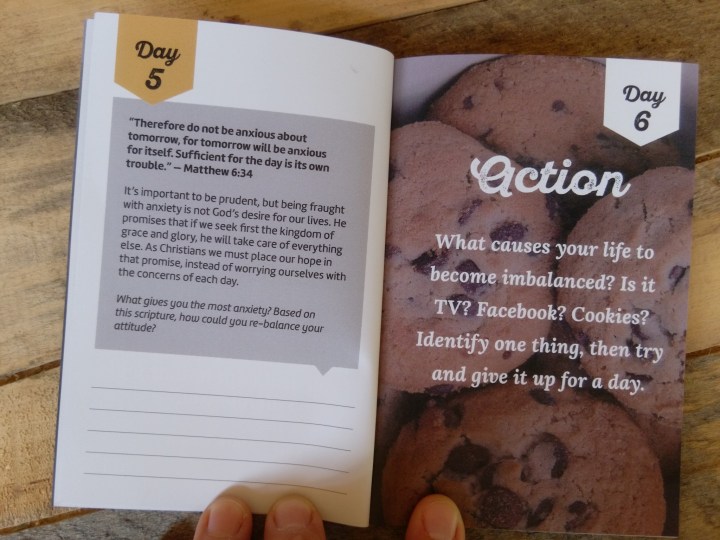 Each day is numbered 1-30, but not dated so you can start whenever you want.  Most days begin with a verse from the Bible, a couple of sentences elaborating on the verse and encouraging you in the faith, and then end with a challenge to bring the verse to reality in your life (plus space to write down your own thoughts).  Other days just have challenges for you, like "Day 6" above.
Faithbox is a monthly subscription box that gives to others and at the same time sends you a box of awesomeness to your door.  Be encouraged and encourage others.  Save $5 on your first box with coupon code SAVENOW.
Visit Faithbox to subscribe or find out more!
The Subscription
:
Faithbox
The Description
: Faithbox inspires positive Christian living by helping people grow in their faith, impact their community, and discover meaningful products. Faithbox hand-picks the products from companies and organizations who share our vision of a triple bottom line: people, planet, purpose.
The Price
: $25.00 per month