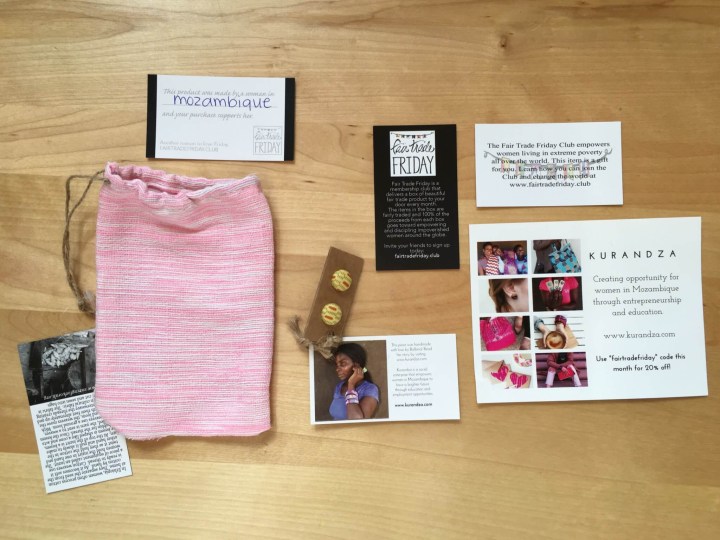 Fair Trade Friday is a monthly subscription that is committed to empowering women around the world. Sponsored by Mercy House Global, a non-profit group, it's committed to helping women overcome poverty by providing them with jobs and an outlet through which they can distribute their goods. All of the money earned from subscriptions to Fair Trade Friday goes toward the empowerment of impoverished women as an entry point to sharing the Gospel of Christ with them.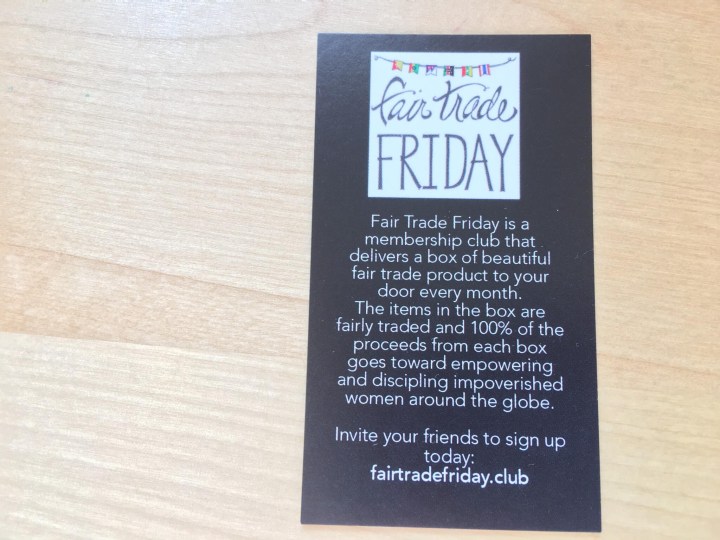 Fair Trade Friday operates three different subscriptions: the original box that includes 3-4 surprise items each month; the bracelet of the month box that includes 1 bracelet each month and the earring of the month box that includes one pair of earrings each month. All items in each of the different boxes are fairly traded. This review covers the earring of the month box for July.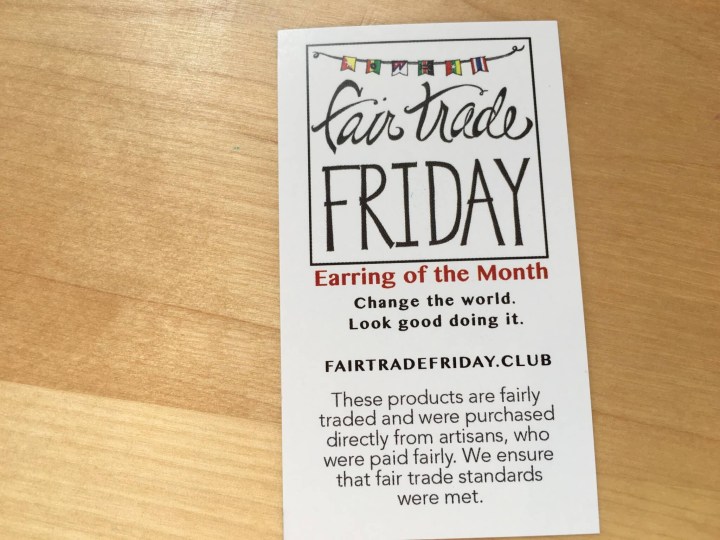 I love the motto of this subscription:
Change the world.

Look good doing it.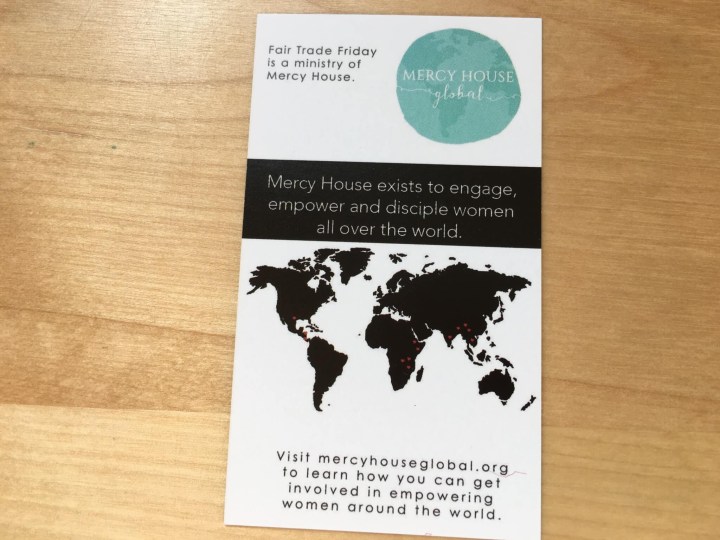 This box is a ministry of Mercy House Global, an organization dedicated to engaging, empowering and discipling women around the world. Mercy House Global partners with 42 faith-based organizations in 24 countries world-wide to bring their vision to life. This month, they partnered with Caring for Korah and Kurandza in developing and distributing the items found in their earring of the month club.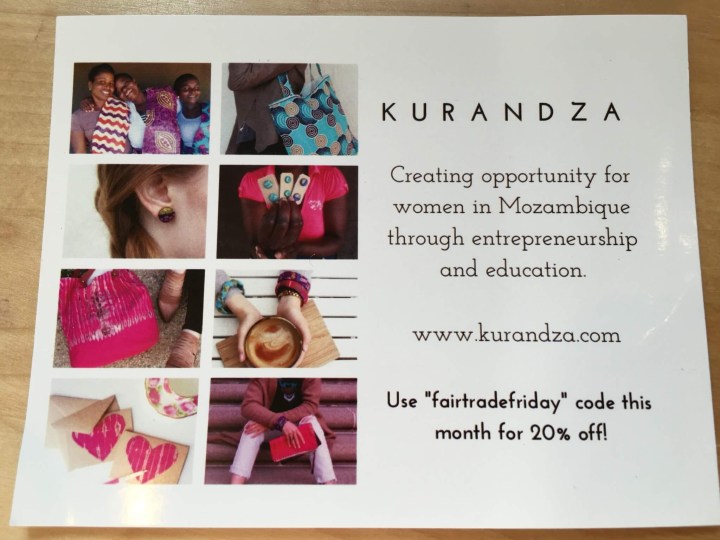 Mercy House Global collaborated with Kurandza (a word meaning "to love" in Changana), an organization dedicated to educating and empowering women in Mozambique, to produce this month's earrings. I love that they sent me a coupon for 20% off a future purchase!
This month's earrings were produced by a woman in Mozambique, and money earned from my box's sale will go directly to supporting her.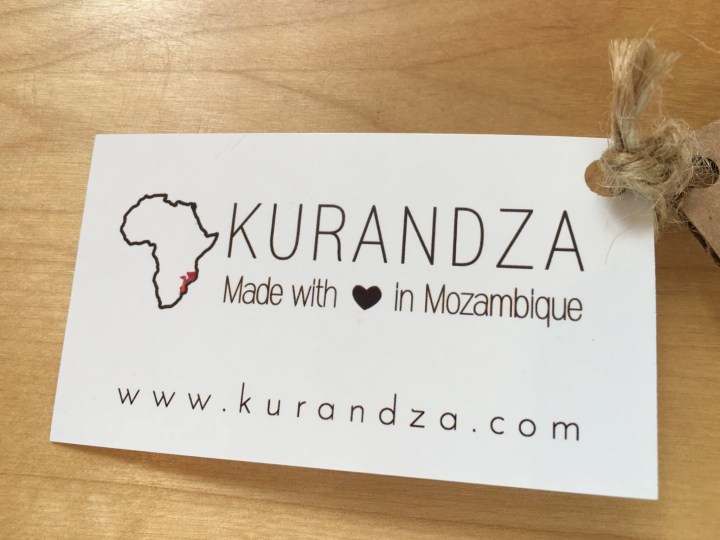 A woman named Balbina hand-crafted my earrings this month. Unfortunately, I couldn't locate her story online, although her picture is listed among the eight artisans who partner with Kurandza.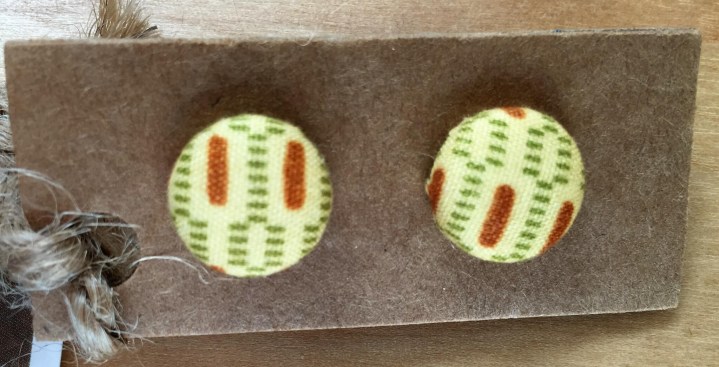 I love these earrings ($20)! I've been searching for completely smooth studs that don't protrude too much, and these fit the bill perfectly! I highly recommend them for moms of small children who want to wear earrings, but don't want to cut or injure their little ones in the process! I also like the fabric choice on these. They'll go perfectly with a skirt I made myself last year.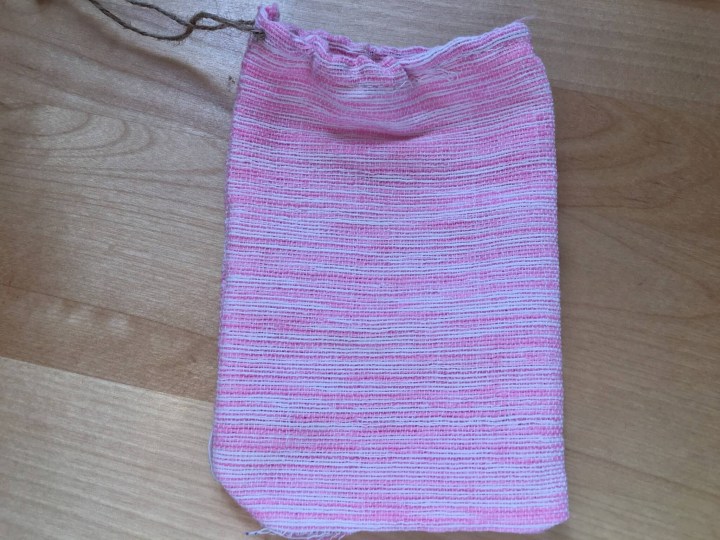 In addition to the earrings themselves, I received a gorgeous, soft cotton pouch for storing them.
The cotton used to produce this pouch was processed by women in Ethiopia. After separating the cotton from the seed by hand, women use inzirts to render the cotton into yarn. Once the cotton thread is wound around the top part of an inzirt, called a kesem, the kesem is forwarded to weavers who use ground looms to produce fabric. This fabric is then cut and sewn together to produce lovely bags like the one showcased in this month's box. I love this fabric! It's soft and very beautiful. I only wish it had been sewn better. The bottom seam is unraveling, and the material is becoming frayed. I wish I had a serger! I'll try to resew the bottom seam with my sewing machine and see what happens (I love this pouch, so it would be a shame not to be able to use it!).
I love that Fair Trade Friday includes a gift card with each purchase. That way, had I wanted to regift these earrings, I could easily, all while promoting Fair Trade Friday and its mission. Although I intend to keep and wear these earrings, I'm sure there will be some months where I'll want to save them for Christmas gifts, and this is perfect for that!
I absolutely loved my first installment of Fair Trade Friday's Earring of the Month Club! I thought the earrings and the pouch were both gorgeous, and I loved reading about the artisans who produced them and the organizations that support them. I can't wait to receive my next installment!
Visit Fair Trade Friday to subscribe or find out more!
The Subscription
:
Fair Trade Friday
The Description
: Fair Trade Friday Earring of the month club, delivers a high quality, stylish pair of fair trade earrings to your mailbox every month! From the people who brought you the original Fair Trade Friday box delivered to your door each month comes something just as fabulous .100% of the proceeds from each pair of earrings goes to the empowerment of oppressed women as an avenue to introduce them to the Gospel.
The Price
: $11.99 per month