EsianMall has entered the scene with two boxes, a Snack box and a Beauty box. Focusing on items from Asian including Korea, Japan, and elsewhere, these two boxes are here to introduce you to new goodies you've never tried before! This is a review for the snack box, which is available in three different sizes (mini $15, regular $25, premium $35). Boxes are shipped towards the end of the month.
The yellow is so cheerful, and I love the butterfly theme.
Here's the first look! I see lots of colourful treats and quite a bit to read through.
Every EsianMall box (snack and beauty) include a yellow tag. Collect the tags for different levels of prize. Random coloured tags are given out in June and December. Obviously if you subscribe to both boxes and for a longer amount of time, your odds of winning increase! I think this is a really cool idea — and I think the girl on my tag this month looks like me!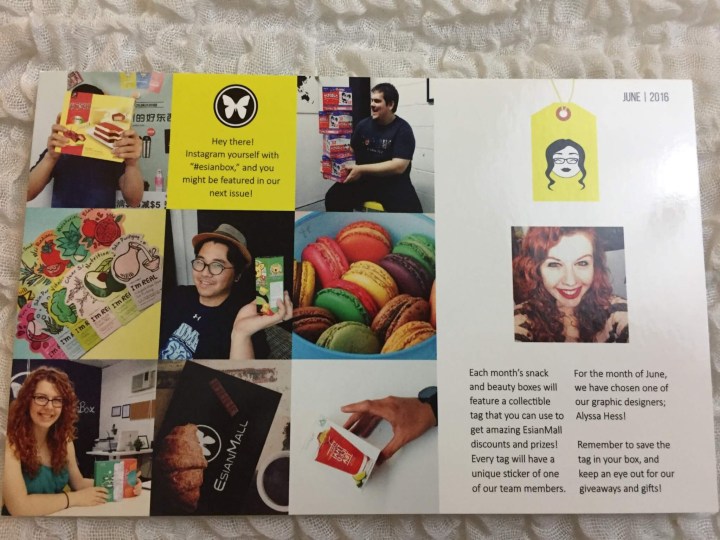 Collage of social media posts with information on how and where to tag your unboxing and reviews!
On the back is the product information, and I like the way it's laid out! This is the June Premium Box ($35).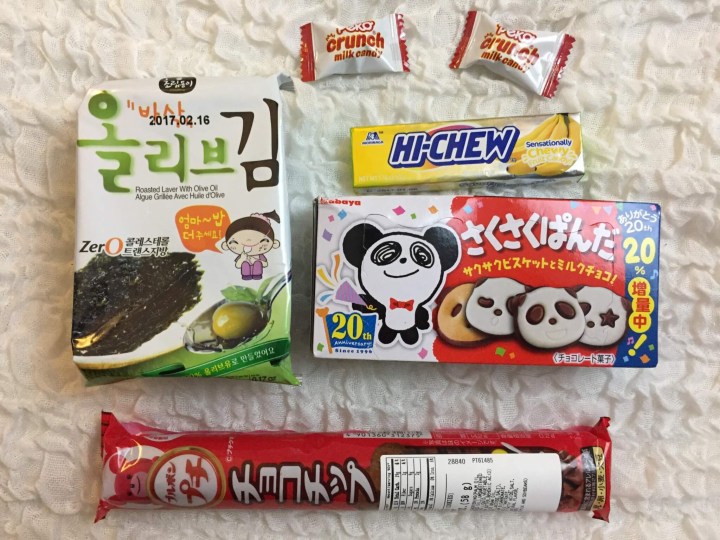 Everything in the small box!
Hi-Chew Banana Chews. Hi-Chew are very soft but chewy candies. They're not gum, but they are chewier than a Starburst. These have artificial banana flavouring which reminds me of the banana flavour of Runt candy.
Bourbon Petit Cookies. I've received Bourbon cookies before in many boxes, in all sorts of flavours. I'm not a fan of their chocolate cookies so these are going to Mitch. You'll notice there is a sticker on the package with nutrition information in English — more on that at the end of the review!
Crispy Olive Oil Seaweed. Delicate sheets of seaweed flavoured with olive oil. I don't like dried seaweed (it's too salty for me) so this went to Mitch as well. This snack is from Korea.
Peko Crunch Milk Candy. I love milk candy! It's a light, sweet flavour.
Panda Chocolate Cookie. I just got these same cookies recently, and they're fudge cookies (think the cookie part of an Oreo) with a vanilla glaze/creme on top.
Potato Flavored Snack. I love when food shows me exactly what I'm eating. And I love when the food has a cute face. These snacks are lightly flavoured with garlic and other seasoning but mostly you taste the potato flavour.
Koala's March Green Tea. These adorable cookies are full of matcha flavoured creme.
LOOK 24 Dark Chocolate !!! My favourite chocolate from Japan! Okay, I say that about pretty much every chocolate from Japan, but LOOK is seriously great. It's the smoothest, creamiest chocolate and the dark version is just so indulgent. These perfect sized individually wrapped chocolates make it easy to restrain yourself. Sort of.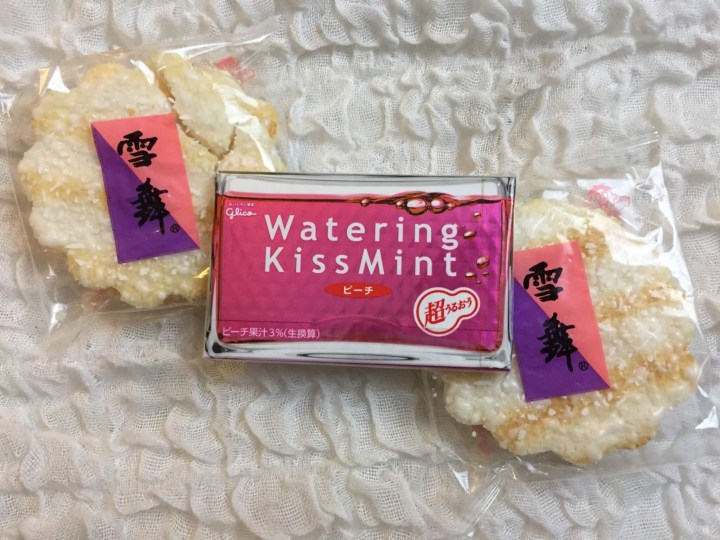 Rice Crackers. These senbei are standard issue rice crackers with a light sprinkling of salt and a slight soy taste.
Watering KissMint Gum. A few months ago I bought peach flavoured mints and got everyone at work hooked on them. This gum tastes exactly like the mints — you taste both mint AND peach, which is a refreshing combination!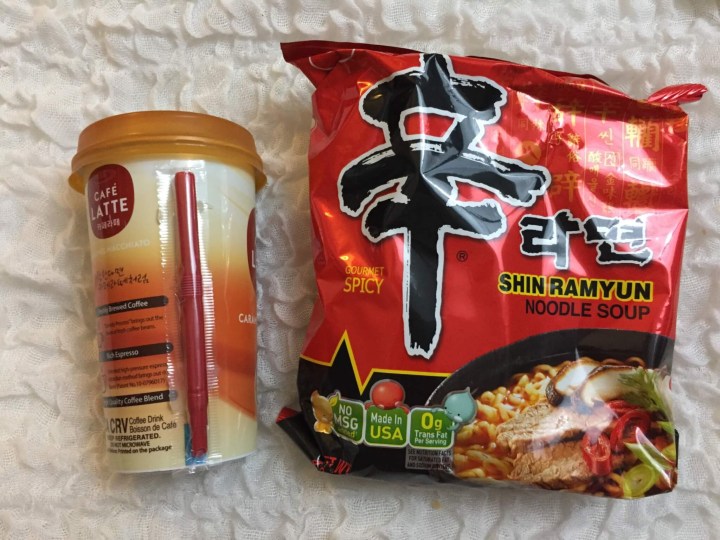 Maeil Coffee Drink. This little tiny caramel macchiato is from Korea, and it tastes pretty good! There is a little straw you can punch through the foil on top.
Shin Ramyun Noodle Soup. This ramen was so spicy even my coworker Stephanie (who considers herself a spice queen) was chugging water after I gave it to her to review. I like that we were sent a huge package of the ramen you would traditionally cook in a pot vs the cup of ramen more commonly found.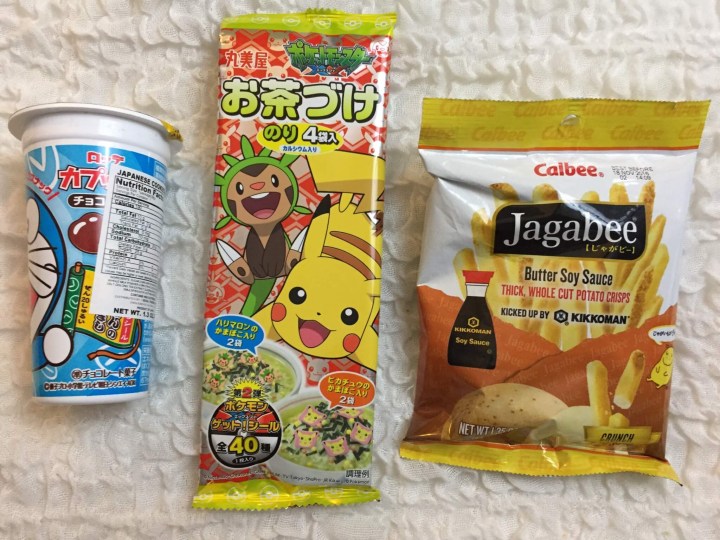 Doraemon Chocolate Snack Imagine corn puffs cereal coated in chocolate. That's what this reminds me of! They are highly addicting.
Pokemon Rice Seasoning Well now I need to find an excuse to make rice… these seasonings (there are three packages inside) make a great flavouring for rice!
Jagabee Butter Soy Sauce Snacks I love Jagabee! I'm addicted to their potato snacks because they look like fries. The butter soy sauce flavour was new to me, and Mitch and I agreed they were pretty addicting!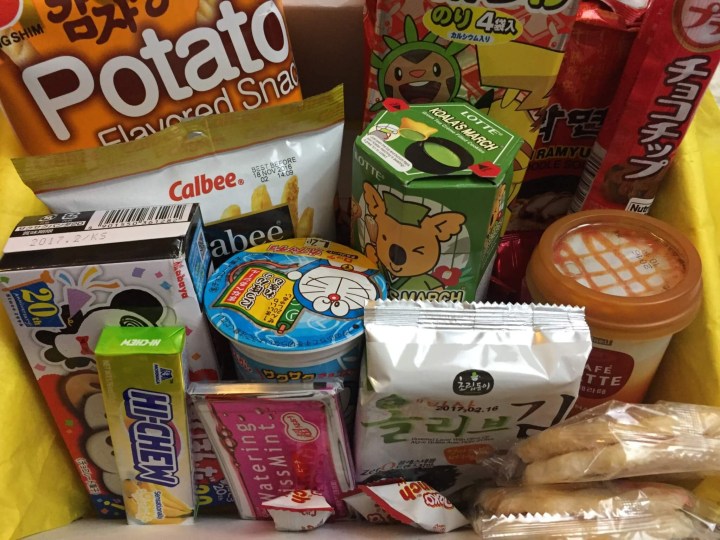 So this was June's EsianMall snack box! One thing I wanted to point out is that almost all of the products included English on the packaging or had a sticker affixed with English nutritional information. While these snacks were originally produced in Asia (Korea and Japan), these products are now produced and distributed in North America. While there's no difference in taste or composition of the snacks, what it does mean is that usually these are snacks you can find at your local Asian mall or Chinatown because of how popular they are. There were a few snacks I hadn't tried before (the coffee drink and the gum) the majority of the items weren't anything particularly exciting to me personally because of the ease in which I can find them even in my small town.
But overall, I was pleased with my first snack box. I love that they included a drink and the marketing is spot on — having a secondary reason for maintaining a subscription for a chance to collect prizes is awesome!
What did you think of EsianMall's July Snack Box? Save $3 off your first box! Use coupon code SUMMERESIAN.
Visit EsianMall Snackbox to subscribe or find out more!
The Subscription
:
EsianMall Snackbox
The Description
: EsianMall is not only the first ever Asian subscription box company to offer its subscribers both a snack and a beauty box, but also the first to offer products from all over Asia (not just one country)! Our SnackBox is a monthly Asian Snackbox that comes with 12-15 different snacks, candies, and treats. We offer small, regular, and premium sized snack subscription boxes starting from $13/month*! Save with a 12-month subscription.
The Price
: $15.00 per month