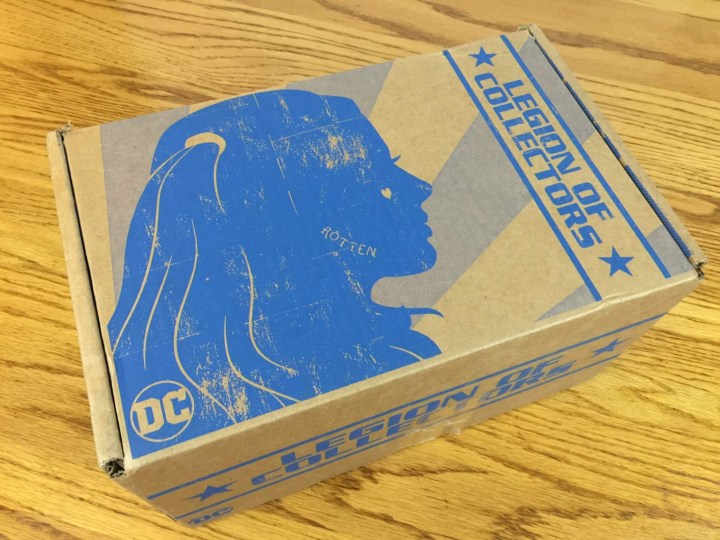 DC Legion of Collectors is an incredible bi-monthly subscription box that includes 100% exclusive Funko Pop! Vinyl, apparel, accessories, collectibles and more from Funko & DC Comics.  Each box has a theme and the folks at DC have a little movie coming out in August so we are treated with this fine assortment of collectibles.  The Suicide Squad has many different looks and I think the choices for the film are excellent.  Hopefully it turns out better than Batman V Superman: Dawn of Justice.
Lots of really cool content that you'll want to keep locked away to keep it all safe.  Stuff to wear, stuff to read and stuff to make your shelves look awesome!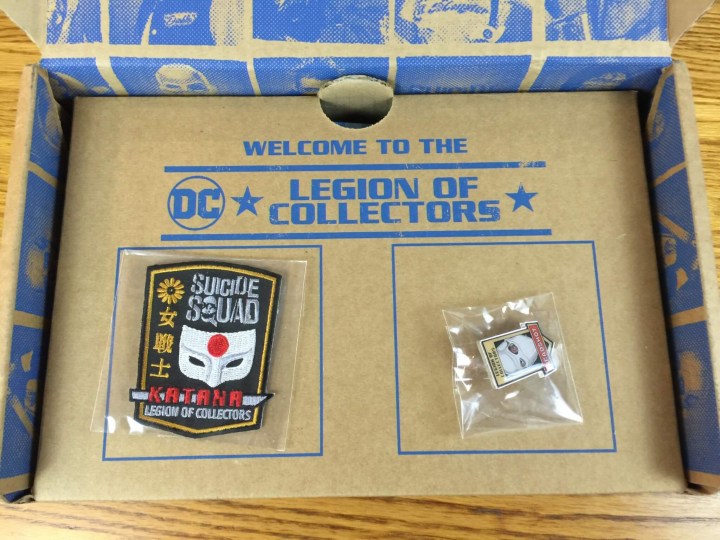 Popping open the box is a big part of the fun.  You get a look at a couple of the items – the exclusive pin and patch – and a look at the art inside the box.  Take a look at the pictures below for the art.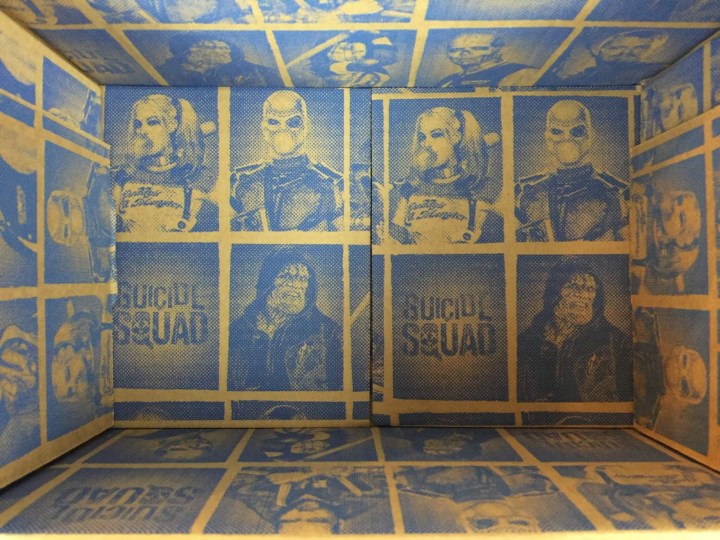 Cool artwork all the way to the bottom of the box.  It usually has more of a comic book art feel to it rather than Hollywood head-shots.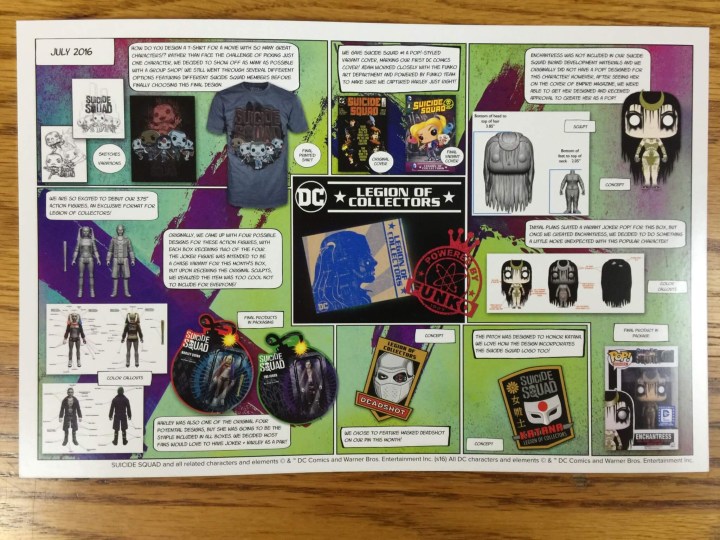 Description Card.  It's a checklist to show everything received as well as the creative process behind the making of all the items!
The other side of the description card is a sneak preview of the September 2016 box.  The Women of DC!  There are so many powerful women in the DC Universe and I'm excited to see what direction Legion of Superheroes decide to go.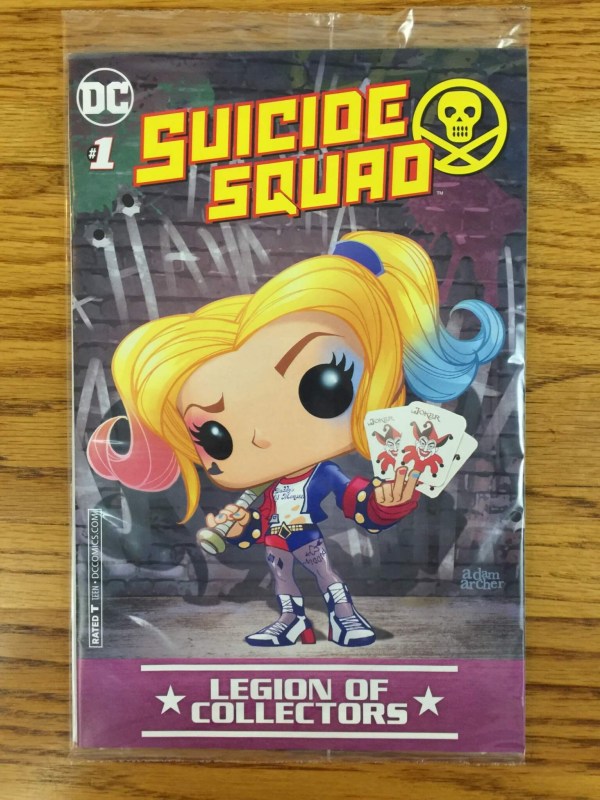 Suicide Squad #1 – Variant Cover.  As I stated earlier in the review, there have been many different iterations of the Suicide Squad.  This comic is a reprint of the original Suicide Squad book from 1987.  Written/created by John Ostrander with art by Luke McDonnell, we have Harley Quinn on the cover but she wasn't introduced to the DC Universe until Batman: The Animated Series from the early 1990s.
Atom Legion of Collectors Pin.  This classy looking pin has Deadshot in his mask.  I enjoyed Deadshot on the TV series Arrow(until they killed him off because DC decided to make a Suicide Squad movie), but I think this will be a nice take on the villain.  Hopefully bullets will be everywhere in this film.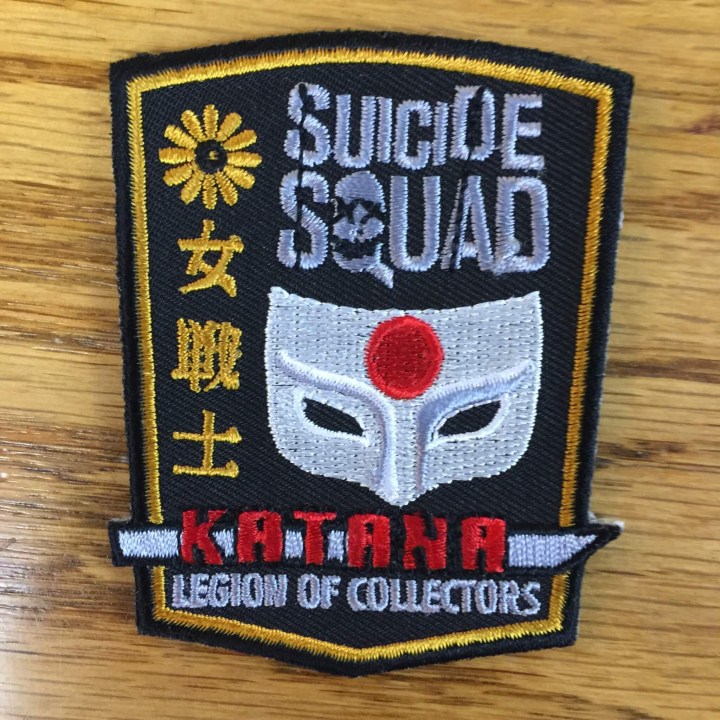 Katana Legion of Collectors Patch.  Okay, so Katana is also in the Arrow TV series and is still alive so I guess there's that.  I'm really excited for the movie version as she has a bit more power and it could play out really well on the silver screen.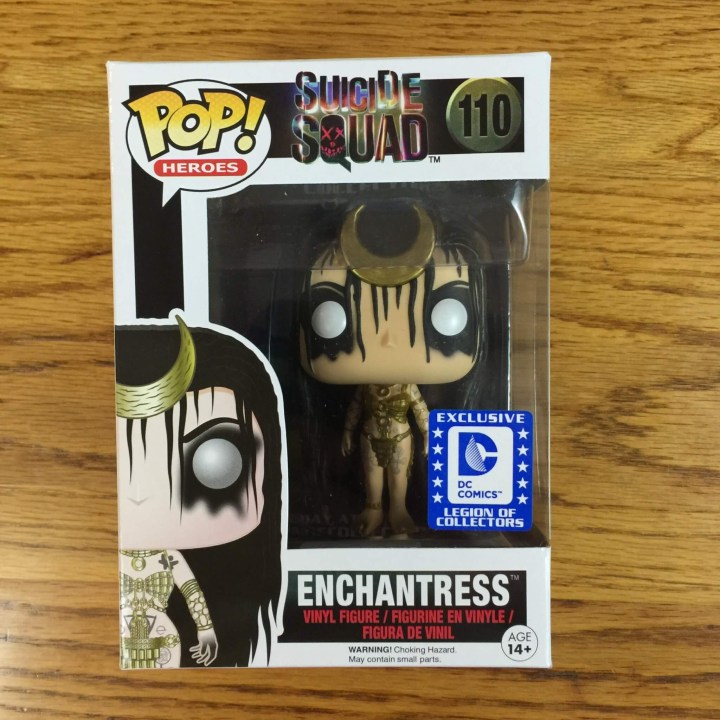 Funko POP! Enchantress.  This is another exclusive for the DC Legion of Superheroes subscription box.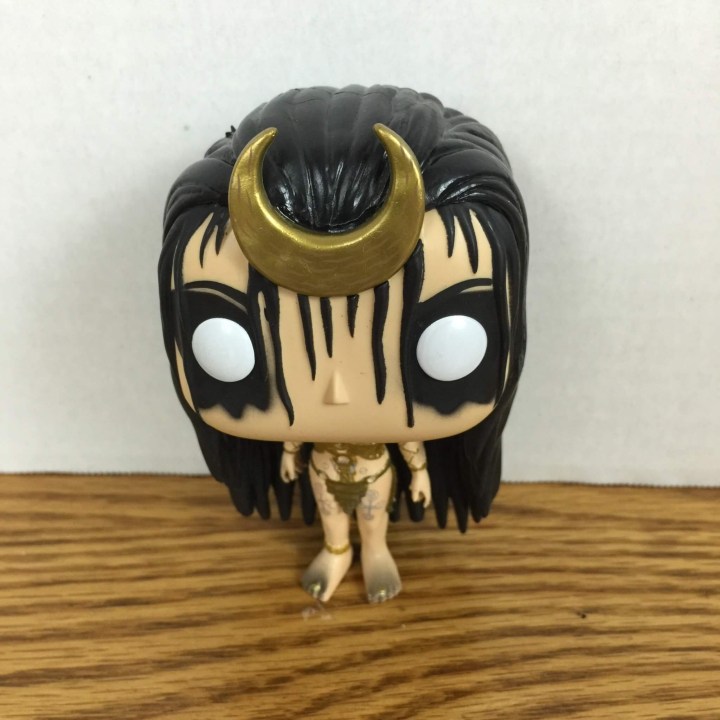 These collectibles are a hot item and it's great to get one that you can't get elsewhere – it's totally exclusive to this box, and currently valued $45 on the POP Price Guide. She is super detailed and looks amazing.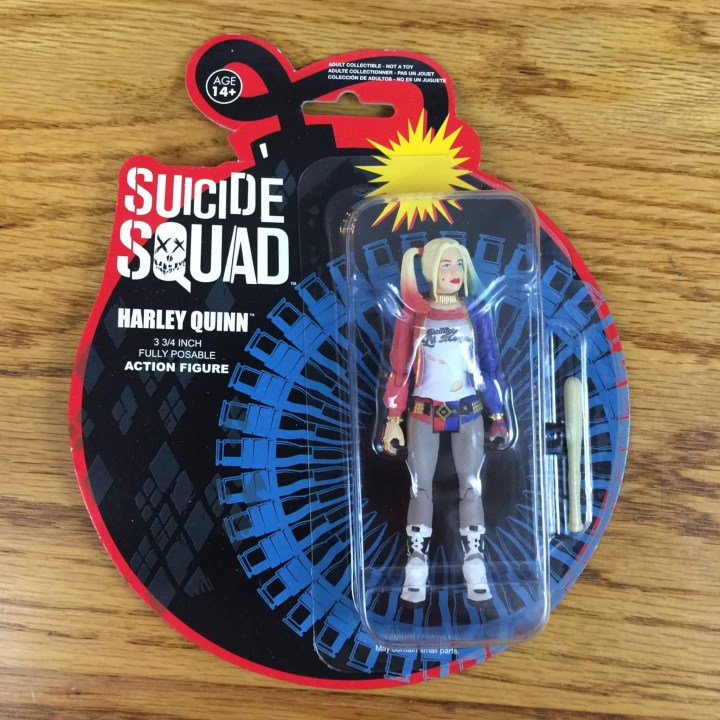 Suicide Squad Action Figures.  These 3 3/4 inch figures were a nice surprise.  I'm looking forward to seeing all the bad guys in the Suicide Squad film but, let's face it, I'm most excited to see these versions of Joker and Harley Quinn.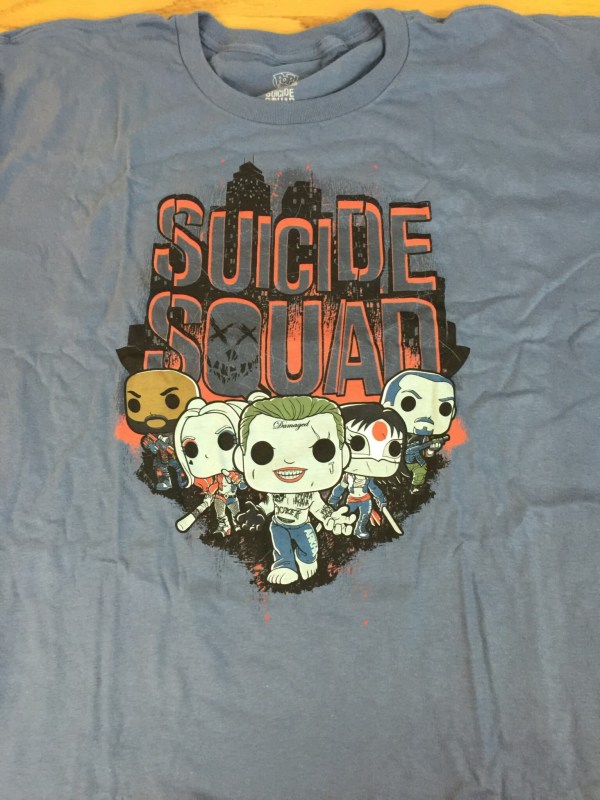 Suicide Squad T-Shirt.  Funko POP! versions of some of DC's baddest baddies.  This is a great looking shirt that gets here in time to be worn at the movie premiere.
DC Legion of Collectors is amazing!  This is such a fun box and worth every penny.  Clothing, comics and collectibles – it's everything a person could want in a subscription box.
What did you think of the Suicide Squad edition of Legion of Collectors?
Visit Legion of Collectors to subscribe or find out more!
The Subscription
:
Legion of Collectors
The Description
: Legion of Collectors is a DC Comics subscription box from Funko that features 100% exclusive Funko Pop! Vinyl, apparel, accessories, collectibles and more – $50 in value with no fluff or fillers.
The Price
: $31.95 every other month