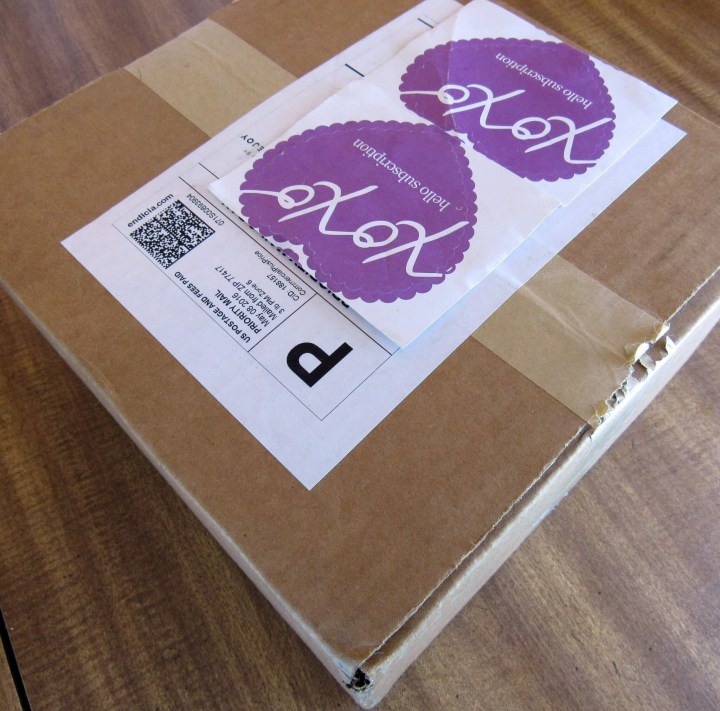 Daisy-Care focuses on the bonding experience between you and your dog with Everyday Subscription Care Packages which include delicious treats for your doggy! Daisy-Care boxes have two options. Option one is a Treats Subscription available in Small, Medium, and Large sized dogs. Option two is a Treats & Toy Subscription available for Small, Medium, and Large size dogs. The Treats & Toys Subscription is further customized with a Gentle or Ruff Toy. All dog treats are made in the USA. There is a toy sizing chart if you are unsure what size to order.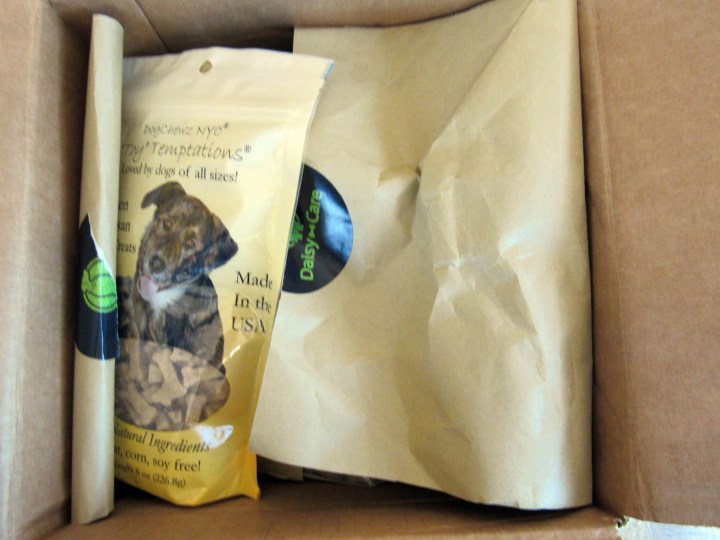 I was surprised to see a second Daisy Care box in May! Odie broke the seal in his excitement.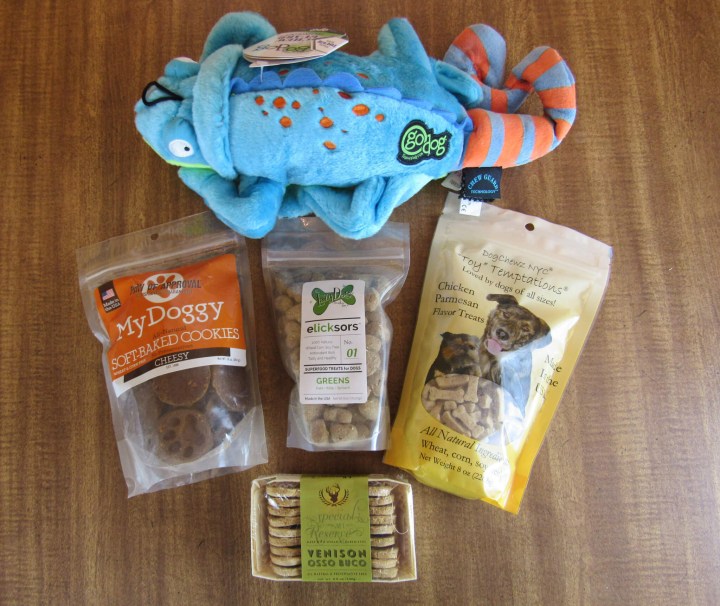 Daisy, Odie, and Bella were eager for me to start photographing the May 2016 box! I noticed a few similarities to the February box. I believe that this is because the February box was a review box whereas this box was a purchased box. Now we are following the subscriber's cycle of boxes.
Daisy-Care provides a variety of subscriptions and care packages. An information card was not included in the box, as the box is customized! This review is for the Everyday Treats and Toy Subscription Care Package – Ruff Toy Option. All three dogs will be reviewing, Daisy the English Shepherd, Odie half Border Collie and half Labrador Retriever, and Bella the Rat Terrier Terror.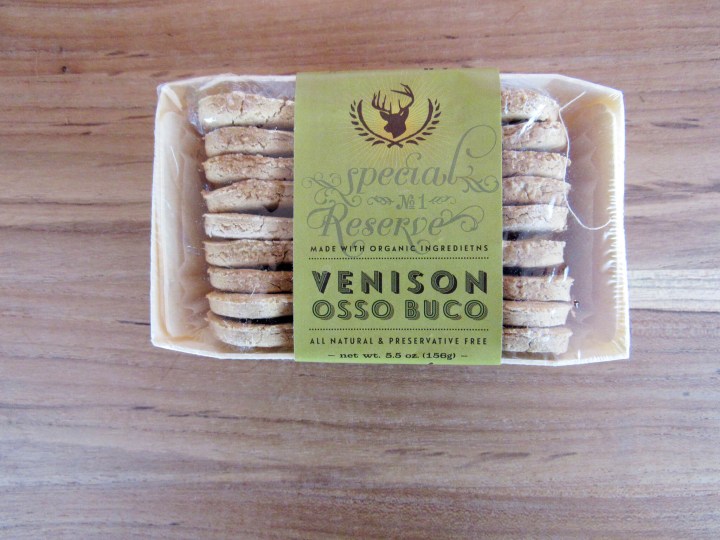 Do you ever want to eat your dog's treats? The Special Reserve No 1 Venison Osso Buco by the Bubba Rose Biscuit Company (5.5 oz, $14.99) are a gourmet artisan biscuit treats. They are wheat, corn, soy, and gluten-free. It is also chicken-free making it free of most of the common allergens. The cookies are made from venison that has been slow cooked in a delicious broth. My dogs are more country dogs than sophisticated city dogs. They ate the biscuits with much gusto. They are made in the USA.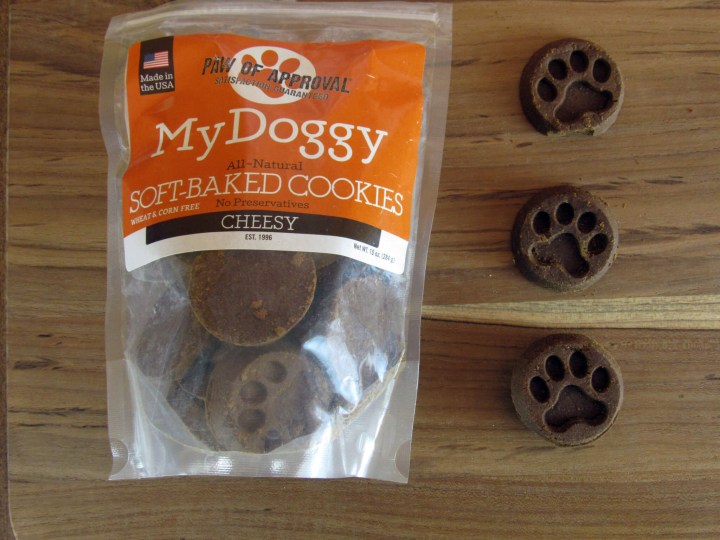 All doggies loved the My Doggy Soft-Baked Cookies – Cheesy (10 oz, $11.20). The Made in the USA treats are a great size for my larger dogs. The paw print on the cookie is adorable. The cookies are soft, but not too soft even though it has cottage cheese in it.
The Lazy Dog Elicksors No 01 Greens (6 oz, $8.13) were loved by Odie. He gobbled down the  superfood treat.  Bella and Daisy were not convinced it was to be consumed by dogs. All the more for Odie to enjoy! It has kale, kelp, and spinach in it. They are made in the USA.
Bella and Odie absolutely loved the DogChewz NYC "Toy" Temptations Chicken Parmesan Flavor Treats (8 oz, $10.99). I am impressed with the ingredient list – organic oat flour, organic oats, organic chicken broth, aged Parmesan, and organic canola oil.  I placed a quarter next to the treats to show their size. They are a good size for training or agility treats. The company donates products to shelters and rescues groups. The treats are made in the USA.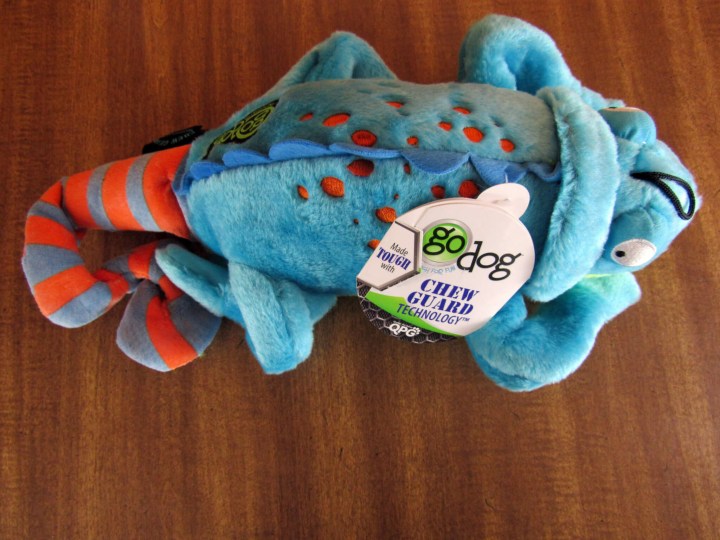 We received the Go Dog Chameleon ($16.24) in the February box. I am impressed that it is in one piece which I attribute to the chew guard technology. It is one of Bella and Odie's favorite toys on the farm. Daisy plays with it as a baby, and the other two dogs use it as a tug of war toy.
Onwards to the dog photos!
Daisy is cleaning her baby. She is adorable when she is with her babies.
She is all done cleaning him. Unbeknownst to Daisy,  I then gave the baby to the destructive duo.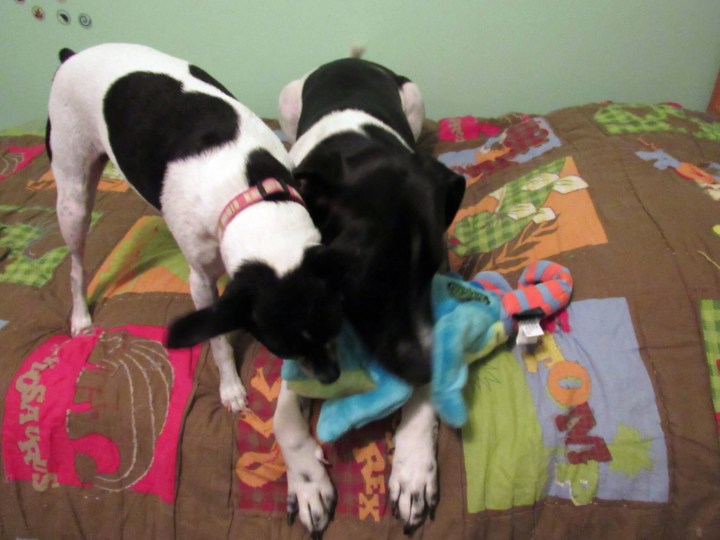 Bella and Odie played with the chameleon together. They tried pulling him apart.
Eventually, the toy fell to the floor. Bella jumped off and gave it to the Rat Terrier death shake. It's no worse for the wear.
Bella loved the My Doggy Soft Baked Cookies. She found them to be a little chewy which she enjoyed.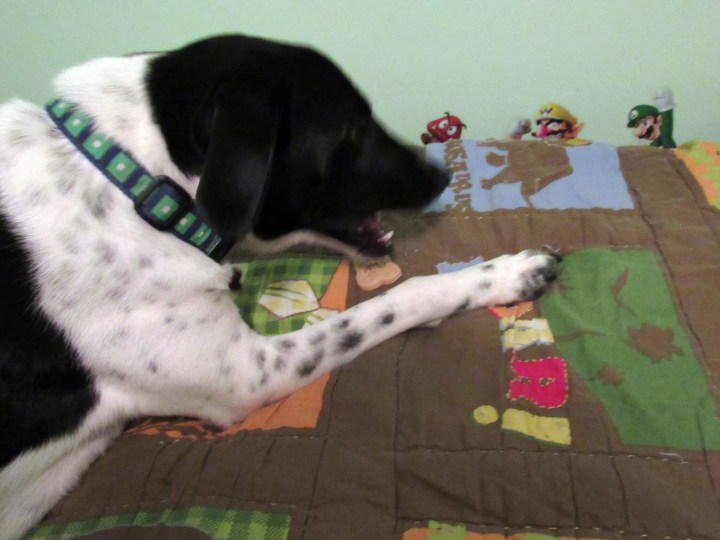 Odie is all teeth as he eats a Special Reserve No. 1 – Venison Osso Buco Biscuit. He claimed it was wooflicious!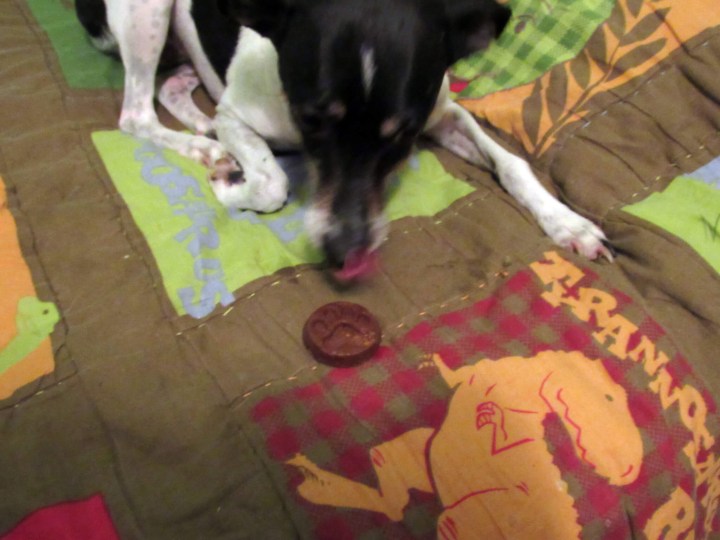 Mmm! Mmm! More please!
Daisy-Care did an amazing job this month. The treats were made from excellent ingredients and had no fillers. Each company had a unique story behind why they were making dog treats. The treats shapes were sooo cute this month and plentiful enough that all three dogs could enjoy! The dog toy was perfect for our doggies.  The value is around $61.00 which I think is an outstanding value for a customized dog box that is offering high-quality treats. Daisy-Care is an excellent choice for dog-owners looking for high-quality treats that are usually made by small companies and toys that are appropriate for you and your dog to enjoy together.
Save 10% on any purchase with coupon code  WELCOME.
Visit Daisy-Care to subscribe or find out more!
The Subscription
:
Daisy-Care
The Description
: Create Everyday Moments with your dog through a care package of paw-picked toys & USA-made treats. Daisy-Care is always there for you and your dog; from every day moments, to special occasions and everything in-between. We are committed to changing the way people think about their lives with their pets by helping create a safe and positive bonding experience between every human and their dog.
The Price
: $37.95 per month