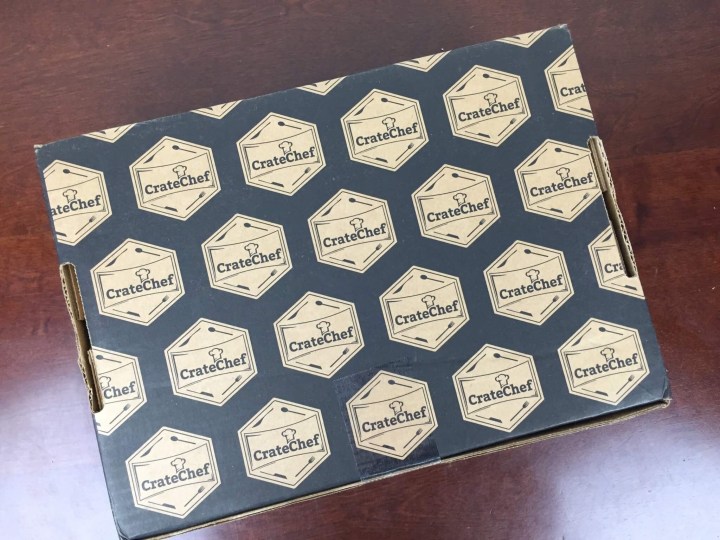 Crate Chef is a bi-monthly subscription box that brings your favorite chefs' top picks to you. Each month costs $45, and you'll get a specially curated box filled with a well-known chef favorite kitchen items, food products, as well as selected recipes.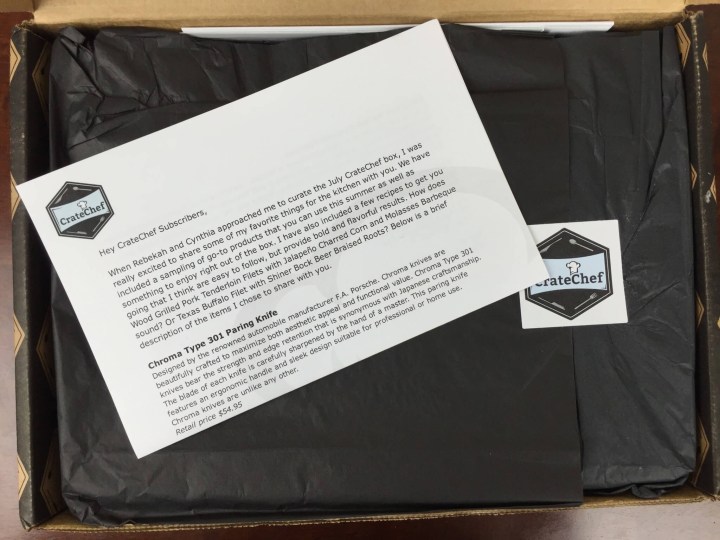 The items are wrapped in a black tissue paper with the Chef Letter on top. The Chef-of-the-Month for July is Chef Kent Rathbun.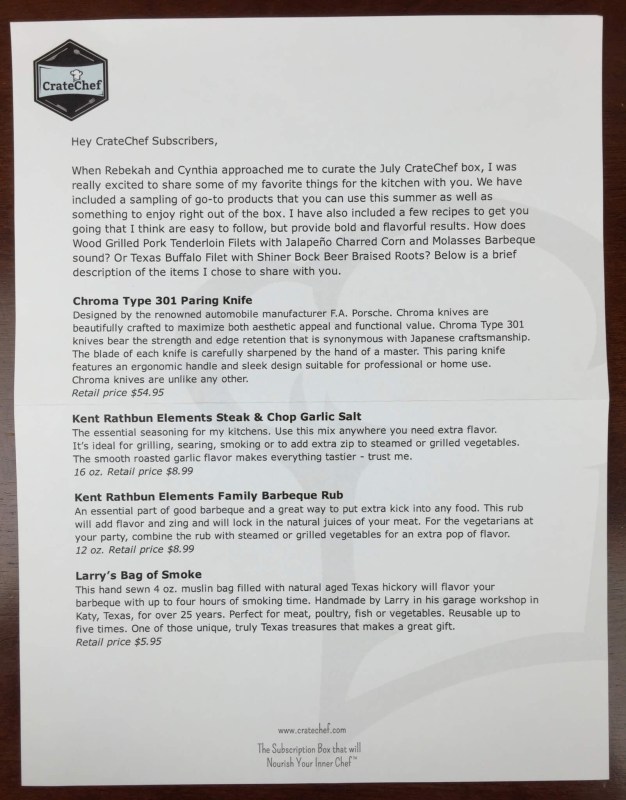 A few words from the Chef Rathbun via the Chef Letter – his focus was on go-to summer products plus one goodie to enjoy immediately. I think that's great curation (yum yum!).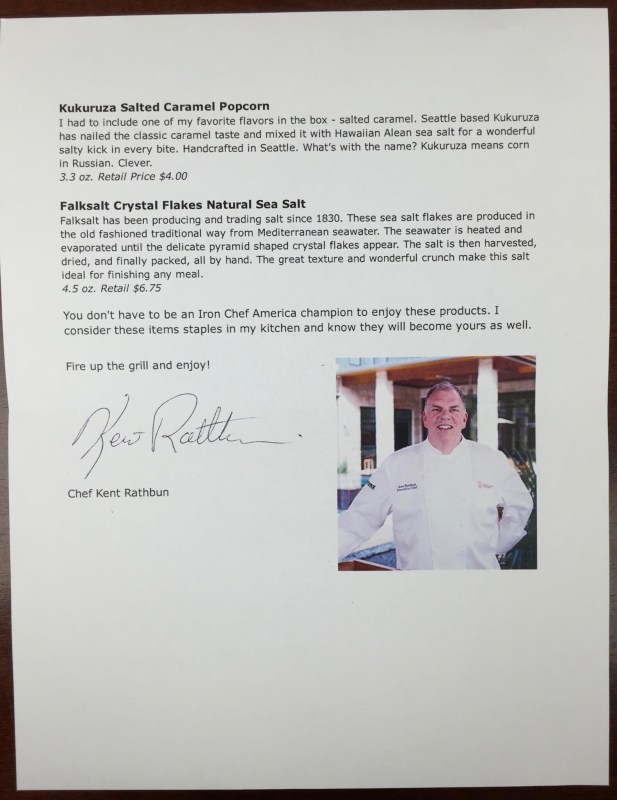 Chef Rathbun says you don't have to be an Iron Chef America champion to enjoy these products! I like anyone that takes down Bobby Flay a notch (ooooh burn!).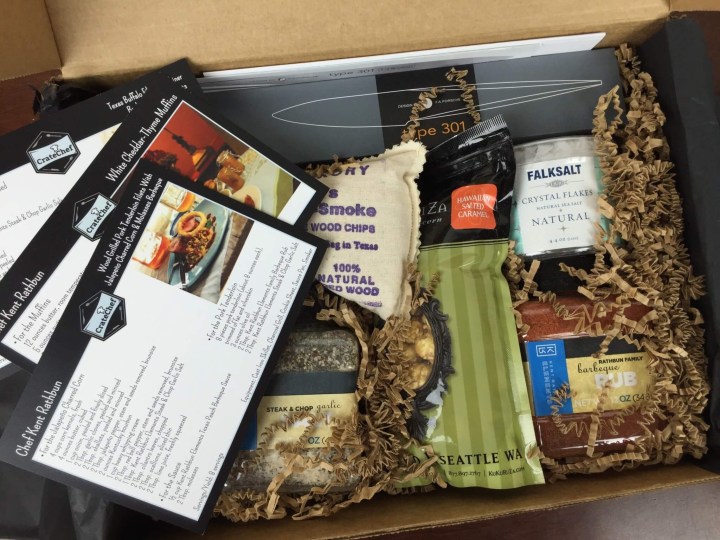 So many delicious goodies – Chef Rathbun pulled all the strings for a really high value box!
Here are the recipe cards from Chef Kent Rathbun. Unlike last month's simpler recipes these are a little more involved. The chef provided cards for White Cheddar-Thyme Muffins, Wood Grilled Pork Tenderloin Filets with Jalapeno Charred Corn & Molasses Barbeque, and Texas Buffalo Filet with Shiner Bock Beer Braised Roots.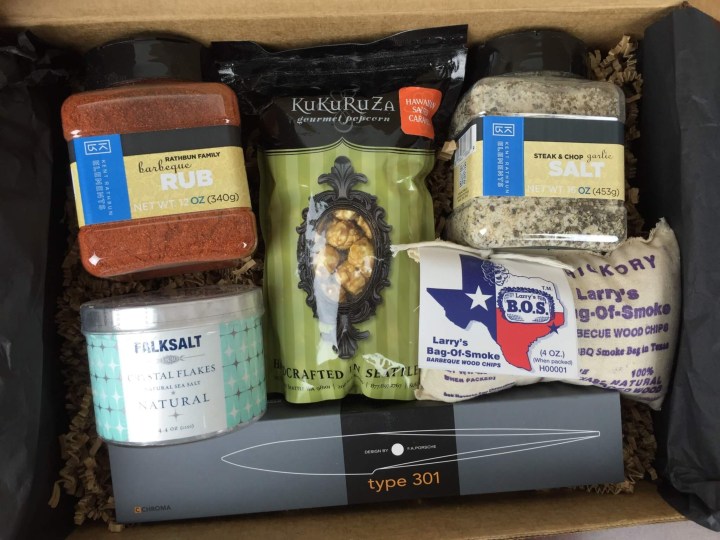 All the goodies from the Crate Chef July-August Box!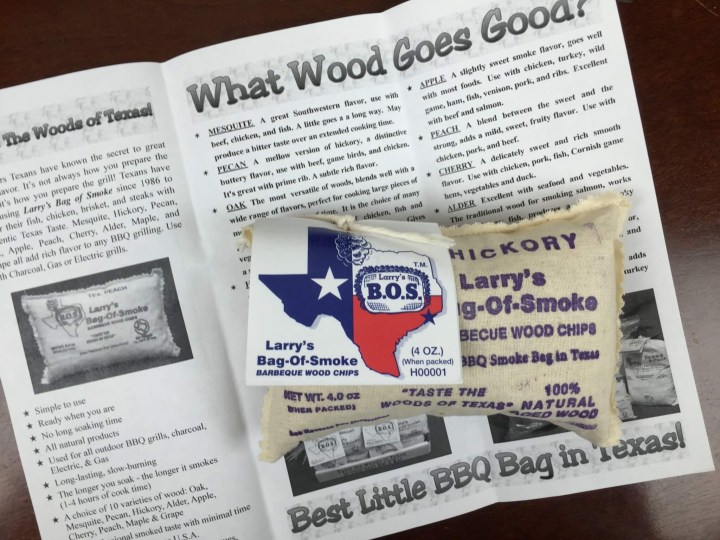 Larry's Bag-Of-Smoke ($5.95) We have used this super cool product before – it's a bag of smoking chips you can wet and stick in your grill to smoke your meat – without a smoker! It's a really cool product, made by a veteran in Texas, and perfect for this box!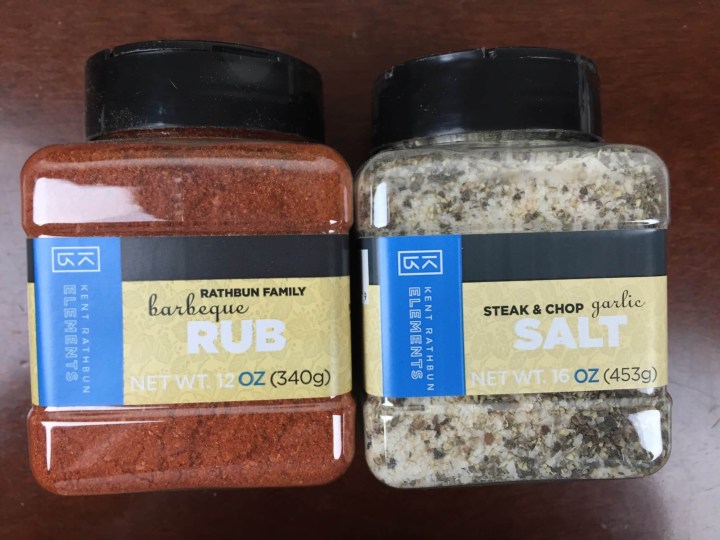 Kent Rathbun Elements Family Barbeque Rub ($8.99) This was spicier than I envisioned – a really well balanced kick. I am going to surprise my husband with a rack of ribs so he can slather away to his heart's content!
Kent Rathbun Elements Steak & Chop Garlic Salt ($8.99)  A perfect mix of cracked salt and pepper and garlic – it pretty much goes with anything. I would put it on everything too – meats, veggies, whatever!
It's hard to show scale here but these tubs are huge!!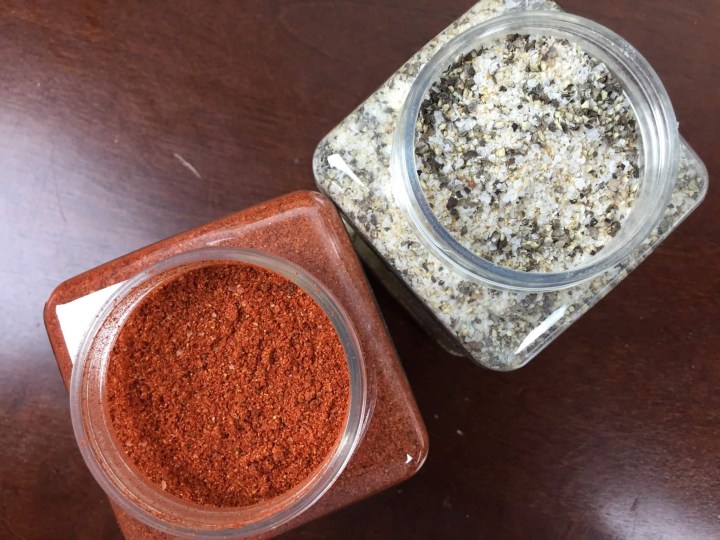 The spices are super fresh (and come sealed up too).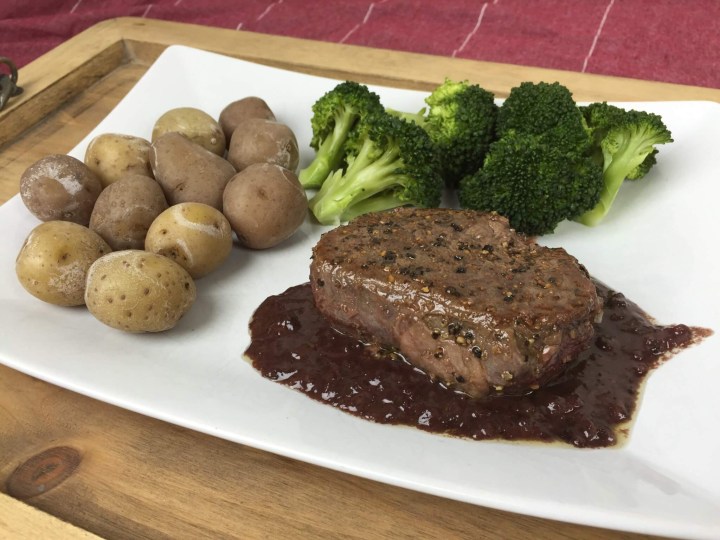 The steak here (via ButcherBox) was coated with the chop salt and the sauce is just a reduction – super flavorful!
Kukuruza Salted Caramel Popcorn ($4) This is so good! It's caramel popcorn and the flavor is set off with Hawaaian sea salt which totally makes a difference.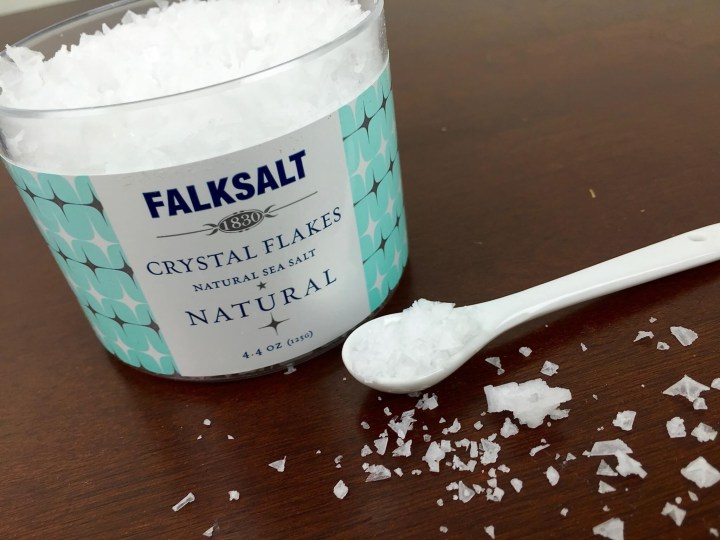 Falksalt Crystal Flakes Natural Sea Salt ($6.75) Hand harvested, this salt is crunchy, hard, and perfect for a finishing touch on your meal. This chef really knows his salt! Can't you just imagine this on a baked potato that has just been popped open, still steaming, with a beautiful scatter of salt? Yesssss.
Chroma Type 301 Paring Knife ($54.95) A knife designed by PORSCHE is not something I expected to see in this box!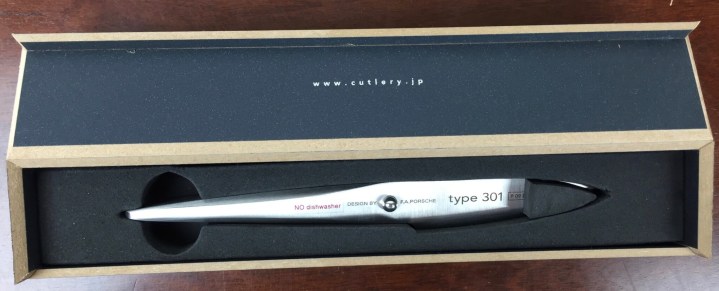 It's really beautiful and arrives in an elegant presentation case.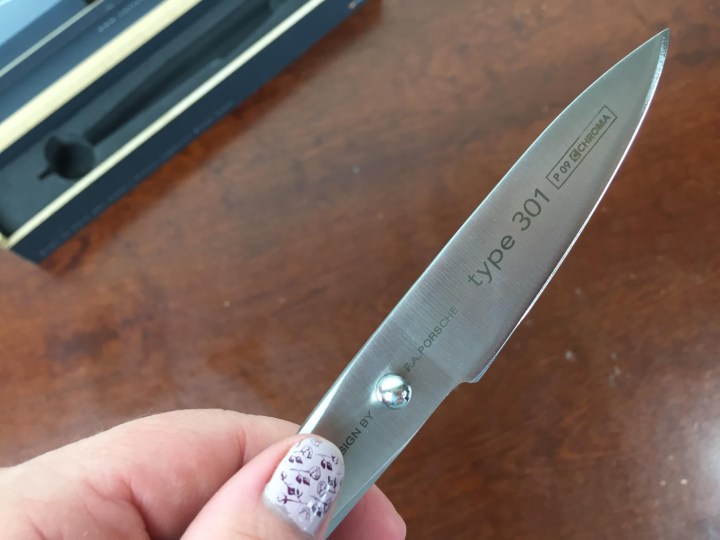 It has a one piece design, super well balanced and is very sharp. My husband is over the moon about this!
This is angels singing in knife world.
I loved how this month had a totally different perspective than the previous box (and fit the season!). There was a great mix of products too: immediate snack, ingredients for the kitchen, and a gorgeous cooking tool.  The value is definitely there, with about $90 in this box – twice as much as the cost!
What did you think about this box from CrateChef? FYI this exact box is still available! Save 10% off your first order with coupon code HELLO10.
Visit CrateChef to subscribe or find out more!
The Subscription
:
CrateChef
The Description
: Curated by a different top-name chef every other month. Each month's box will be filled with that chef's favorite local artisan food products, useful kitchen items, selected recipes and even a personal letter to let you know why they chose each item. Recipients will be delighted to discover new chef-selected foodie products, delivered right to their door. We offer the box and also just the letter and recipes for only $7.
The Price
: $45.00 every other month