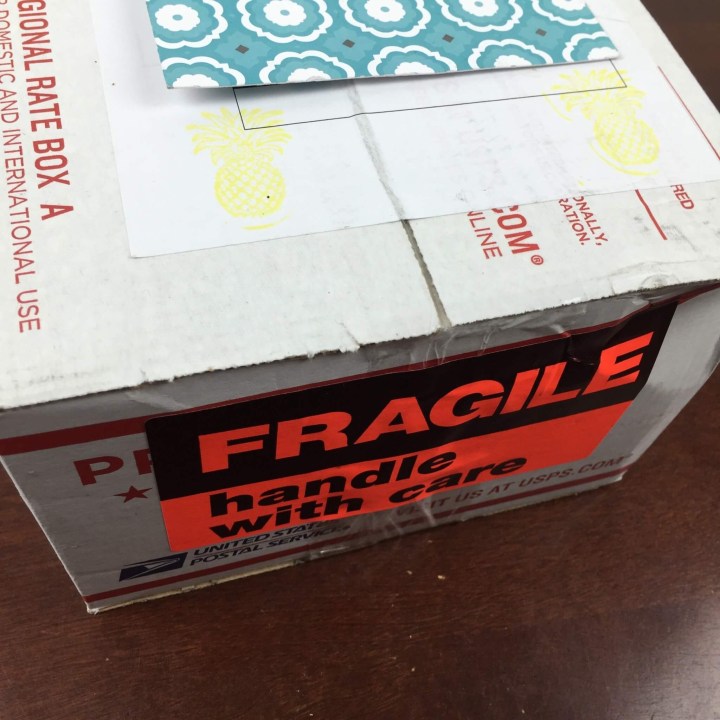 The Crafty Mail is a monthly box that offers artisanal items from all around the globe. For only, $24.95 per month, you get a box full of different items from different Etsy shops, curated based on a monthly theme.
FYI – you must buy this box in advance (themes are announced well ahead of time) and you must buy each box individually.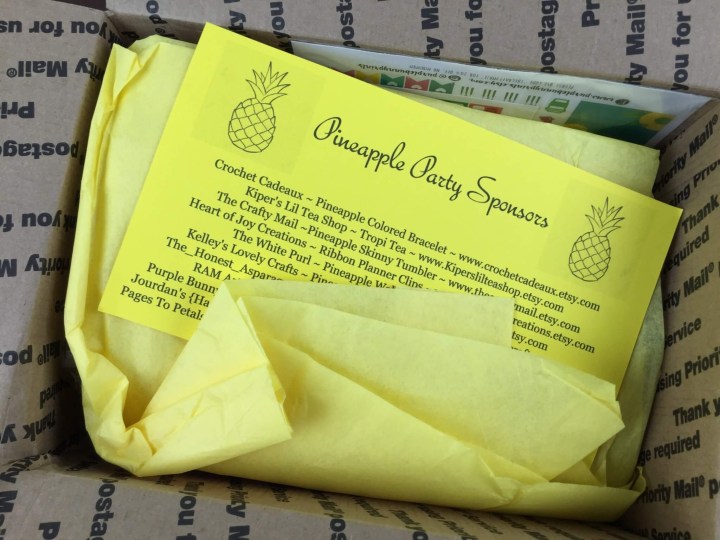 The theme for July is Pineapple Party. It's obvious why I picked this one! I purchased this box about 2 months ago and was excited when it finally arrived!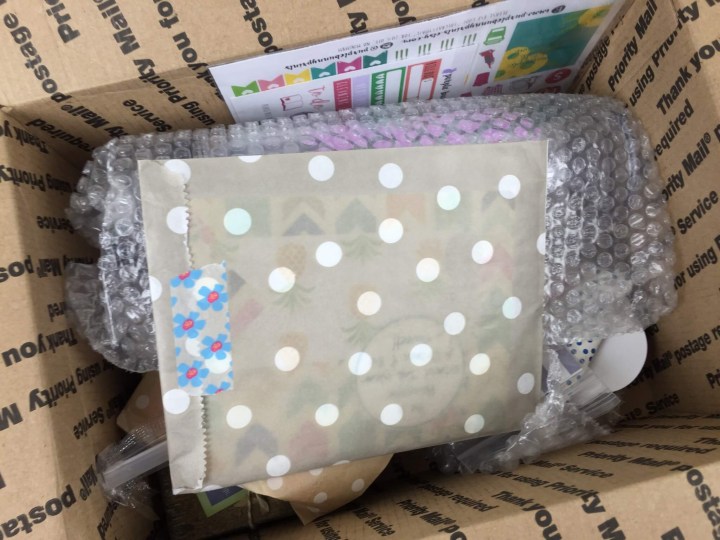 Items are secured in their own envelopes and fragile items are packed in bubble wrap.
The information card shows a list of the items in this month's box, as well as the Etsy shop they are from.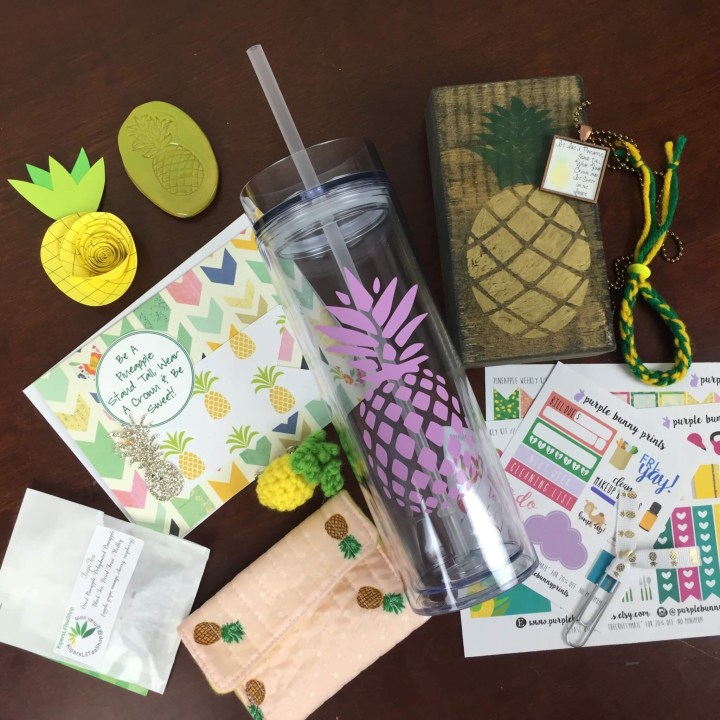 All the Pineapple Goodies in my July box! It's a Pinapple Par-Tay!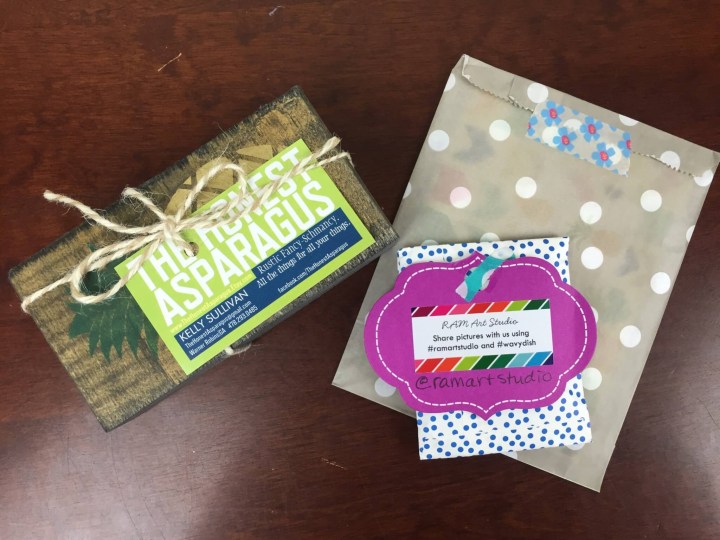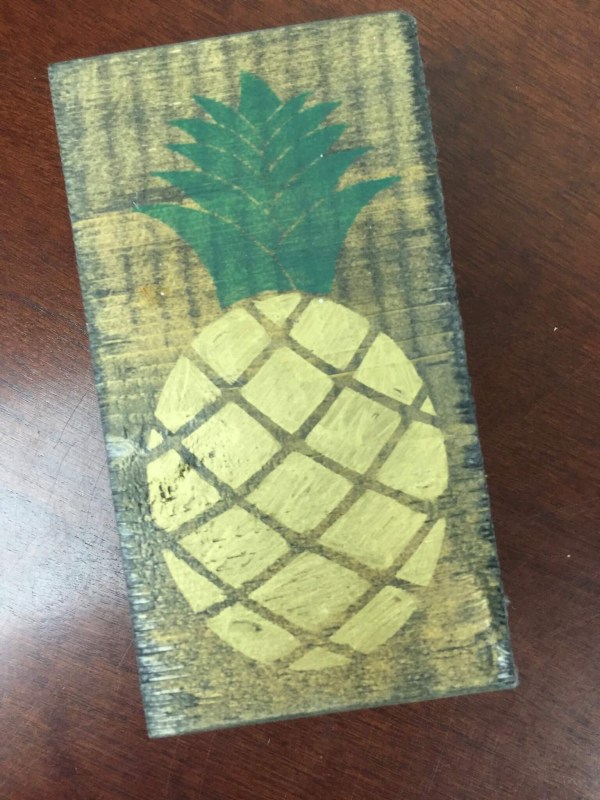 The Honest Asparagus Pineapple Wood Art: I love this cute piece! It's perfect to add some height to display items or your desk and fun!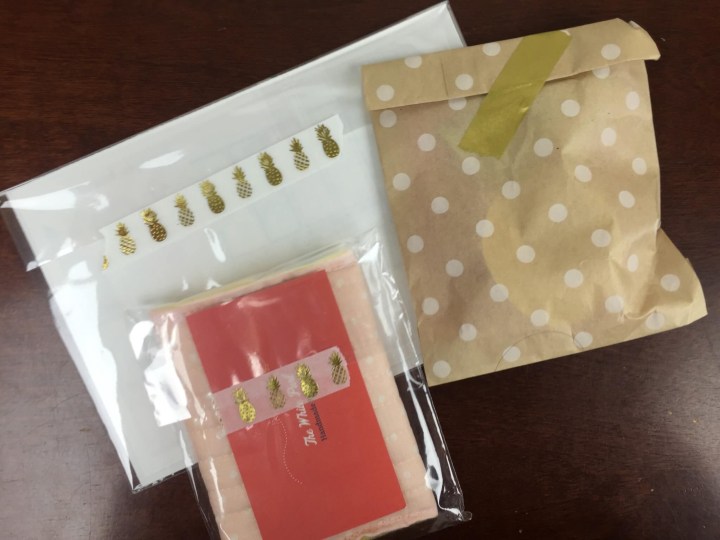 Adorable little wrappings!
The.Party.Fox Pineapple Cards: What an adorable card! I know exactly who to send this to! I have zero card-making skillz so she will know I didn't make it, but it's the thought that counts!
RAM Art Studio Ceramic Pineapple Magnet: hello pineapple! I love a good solid textural and interesting magnet and this fits the bill for sure!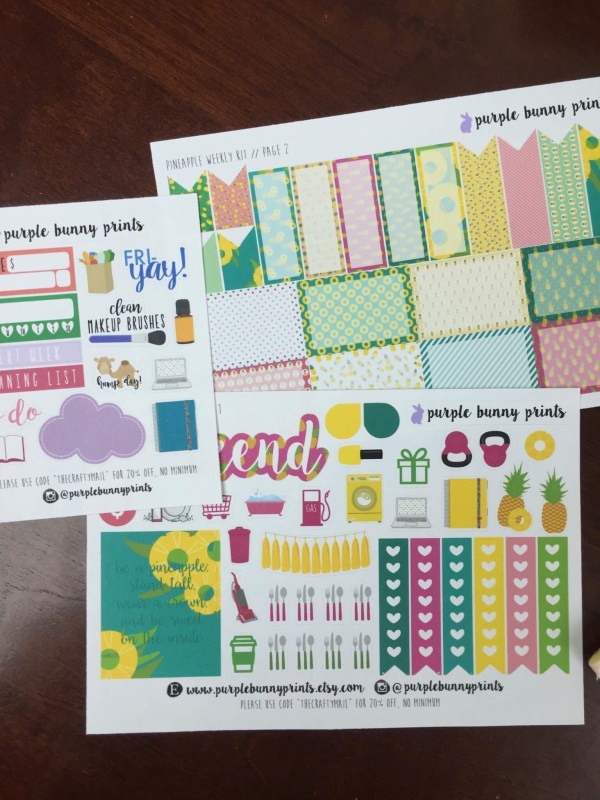 Purple Bunny Prints Pineapple Weekly Planner Kit ($3.50) Enough stickers for an entire weekly spread – or more!
The White Purl Pineapple Wallet: this is a simple fabric flap wallet with a Velcro closure. And pineapples, of course!
Pages to Petals Designs Pineapple Paper Flower Magnet ($2.67): I don't know if I have ever seen anything like this! Frosted it immediately but I will probably move it to the file cabinet in my office so it can make me happy while I work!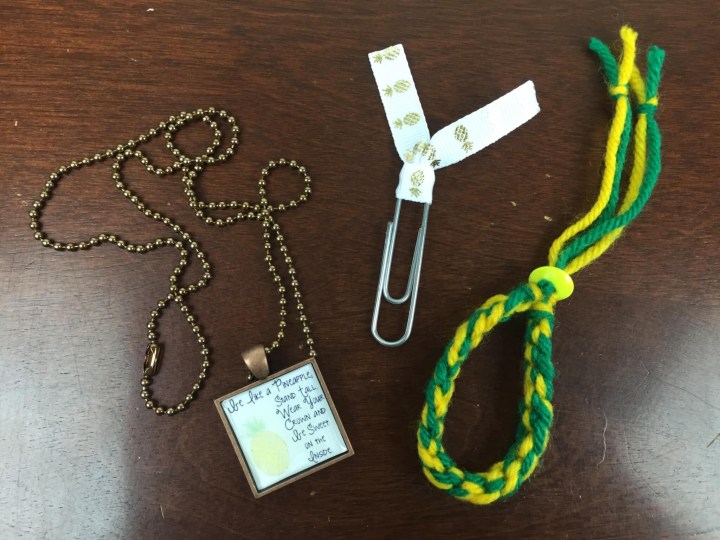 Jourdan's Handmade Jewels Pineapple Pendant ($8) : Be like a pineapple, stand tall, wear your crown, and be sweet on the inside!
Heart of Joy Creations Ribbon Planner Clips: Definitely one of my favorite items – it's so simple but perfect.
Crochet Cadeaux Pineapple Colored Bracelet: I am not sure if I would wear this as a bracelet but I would totally stick that on a bottle of wine and call it wrapped!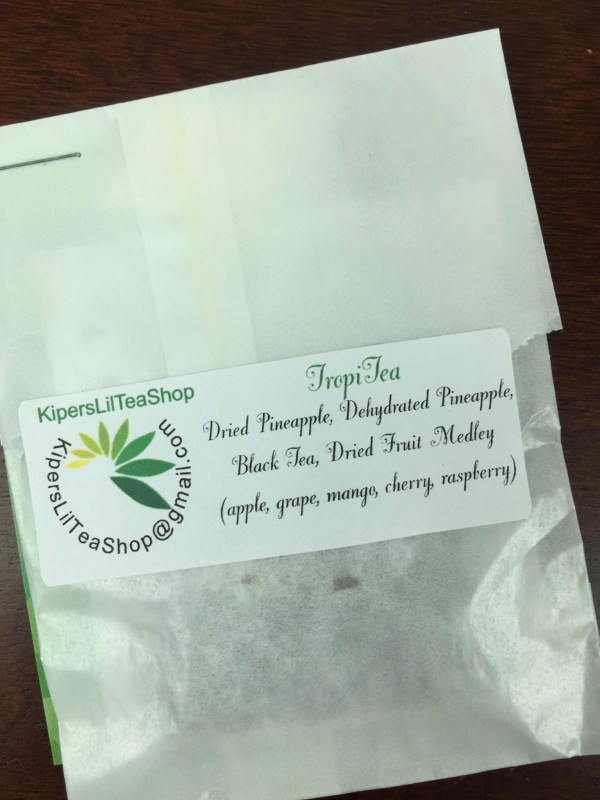 Kiper's Lil Tea Shop Tropi Tea With Dried And Dehydrated Pineapple, Black Tea, And A Medley Of Dried Fruits: I didn't open the packet as I am not a tea drinker and will pass on!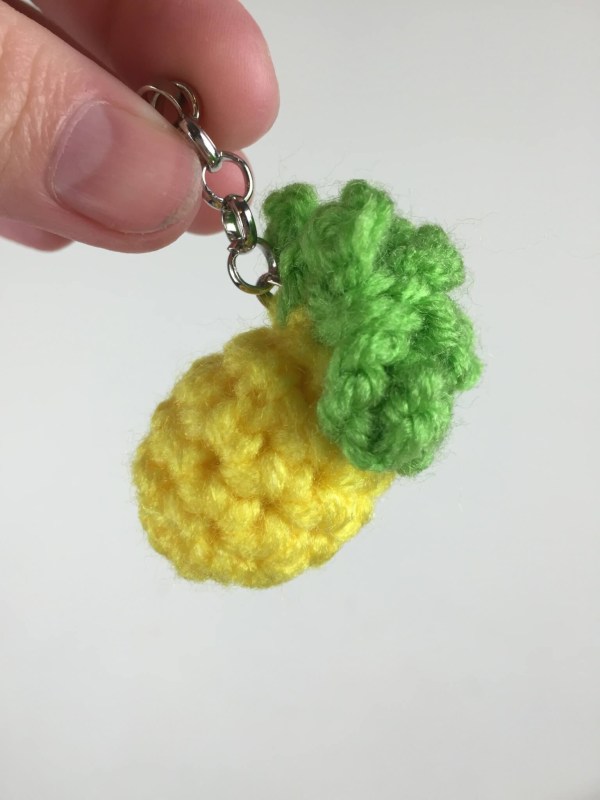 Kelley's Lovely Crafts Pineapple Key Chain: this little charm is so cute and perfect! It's definitely getting added to my Kawaii bag charm collection and used frequently!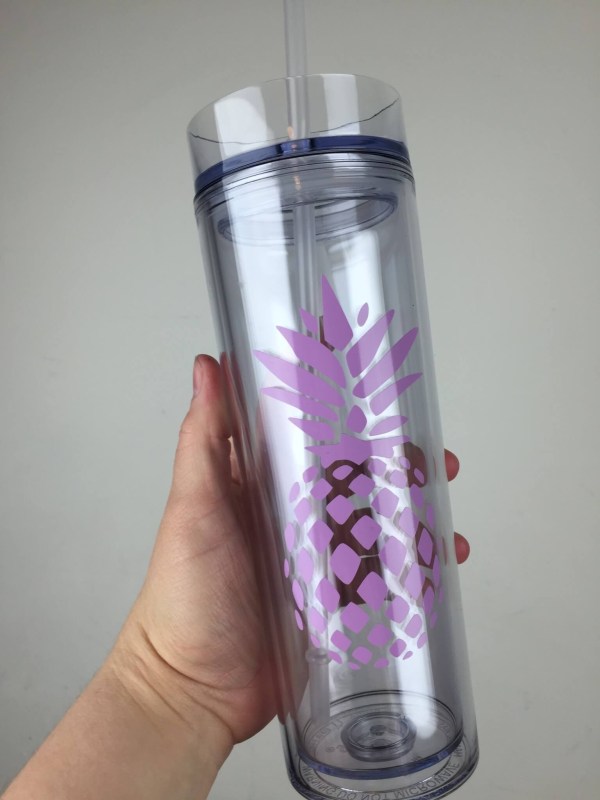 The Crafty Mail Pineapple Skinny Tumbler: OMG ITS A PURPLE PINEAPPLE TUMBLER! I really couldn't be any happier with that! This is handmade so it can't be put in the dishwasher but complete care instructions were included.
I thought this was a totally excellent box for the price! The elements were curated perfectly around the theme, I felt like I got plenty of value (and introduced to tons of new Etsy shops to stalk!), and it was just really fun! The only thing that could have improved it was a roll of pineapple washi tape!
What do you think of The Crafty Mail? Currently August-December boxes are on pre-order! Trust me – they sell out!
Visit The Crafty Mail to subscribe or find out more!
The Subscription
:
The Crafty Mail
The Description
: Makers Gonna Make! So, why not bring together a whole lot of awesome so you can experience the world of handmade in a monthly box with samples from 10-15 shops differing monthly?!
The Price
: $24.95 per month