Chococurb is a monthly artisan chocolate subscription. Inside the Chococurb Nano box ($10), you'll find an assortment of 5 small or medium sized chocolates or chocolate related items. These items can come from small, local chocolatiers or more established national brands. Every box will have something new, exciting, and absolutely delicious. For those who desire even more decadence, the Chococurb Mini Box ($20)contains 3 larger-sized chocolate products and the regular-sized Chococurb box ($35) contains 5-7 chocolates or chocolate related items per month.
Whichever box you select, rest assured that they will reflect Chococurb's mission: to select, send out and introduce its subscribers to exceptional chocolate.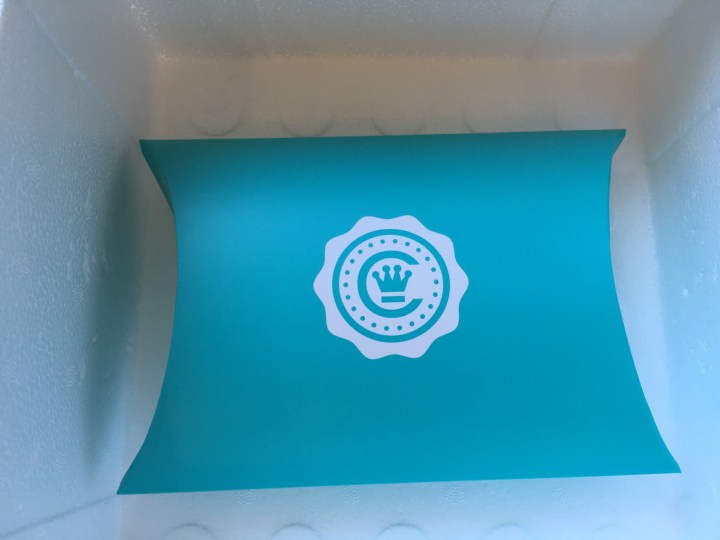 Upon opening the insulated box, I was especially taken by the pretty packaging.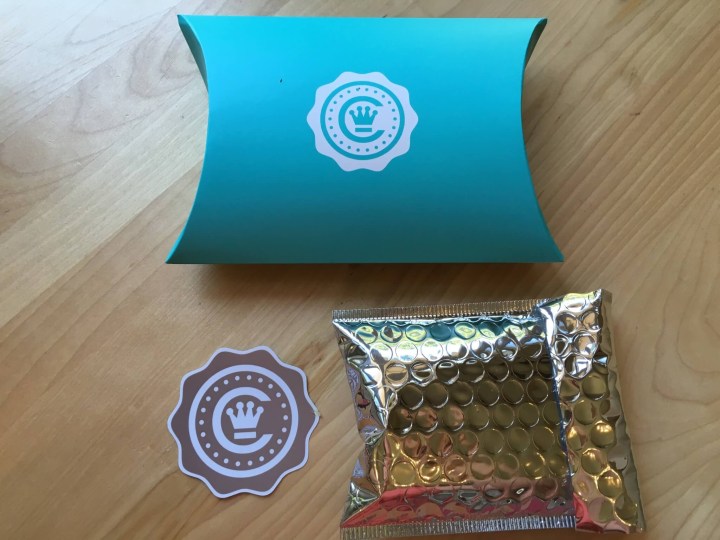 The chocolate itself came wrapped in insulated bubble wrap. In the past, my Chococurb minis arrived with a cold pack. I didn't see one in this nano package, however. Unfortunately, that meant that my chocolates arrived soft, and in one case, melted. It surprises me, though, that a cold pack wasn't included since they placed the chocolate within an insulated box. I'm guessing it was just an accidental oversight.
As always, my chocolates arrived in thoughtful, attractive packaging.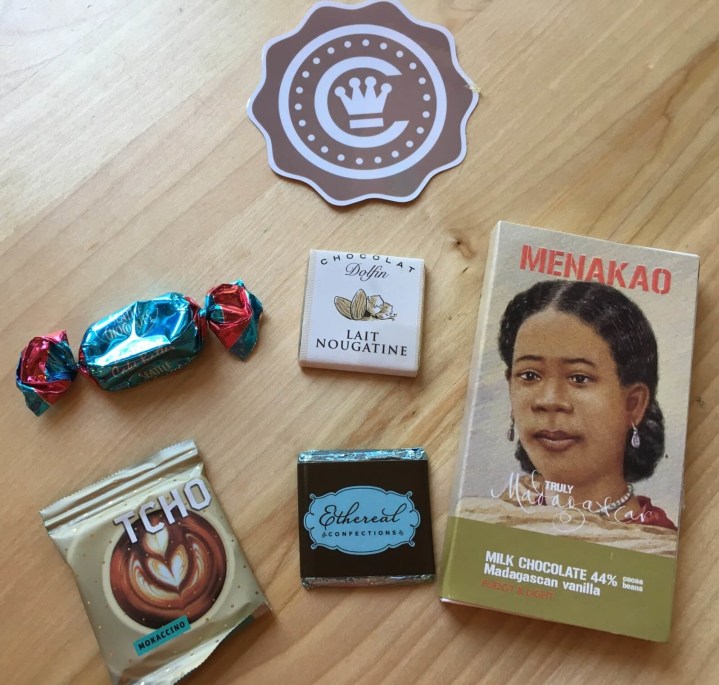 July 2016's Nano Box contained: Ethereal Confections' Dark Chocolate, Chocolat Dolphin's Lait Nougatine, Tcho's Mokaccino, Seattle Chocolates' Birthday Cake Batter and Menakao's 44% Milk Chocolate with Madagascan vanilla.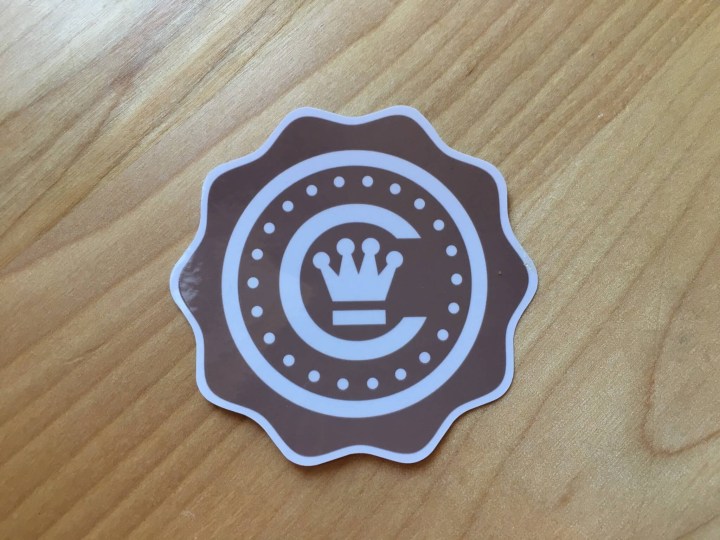 I always enjoy receiving mementos from subscription boxes, especially those boxes that are exceptionally memorable, like this one!
This dark chocolate square from Ethereal Confections ($ 0.50?) is made from organic cocoa beans, organic cane sugar and organic cocoa butter. Made directly from cocoa beans in Illinois, it's absolutely delicious and was the only dark chocolate bar contained in this month's shipment.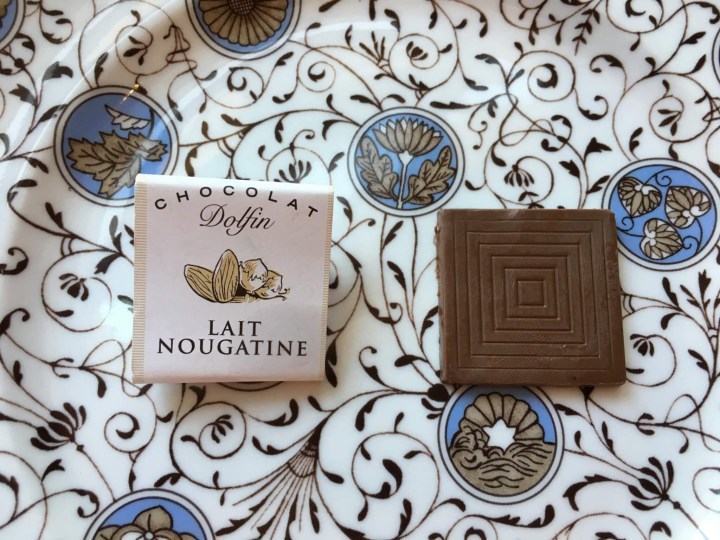 Chocolat Dolfin's Lait Nougatine ($ 0.17 each based on bulk pricing for 400) is produced by a traditional chocolatier located in Belgium that is known for blending Belgian chocolate with fruits, spices, herbs and flowers. Here, they combined Belgian chocolate with a crunchy hazelnut nougatine.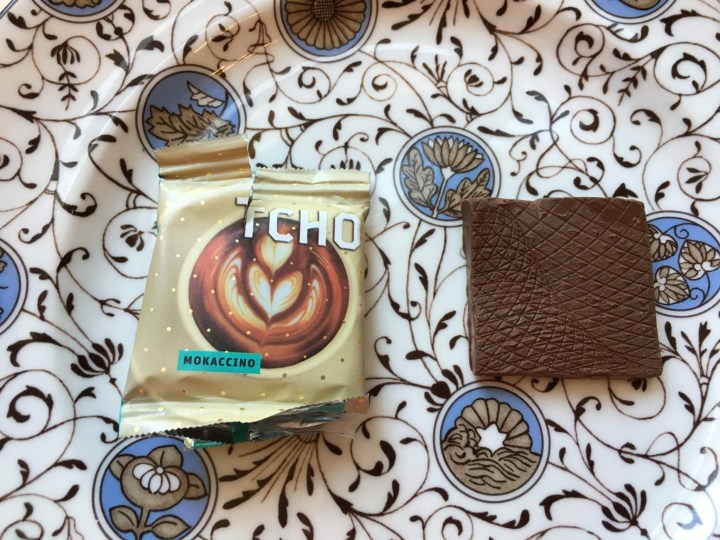 Tcho's Milk Chocolate and Blue Bottle Coffee Mokaccino ($0.57) bar tastes like a creamy coffee drink in bar form. Lush and sweet, it has a full mouth feel. This chocolate bar won International Chocolate Awards' Best Flavored Milk Chocolate in America Award.
Seattle Chocolates' Birthday Cake Batter Chocolate ($0.38) was delicious! Although it arrived melted, I loved it! It was gooey with a slight crunch and tasted of yellow cake batter, vanilla frosting and sprinkles. Decadent.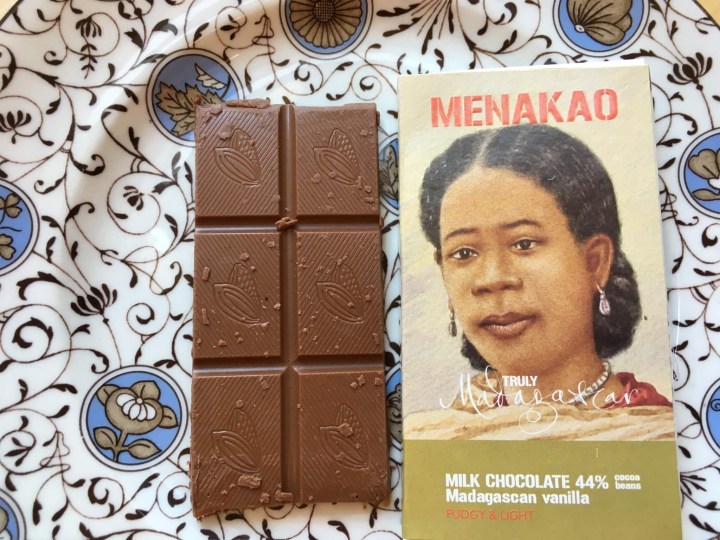 Menakao's 44% Milk Chocolate with Madagascan Vanilla ($7.99) is made from start to finish in Madagascar. Tasting of vanilla and butter, this lush, sweet bar evokes flavors of caramel.
This was such a fun and delicious box to receive! I'm looking forward to tasting my way through many more fantastic boxes in the coming months. In the meantime, I'm excited that I can purchase an array of fine chocolate bars at the Chococurb website. So convenient! The total value was ~$9.61 which was pretty impressive given the cost of shipping.
Visit Chococurb to subscribe or find out more!
The Subscription
:
Chococurb
The Description
: Chococurb is a chocolate discovery experience that sends customers unique, personalized subscription boxes filled with five to seven products every month.
The Price
: $35.00 per month