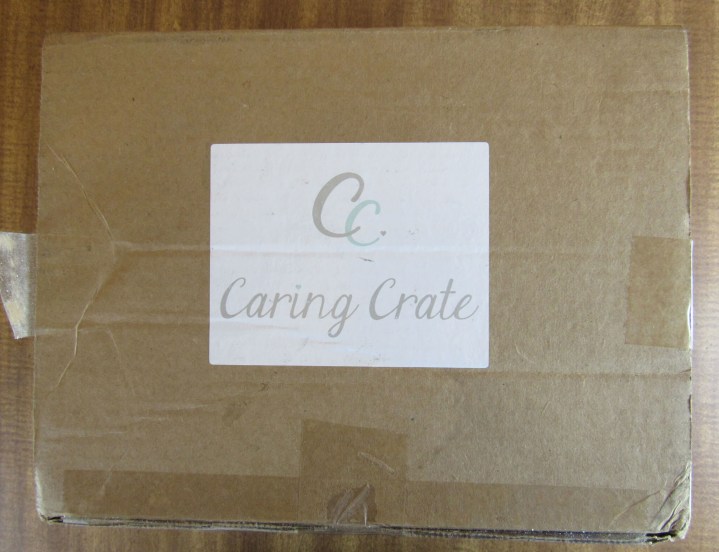 Janet Martel, a student of psychology and a health/wellness blogger started Caring Crate for those that are suffering from mental illness, chronic illness, or anyone desiring extra self-care. It's a gift of four to five health and wellness items for your body and mind. Items can range from healthy snacks to journals to aromatherapy.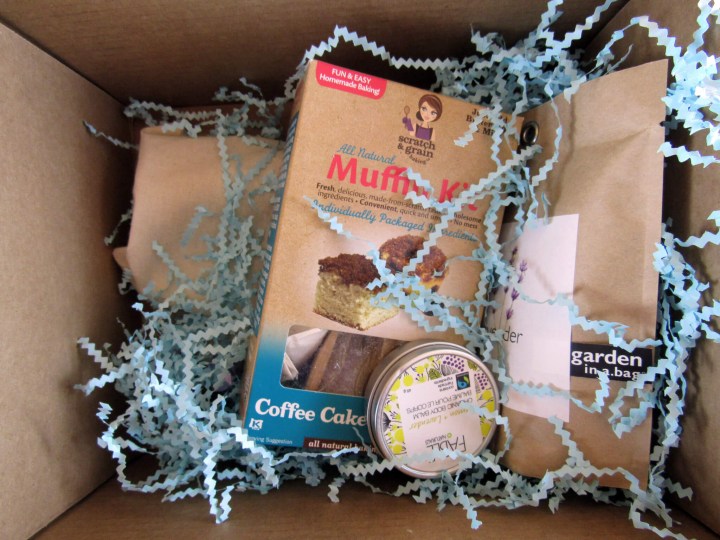 I am excited to write this review because I  am impressed by the thoughtfulness of the items selected. I have osteoarthritis and a chronic eye disease that almost resulted in blindness in my left eye. It was a miracle that I did not lose my vision. I joke that my body hates me. There are days when I struggle with climbing into my car, taking a long walk, playing on the floor with my seven-year-old, or tolerating bright light. I have days where I want to scream about my frustration and the unfairness of it all. This is my new normal, and I yearn to enjoy my life despite the limitations I experience at times.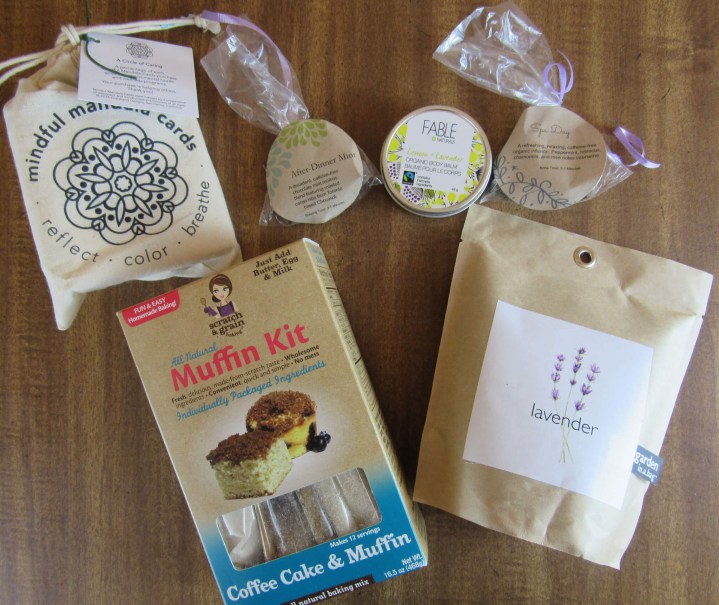 Here are the items from the May 2016 box. I am excited to see lavender. I have always wanted to grow it and never have. I don't know why.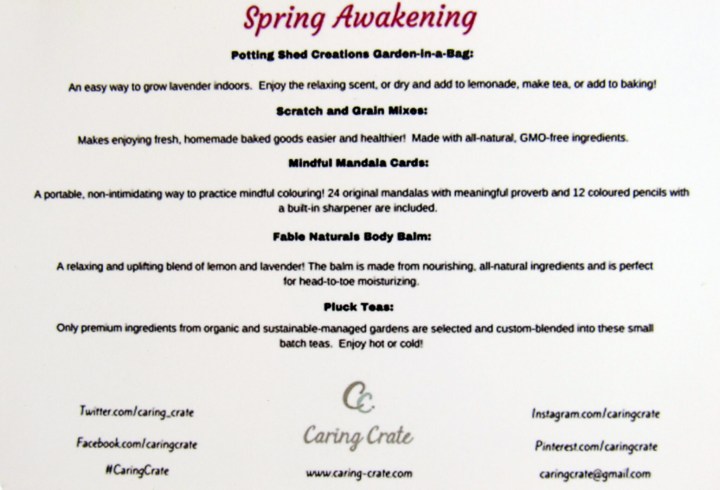 The theme is Spring Awakening! May is a great month where I live because it finally warms up, the flowers are blooming, and peas can still be planted. The information card lists the items, description, and Caring Crate Social Media accounts. I like that the email is included on the card. The information card is printed on photo paper.
Please note that the box ships from Canada. I will do my best to include Canada and USA prices to help you determine if the box is the right fit for you!
I am impressed with the made in USA  Scratch and Grain Coffee Cake & Muffin Mix ($5.49). The instructions are easy to follow, and the ingredients are pre-packaged. All that is needed is milk, butter, and eggs. Most of the ingredients are organic, and all ingredients are non-gmo. One avenue that people use to seek relief from chronic ailments is being selective in food ingredients.
I had days in the winter where it was hard to bend down and reach for my baking ingredients because I have secondary osteoarthritis in my neck, back, and right hip. Bending is not my favorite activity in the winter months. This mix has the items labeled clearly, premeasured, and ready to go. That is a tremendous help to those having a rough day to due mental illness or chronic illness. I am saving the mix for one of those days because I love coffee cake!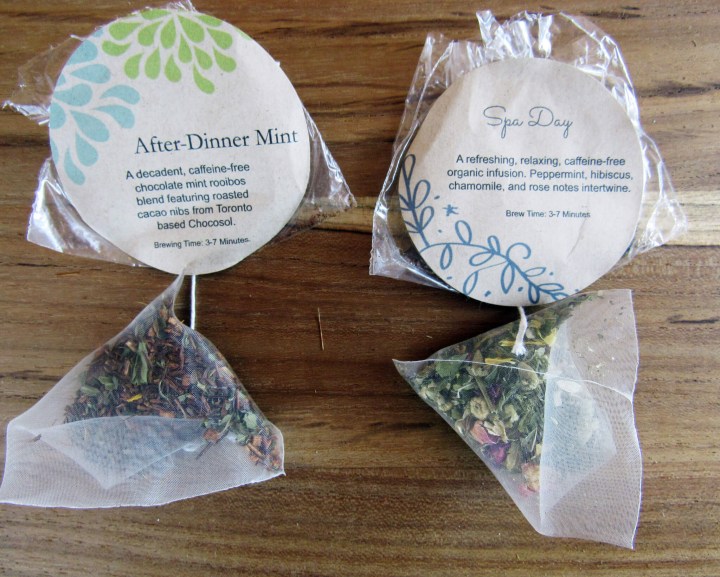 Pluck Tea is a Canadian company that specializes in high-quality tea with local ingredients. The tea is made in small batches and can be enjoyed hot or cold. I received two tea bags. The tea on the left is After Diner Mint ($1.20) which has roasted cacao nibs from Toronto based Chocoso giving it a delicious chocolate aroma. The tea bag on the right is Spa Day ($1.20) which is a beautiful blend of peppermint, hibiscus, chamomile, and rose notes.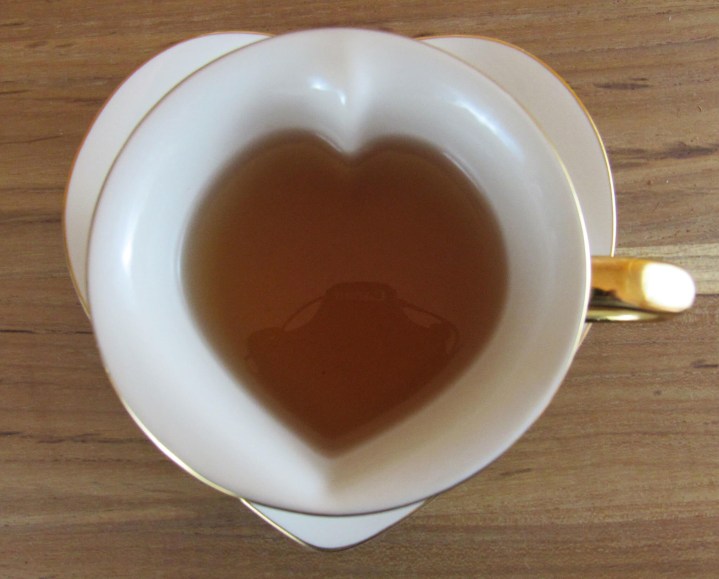 Both teas are decaffeinated which is important to those suffering from chronic illnesses looking to avoid a caffeine-driven flareup.  I made the Spa Day Tea cold on a warm day. It was crisp with a minty taste. Sorry for the camera shadow in the tea!
I love the Mindful Mandala Cards ($18.00)! There are 24 cards printed on stock paper with inspirational sayings on the back along with 12 color pencils and a sharpener. Everything is packaged in a drawstring bag. Color the beautiful mandalas while meditating on the sayings is an excellent way to restore peace to your self. I keep them in my purse and by my desk for those stressful moments that come with having a chronic illness. The saying that has caused me to reflect the most is, "The obstacle is the path." I am trying hard to understand my new path!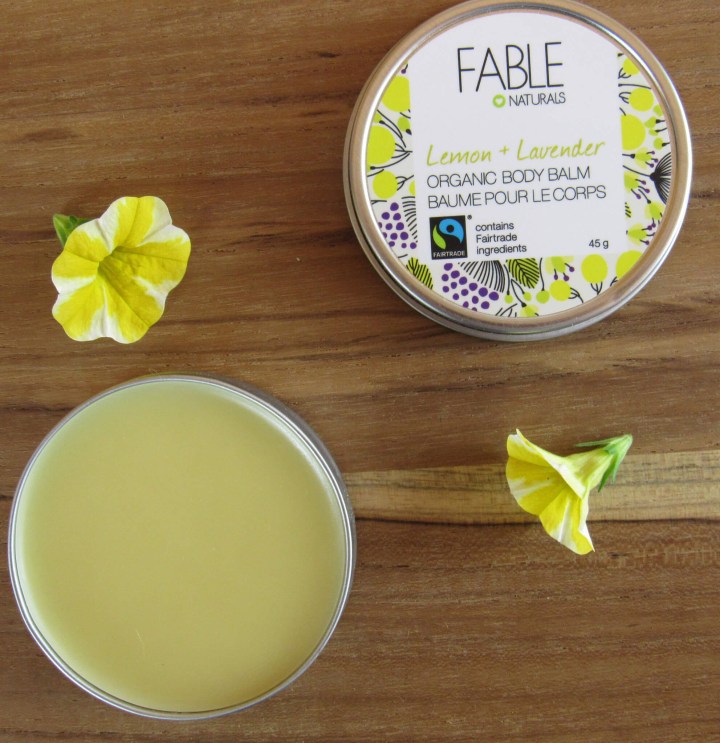 The Fable Naturals Lemon and Lavender ($9.14) is made in Canada by Gwen, who is passionate about her products. It contains Fairtrade cocoa butter, lemon essential oil, lavender essential oil among other recognizable ingredients from nature. The calendula infused balm has an uplifting scent. I used on my elbows and also on my hair to control the frizz and flyaways. Rub the balm on your hands and feet. Next, cover them with cotton socks and gloves for a few hours or before going to bed to enjoy an amazing and simple spa treatment. Don't forget to take care of yourself!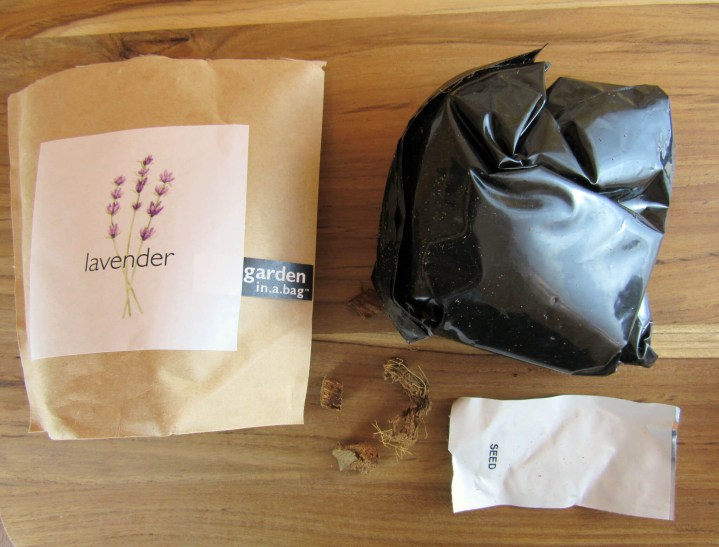 I saved the best for last. The Potting Shed Creations Garden-in-a-Bag – Lavender ($10.00) is an excellent way to bring the outdoors to you especially when it is hard to enjoy the outdoors because of limitations caused by illness. Lavender is a beautiful flower with a calming scent and can be dried and used as a herb. The package includes the coconut husks for drainage which I took a few out for the photo, the soil medium is in the black bag, and the seeds are in the white package.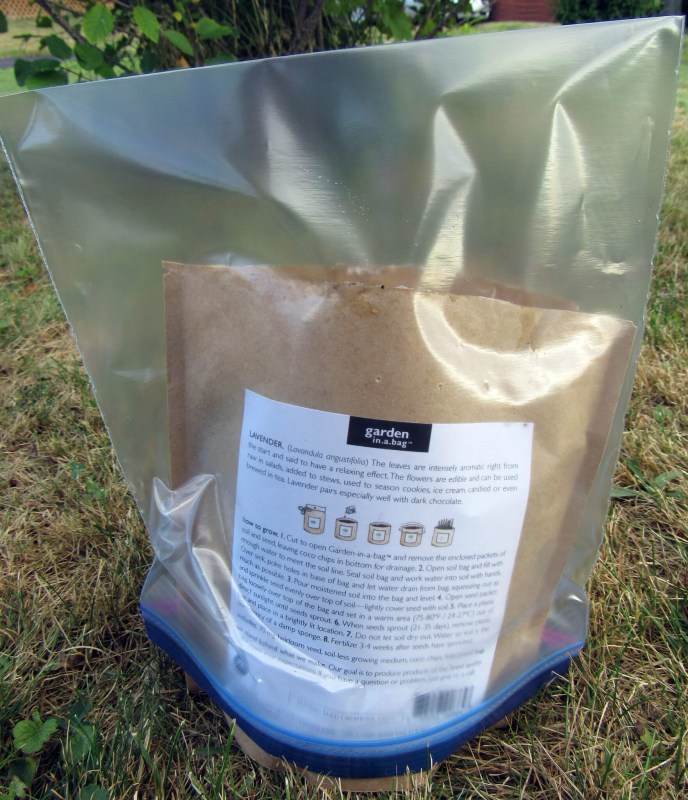 The directions are easy to follow. I feel a connection with the earth and enjoy planting, weeding, and touching the soil. Planting the lavender brightened up my day! It's  an easy way to grow something inside and bring a little happiness to people who are limited in their movements. I have not been as involved in my garden and weeding as much this year because it bothers my hip. It gave me great pleasure to plant the lavender.
Janet Martel did an excellent job with the curation. Caring Crate contains items that bring joy and are usable despite physical or mental limitations. The items are uplifting and bring happiness. It felt like a gift from a loved one that wanted me to enjoy the pleasures of life. The value came to around $45.00 which is over the value of the box cost plus shipping. I am impressed with the curation and feel that the box is a great gift for anyone that suffers from a chronic illness, mental health issues, or need a little self-care.
Visit Caring Crate to subscribe or find out more!
The Subscription
:
Caring Crate
The Description
: Caring Crate is a one-of-a-kind subscription box designed especially for those dealing with mental health issues, chronic illness – or for anyone who needs a little extra care! Boxes will include curated items like helpful journals, soothing aromatherapy products, mood-boosting snacks, and more.
The Price
: $53.00 per month