BullyMake Box is the monthly box for power chewers! No plush toys in this subscription! Each box comes with 5-6 toys and teats for your dog. Have more than one dog? Add an extra toy for an additional $9.00 a month. Be sure to fill out the additional information section when checking out. There are four options for allergies including a toy only box. Also, select the weight of your dog which starts at 10 pounds and continues with 10 pound increments to 200 pounds.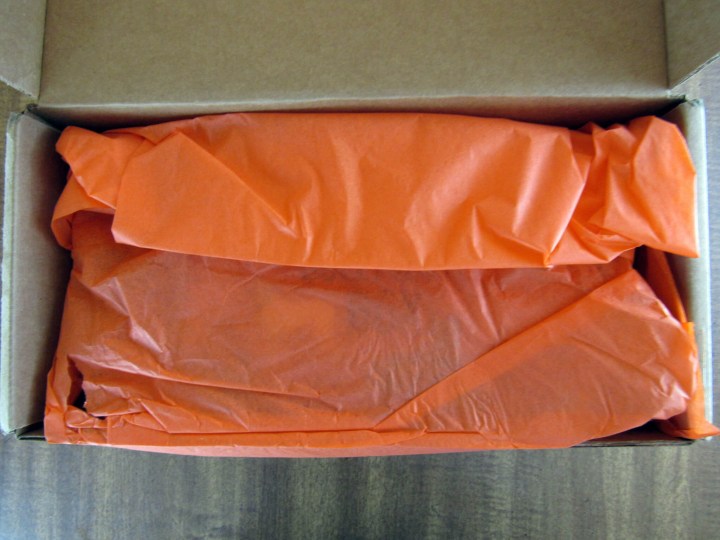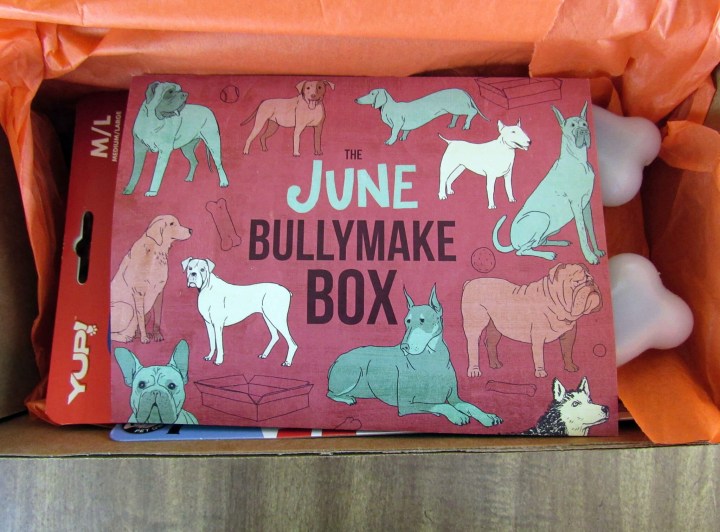 Odie and Bella were excited to see mommy opening the June Bullymake box. The box is mainly for Odie, a Borador, although Bella, a mini rat terrier, can be quite fierce.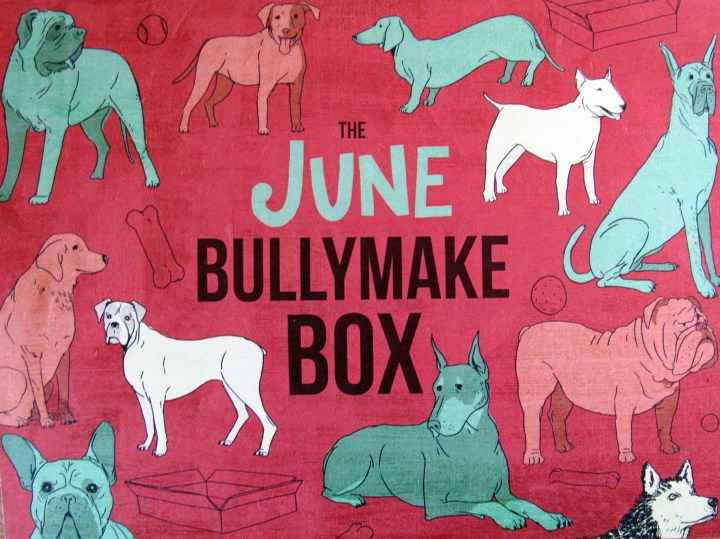 The May and June box were sent to a different address. Bullymake was contacted after the May box arrived at the wrong address. They agreed to reship the May box and change the address in the system to the correct address. The June box was also sent to the incorrect reviewer too. Unfortunately, they haven't responded to any of our recent inquiries.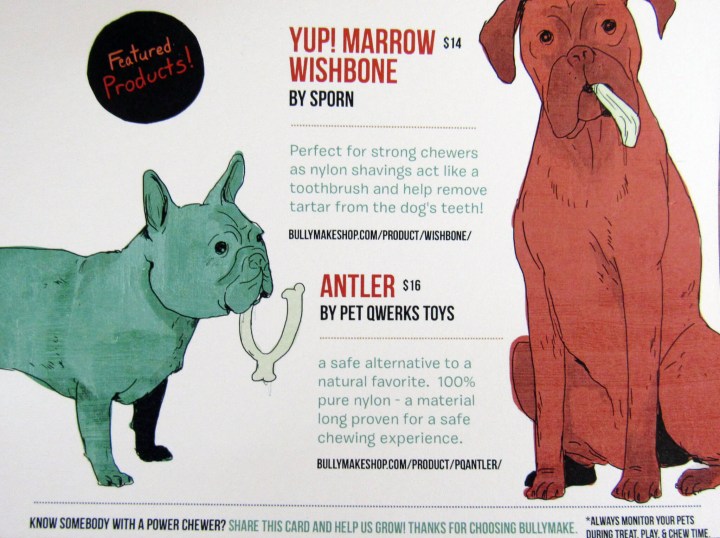 Check out the fun products in the June box. I expect them to be popular with my chewers.
The dogs are going to love the June 2016 Box! The box items were selected with Odie, our Borador, in mind. He is half Border Collie and half Labrador Retriever. He also destroys all dog toys including the expensive durable dog toys that I buy for him. Odie's weight is in the 50-60 pound range. Bella, our Mini Rat Terrier, will also join in on the fun when appropriate.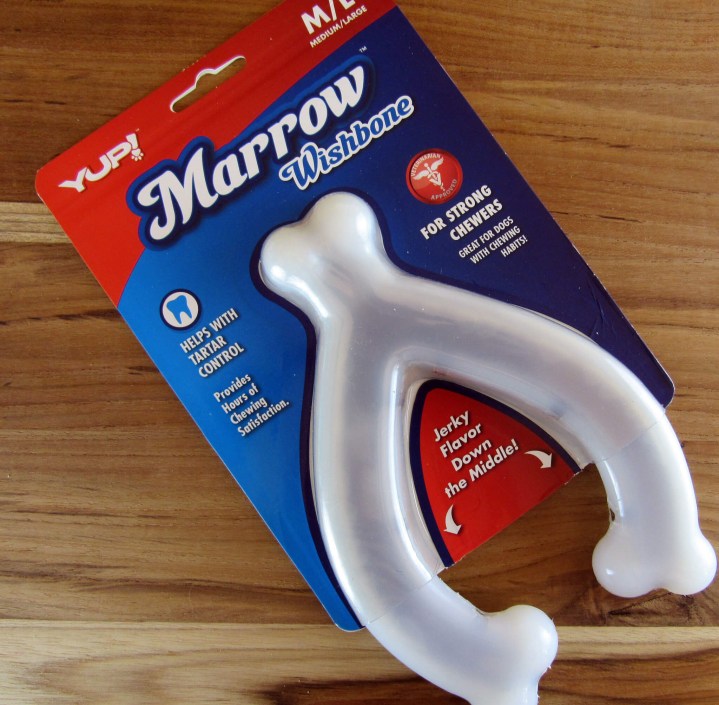 The YUP! Marrow Wishbone for Medium/Large ($12.95) is for strong chewers and helps with tartar control. The jerky flavor made it a hit! Both Odie and Bella loved the featured product of the month.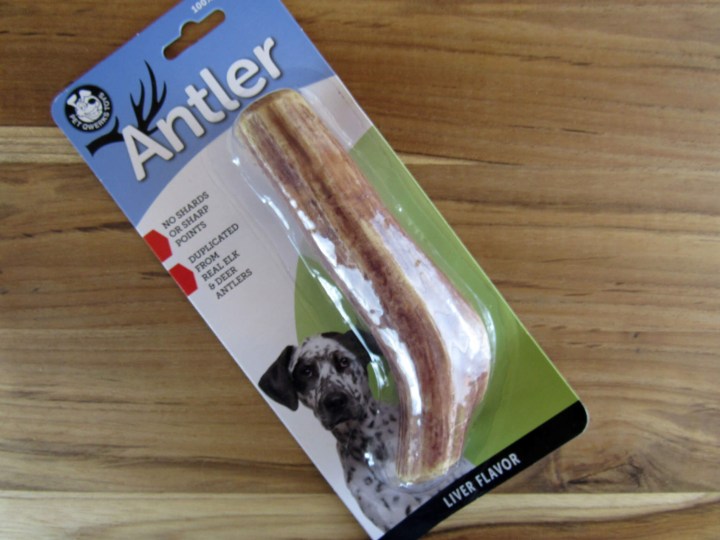 The X-Large Pet Qweks Toys Antler in Liver Flavor ($12.99) is the nylon version of the real deal. No worries about shards from antlers when your dog is chewing on this nylon version. It's infused with liver and designed for aggressive chewers. Odie is chewing on it right by my foot as I write this review.
The Smokehouse Tooble Snax (3 oz, $2.29) is one of those things that I don't want to touch with my bare hands! It is made from beef trachea in the USA. It is labeled for small dogs which is disappointing because this box is intended for a larger size dog. Bella did not complain at all. The package is already empty!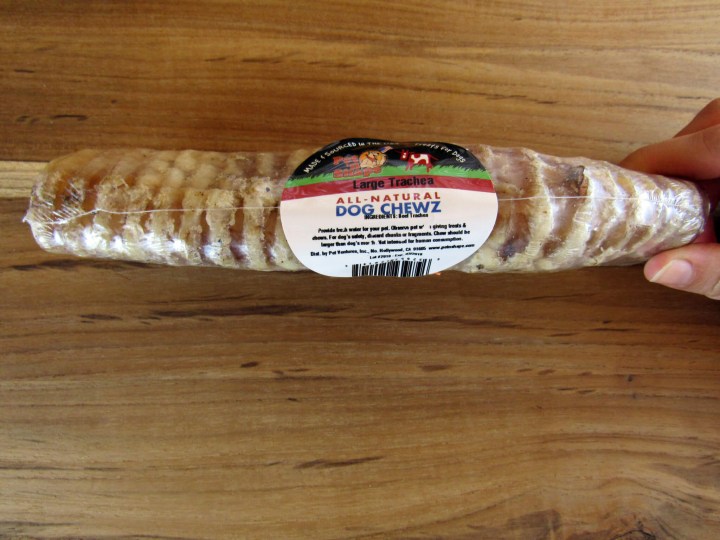 The dogs are excited that there is more trachea to eat. Gross! The All-Natural Dog Chewz Large Trachea ($2.99) have been enjoyed by both Daisy and Odie. Daisy declined to be in the review because she half-heartedly chewed on the toys and treats. She did love chewing on the trachea for a little bit. Odie finished it off. It is made in the USA.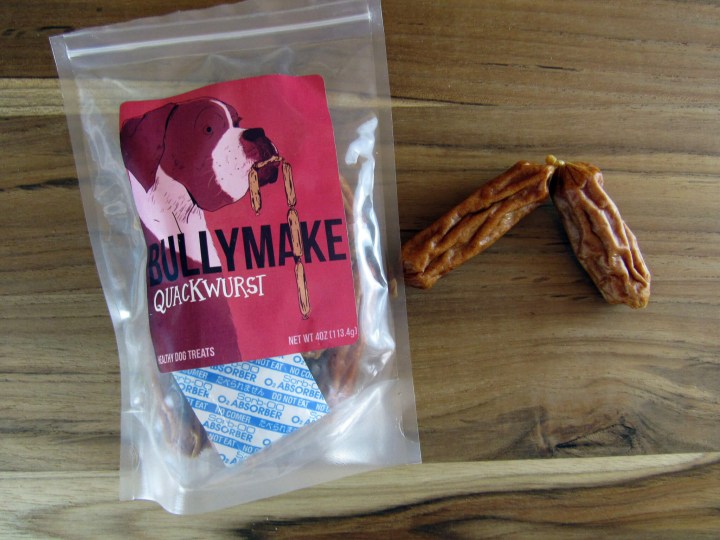 I checked for the Bullymake Shop for the Bullymake Quackwurst (4 oz, $5.00+) which was not in stock. The first two ingredients are duck and turkey which is more expensive than chicken. The treat should be worth over a $1.00 an ounce plus the costs of having it printed with their own label and packaging. It is a soft, chewy treat that both Odie and Bella loved. It is made in the USA.
Time for the best part of the review! Dog pictures!!!
The dogs are on an old pet comforter in the photos. Odie is the large dog and is half Border Collie and half Labrador Retriever. Our neighbor gave him to us when he was around a year old because he was too much for them to handle. Bella is a 12 lb Mini Rat Terrier. Do not be fooled by her small size.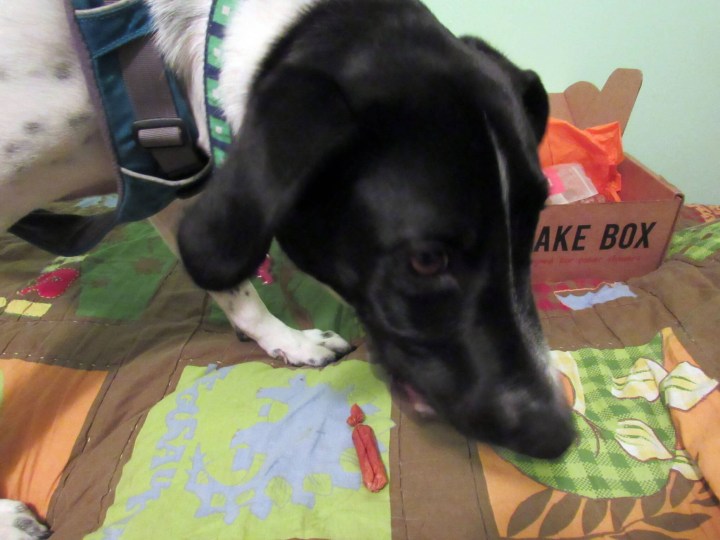 Odie is enjoying the Bullymake Quackwurst. He is wondering why I have the camera near him as he is eating.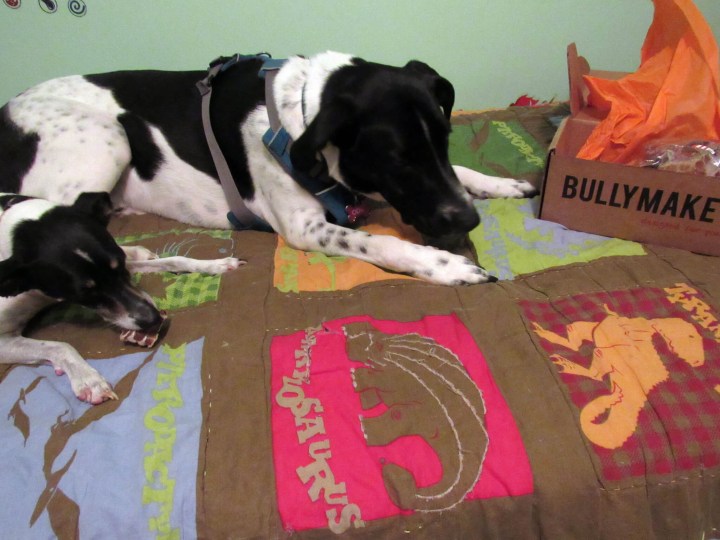 Is Synchronized Eating an Olympic sport because Bella and Odie could take first place! They are enjoying the Smokehouse Tooble Snacks.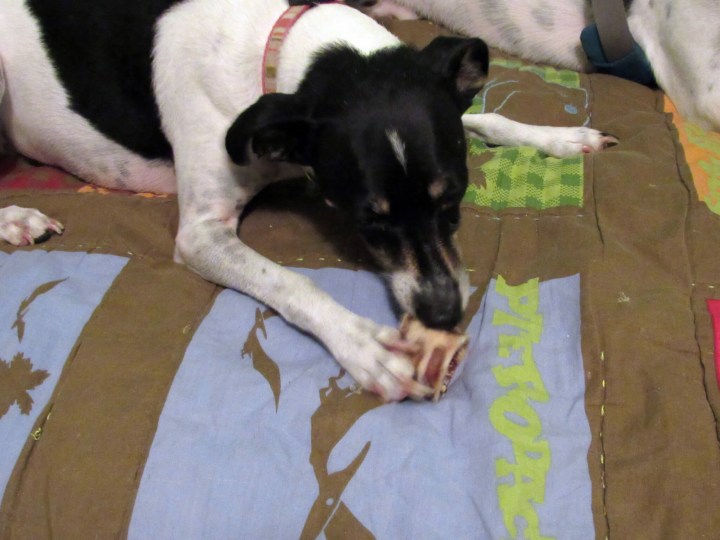 Bella loves the small dog treats!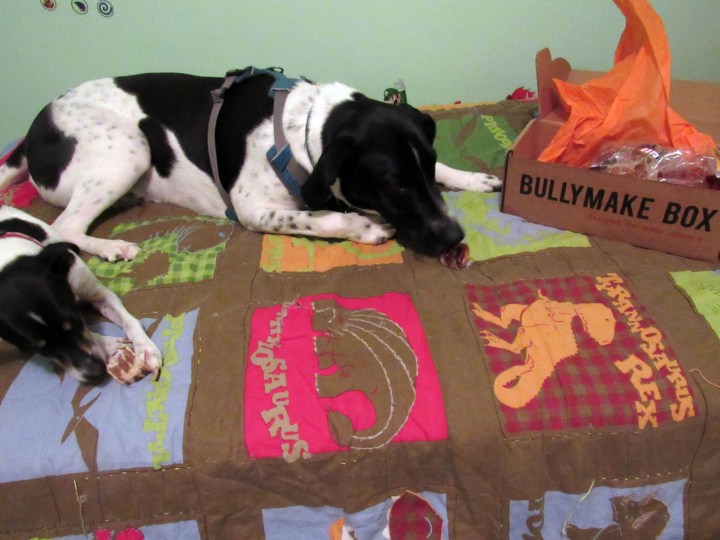 It took them a few minutes to eat the chewy treat.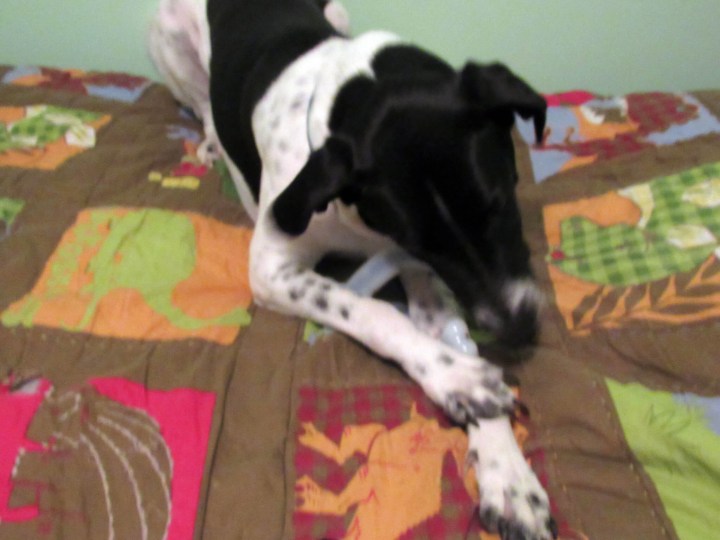 Odie was a blur while chewing on the Yup! Marrow Bone.
This picture is what most of my pictures look like when taking dog photos.  Check out Bella's teeth.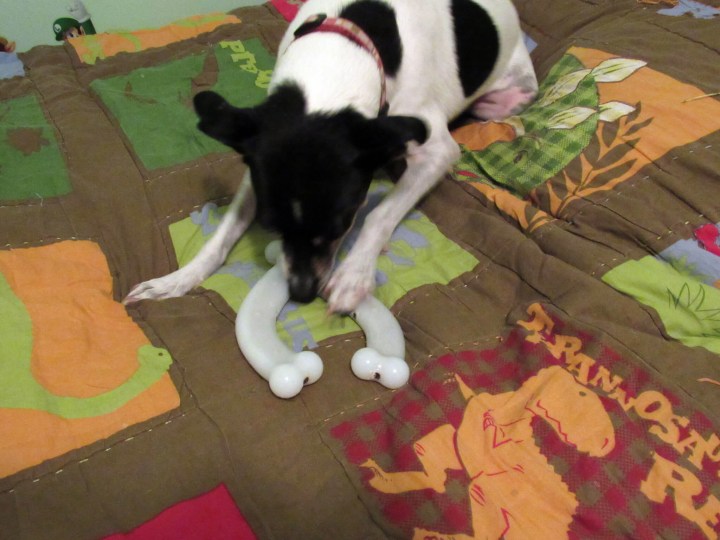 Bella senses that Odie wants the toy back.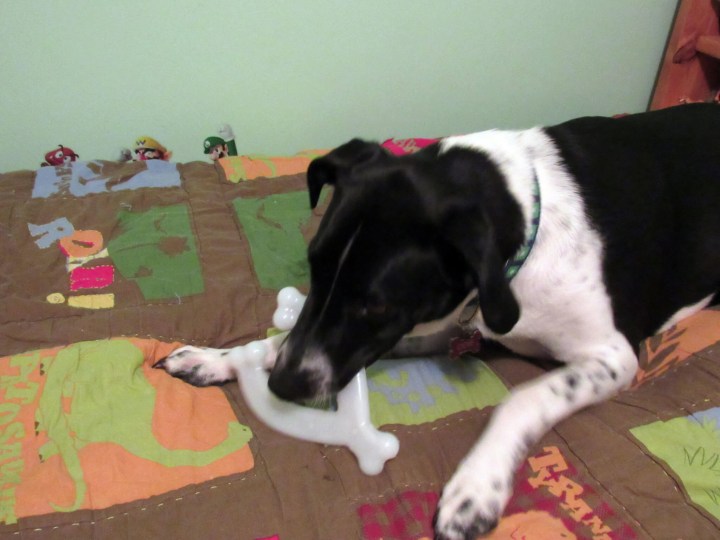 Odie is happy to have his toy back!
My power chewers loved their box. Odie enjoyed his treats and toys. He is a sweetheart and has no problems sharing with Bella. The dogs have been playing with the toys and most of the treats are already gone. Bullymake understands my need for durable toys and treats for their chewing needs. It's a fantastic box for heavy chewers that accommodates allergies and is weight specific.
What do you think about Bully Make? Save $5 on any plan with code Bullymake5.
Visit Bully Make to subscribe or find out more!
The Subscription
:
Bully Make
The Description
: Bully Make is the only subscription company that focuses on heavy chewers! We deliver toys and treats based on your dog's weight. You get hand selected perfection in every Bullymake Box.
The Price
: $39.00 per month