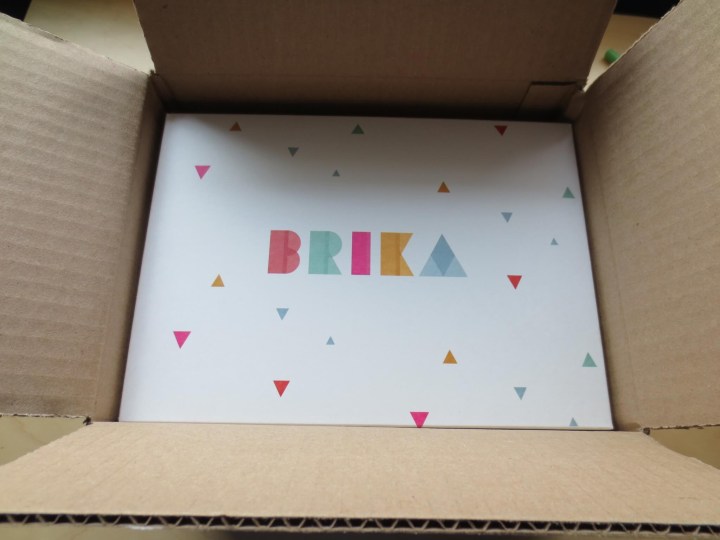 BRIKA subscription gift box delivers handpicked selection of high-quality and well-crafted goods, once a month, for three or six months. When you sign up, you answer a few questions including the hobbies, the favorite things and the passions of the gift recipient as well as the type of person they are (creative, bohemian, classic). So you can either send this gift to a loved one or to yourself. Each box will have a value of at least $30. The gift box arrived inside a sturdy cardboard box, perfect to survive the trip to the mailbox!
The box is absolutely adorable. I love the happy feeling it gives with the colours and the triangle dots. On the side, a reminder that "Everyone has a creative spark!" Yes, we all do!
Inside the box, everything is wrapped in a hot pink tissue paper. A notecard explaining the goal of this subscription box is included. Do I see a bit of fabric there? Love the colour! And the box is quite heavy, I'm intrigued!
On the backside of the notecard, a nice handwritten note telling me what's in the box and also why it was chosen for me. I did mentioned that I love writing and that I might not be a great cook, but I like spending time in the kitchen. This is the second box out of three I will be receiving.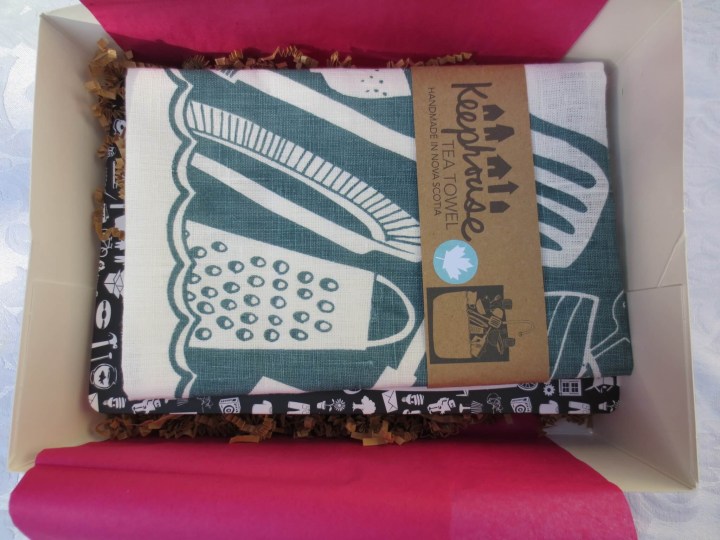 Ouh! I was right! It is fabric! And… a book? I'm insanely excited! I loooooove books, but I was not expecting one in this box. A notebook? An indie book?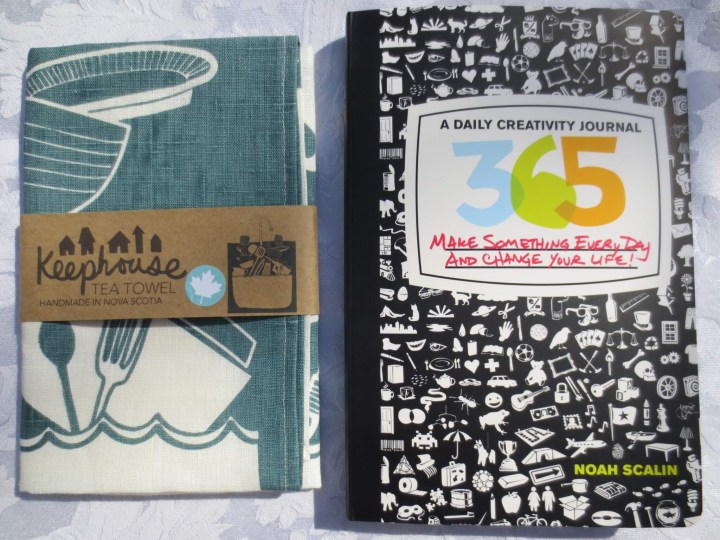 The content of the box. A Tea Towel and a creativity journal.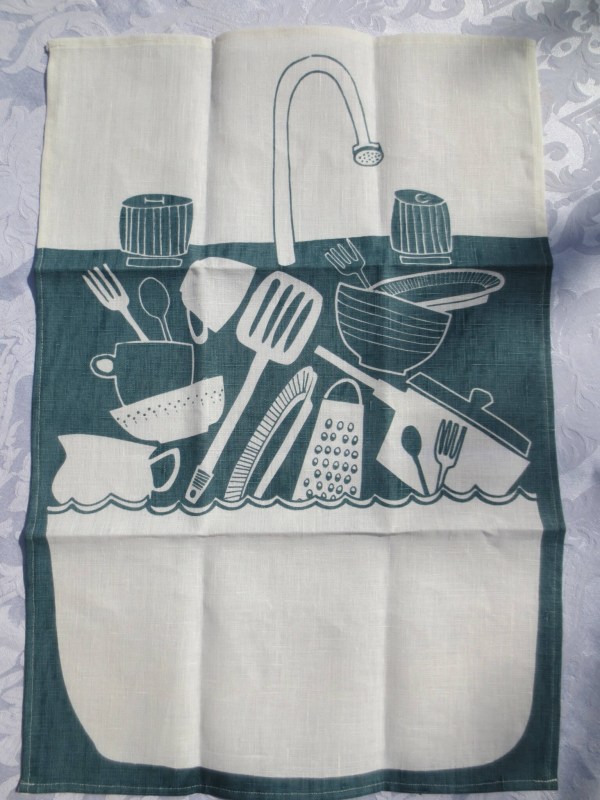 Sink Full Tea Towel Ocean On White Linen ($22.00 CAD).  I love the fabric on this tea towel. I don't own any linen tea towel, so this is a nice change as I love anything linen. It breathes, it dries quickly and it look so nice and natural. The design is cute and funny, I'm not sure if I like being reminded that I need to do the dishes though! I love the colour as well, it fits really nicely in my kitchen.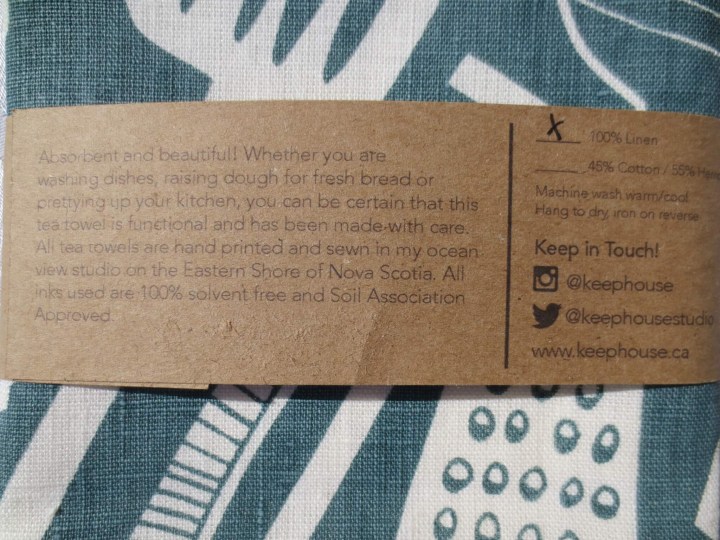 On the reverse, it says we can use it for raising dough for fresh bread. I think that's the perfect use for it, as well as to keep anything from drying out (rice, bread, some cookies, when making a batch of dumplings, etc.) I will get a lot of use out of this one!
The second item is the creativity journal.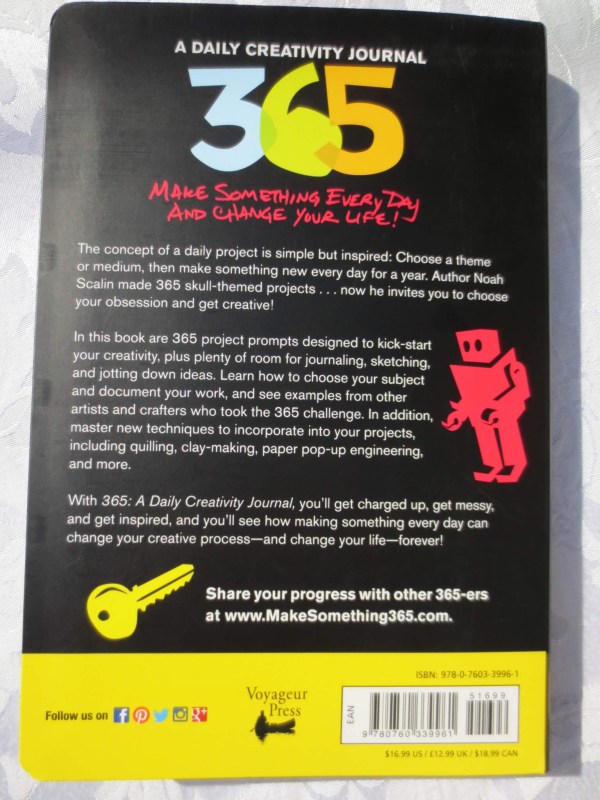 365 : A Daily Creativity Journal. Make something everyday and change your life by Noah Scalin ($12.98) The concept is to choose a theme or a medium and make something new every day for a year, with the prompts included in the journal. I actually saw this book a couple of months ago when I had a hard time creating anything and I thought it was a very nice way to get back into it. I didn't buy it because things got crazy in my life, and I forgot about it. I'm very happy to have it in my hand and see what I can make out of it!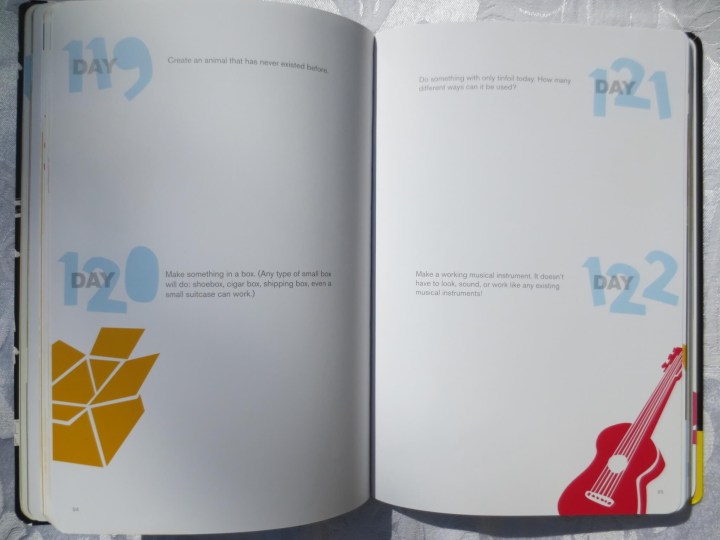 For example, on day 119 it says to create an animal that has never existed before. On day 121, you have to do something with only tinfoil.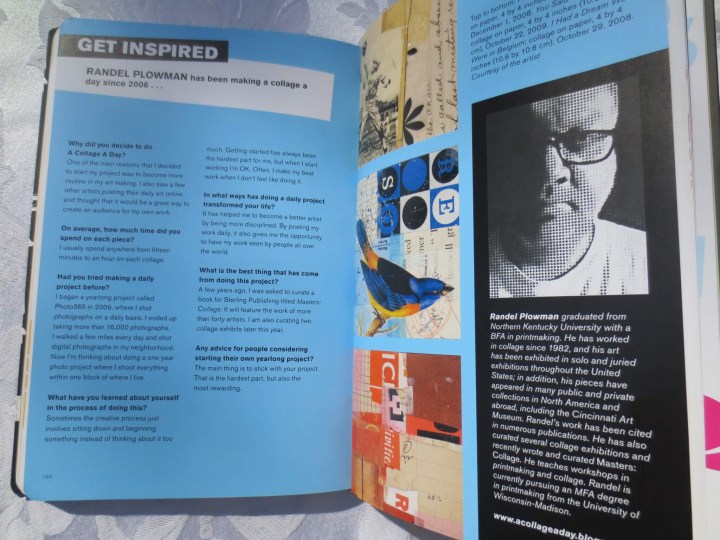 It also included interviews with artists who did the 365 challenge.
This was a well curated box that fitted my interests and my personality, and the value of this box was closer to the promised $30 than the first box. They really care about the recipient, and it shows. Sadly, although I was super excited and happy about what I received, I felt this box missed the point of their mission statement. They say this box is made by the most talented artisans and designers, and the tea towel is the perfect example of that. But the book? Maybe it's a way of making ME the talented artisan and designer! I also like that they chose a book written by an artist, and as I mentioned earlier, this is a book I already had thought of buying, so that's a plus. But I wish I would have received something more unique. Something from a local artisan that I can't really find on Amazon, something to discover.
I love this box and will use both items until they fall apart, but I'm left wanting for more.
What did you think of my personalized BRIKA gift box?
Visit BRIKA to subscribe or find out more!
The Subscription
:
BRIKA
The Description
: Experience the best of BRIKA without leaving your home. Our Subscription Gift Box features a handpicked selection of high-quality, well-crafted goods delivered to your doorstep once a month, 3X or 6X a year. Our Gift Concierge will work with you to design the perfect box for its recipient, whether they're your mom, a new mom, your sister or best friend. Send us your personalized message and we'll handwrite it onto a note to show how much they mean to you…or better yet, send this box to yourself as a special treat each month!
The Price
: $30.00 per month