BrickBox is a monthly subscription box for LEGO fans.  BrickBox distinguishes itself from other brick-themed boxes by providing actual LEGO pieces and accessories to add to your set instead of LEGO-themed merchandise. BrickBox offers 3 sizes of box: Loot (minifig + accessories), Mini (brick set + goodies), or the full box.  This is the full box.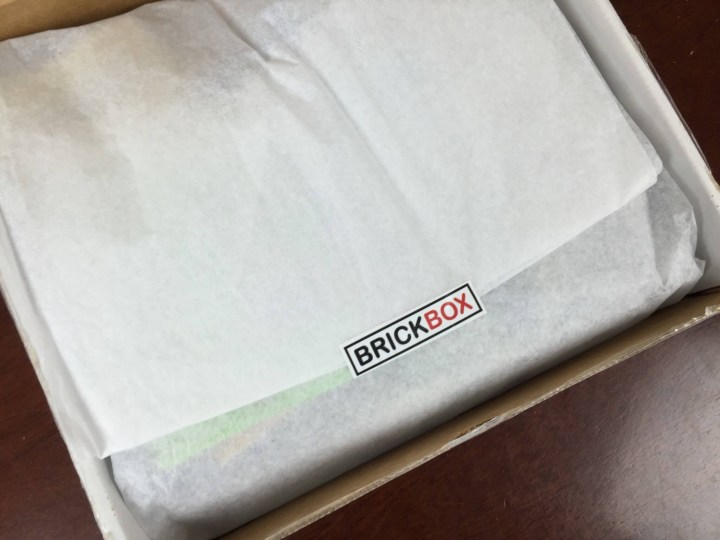 The inside of the box is neatly wrapped in tissue to preserve the suspense.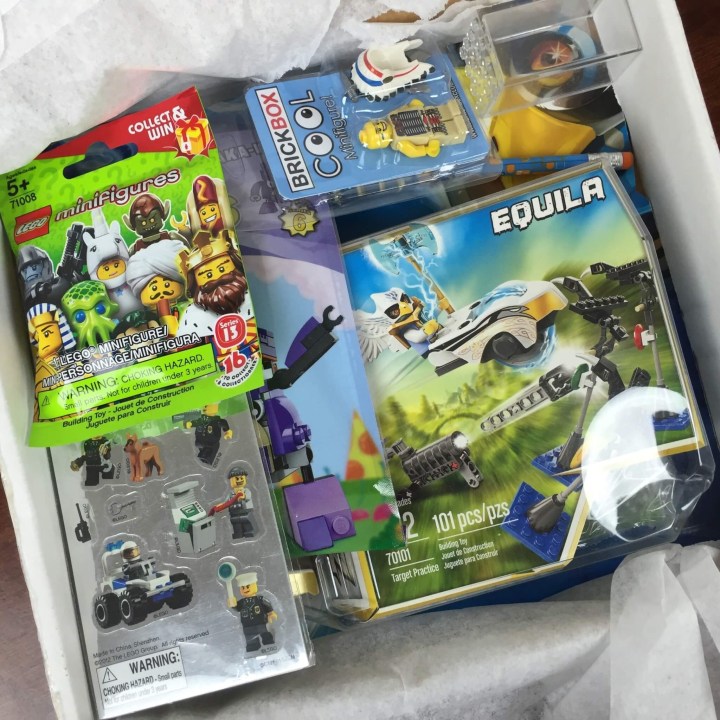 Inside is a pile of genuine LEGO sets and licensed merchandise.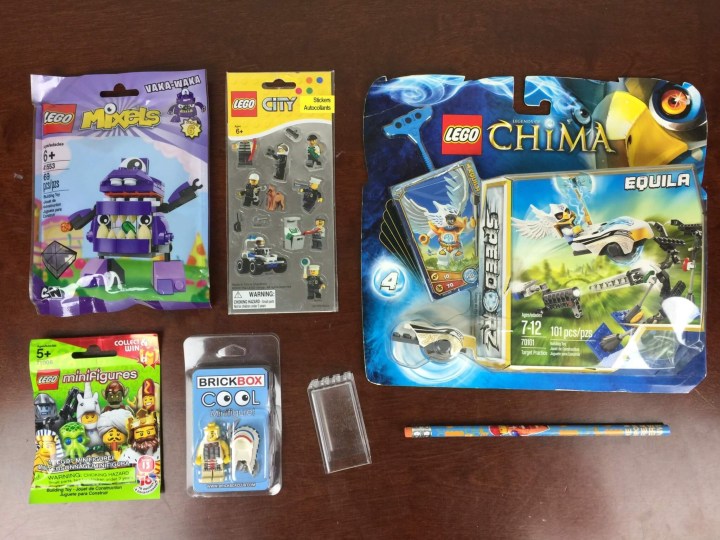 All the items in the box.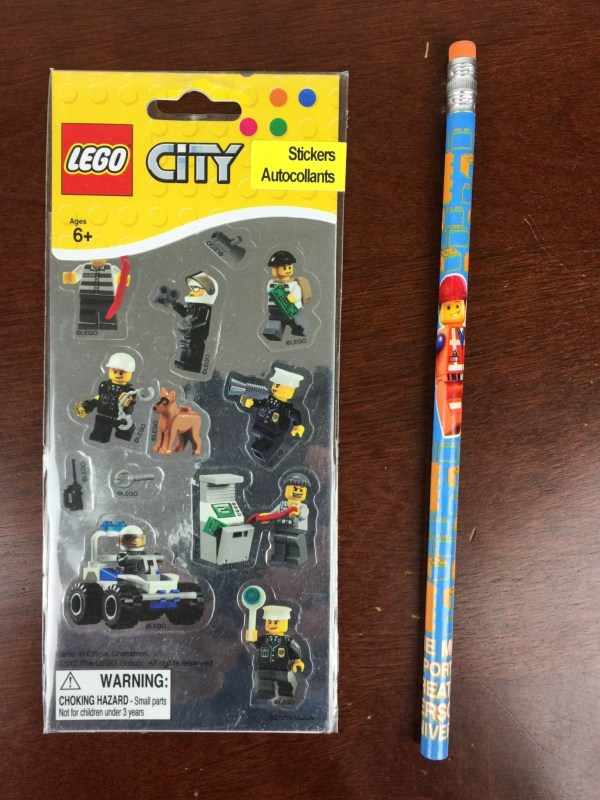 Lego City Stickers:  This pack included two identical sheets of stickers themed with cops and criminals from the LEGO City collection.
Lego Pencil:  A No. 2 pencil featuring Emmet, the most important, greatest person alive!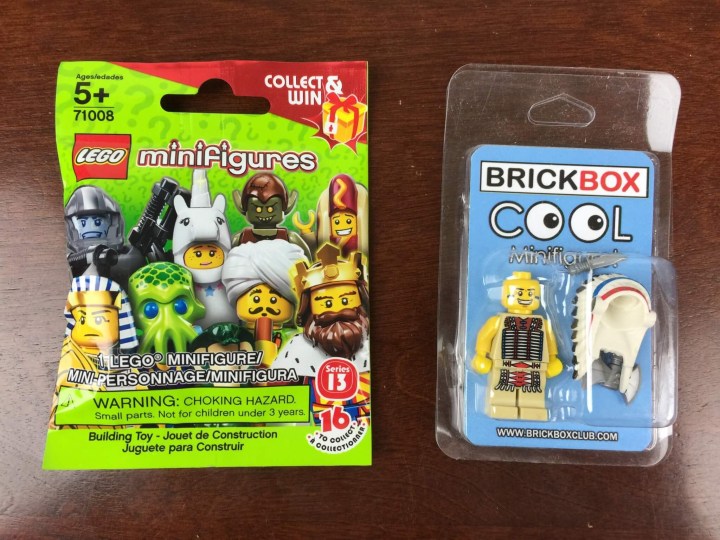 Lego Minifigure:  This mystery pack has a surprise (revealed below) genuine LEGO mini-fig, complete with accessories.
BrickBox Lego Cool Minifigure:  BrickBox also put together an "Indian Chief" set featuring a character in Native American style clothing, complete with a feathered headdress and weapons.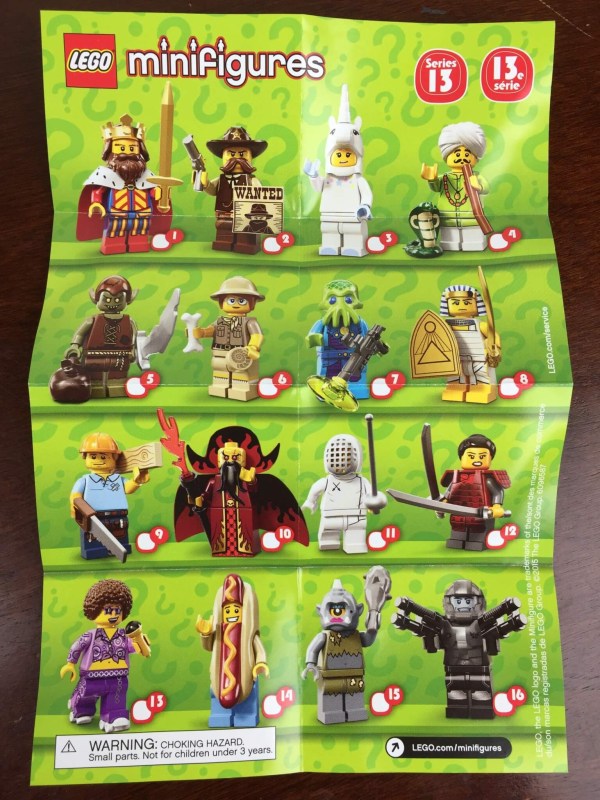 By series thirteen, the mini-fig kits are getting some pretty obscure characters!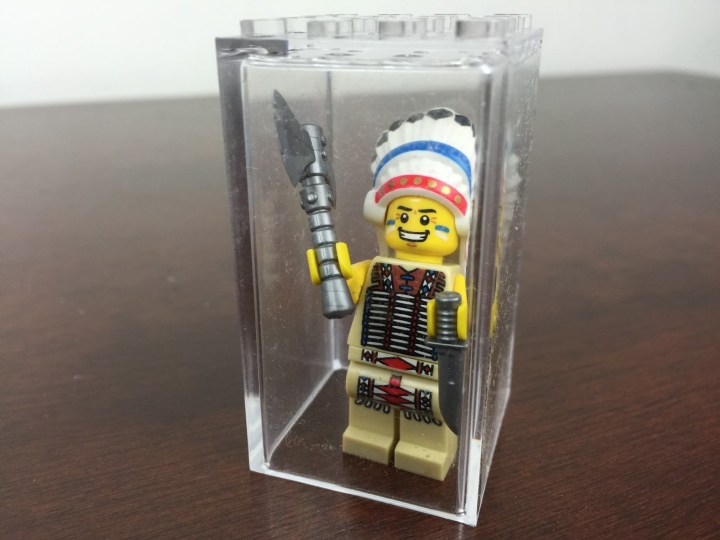 The BrickBox fig fits in the stackable display case.  His weapons are slightly anachronistic and look to be borrowed from viking and modern military sets.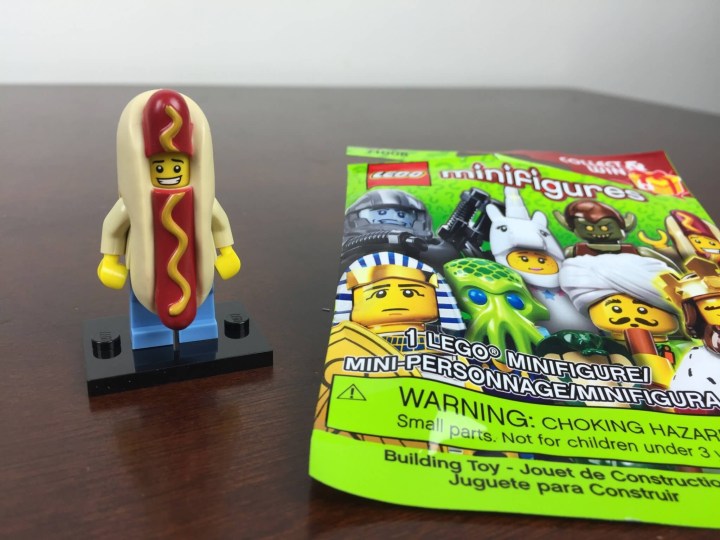 Ta-da!  Our LEGO mystery mini-fig is arguably one of the coolest of the series.
Lego Mixels Vaka-Waka:  Mixels are crazy LEGO sets that create bizarre creatures with related themes.  Once you collect multiple sets within a series, you can combine them to create larger creatures.
Our Vaka-Waka is one of the three critters that combine to form Munchos Max!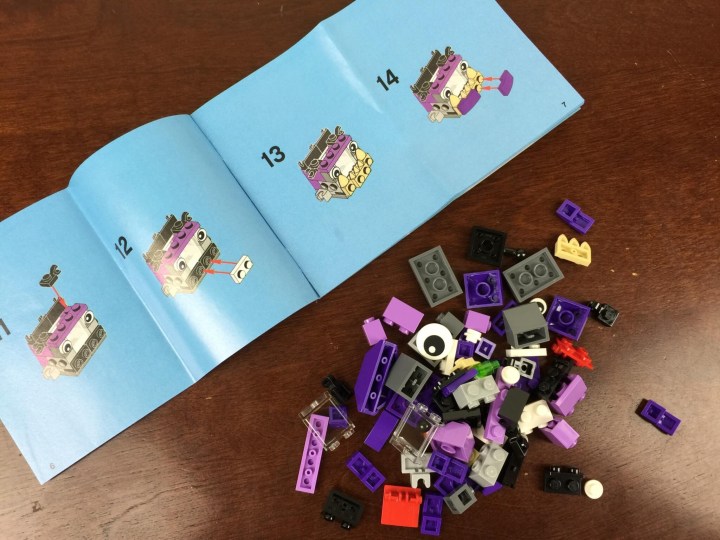 The kit has all the required pieces (plus a few extra) and complete instructions for the build.
The completer Vaka-Waka.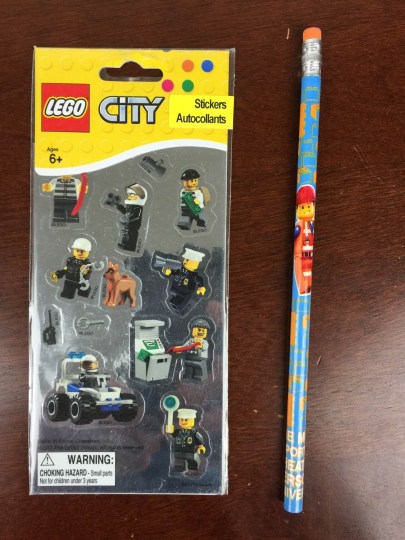 Lego Legends of Chima Equila:  We also received an entire Chima kit!  Chima is one of the fantasy realms of the LEGO universe — it is populated with war-like bird people.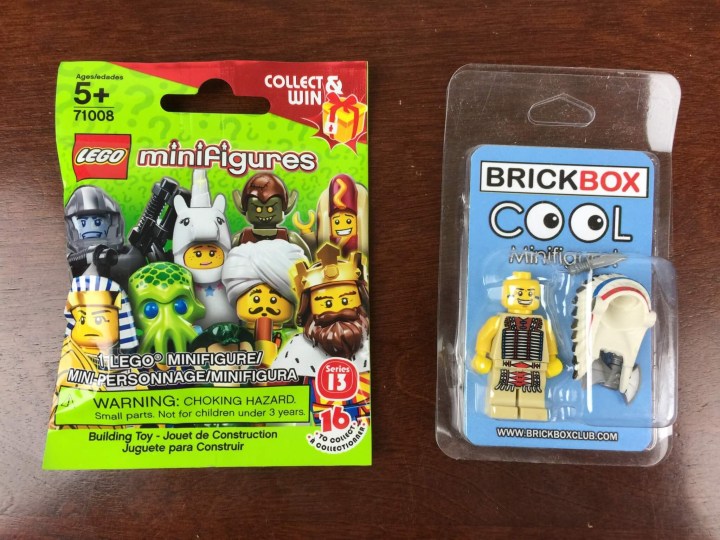 The kit included a winged Chima min-fig with battle ax, a pull-cord activated car that the figure can ride, collector cards that can be used to play a fantasy card-based battle game, a working cannon, several targets, and some pieces and instructions for creating a game from the set.
The cannon and vulture targets.  A gentle press on the pad release the hefty, rubber-encased projectile.
This set was pretty extensive.  It had lots of genuine LEGOs, and it was all over the map theme-wise.  This is a great subscription for LEGO fans that like working with the actual bricks, as there are always a couple fun projects, new characters, and genuine sets to play with!
Visit BrickBox to subscribe or find out more!
The Subscription
:
BrickBox
The Description
: Join Brick Box and receive awesome LEGO products every month! They carefully select Authentic BRICK Sets, Minifigures, Accessories, Parts, T-Shirts, Gear and much more, put it all together and deliver it right to your door.
The Price
: $19.98 for the BrickBox Loot (MiniFig & Accessories), $29.98 for the BrickBox Mini (LEGO brick set + accessories), and $39.98 for the regular BrickBox