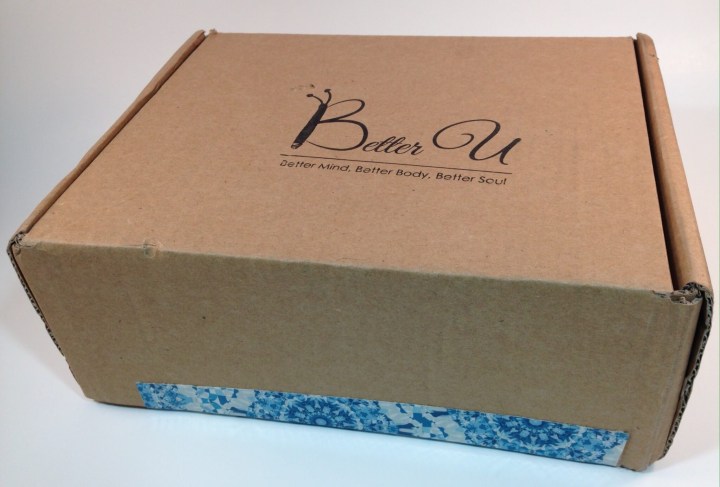 BetterU Box is a monthly subscription box that sends 6 to 10 sample and full sized health and wellness products with a focus on vegan, plant based, natural, and organic items for $30 a month.  These items may include health foods, supplements, motivational books, and spiritual items.  All products are carefully hand picked by BetterU Box's co-founders Anna & Jessica. Their goal is to guide you "through your journey of a BetterMind, BetterBody and BetterSoul". The subscription is available in 1, 3, or 6 month terms and auto-renews at the end of the term. It is currently only available in the US and shipping is included.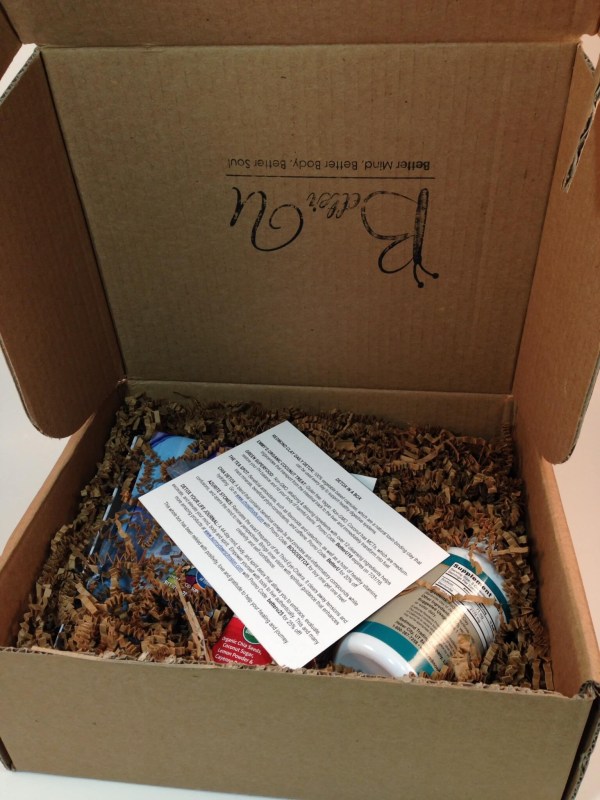 The theme for June's box was "Detox in a Box". The items were shipped in a sturdy box with shredded paper as a cushion.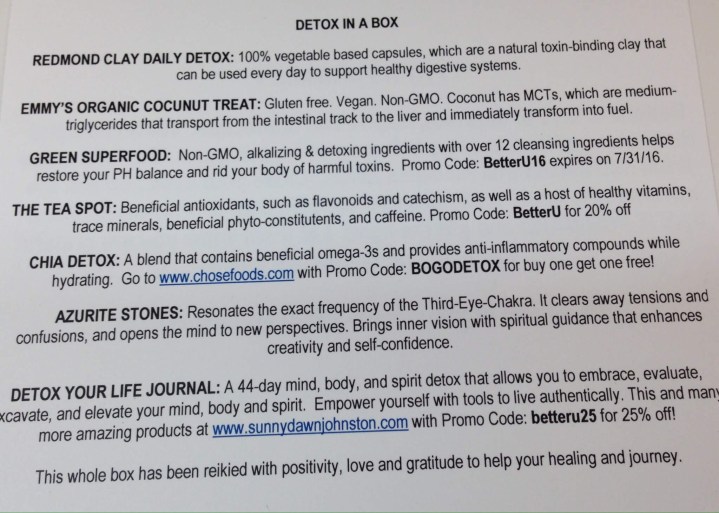 I love it when companies include a product information card! According to this, my box has been reikied with positivity!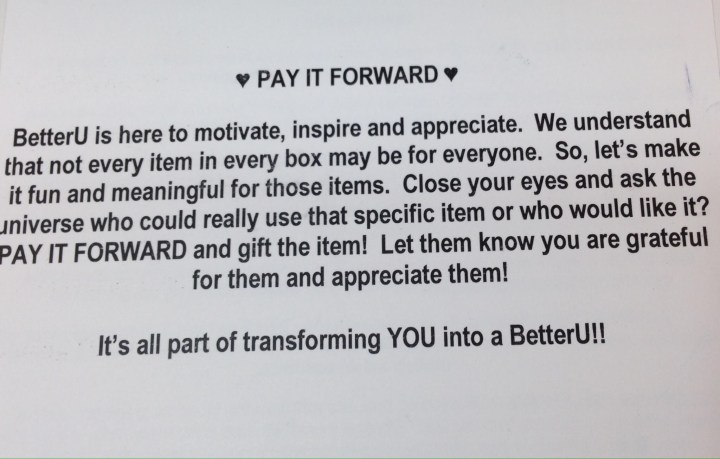 The flip side of the card explained the "Pay it Forward" principle. It must be hard for companies to come up with items that suit every person every time, so they ask you to ask the universe who might benefit from that item that you think is unsuitable for your lifestyle.
Everything in the box! I received 7 different items this month. Now, on to the items!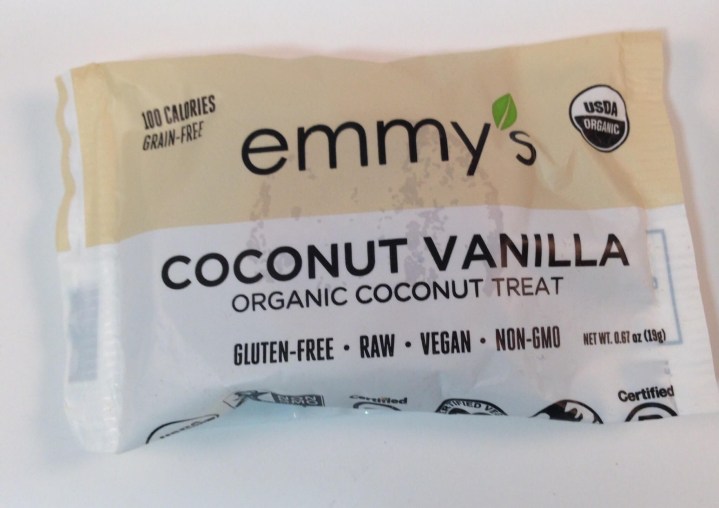 Emmy's Coconut Vanilla Organic Coconut Treat (73¢) First thing to get consumed was this delicious macaroon that is vegan, raw, and yummy!
Detox Your Life: A 44-Day Mind, Body, Spirit Detox Workbook by Sunny Dawn Johnston ($14.95) Sunny Dawn Johnston is a motivational speaker and psychic medium who offers a spiritual and physical detox program. This book was designed as a self-study program to help you clear the clutter from within. You replace an unhealthy action (emotional eating, certain social media habits) with a healthier action while exploring why you practice the negative behavior in the first place. Here is the blurb from Amazon:
Detox Your Life – A 44-day Mind, Body, Spirit Detox Workbook is like no other self-care workbook you'll find. During this journey into self-love and healing, you are encouraged to delve deep within, exploring lifestyle and emotional patterns – both past and present – that may need some extra attention and care. Once you acknowledge and understand these aspects, you are encouraged to do the inner work by JOURNALING on specific questions designed to call you into a deeper knowing of yourself.

This 44-day Detox Workbook is perfect for anyone ready to make positive changes and experience healing of mind, body and spirit. It covers a different topic each of the 44 days, allowing you to reflect upon and heal every area of your life, one day at a time. It offers you the opportunity to delve into areas oftentimes missed in a traditional healing journey. These shadow areas are often the core of many issues … disguised as "little" challenges. Uncovering these can create the mind, body, spirit healing that many yearn for. In addition, each day offers you a new and different PIVOT … a way to help you shift your perspective into a loving and supporting direction. Lastly, you are offered ways to replace and fill up the painful places with AFFIRMATIONS and ACTION steps to keep you accountable and moving forward.

This workbook is a self-study program – yet designed with built-in support and accountability partners … with access to a private Facebook group. If you are ready to make the changes your Mind, Body and Spirit desire. this is the workbook for you.
There are 6 daily parts and they seem small and practical. Some may be a little different than what you may be used to doing (inviting an archangel into your day to help give you energy) but for the most part they are doable.
The Tea Spot Climber's High Sachets ($1.16) I did a little research on Yerba Mate and discovered that it probably isn't good for people with high blood pressure so I tried just a bit of this tea. I steeped the pyramid-shaped bag as directed and found that this tastes like cinnamon with a slight grassy/hay flavor. I usually add sugar to my tea but this wasn't bitter at all and tasted fine without it.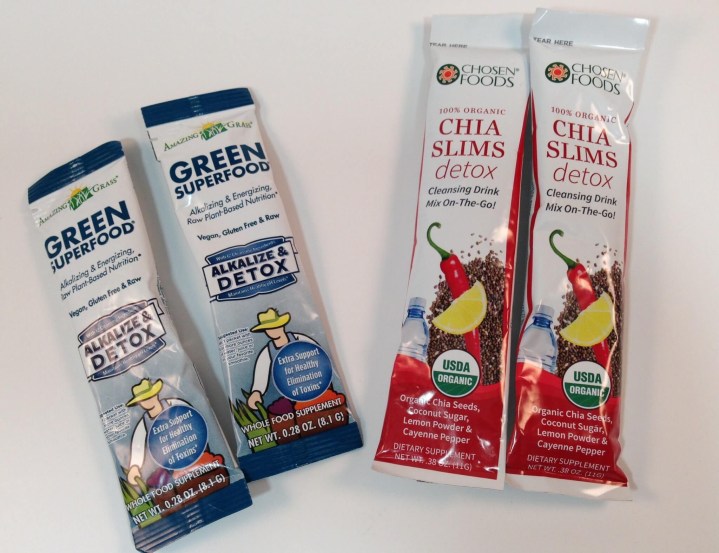 Amazing Grass Green Superfood Alkalize & Detox ($2.93) A blend of various grasses and other greens as well as herbs and spices, this is meant to help restore pH balance and rid the body of toxins. I think that the body tends to do that just fine on its own but others disagree so to each their own. I mixed it with 8 ounces of water and whisked away. The powder is quite fine (some of it never made it into the glass and I had to avoid inhaling it) and the finished product had the mouth feel of skim milk. Let's not beat around the bush, the smell reminded me of a dairy farm but I managed to down it without gagging so it must not be that bad.
Chosen Foods Chia Slims Detox ($1.40) (Note: The word "Slims" is no longer in the name on the Chosen Foods website.) Another drink to help the body clean itself. In this case, chia seeds helps things, erm, move along. Also includes lemon juice and cayenne and some natural sweeteners to up the palatability. Designed to be used as part of a cleanse or as a dietary supplement.
Redmond Clay Daily Detox ($14.41) A Bentonite clay (volcano ash) that is supposed to bind to toxins in the gut and then help your body eliminate them. Again, fiber in the diet, along with water and exercise, will help keep most people "regular" but I know that some have problems in that area and this seems like a more natural solution than other laxatives. The clay contains natural vitamins and minerals so it has additional benefits that store-bought laxatives do not. Unfortunately it may also contain trace amounts of lead. Also, if you have constipation this may bind to the water in your gut and make it worse, but if you tend to have IBS this may make your stools formed rather than loose. A suggested serving size is 1-3 capsules but luckily they are not horse pills and they are fairly easy to swallow. Bonus use: empty a few capsules and mix with some water; apply to your face as a mask, rinse off when dry, and help clear up those pores!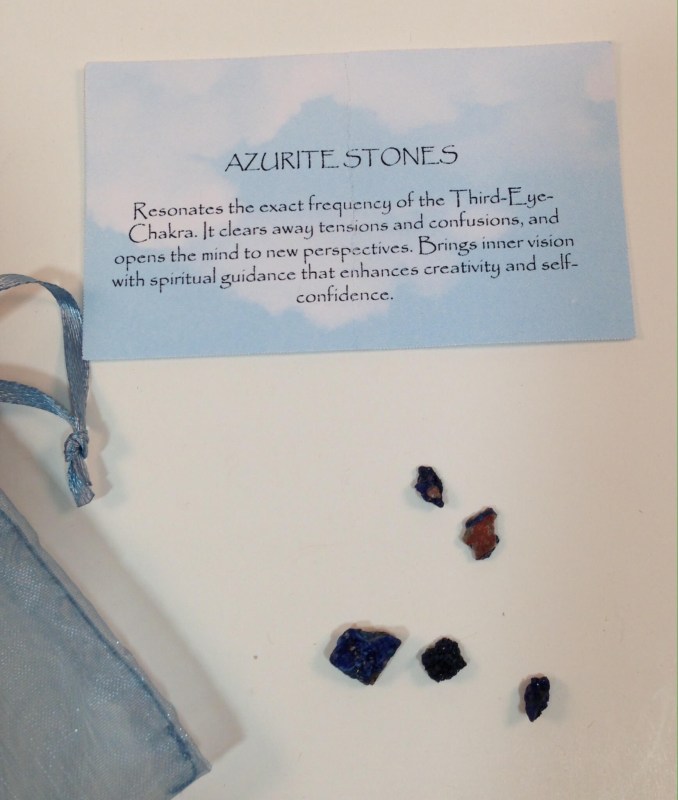 Azurite Stones ($?) These pretty little stones are meant to help you activate your third eye chakra. When this chakra is blocked, you could possibly suffer from headaches, depression, fatigue, anxiety, and other symptoms. Azurite also helps give you mental clarity as well as help getting in touch with your sixth sense (Extra Sensory Perception, or ESP, which includes intuition and clairvoyance). It is also supposed to relieve stress, but I was not sure how to best put it to use. If it were bigger I could hold it in my hand, if it were jewelry I could wear it. I think I will settle for looking at and focusing on the blue color while holding the stones in my hand. (Oddly enough, I just Googled "how to use crystals" and it said to use my intuition to tell me how to put them to use and suggested holding them in my hand, placing under my pillow, or placing directly on the chakra point, in this case the middle of my forehead.)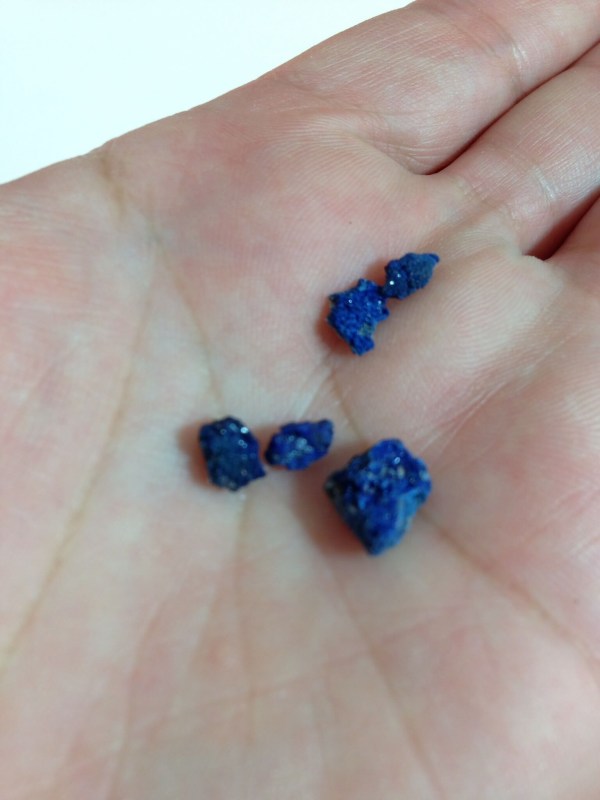 Azurite is a combination of the colors indigo and purple and is a soft stone. These are kind of small. I placed one on my forehead while lying on the floor and couldn't tell it was there. I also placed one in each of my hands and was surprised to feel a tingling sensation there.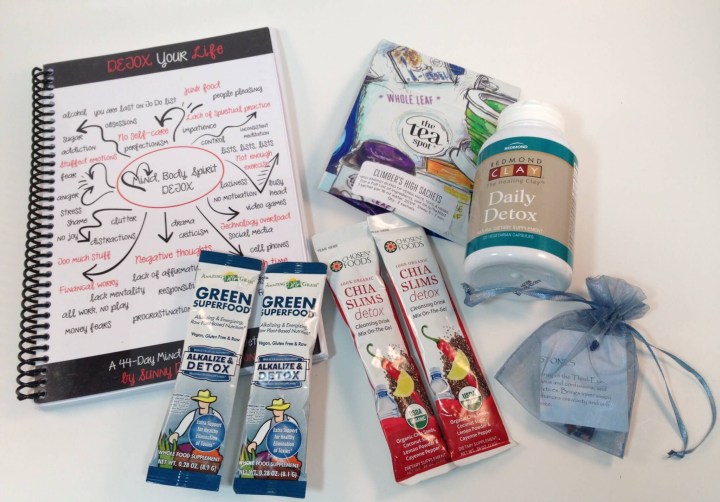 I like this box since it helps remind me to relax and think about calming my body. I am not on the detox bandwagon so some of the items are not up my alley but I did enjoy learning about the use of crystals and the journal could be helpful.  The coconut macaroon was so delicious that it didn't even last until my "round up" picture shown above!  I received 7 different items and the retail value was around $36.
What do you think of this subscription? Do you detox or use crystals in healing?
Visit BetterU Box to subscribe or find out more!
The Subscription
:
BetterU Box
The Description
: The box contains 6 to 10 sample and full sized health and wellness products with a focus on vegan, plant based, natural and organic brands. Some of these items curated include edible health foods, supplements, motivational and spiritual items. All products are carefully hand picked by BetterU Box's Co-Founders Anna & Jessica.Guiding you through your journey of a BetterMind, BetterBody and BetterSoul.Join now to receive a curated box of vegan, non gmo, organic hand picked goodies, supplements and other premium products!
The Price
: $30.00 per month