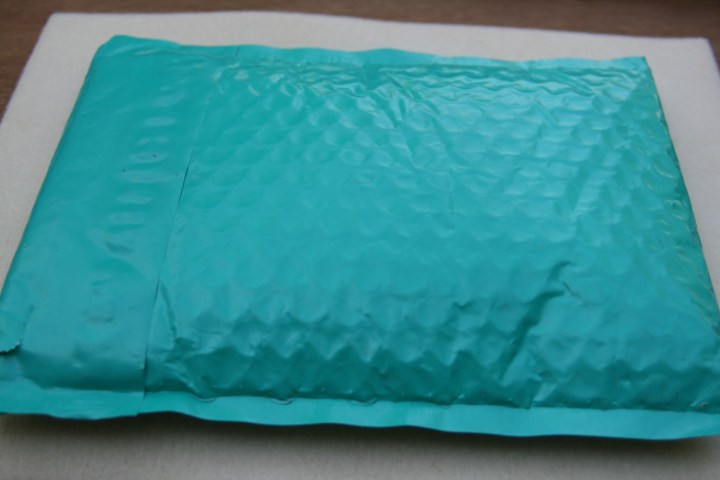 Bargain Bead Box is a monthly bead subscription service. Each month, you'll receive over 40$ worth in top-quality jewelry supplies. It can be a mix of loose beads, bead strings, findings and pendants. You can share your creation on their social media for the chance to win a 25$ gift certificate to their sister store Bead Box Bargain. Boxes are $15.95 per month. Shipping is free in the US and $7.50 to Canada. Even if it's technically a subscription box, it comes in a teal bubble mailer, which is less expensive than a box so they can send more beads!
Inside the bubble mailer, the beads come nicely package inside three bags and wrapped in tissue paper.
Each month is curated around a different theme and all the beads and findings are coordinated. This month's theme is "Twilight Shimmer" and includes deep blue-black freshwater pearls, hematite and antiqued silver findings. I love dark beads! With the note, included in the package, you also get a discount for their sister store "Bead Box Bargains".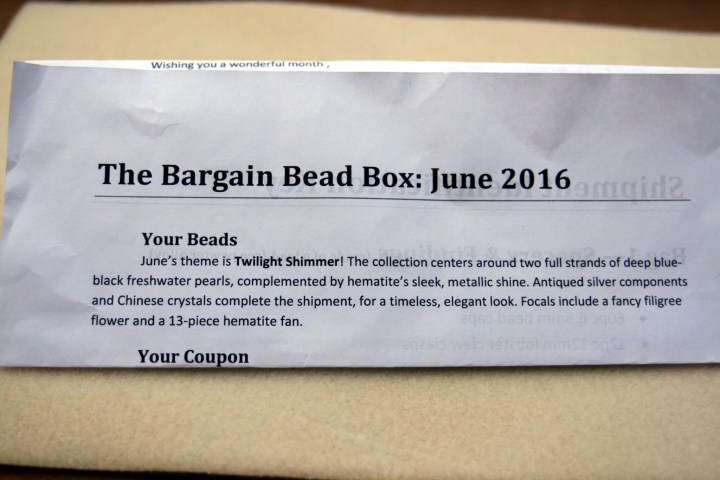 On the reverse of the letter, the content of the three bags are described.
Bag 1 contains spacers and findings in silver colour.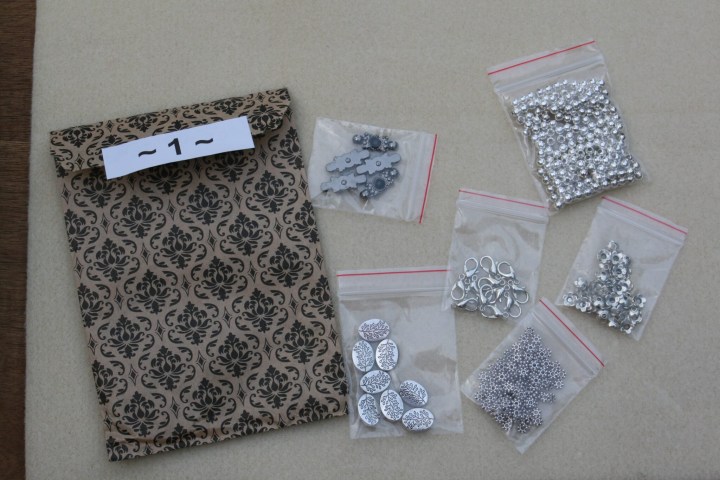 Everything comes in individual plastic bags.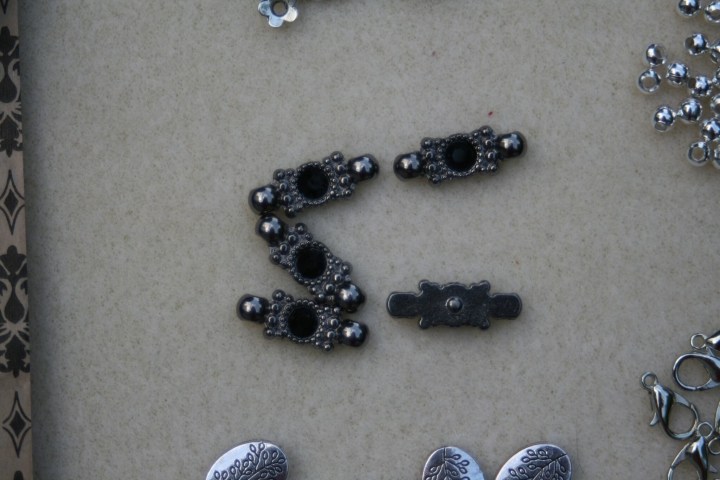 Five two-holes spacer bars in gunmetal. These are quite interesting as the crystal is very dark. They could be use to make a two rows bracelet or necklace.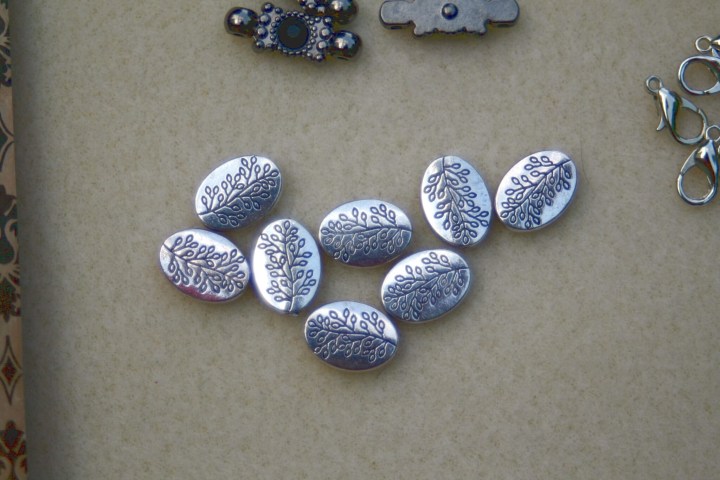 Six oval beads. They are lovely! The pattern is repeated on both sides and they are drilled on the length. I think I will use them as a center piece with delicate chain hanging from them. I might pair them with green beads to play with the leaf theme!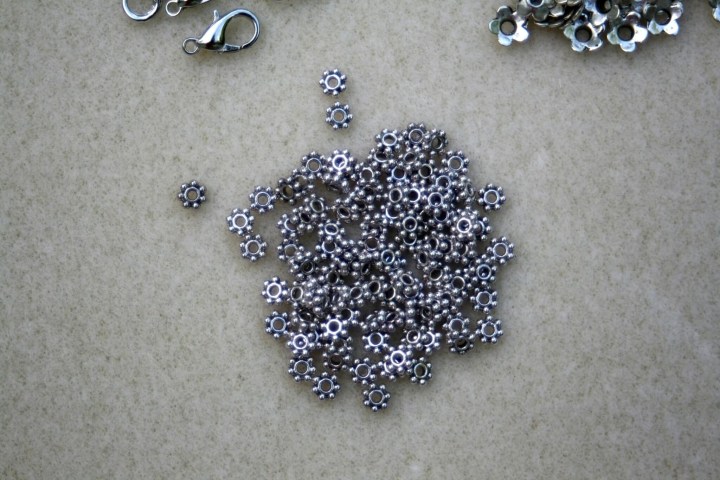 100 daisy space beads. They are in antiquated silver. They are very useful in any kind of project, you can never have to many of them!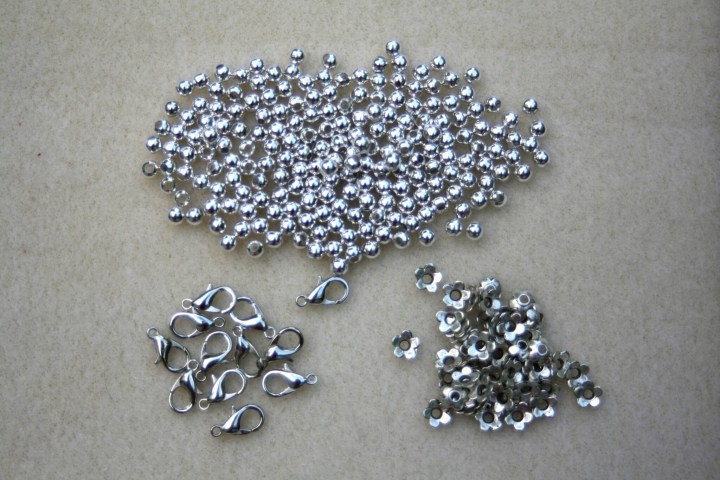 200 round spacer beads, 12 lobster claw clasps and 60 bead caps. Lobster claw clasps are always useful to have around to finish up a project. They would be perfect for a simple bracelet or a not too heavy necklace. The bead caps are a really nice size for 6 or 8 mm beads.
Bag 2 is all about pearls!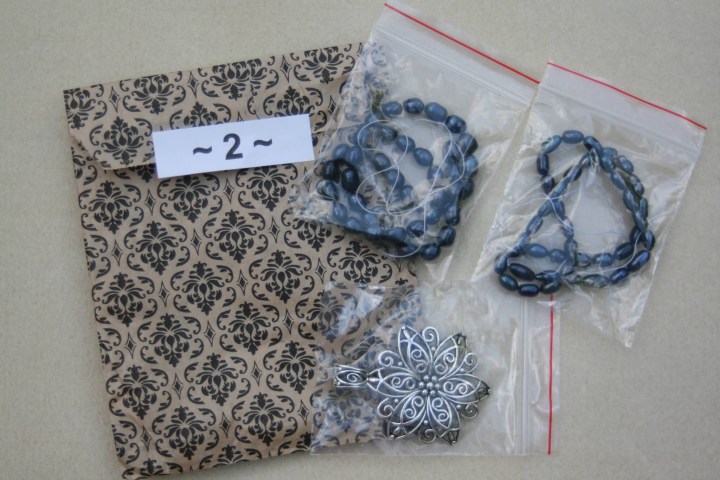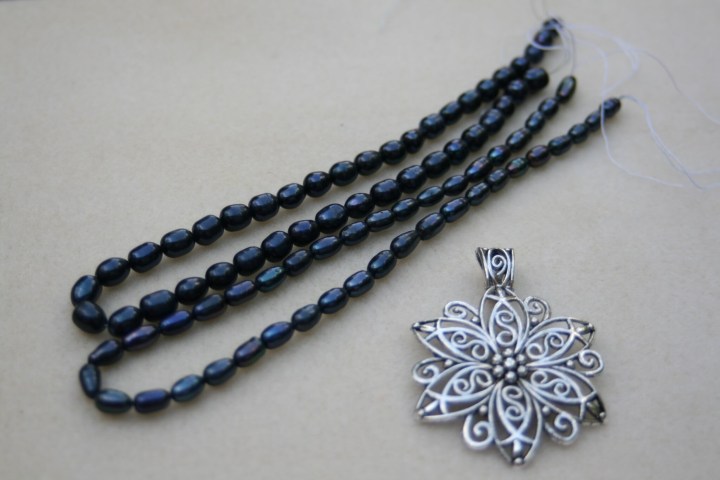 These blue-black pearls in two sizes would be great paired with the pearls we received in last month's box to get something a bit lighter. They have a very nice colour and I would totally wear them by themselves. The flower pendant is quite heavy and the details are amazing! The bail is quite large so it could hang from a beaded necklace or on a simple cord. I'm not sure I would pair it with the pearls as I would be afraid of scratching them.
And bag 3 contains more dark beads and crystals!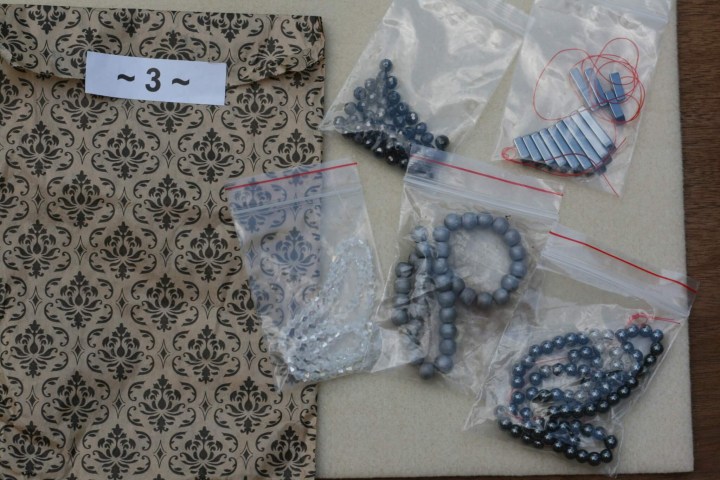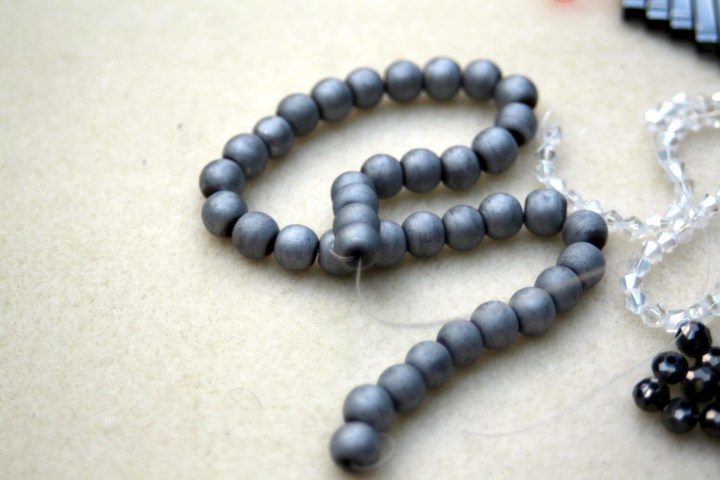 One strand of frosted antiqued hematite round beads.They are quite heavy, and I love the frosted look of them. It's very different from the hematite beads I usually use. Fun fact, the same type of hematite beads were included in the Blueberry Cove Beads May Box. I'm really happy to have a second strand because I had a hard time finding more of them in the store I go to.
Hematite fan focal. These are quite interesting. They could be use as is on a chain necklace. Or they could be strung with interspersed lighter beads for a greater coverage. But each component could be used individually in different project. For example, the small ones could make a nice pair of earrings.
One strand of hematite beads. These are quite dark. I could see them mixed with some light gemstone beads, such as white howlite or crystal quartz.
Approximately 48 chinese crystal rondelle beads, metallic black (50 on the picture). Even if they are very dark, they sparkle! Paired with the black hematite beads, they would add some needed brightness to a dark necklace or bracelet. Paired with coloured beads, it would add elegance to a simple design. They are very versatile if using dark beads is not a problem.
One strand of crystal AB bicone beads in white. These beads are a nice addition to a very dark box. As usual, crystal AB beads give a lot of shine!
Overall, this box was very interesting. I love white and black design, so this one was quite to my taste. I would say though, it would have been nice to have a bit more lighter beads. I love dark beads and black jewelry, and the content of this box perfectly fits the theme of the box. But for a lot of people, black works better with colours to emphasize it. Black beads can be heavy for some people, both to wear or to work with. Especially going into summer.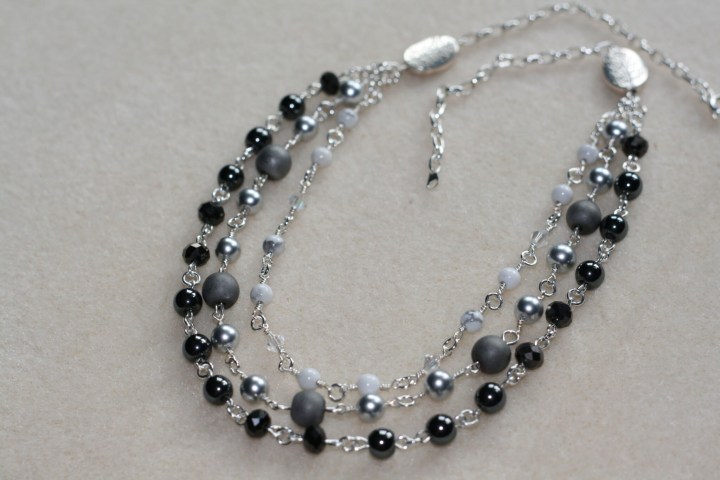 From this box, I decided to make a multi-row necklace. I used the white bicones crystals, the frosted hematite, the black hematite and the black crystal rondelles in this design. I also used two of the oval beads. I've added some of my won 4mm howlite beads as well as the grey glass pearls from May's box. I wanted something that would remind me of the Milky Way against the night sky.
As always, the quality of the beads, for the price of this box, is great. There's always a lot of beads, enough to create more than one project, and a lot of freedom in the ways to use them. I really appreciate that we always get some findings to help us get started.
Visit Bargain Bead Box to subscribe or find out more!
The Subscription
:
Bargain Bead Box
The Description
: Get $40+ of designer-quality factory closeout beads delivered monthly! Subscribers get 10-15 full-size packages and strands of glass, crystal, gemstone, and/or metal beads & findings each month.
The Price
: $15.95 per month