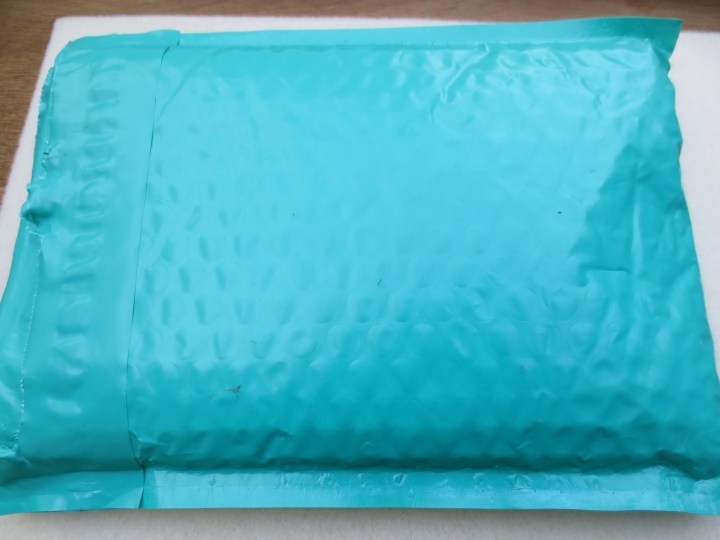 Bargain Bead Box is a monthly bead subscription service. Each month, you'll receive over 40$ worth in top-quality jewelry supplies. It can be a mix of loose beads, bead strings, findings and pendants. You can share your creation on their social media for the chance to win a 25$ gift certificate to their sister store Bead Box Bargain. Boxes are $15.95 per month. Shipping is free in the US and $7.50 to Canada. Even if it's technically a subscription box, it comes in a teal bubble mailer, which is less expensive than a box so they can send more beads! And more beads is more fun!
Inside the bubble mailer, the beads come nicely package inside three bags and wrapped in tissue paper. Inside the bags, everything is in individual plastic bags.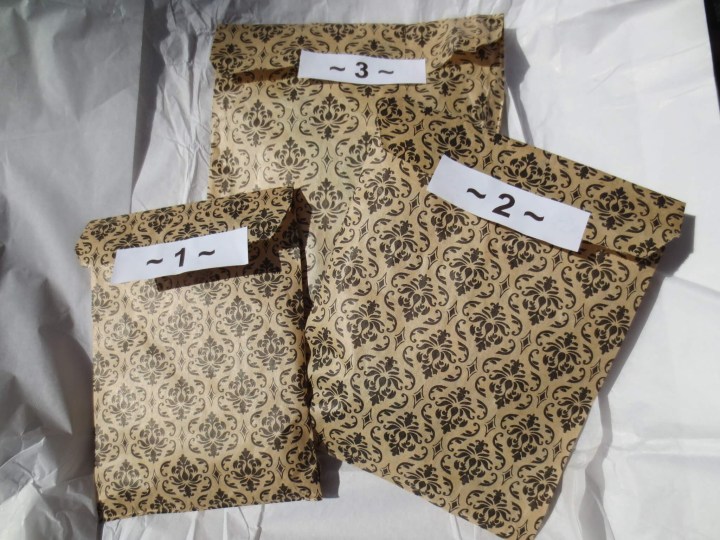 Each month is curated around a different theme and all the beads and findings are coordinated. This month's theme is "Tropic Seas" and includes coral beads, blue-green crystals, lampwork beads and starfish pendant! So excited! They usually don't send the same metal two months in a row, but we'll forgive them! With the note, included in the package, you also get a discount for their sister store "Bead Box Bargains".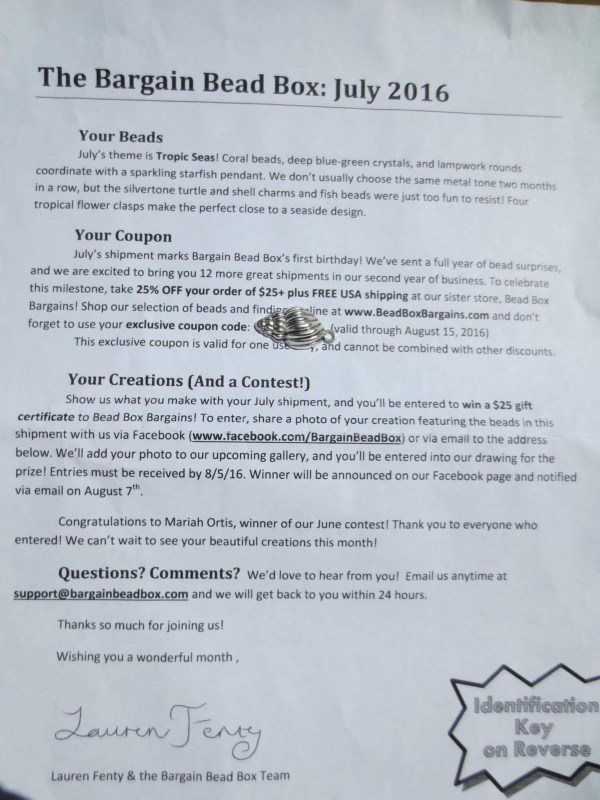 On the reverse of the letter, the content of the three bags are described.
BAG 1 : all about metal charms with a seaside feel to it!
Sea Turtles!!! We get 6 adorable 23mm long turtle charms. The details are great and I just want to make myself an ankle bracelet with all of them! Or earrings with just one coloured bead. Or a charm necklace!
Mixed fish beads. The amount of individual fish differs from one shipment to the other one. For example, I only received one angel fish, others could have gotten three or four. I love mixed beads like this one! Paired with blue fire polished glass beads (from bag #2), they would make a perfect school of fish bracelet! The holes is drilled from the mouth to the tail, so you can really make them "swim" in a necklace or bracelet.
Shells! They are slightly longer than the turtles (25mm long), and they feel heavier. Again, they are quite nice. It would be perfect mixed with some beige/light yellow/coral pink coloured beads (you know, to remind me of a beach). Or mixed with real shells on a bracelet or necklace.
Chandelier findings! 26x21mm, they would be perfect for a pair of earrings. Although, I think I'm going to use one of them as a central piece in a tassel inspired necklace. I like that the reverse is not plain but has some details to it.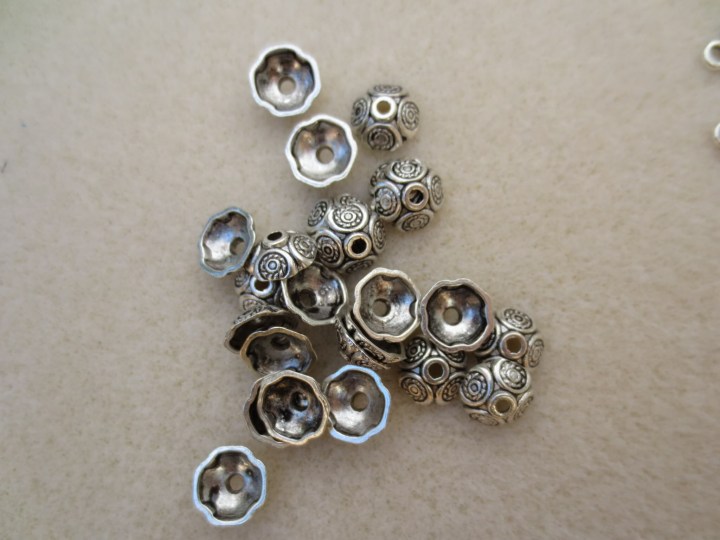 24 textured bead caps. They are quite big (9mm) and very round. They remind me of coconut. Perfect with big bold beads to give them some oomph! Sometimes, I like to use them as embellishment for a metal chain tassel.
BAG 2 is about the Tropic Accents!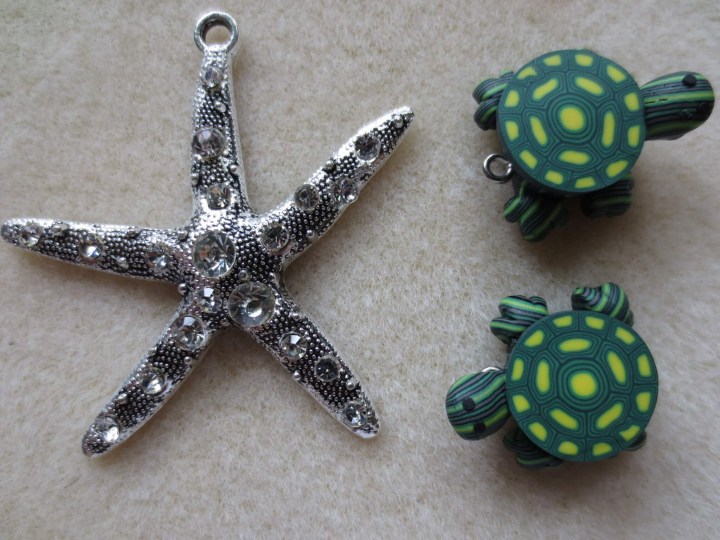 More turtles!!!!!!  Polymer clay turtle links. They are so adorable! I kept playing with them while taking pictures… They have links under their cute little head and under their tale. I don't know yet what I will do with them, but I want to use them somehow!
Starfish pendant with crystal accents. This one is big! 57mm big to be exact! I'm not a big fan of big statement pendant. I like them, I find them very pretty, but I never use them. But this one is bold, but is also quite delicate and not that heavy. So I might end up using it after all.
16 Czech fire polished round glass beads. I will use them with the school of fish.
Starfish lampwork beads. So pretty! They are a nice shade of turquoise blue, very tropical! Imagine white beaches, with a deep blue ocean. Palm trees moving with the salty breeze. They are of the same colour that some of the crystals from bag 3, so they would be nice as accent beads.
Red dyed bamboo coral beads. They are shaped like grain of rice, and their colour contrast nicely with all the blues and the greens with received in this box, although it's orangy enough to not look like christmas colours! I think I might use them in a simple choker-style necklace, with a shell charm as a pendant.
BAG 3, bring me the sparkling seas!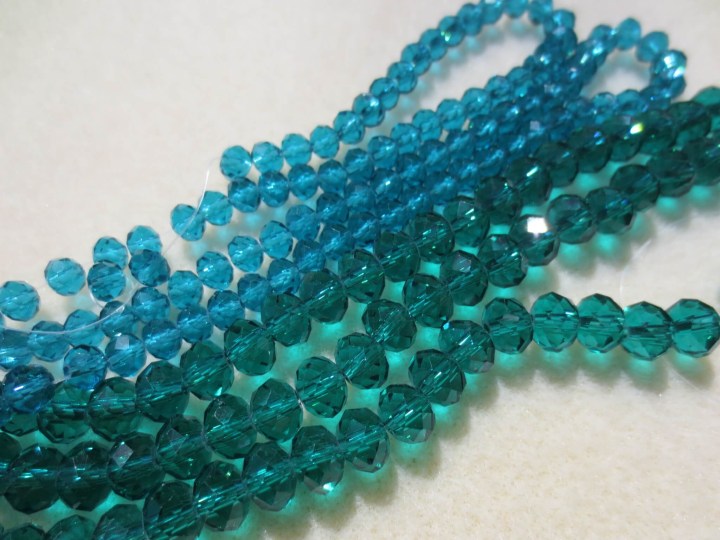 4mm Capri blue Chinese crystal rondelles and 6x4mm teal Chinese crystal rondelles. I'm glad we received two sizes of rondelles, and in different colours. They are great together, and would be beautiful on a bracelet with all the silver-coloured charms! The smaller roundelles are the same colour that the lampwork beads. They are not AB coated, but they are still sparkling!
4mm Chinese crystal bicone in tangerine. Love the colour! It's like bringing the sun to the tropical party! And you can never have to much 4mm bicones, they are great as small accent in jewelry.
Imitation turquoise round beads. I love the colour! They are not all of the same shade of colour and they have some weight to them, so they don't look like plastic or acrylic beads. They also have little yellowish/greenish coloured spots that makes them unique and good looking! They are a nice counter balance to all the sparks we've received in this shipment!
Tropical flower toggle clasps. Bargain Bead Box always add a sort of clasps to their box, and it's awesome! It's always the thing I forget to buy when I go to the bead store, so I run out of clasps in no times. These clasps are quite big and sturdy, so heavy necklace would benefit from them. They are so cute, they would be great for front closure on a necklace, with a tassel hanging from them. Sadly, two of my clasps are slightly bended.
Silverton filigree pendant. As I mentioned before, I'm not the biggest fan of big pendant, but I find this one quite interesting and nice. Wire beading could be done on it to add colour and sparks, or just plain on a bamboo beaded necklace.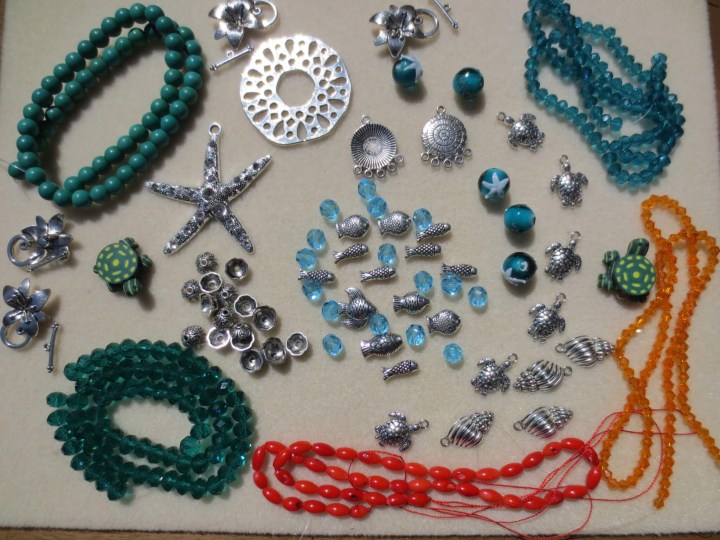 I loved this box! There was a mix of something cute, something summery, something big, something sparkling, something colourful. It's a nice contrast from last month very dark beads (which I really liked). This box screams "summer" loud and clear! And the turtles are adorable!!!
This month, I decided to make myself some elastic bracelets! But the chandelier findings were seriously screaming "Pick me! Pick me!", so I made a pair of earrings as well!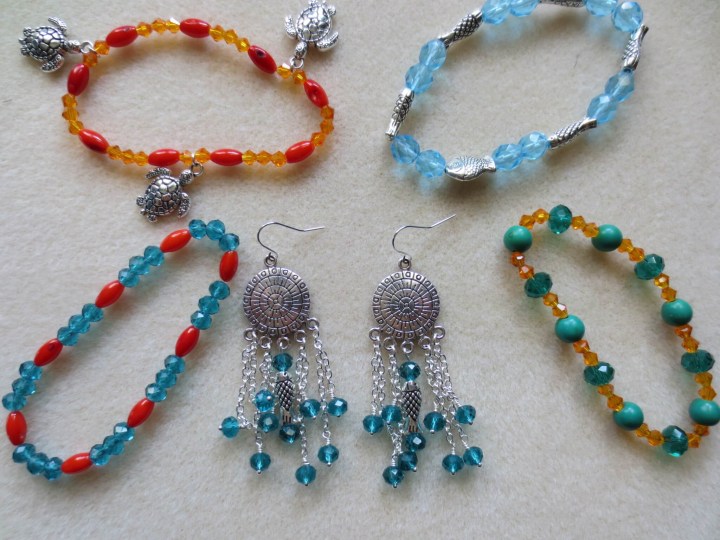 As always, the quality of the beads, for the price of this box, is great. There's always a lot of beads, enough to create more than one project, and a lot of freedom in the ways to use them. I really appreciate that we always get some findings to help us get started.
Visit Bargain Bead Box to subscribe or find out more!
The Subscription
:
Bargain Bead Box
The Description
: Get $40+ of designer-quality factory closeout beads delivered monthly! Subscribers get 10-15 full-size packages and strands of glass, crystal, gemstone, and/or metal beads & findings each month.
The Price
: $15.95 per month