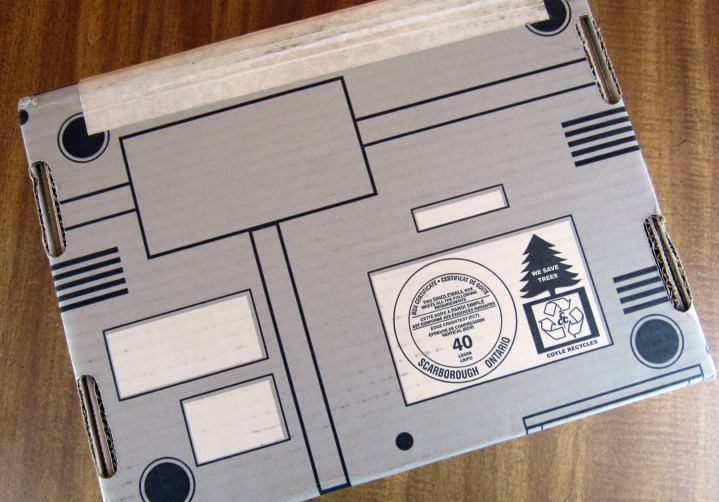 Arcade Block is part of the Nerd Block family of subscriptions and is a monthly video game mystery box. Arcade Block focuses on 4-6 video game collectible, one exclusive gamer t-shirt, and a promised value of $60.00. Arcade Block begins shipping on the 25th of each month.
J, age 7, was excited  to see Super Mario Bros.
Will you be eating sushi while cheering on your favorite player at the EVO  Street Fighter V Championship at the Capcom Pro Tour this weekend?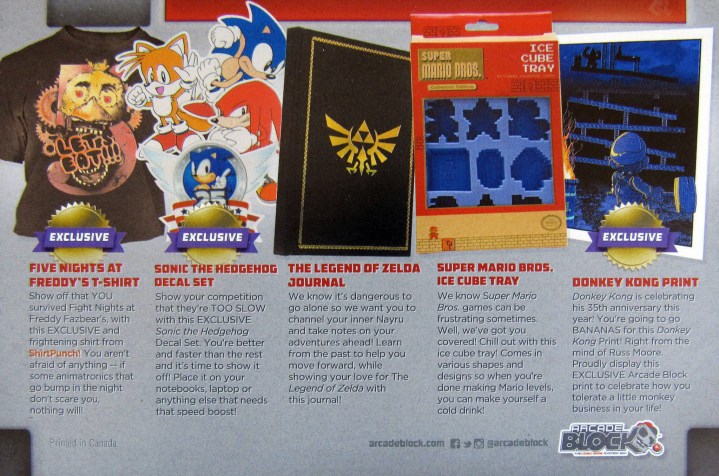 The information card lists the items included in the June Arcade Block.  There are four exclusive items this month!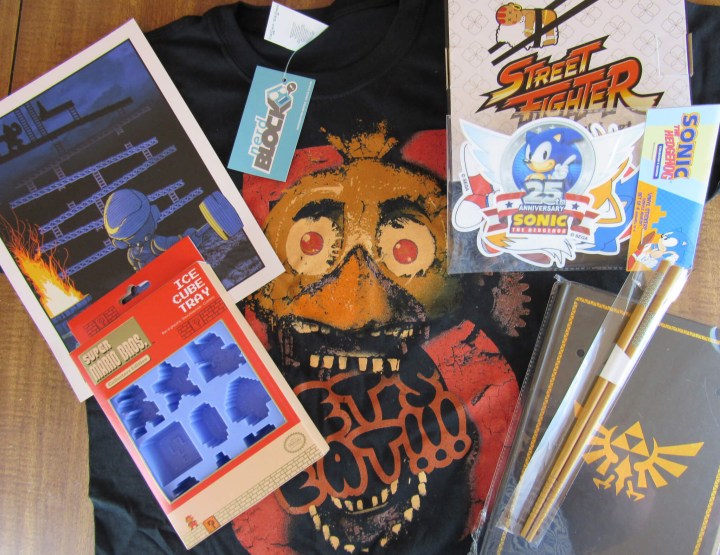 Here are all the items in the June 2016 Arcade Block. The boys, ages 7 and 17, were excited about everything except for the shirt.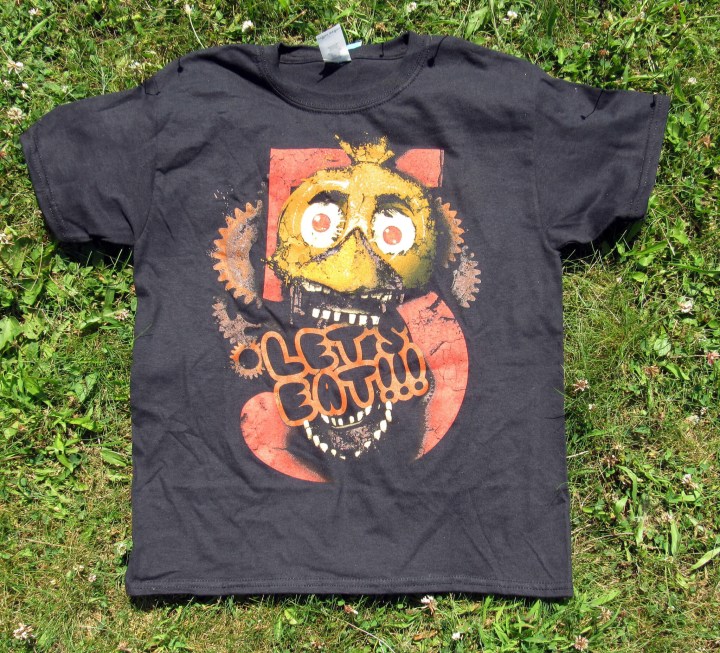 PA Anna: J, age 7, was scared of this shirt. T then rattled on about the game, game conspiracy theories, etc. Either you love it or hate it. I hate it. I cannot understand why it is was selected for a box that offers children sizes. I don't expect Arcade Block to pander to children, but this particular shirt might be better suited for Horror Block.
T (age 17): FNAF Shirt: Five Nights at Freddy's (FNAF) is a very popular computer game. I DO NOT ENDORSE 5 NIGHTS AT FREDDY'S. That being said, here is a brief description of FNAF for all clueless parents and new gamers. Five Nights at Freddy's is a survival horror game, in which the player is being hunted down by at least 4 animatronics trying to kill you (You are a night time security guard or a child, depending on which game you play). Your job is to survive 5 (but almost always more) nights. If you are seen by one of the animatronics, you must get away from them by closing doors and/or turning on lights. Failing to do so results in your death through jump scare and beginning again at the first night. Oh, and did I mention the animatronics are haunted by the souls of children whose bodies have been stashed inside them? No? There's that too. I gave up trying to understand it awhile ago. These games have more Easter eggs than the white house egg hunt, and have spark more controversy and debate about their meaning than the upcoming election. The creature depicted on the shirt is "Chica", a duck styled animatronic that sings and haunts children. She wears a bib that says "Let's Eat" on the front of her body so it's nice to see that there. Notice the 5 behind Chica, in reference to the game's name.
PA Anna: The Exclusive Street Fighter Sushi Set feels like it is made out of ceramic. It's a great way to keep yourself fueled while keeping up with the Evo 2016 Championship Series. I could not find anything information about whether it is dishwasher or microwave safe.
T: This cute set shows Ryu's head, Chun-Li's head on a sushi wrap sort of thing, and Dhalsim dead on sushi. I haven't played any of the games, but this looks good if you're a fan.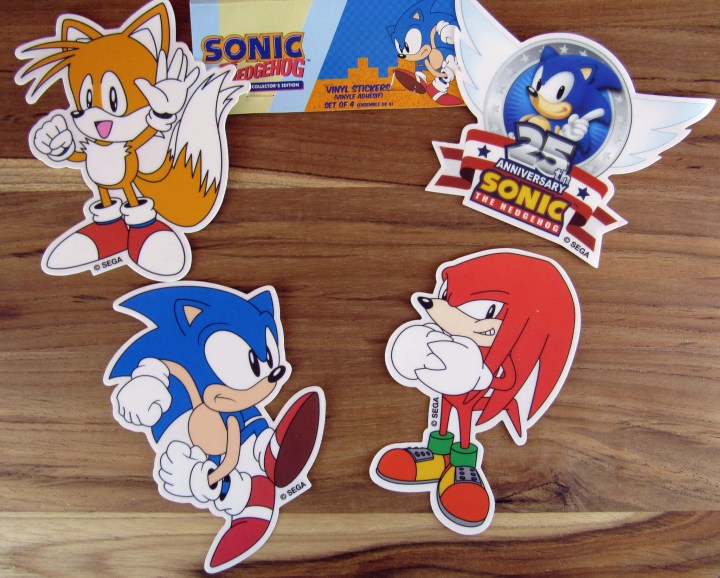 PA Anna: Guess where the Sonic the Hedgehog Decal Set is in my house? It is on my walls! J loves Sonic and was eager to decorate the hallway with the stickers.
T: Here we have Sonic the Hedgehog (Blue), Miles "Tails" Prowler (Yellow) and Knuckles the Echidna (Red)! The classic gang is all here! Not to mention a sticker for the 25th anniversary of Sonic, which is this year!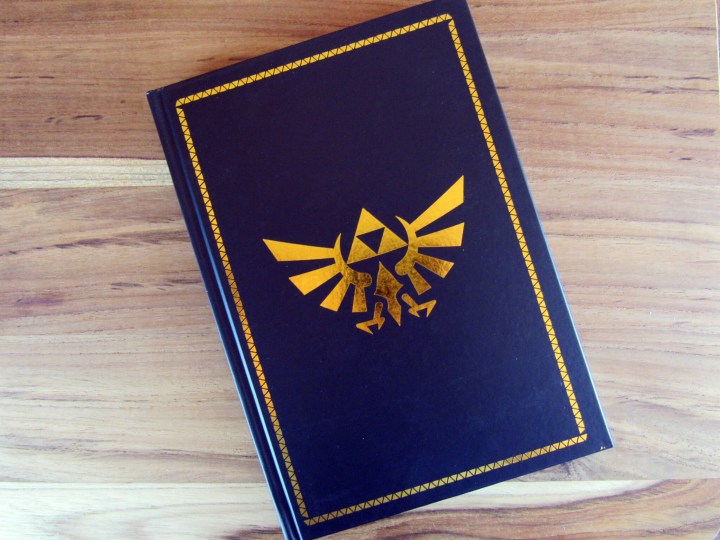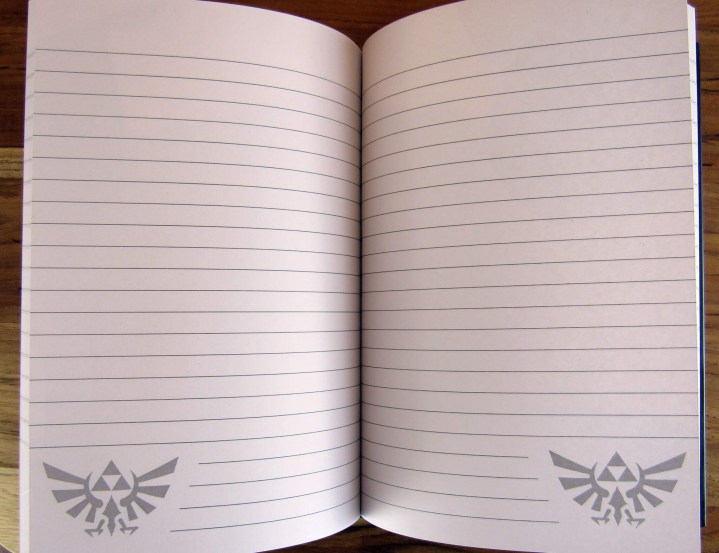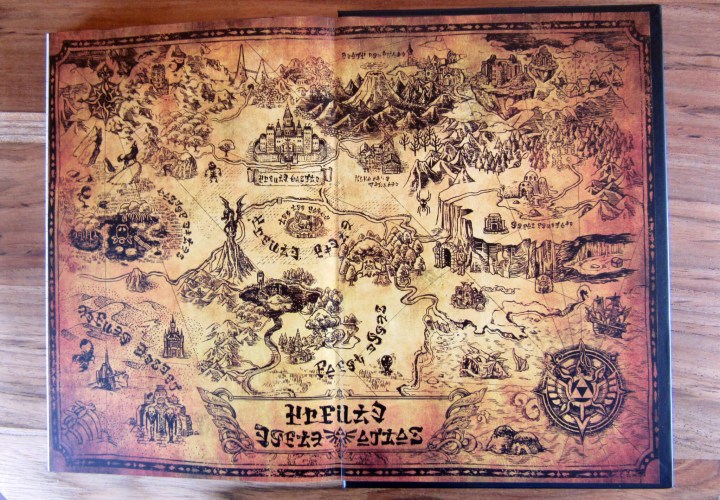 PA Anna: T loves the Legend of Zelda Hyrule Notebook ($7.99. The 100-page notebook comes with a map of Hyrule on the inside back cover.
T: The front of the notebook depicts the Hylian Crest. The back Has "The Legend of Zelda" on it. I love this! The inside of the front cover is covered in little tri-forces. There is a Hylian Crest on the bottom of every page. On the inside of the back cover is a Hobbit-Style map of Hyrule! I have this map in puzzle form and spent 27 hours putting it together. This is love at first sight right here. I love the pun in the description card to "channel your inner Nayru". Nayru is the goddess of Wisdom.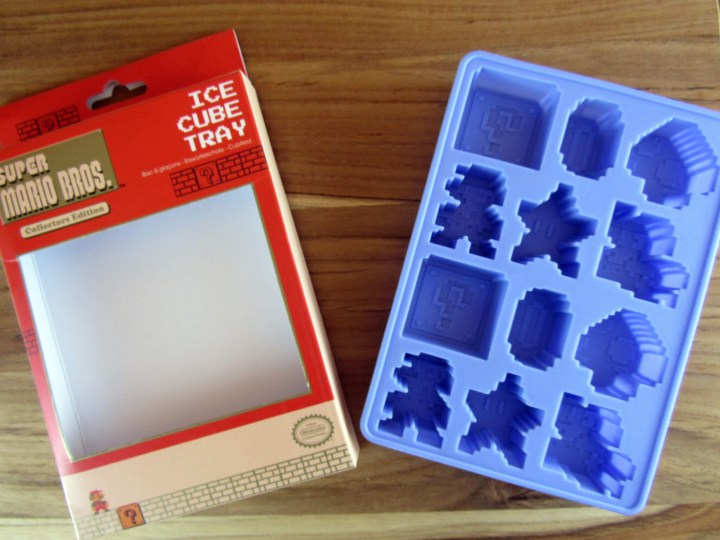 The silicone Super Mario Bros. Ice Cube Tray ($9.99) has fun shapes from the classic Super Mario games. We will be making fruit juice ice cubes.
PA Anna:  Taking it back to the good old days! Ice cube shapes from Mario's 8 bit times. Cubes made can come in 6 forms, A mystery block, a coin, a mushroom, Mario standing, an invincibility star, and Mario jumping! All in 8 Bit style! Shout out to Mario's 35th Anniversary!
PA Anna: Wow! Donkey Kong is celebrating it's 35th anniversary. I love the print which reminds me of the original games that I played in my youth.
T: This is a print showing of the original game that started it all. "Donkey Kong" was the debut game of Mario, Donkey Kong, the fire enemies, and Pauline (that's right, Princess Peach wasn't introduced until later.) We see Mario standing at the bottom of some girders holding a hammer, his weapon in the game. Next to Mario is a barrel of oil, from which the fire enemies appear. At the top we see Donkey Kong waiting with some barrels and a damsel in distress. I love this but I have one complaint. In the Original Donkey Kong game, Donkey Kong kidnaps Mario's girlfriend, a woman named Pauline. In every Mario vs Donkey Kong game to date, the only woman who gets kidnapped is Pauline. Princess Peach has never appeared in any of the games as her actual human self. If you look at the top of the print, you can see a Princess Peach style crown, and Princess Peach's flowing dress instead of Pauline's more form-fitting dress. I don't mind much, but it is a tad disappointing.
PA Anna: I think it bothers him a bit.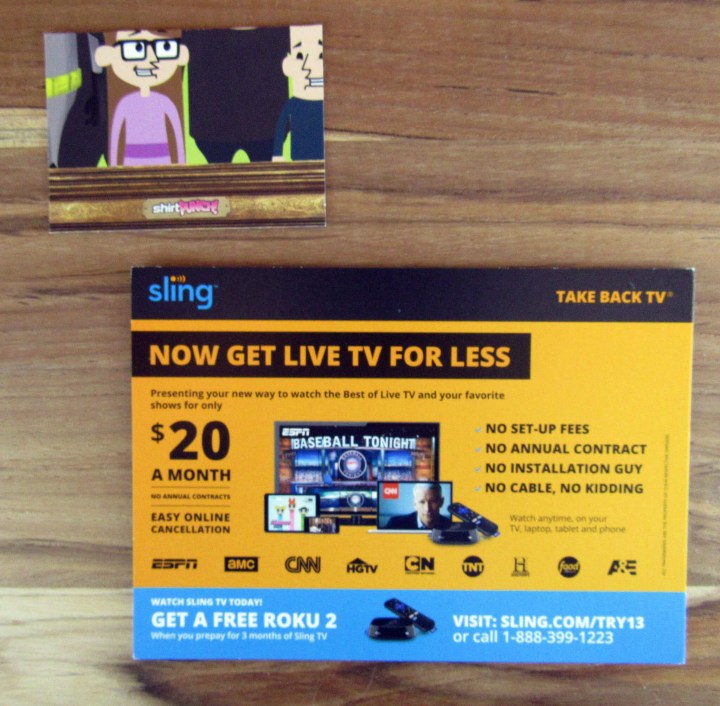 I will be using my $10.00 credit at Shirt Punch. There is a little boy turning eight soon!
The boys loved everything except for the shirt. T's favorite item is the Legend of Zelda Journal with the Donkey Kong Print a close second. J's favorite item in the June box is the Sonic the Hedgehog Decal Set. It was a good mixture of franchises that appeal to adults along with a few classics that have staying power. Arcade Block is an excellent choice for gamers that like knowing that the majority of the items received are Exclusives and are in sync with what is happening in the gaming world.
What do you think of the June Arcade Block? Share your comments below!
Grab 15% off your first Arcade Block with coupon code HELLOSUB16, or save even more with a longer subscription. Enter this code right after pressing the big green review order button.
Visit Arcade Block to subscribe or find out more!
The Subscription
:
Arcade Block
The Description
: A monthly mystery package delivered right to your door filled with apparel, toys, and collectibles all themed around video games! Every Arcade Block comes with a custom t-shirt (Has men's regular, fitted, and women's fitted tees – and now youth sizes!) and 5-6 epic items for you to tear into! Also available – Nerd Block Jr (Girl & Boy), Horror Block, Comic Block, and classic Nerd Block!
The Price
: $30.00 per month