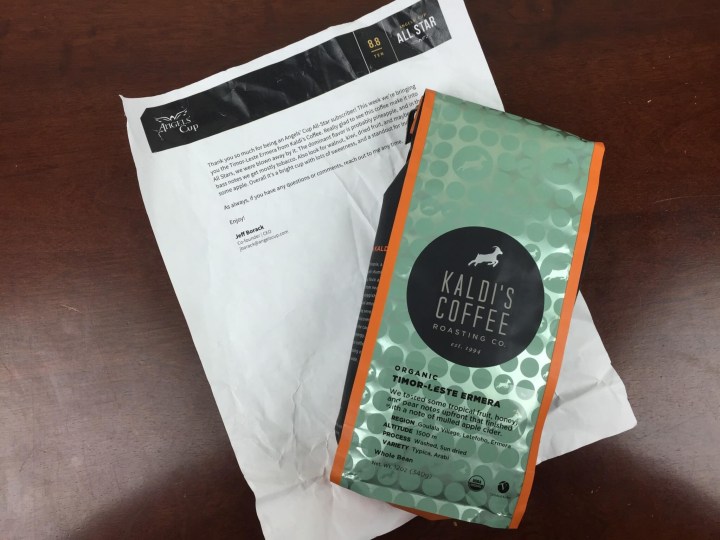 Angels' Cup is a subscription coffee sampler that offers several ways to discover great coffees.  Aside from the Cupping Flight and the Black Box, excellent subscriptions showcasing good to exceptional coffees, Angel's Cup now offers the All-Star Box.  The All-Star Box provides a single variety of bean that has impressed the Angel's Cup team sufficiently to be a featured offering.  Unlike the other samplers, the All-Star box provides a single bag of coffee, though at 12 0z it is the largest of the samplers by volume.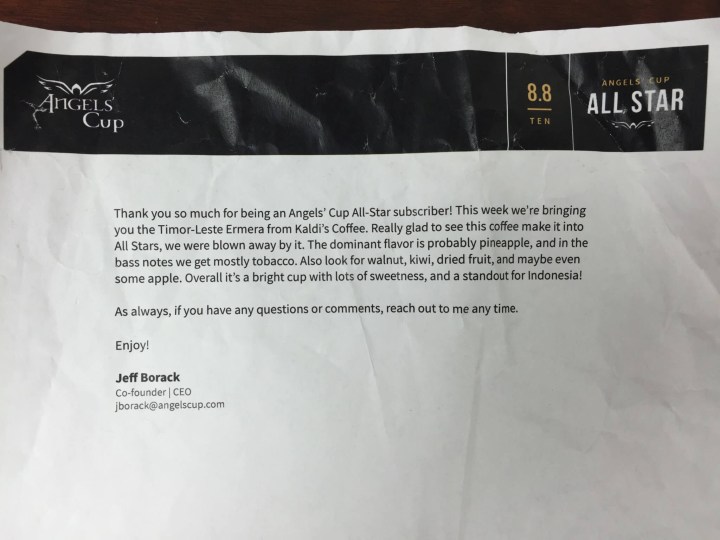 The information sheet provides more details about the featured roast.  It clues you in to flavor notes that impressed the tasters, telling you why this bean was chosen as an All-Star. This subscription has a robust mobile app – see the details about this app in my cupping flight review.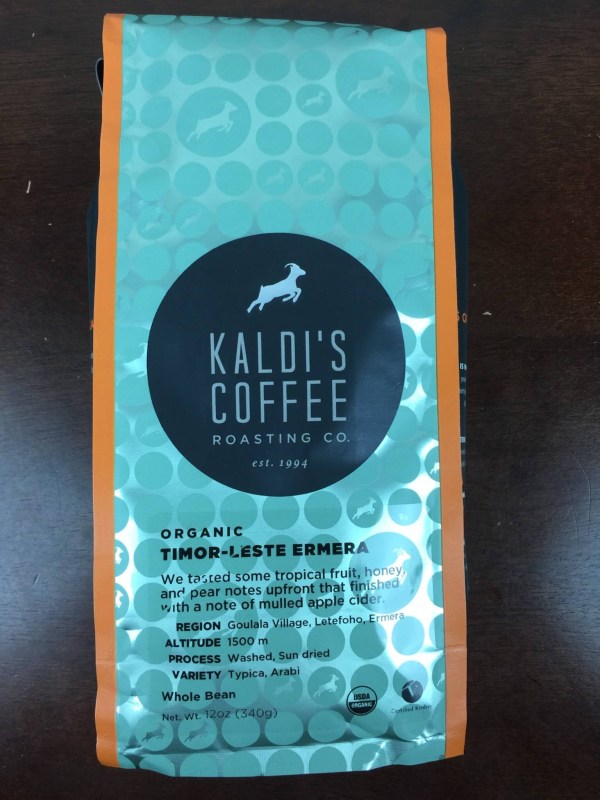 The roast this week is the Organic Timor- Leste Ermera from Kaldi's Coffee.
The All-Star selections ship directly from the individual roasters and are packed in the roaster's own commercial packaging.  Kaldi's includes a description of the beans and the roasted on date.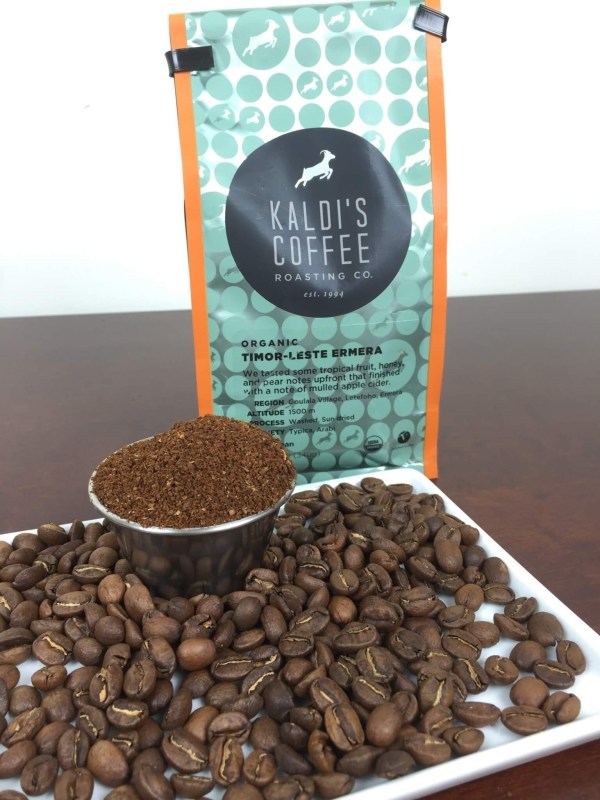 The roast was little darker than that performed on the in-house Angels' Cup beans, but it served this coffee well.  The descriptions offered by Kaldi's and Angels' Cup focused on different notes.  Kaldi's describes the main note as mulled apple cider, but I think the Angels' Cup description as tobacco is more on point.  The tobacco scent is pleasant and intense, and the flavor has the sweet complexity of tobacco without the bitter or sour stinging notes of actual tobacco.  A muddled fruit note is topped with a very refined pineapple flavor.  A well-balanced and very enjoyable cup.  This is a great subscription for coffee lovers.  Their selections are high-quality and well-prepared, and they always have some interesting flavor profiles to share.  The All-Stars bag practically guarantees a superb bean, plus it provides more brews than the other samplers.
What do you think about Angel's Cup? Get 20% off your first month in a pay per shipment plan! Use coupon code HELLO20.
Visit Angels' Cup to subscribe or find out more!
The Subscription
:
Angels' Cup
The Description
: Coffee tasting experience. Every tasting flight features different roasters and different origins, making every cup special! Flights include four 1 oz samples of coffee, or 2.5 oz for the Black Box. You can order just one or subscribe.
The Price
: $8.99 per delivery (weekly, bi-weekly, or monthly) for the Cupping Flight, 19.99 for the Black Box