Uppercase Box is a monthly young adult (YA) book and bookish item subscription. Every month you'll receive a hand-selected book, bookish goodies, plus a special reading experience! This box is $23 per month plus $6 shipping.
 This box ships in a flat rate priority mailer and all the items are in the bag.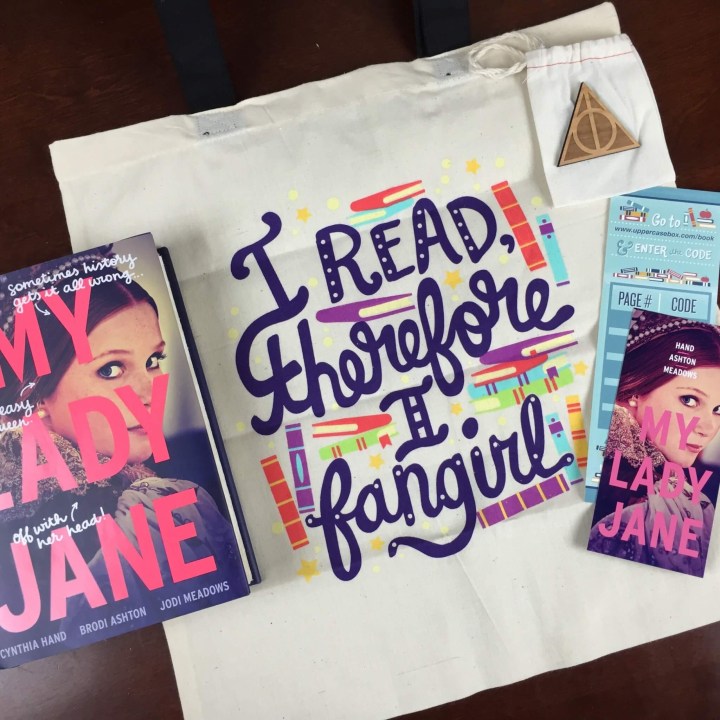 Everything in this month's subscription! It was totally squeal-worthy!
The subscriber letter tells you what comes in the box, an explanation of the reading experience included with the book, plus a curator's letter about the book.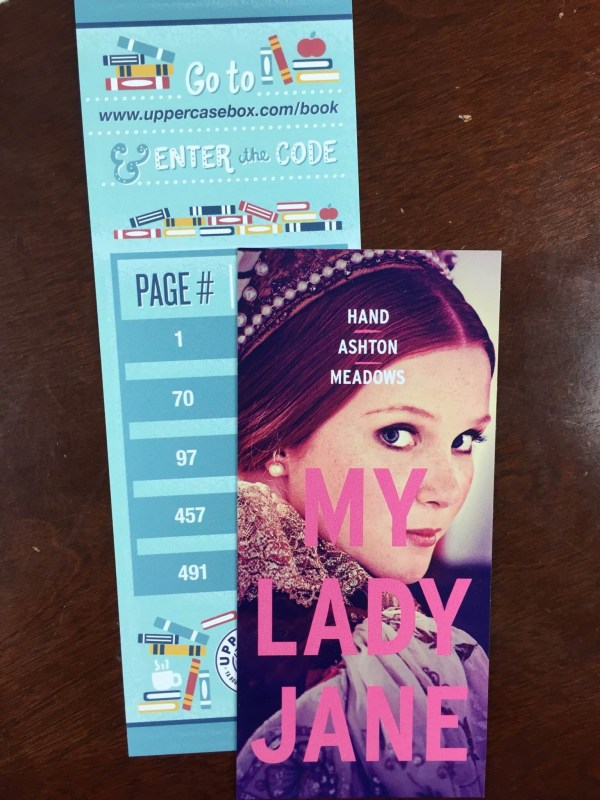 Uppercase bookmark: This bookmark unlocks the subscriber exclusive experience. When you reach that page, you visit the subscriber website and enter the passcode for exclusive content! This month's content is author videos and a deeper look at their thoughts into the characters. Yes, I said their – this book is super unusual – read on!
My Lady Jane bookmark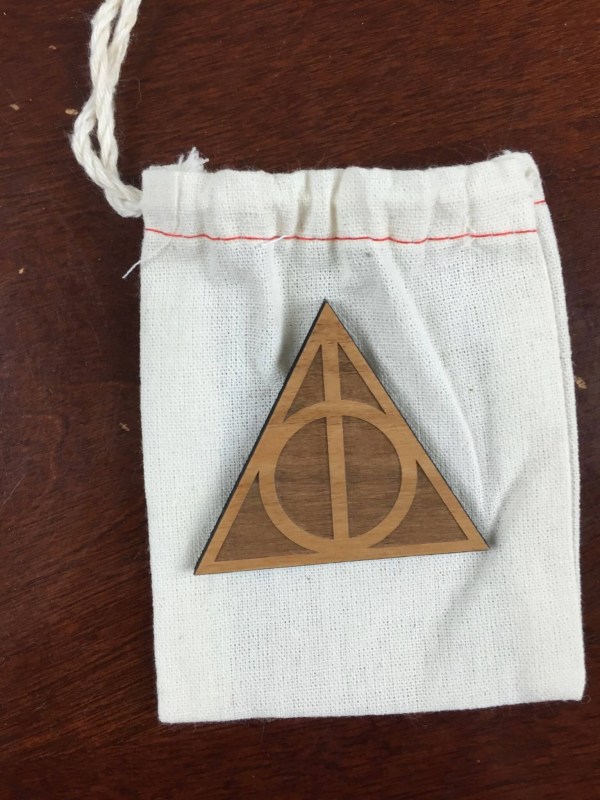 Juniper & Ivy Designs Deathly Hallows Wooden Magnet ($8)  This is already on my fridge, but probably only for a day, I'm packing up a box for my bestie's birthday, and she's a Harry Potter superfan. It's so lovely and well-made. I just love that it's wooden instead of printed.
Uppercase Exclusive I Read, Therefore I Fangirl Tote Bag by Risa Rodil ($10~) SQUEE! I love Risa Rodil's designs and any subscription that includes them always gets an A+ from me. This is a darling totebag that's perfect for any book geek fangirl. Which is you, if you subscribe to this box!
My Lady Jane by Cynthia Hand, Brodi Ashton, & Jodi Meadows ($10.58)
The comical, fantastical, romantical, (not) entirely true story of Lady Jane Grey. In My Lady Jane,coauthors Cynthia Hand, Brodi Ashton, and Jodi Meadows have created a one-of-a-kind fantasy in the tradition of The Princess Bride, featuring a reluctant king, an even more reluctant queen, a noble steed, and only a passing resemblance to actual history—because sometimes history needs a little help.

At sixteen, Lady Jane Grey is about to be married off to a stranger and caught up in a conspiracy to rob her cousin, King Edward, of his throne. But those trifling problems aren't for Jane to worry about. Janegets to be Queen of England.

Like that could go wrong.
This is a totally revisionist Jane Grey history, very clever, and just works! Each author writes from a different POV – King Edward, Lady Jane, and Lord Gifford. It's very funny and a great read.
NOTE that this is in the June Owl Crate box too – see the June OwlCrate spoiler post here, there's still time to subscribe!
This book was published June 7, so was in subscribers hands about a week after its release.  To add to the awesomeness the book is signed by all 3 authors!
This isn't a huge value box but they manage to make the value meet the cost (including shipping). For a book subscription that works for me! The exclusive content adds lots of value, and the signed book is a nice touch. I really loved this month and couldn't be happier with the selections!
What did you think of this month's Uppercase Box?  Save 10% on your first month with coupon code UPPER10.
Visit Uppercase Box to subscribe or find out more!
The Subscription
:
Uppercase Box
The Description
: Uppercase is a young adult book subscription box. Each month subscribers receive one young adult book plus a book accessory (funky items like bookmarks, posters, jewelry, totes, etc.). In addition, Uppercase provides an online area to talk with other readers and find exclusive book content.
The Price
: $29.00 per month