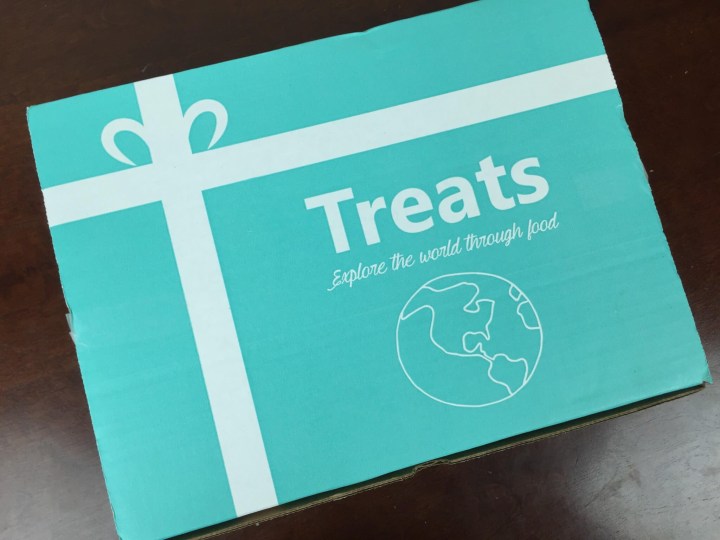 Treats is a monthly snack subscription full of snacks from around the world.  You can expect to receive eclectic and interesting snacks that you've never sampled before (unless, of course, you've lived in the featured country recently)!  The Standard Pack offers 4-5 snacks, while the Premium box offers 8-10.  This, of course, is the Premium Box.  It's quick to enroll, and you'll get your first box within a few days of when you subscribe.
The packaging is simple and elegant.  Tissue paper keeps the contents a surprise, and nice introductory postcard welcomes you to your Treats destination — this month welcomed us to the beautiful South American country, Colombia.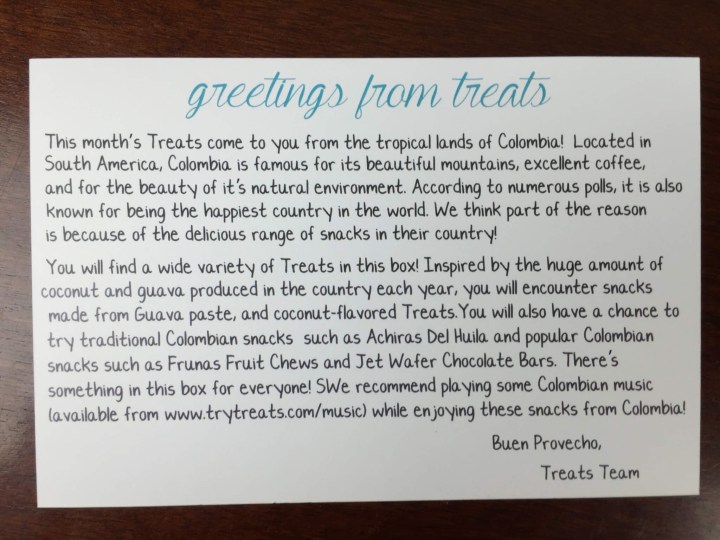 The curator's note pointed out some of the items with distinctly local and traditional character.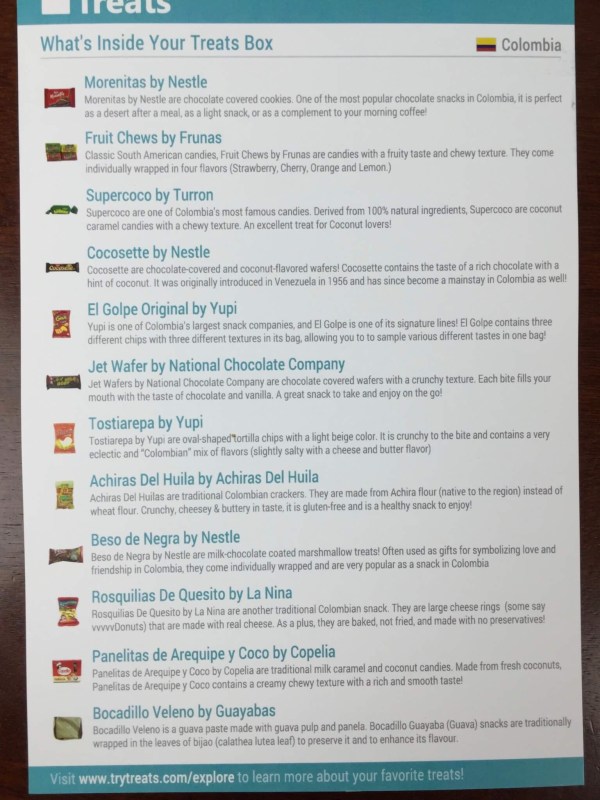 The handy card give gives the name and maker of each treat, as well as a short description of each.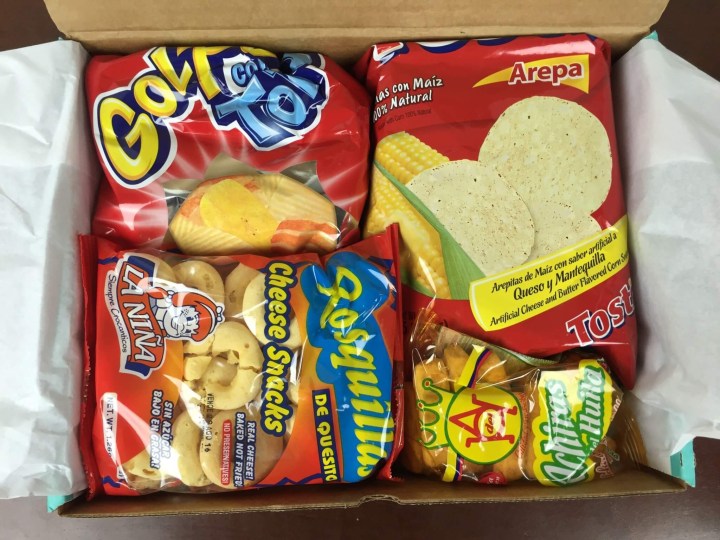 The box is filled to the top with goodies.  As always, there is a cloud of crunchy and puffy items on top, with a pile of denser bars and candies below.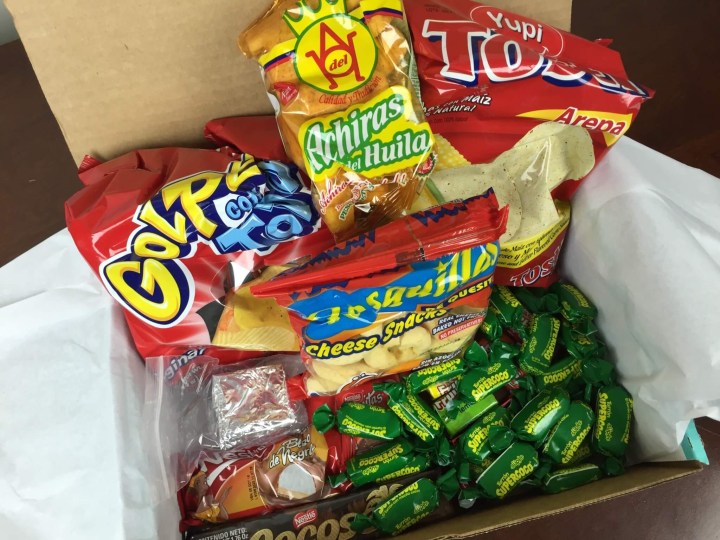 Everything in the box.  The composition of each Treats collection depends on the local snacking culture, but there is usually a good mix of sweet and savory and individual and family packs!
Nestle Cocosette:  A coconut creme filled wafer coated with chocolate.  These are very distinctive and quite tasty.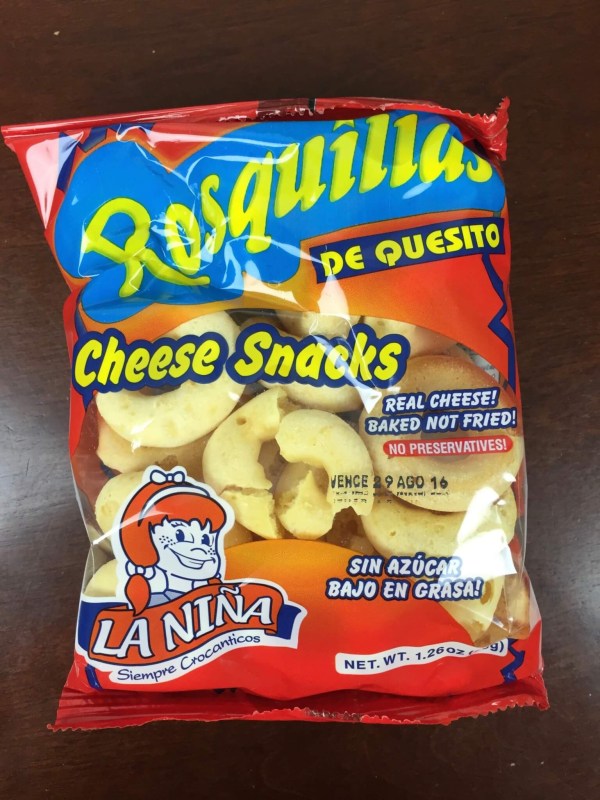 La Nina Rosquilias De Quesito: These are just cheese and yucca – and I can't say that they were to my taste. They had a great baked texture but the flavor was off.  Tom didn't like them either, as they reminded him of a stale cheezit.  He loves yucca, but he couldn't embrace this use. [Note that Tom & I both contributed to this review so if some statements sound like him – it's because they are!]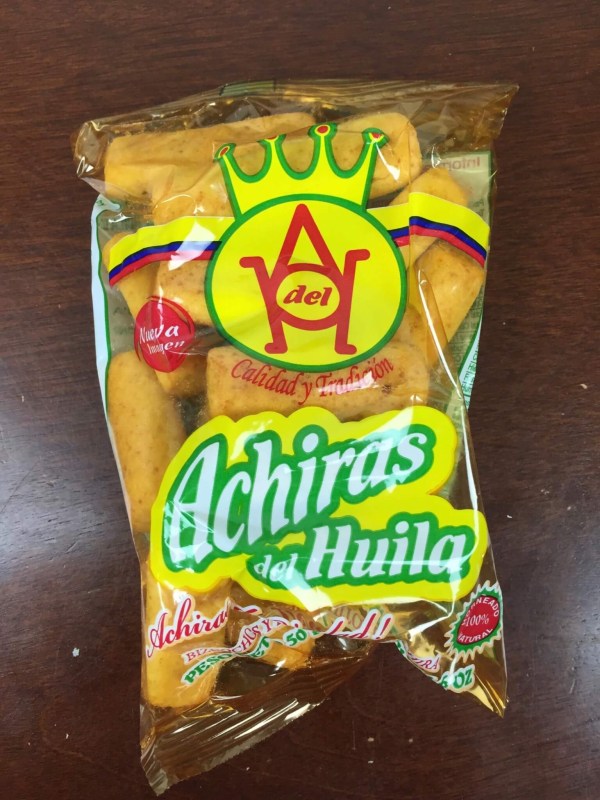 Achiras Del Huila: These were just like Italian breadsticks, except with a distinctly Colombian aftertaste!  Thick, crunchy and dry, they had decent flavor.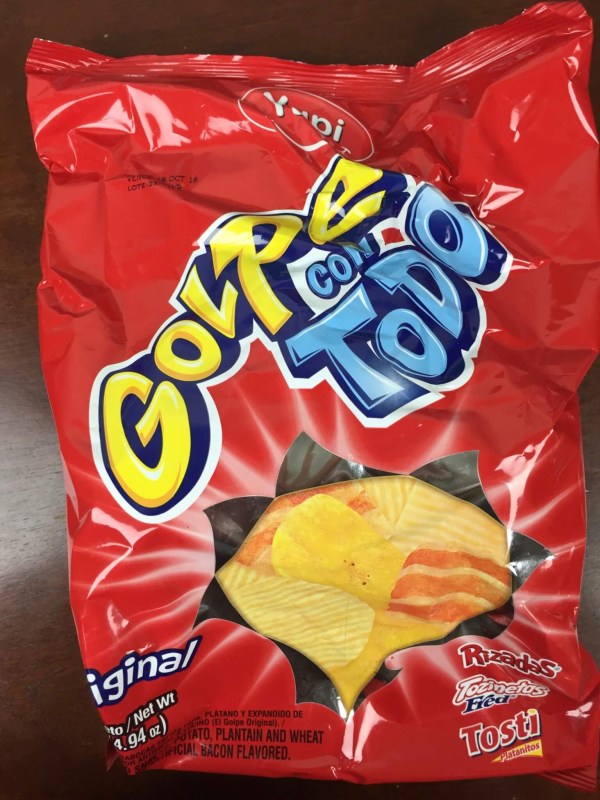 Yupi El Gope Original: These are so weird – a potato chip, plantain chip, and faux bacon chip medley!  We've seen each separately, but never together!
They didn't really complement each other, except for the fact that you probably wouldn't want a whole bag of bacon crisps.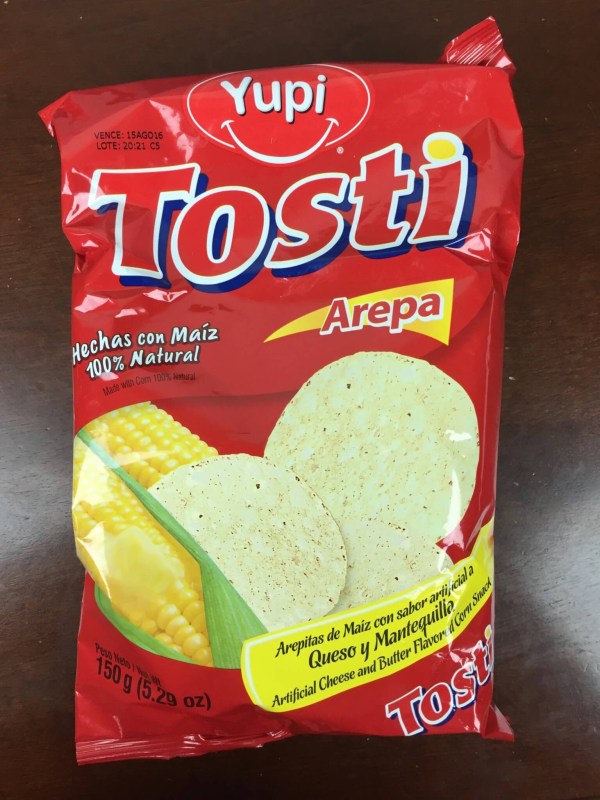 Yupi Tosti Arepa: Corn tortilla chips flavored with buttery cheese flavor dust. The taste was actually pretty good, but this particular combo as flavor dust was a little weird!  The chips themselves had a nice dense texture and flavor similar to the base chip used for the flavored Tostitos.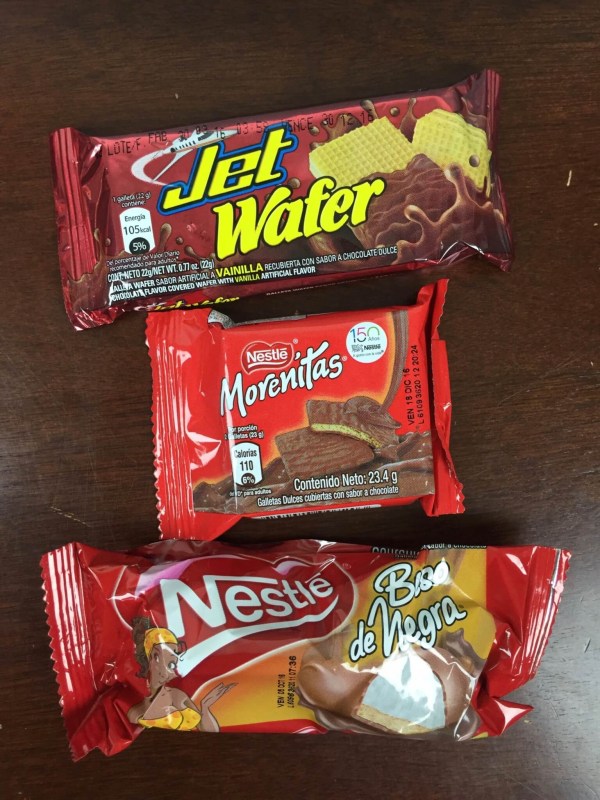 National Chocolate Company Jet Wafer:  This simple vanilla creme wafer is covered with a thin layer of dark chocolate coating.  It is the most popular bar in the country.  Because it is mostly wafer, it maintains its form and texture in the heat.  Decent, but not legendary.
Nestle Morenitas:  I really enjoyed these.  They are a graham-style cookie covered with thick milk chocolate.  Very crunchy and flaky, and a bit like ELFudge grahams.
Nestle Beso de Negra:  I won't translate this one, and I don't think Nestle would use this branding in the states.  These are mounds of soft marshmallow atop a graham cookie and covered with chocolate.  Strangely, they didn't remind me of S'mores at all, despite the composition.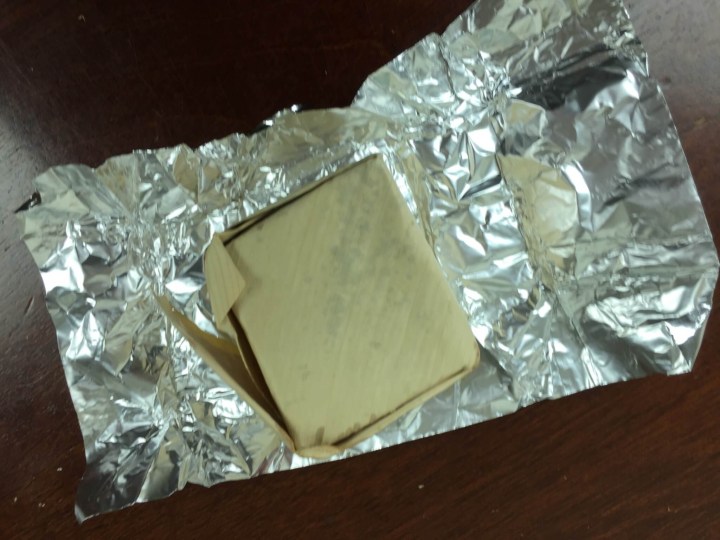 Guayabas Bocadillo Veleno:  This bar showcases guava pulp, one of the major products of Colombia and a staple in sweets throughout Latin America.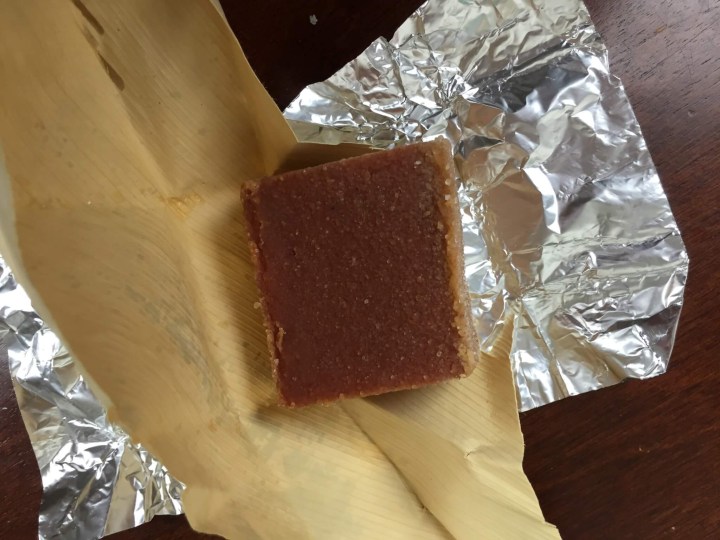 It is literally a large, sugary block of dried guava.  Tasty, but very sweet!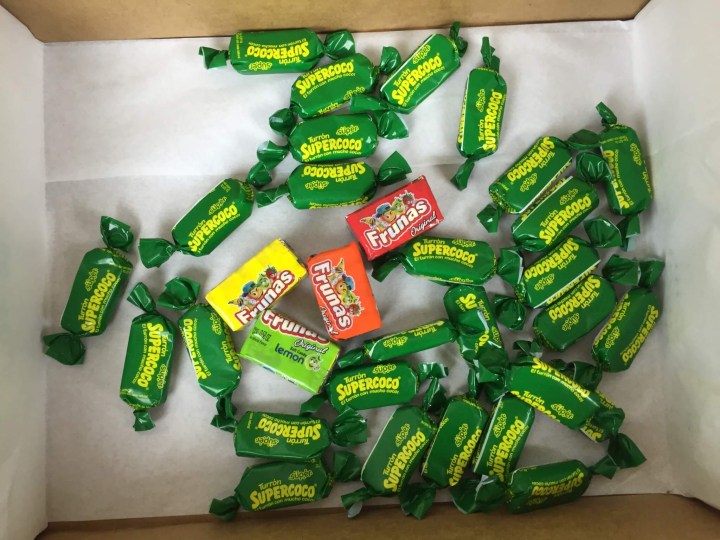 Frunas Fruit Chews:  A bit like a Now & Later, but with a pleasantly dialed back flavor.  The four varieties shown above are single pieces, they are actually several individually wrapped squares within an outer wrapper.  We received strawberry, orange, lemon (green), and mixed fruit (yellow).
Turron Supercoco:  Caramelized coconut chunks.  These are sweet and chewy, and they even have some bits of shaved coconut flesh intact.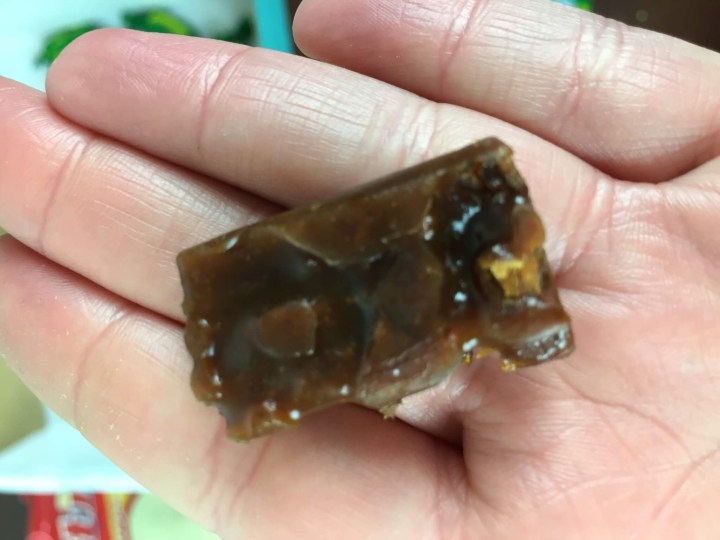 Dense and chewy, these are quite a treat.  They are somewhat like a taffy.
Copelia Panelitas de Arequipe y Coco: Missing from the box!  Very sad.  This doesn't typically happen with Treats.
Treats is one of our very favorite discover-foreign-foods boxes because nearly everything is appealing (nothing too weird included merely for shock value).  Unfortunately, this edition wasn't our favorite.  In addition to the missing item, we didn't care much for the chip-like snacks.  The puffed items each had a weird flavor, and they were all a bit stale (I dont' think they went bad, I think they are intended to have that texture).  So, not the best Treats this time, but we have had some superlative boxes in the past.
Have you tried Treats yet? What did you think of the box? You can save 15% on your first month with coupon code HELLO15.
Visit Treats to subscribe or find out more.
The Subscription
:
Treats
The Description
: Treats is a subscription service for international snacks. Every month they will prepare a box of snacks from other countries and ship it straight to your door. Explore the world through food, a new country every month!
The Price
: $12.95 per month for the standard pack, $24.95 per month for the premium pack.  Shipping to Canada is $11.62.